Are you partaking in the now-famous keto diet as a way to embark on a healthier lifestyle? If you are, then you probably already have your own blood ketone meter. If you don't have one yet, then you are in the right place. We're about to list down the top five best blood ketone meters. We are also going to tackle the importance of monitoring ketone levels when following the keto diet.
The primary goal of a keto diet is to achieve ketosis. We'll also discuss the signs and symptoms of ketosis to give you a better idea of what to look out for – aside from elevated ketone levels. If you are really serious about the ketogenic diet, keep reading!
[amazon bestseller ="blood ketone meter" items="20″]
Best Blood Ketone Meter on the 2023 Market
Precision Xtra Blood Glucose and Ketone Monitoring Meter Kit – Starter Option
[amazon box="B01N9NRDVI" ]
This ketone meter lets you test both your blood glucose and ketone levels. The kit includes the meter, a lancing device, a carrying case, and 10 free lancets.
You can find out results in just 5 seconds for glucose and 10 seconds for ketones. You don't need to do any type of coding! The large backlit display makes it easy for anyone to use.
It can store previous results, up to 450 tests, including the date and time of testing! You may also download all of your data and results to your computer if you purchase the data cable.
The test strips are sold separately.
Pros
Easy to use
Can save testing history
Can download data into a computer for record keeping.
Cons
The strips are too expensive for many users.
FORA6Connect Blood Ketone Testing Meter Kit – Runner Up
[amazon box="B07WRGH332″ ]
If you are serious about your keto diet, then it is a wise decision to invest in this blood ketone tester. It allows you to check both blood glucose and ketone levels.
This FDA-approved testing meter promises accurate results every time, and you won't have to worry about the safety of using the tool. You can get an accurate ketone result in 10 seconds. Unlike other testers, this one requires very little blood: 0.8 μL!
In this kit, you'll receive everything you can need: the meter/tester, a lancing device, 20 ketone test strips, 100 lancets, and a carrying case.
This meter is also state-of-the-art and can compete with other brands in the market. You can download your results for later reference. The app is free to download, and you can connect the app to the device via Bluetooth.
Depending on your preferences, you can create your own data analysis of ketone level averages (7 days, 14 days, 30 days, 60 days, or 90 days). It will create easy-to-understand charts and graphs so you can get a better picture of your health. You can save the data as CSV or JPG files and have them sent to your email or save them on a cloud server.
Pros
FDA-approved
Requires very little blood to start testing
Accurate and quick results.
Cons
Users report frequent crashing and errors in the app
Importing of data can be improved
Lack of app support and updates.
KetoCoach Blood Ketone Meter Starter Kit – Editor's Choice
[amazon box="B07GJVC8LV" ]
KetoCoach has a lot to offer, but the biggest praise it has been getting from users comes from the affordability of its test strips. It's no secret that most health monitoring devices that require strips out there can be quite pricey and inconvenient, especially for people requiring regular – and even daily – monitoring. KetoCoach strips can be purchased starting at $0.59, making it one of the most affordable ways to keep a close look at your ketone levels.
The system is designed for everyone to use. It has a quick start guide that is easy to understand. It's a perfect tool for both beginners and veterans attempting the keto diet.
Another technological advancement of this meter is its Owen Mumford lancing device, which promises reduced pain during finger blood sampling. A series of 8 raised dots stimulate your finger's nerve endings when pressed against the sample site, which creates a strong message of "comfort" to the nerves and brain. This masks the pain, which has now become the "weaker" stimulus versus the eight dots.
You also only need 0.8μl of blood test results. That's tinier than a matchstick head. So far, this is the smallest sample required, tying it with the FORA6Connect Blood Ketone Testing Meter Kit.
You also need no coding whatsoever to operate the kit. Simply place the strip, and the system will receive the sample and analyze your data. Errors are reduced significantly through this method.
Pros
A very small amount of blood required
User-friendly interface
Affordable test strips.
Cons
No drawbacks were reported.
Types of Keto Meters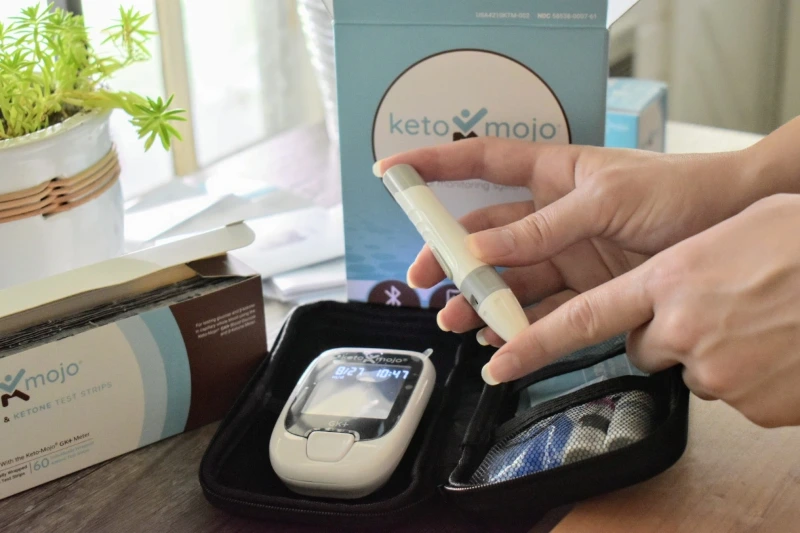 Ketone levels can be measured in three ways.
Blood
Breath
Urine (Ketostix).
The products we listed above are all blood ketone testing meters.
How to Tell If You Are in Ketosis
So you have started the keto diet, but how do you know that you've finally achieved ketosis (which is the primary goal here)? Following a strict high-fat and low-carb diet aims to raise ketone levels and burn carbs for energy.
Interested in the keto diet? Here are a few resources from our archives that might help you get started:
Back to the matter at hand… Here are a few physiological changes that you will undergo during ketosis.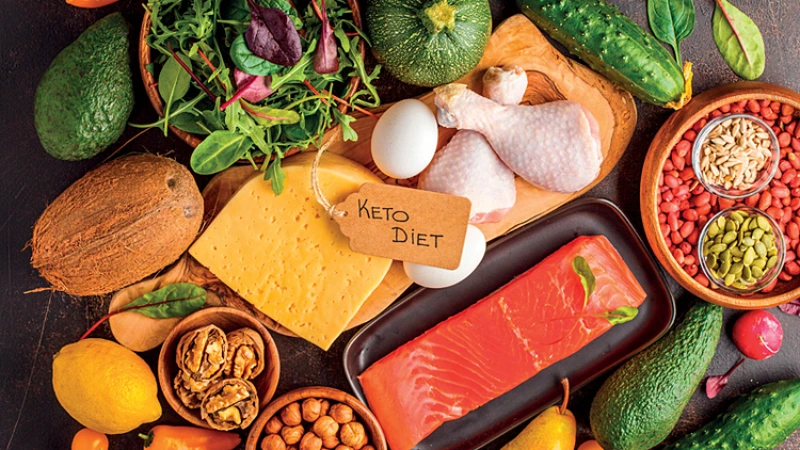 Unpleasant Breath
While it's not the best thing to experience, many keto diet gurus swear that bad breath is the number one symptom of full ketosis. It's also common, too. The breath can be characterized as "fruity" by some.
Ketones, when elevated, cause this odor. Acetone is a ketone that leaves the body in the breath and urine, and it becomes more prominent when you have more ketones (as is the case during ketosis).
Even if it can hurt your social game to some degree, take it as a positive sign that your diet is working. A good practice would be to brush your teeth often and to always carry sugar-free mints or gum with you. Be wary of the labels, though, since sugar-free drinks and other breath-fixing alternatives might increase carbs because of their sugar content.
Weight Loss
Another great sign that you're doing it right! In fact, a majority of people doing the keto diet (and other low-carb diets) do it for weight loss. It's highly effective. When done right, the keto diet can cause both short-term and long-term weight loss.
During your first week, you can experience fast weight loss. This is often mistaken as fat loss, but it really is just the body using up your stores of water and carbs.
After the loss of water weight, you must keep on losing body fat progressively as long as you keep doing the keto diet and reach a calorie deficit.
Loss of Appetite
Others have reported lower hunger pangs and cravings while on a keto diet. The explanation for this is still highly uninvestigated.
Some think that it might be in relation to the increased vegetable and protein intake, which takes longer to be metabolized compared to carbs.
There is also a theory that ketones affect the brain's hunger center, reducing appetite.
More Focus and Energy
This might be hard to believe since the beginning weeks of a keto diet will leave you feeling tired, foggy, and even sick. People call this the "keto flu." But in the long run, keto diets will give you the exact opposite: increased levels of energy and improved focus.
The body learns to adapt to burning fat instead of carbs for fuel when you start a keto diet. Once it reaches ketosis, however, the brain begins burning ketones instead of blood sugar. For this to work seamlessly takes some adjustments and may take a few days – or even weeks.
Ketones are a great fuel source for both body and the brain. It's not surprising to learn that long-term keto dieters report increased focus, clarity, and mental functions. In addition, removing carbs from the picture can maintain blood glucose and insulin levels within healthy ranges. This further enhances focus and brain function.
Conclusion
The keto diet is revolutionary, and that's why more and more people are attempting to partake in it every day. Blood ketone meters are important tools to keep your diet in check and to ensure you are taking the right steps to achieve ketosis. All three products reviewed are great, but the best blood ketone meter has to be KetoCoach Blood Ketone Meter Starter Kit.
Please leave comments below and share this post with your friends if you liked it!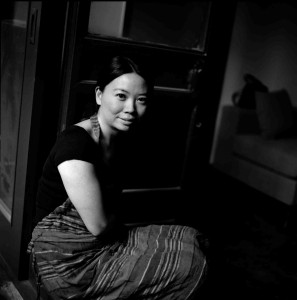 Jen Lin-Liu is the founder of Black Sesame Kitchen. A Chinese-American writer and a nationally certified Chinese chef in Beijing. Jen is the author of two memoirs, Serve the People: A Stir-Fried Journey Through China and On the Noodle Road: From Beijing to Rome with Love and Pasta.