My nutty grain-free granola is not your traditional recipe – there are no oats included. This grain-free version is a mixture of nuts and seeds coated in egg whites, spices, and natural sweeteners.
Store-bought granola can be hard on your digestive system, not to mention many of them contain too much sweeteners and are usually made with vegetable oils (read why other fats are healthier).
About Nutty Granola
Bestseller No. 1
Quaker Simply Granola Honey & Almond, Twin Pack
Includes 2 (24oz) boxes of Quaker Simply Granola Oats, Honey, & Almonds
Oats and honey go together like, well, oats and honey. Some flavor combinations are hard to improve on.
With the flavor of sliced almonds, this crunchy combo is great both hot and cold, and might have you wishing you could eat breakfast cereal with every meal.
Excellent source of fiber (contains 7g total fat per serving), 42g of whole grains per 64g serving
No artificial flavors or added colors
Bestseller No. 2
Bestseller No. 3
Purely Elizabeth, Organic Original, Ancient Grain Granola, Gluten-Free, Non-GMO (12oz Bag)
NUTRIENT-DENSE INGREDIENTS: Made with nutrient-packed quinoa, amaranth, and chia seeds for a light & crunchy snack you can feel good about! Sprinkle over a smoothie, bake into a summer crisp, or eat straight out of the bag, we promise you won't be able to stop at one bite
LIGHTLY SWEETENED WITH COCONUT SUGAR: Ancient Grain Granola is prepared with unrefined coconut sugar, a low-glycemic sweetener that won't make you sluggish as the day goes on.State of Readiness: Ready to Eat
LIGHTLY SWEETENED WITH COCONUT SUGAR: Ancient Grain Granola is prepared with unrefined coconut sugar, a low-glycemic sweetener that wonâ€t make you sluggish as the day goes on
CERTIFIED GLUTEN FREE, VEGAN & NON-GMO: Made with clean and simple ingredients that are free from additives and genetically modified organisms
BAKED WITH COCONUT OIL: We bake our granola with coconut oil, a better for you fat that gets used as energy rather than being stored as fat in the body
Bestseller No. 4
Sale
Bestseller No. 5
Nature's Path Organic Gluten Free Honey Almond Granola, 11 Ounce, Non-GMO, 15g Whole Grains, with Omega-3 Rich Chia Seeds
Contains 1- 11 Ounce Resealable Pouch of Nature's Path Organic Gluten Free Honey Almond Granola
You'll love these large, snack-sized clusters of organic rolled oats, crunchy almonds, chia seeds, and clover honey. Have a bowl for breakfast or try it with yogurt, oatmeal or even as a delectable topper for a dessert
Boost your nutrition with this tasty gluten free granola, enriched with whole grains, heart-healthy almonds and omega-3 rich chia seeds
Our crunchy granola is Non-GMO Project verified, Certified USDA Organic, and kosher, made with nutritious, simple ingredients. None of our products contain any artificial flavors, colors or preservatives
By choosing organic, you're choosing to nourish the soil, the environment, and yourself. Nature's Path believes in fair practices, high quality, and embracing sustainability processes. We're not just organic - we're always organic
Bestseller No. 6
Bestseller No. 7
Erin Baker's Homestyle Granola Vanilla Almond Quinoa, Vegan, NON-GMO, 7Grams of Plant Based Protein,12 Ounce
12oz bag of Homestyle Granola – Non-GMO Project Verified, Vegan
This subtle yet sophisticated blend of vanilla, almonds and quinoa is great on yogurt or milk with fruit
Baked fresh with simple, whole food ingredients you'll recognize for life on-the-go
Big, delicious clusters make for easy snacking
Pair it with yogurt, milk, or eat straight from the bag
Bestseller No. 8
Bestseller No. 9
Nature Valley, Cinnamon Crunchy Granola, 16 oz pouch
OATS AND CINNAMON: This crunchy granola is made with toasted whole grain oats and a sweet touch of cinnamon
WHOLE GRAINS: Nature Valley granola contains 13 grams of whole grains per serving
Help Kick-Start Your Day: Enjoy this crunchy granola as a topping for your yogurt, on it's own as an easy snack, or eat it with fruit and milk for a taste-good and feel-good breakfast cereal.
TRY THEM ALL: Taste all the Nature Valley crunchy granola flavors, like Oats & Dark Chocolate and Cinnamon
CONTAINS: 1 bag, 16 oz
Bestseller No. 10
Nature Valley Oats & Honey Big & Crunchy Granola Breakfast Cereal, 16 oz.
GRANOLA: Nature Valley crunchy granola is made with whole grain oats and sweet honey flavor
REAL INGREDIENTS: Hearty 100% whole grain oats with no artificial flavors, artificial colors, artificial sweeteners, or corn syrup.
WHOLE GRAIN: An excellent source of whole grain with 14 grams per serving (at least 48 grams recommended daily).
ON-THE-GO ENERGY: Add granola cereal to a yogurt parfait to an easy snack, Nature Valley Crunchy Granola delivers on-the-go energy so you can keep going.
BAG CONTAINS: 1 bag, 16 oz
Grains and nuts need proper preparation to break down enzyme inhibitors that make them hard to digest. Oats and nuts are high in phytic acid, and the phytase enzymes that help break it down is not abundant in our digestive systems. Phytic acid also binds with minerals like calcium, magnesium, iron, and zinc, which can lead to mineral deficiencies in high phytate diets (too much grains and high fiber foods that are not properly prepared).
I soak all my nuts in salted water overnight and dehydrate them in the oven or dehydrator. The soaking process activates phytase enzymes and reduces the nut's phytic acid – making them.
I chose to use egg whites in my recipe since I always have so much excess egg whites waiting in my fridge to be used (from homemade ice cream, homemade mayonnaise, or smoothies). But coconut oil and butter are good options as well. Many oven-roasted nuts recipes use egg whites as a coating but you can make an egg-free version with extra butter or coconut oil.
Homemade Nutty Granola Recipe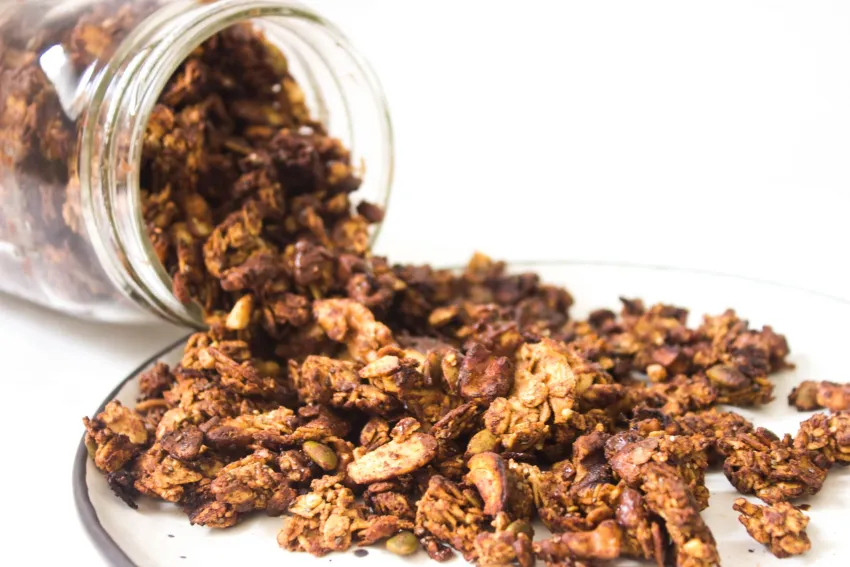 Grain-Free Granola
Once you have the basic ratio of 1 egg white per 2 cups of nuts/seeds, endless variations are possible. For an egg-free version, omit the egg whites and add more butter or coconut oil.
8 cups mixed nuts, preferably soaked and dehydrated
4 large egg whites (1/2 cup)
4 tablespoons maple syrup (1/4 cup) or to taste
2 tablespoons vanilla extract
4 teaspoons cinnamon
1 teaspoon ginger
1 teaspoon allspice
2-4 tablespoons coconut oil or butter
Optional add-ins; dried fruits (raisins, cranberries, apricots, goji berries), crystallized ginger, and coconut flakes.
How to make: step by step:
1. Beat or whisk egg whites with the maple syrup, vanilla extract, and spices in a large bowl until combined.
2. Chop up nuts to the desired size – a food processor makes this easy – and mix them into the egg mixture.
3. Butter or oil the insert of a slow cooker and pour in the nut mixture.
4. Turn on the slow cooker to high and cook granola, stirring every 15-20 minutes, until the coating dries (about 2-3 hours).
5. Allow cooling before storing in an airtight container. Any dried fruit or additional mix-ins can be added after it cools.
Note: I prefer making granola with a slow cooker when I'm already home and in and out of the kitchen to stir it. To prepare in the oven, pour the mixture into a greased baking pan and bake at 300 degrees for 30 minutes, or until granola is dry, occasionally stirring to brown evenly.
The best way to start your day is with a bowl of granola! It provides protein and important micronutrients like iron, vitamin D and folate. The different types will give you what kind of energy works for whatever task.