Here is my list of foods that I always keep at home for a healthy well-stocked kosher kitchen, with some quick guidelines on buying packaged foods. Preparing your own meals and snacks is an investment in your health. Look for the healthiest ingredients you can find and afford, and delicious nourishing meals will follow.
What To Look For When Buying Packaged Products
Ingredients you can pronounce.
As few ingredients as possible.
All natural ingredients are free of artificial colors and preservatives and harmful additives like MSG, hydrolyzed proteins, hydrogenated vegetable oils, and soy-based imitation foods.
No added sweeteners, real or artificial- Aspartame, NutraSweet, high fructose corn syrup, agave nectar, refined white sugar, and cane sugar.
To avoid GMO's (Genetically Modified Organisms) corn, soy, sugar, zucchini, and papaya, should be certified organic. Other possible GMO foods are vegetable oils which are not healthy regardless of GMO's (avoid cottonseed oil, corn oil, canola oil, and grapeseed oil).
Shop farmer's markets and food coops for staples like nuts, olive oil, dairy products, and eggs in addition to fresh produce.
Limit or avoid processed grain products like breakfast cereals, granola, and store-bought baked goods. All grains need to be soaked in an acidic medium to minimize enzyme inhibitors and phytic acid that make these products hard to digest and cause mineral deficiencies (be especially cautious with kids developing cavities). Also, most of these products are highly processed, have no nutritional value, and can lead to inflammation and hormone disruption associated with chronic diseases and other health conditions. If you consume grains, homemade is best.
My Real Food Pantry
Pantry Items
Extra-virgin olive oil
Raw coconut oil and expeller pressed coconut oil
Macadamia nut oil
Raw apple cider vinegar
Raw coconut vinegar
Coconut butter
Coconut milk (not light)
Sustainably caught canned sardines, tuna, and salmon
Wild-caught anchovies
Marinara sauce – organic, no-sugar added, in glass jars
Organic grape juice (fruit juice is not a healthy drink option and should be limited- we only drink if for the weekly Friday night/Saturday lunch Shabbat or holiday blessings)
Organic herbal teas
Capers
Olives
Organic fruit spread – no added sugars. Make your own "quick jams" by cooking down fresh or frozen fruit, like blueberries until thick, and season with citrus zest and raw honey if needed.
[amazon bestseller="Extra-virgin olive oil" items="3″ ]
[amazon bestseller="coconut oil" items="3″ ]
[amazon bestseller="Coconut milk" items="3″ ]
Organic Spices
Sea Salt
Organic peppercorns
Organic dried herbs – basil, dill, mint, thyme, oregano, sage, Italian seasoning, bay leaves.
Organic spices – anise seeds, caraway, cardamom, cayenne, chili powder, cumin, cinnamon, cloves, coriander, curry powder, garlic, ginger, poultry seasoning, saffron, smoked paprika, nutmeg, and turmeric.
[amazon bestseller="Sea Salt" items="3″ ]
[amazon bestseller="Organic peppercorns" items="3″ ]
Grains/Legumes
Rice
Rice paper wrappers – (Sushi Metsuyan)
Rice Pasta – Tinkyada is a good brand
Buckwheat Noodles
Steel-cut oats
Organic or non-GMO popcorn
Lentils
We don't consume much beans – if you do it is preferable to soak dried beans and soak overnight instead of buying canned beans.
For better digestion and to increase mineral absorption, prepare grains and legumes with bone stocks (chicken, beef, or fish broth).
[amazon bestseller="Rice Pasta" items="3″ ]
Baking Products
Blanched Almond Flour
Organic Sprouted Whole Grain Brown Rice Flour
Coconut Flour
Tapioca Flour
Arrowroot
Aluminum-free baking soda
Aluminum-free baking powder
Pure vanilla extract or make your own
Pure vanilla powder
Organic, 70% dark chocolate and chocolate chips
Organic cocoa powder
Unsweetened shredded coconut
*Organic Sprouted Whole Grain Flour
*Organic Unbleached White Flour
*Instant yeast
*My family does best on a mostly gluten-free diet – the exception I make is for challah bread I make for Shabbat (Sabbath) – either a sprouted whole grain challah or variations of my sourdough no-knead bread.
[amazon bestseller="Organic cocoa powder" items="3″ ]
Sweeteners
Raw local honey
Organic maple syrup
Maple sugar
Coconut/palm sugar
Sucanat or Rapadura
[amazon bestseller="Raw local honey" items="3″ ]
[amazon bestseller="Organic maple syrup" items="3″ ]
Snacks
Raw nuts – almonds (store-bought are not raw), pecans, walnuts, macadamia nuts. Soak raw nuts in salted water for 8 hours and dry in a dehydrator or warm oven.
Dried fruit (unsweetened and unsulphured)
Organic nut butter – almond, hazelnut (make homemade Nutella with three ingredients)
Coconut flakes (Unsweetened)
Dried seaweed
Larabars
Rice crackers
Beef jerky
[amazon bestseller="Raw nuts" items="3″ ]
[amazon bestseller="Dried fruit" items="3″ ]
Refrigerator
Pasture-raised eggs from farmer's markets or look for Vital Farms and Frenz's in the health food store
Raw whole milk, or organic whole milk from grass-fed cows and not homogenized
Organic whole milk plain yogurt (from grass-fed cows)
Raw cream or organic cream, preferably from grass-fed cows, and not ultra-pasteurized
Raw butter or organic butter from grass-fed cows
Clarified butter or ghee
Grass-fed raw cheese
Flax seed oil
Sesame seed oil
Bubbie's pickles
Homemade sauerkraut, or Bubbie's in markets (other brands are pasteurized). In Los Angeles check out Brassica and Brine (kosher certified).
Fermented soy sauce
Whole grain mustard, no added sugar
Organic salsa
Organic ketchup
Homemade granola
Tallow–rendered beef fat (from grass-fed cows, available from Kol Foods to render at home) great for high-heat cooking
Fermented cod liver oil (food-based supplement) and fermented cod liver oil/butter oil blend
[amazon bestseller="organic whole milk" items="3″ ]
Freezer
Organic fruit – no sugar added (great for smoothies)
Organic or *grass-fed meat
Organic or *pastured chicken
Chicken bones, feet, necks, etc. (for homemade chicken stock)
Frozen sustainable fish fillets
Homemade frozen beef, chicken, and fish stocks – though I have been buying fresh fish stock from my local fish market and freezing it for risottos and sushi rice (freeze in 2-cup pyrex containers or canning jars)
Frozen red/white wine (freeze leftover wine in jam jars)
Homemade almond flour waffles (freezes well)
Gluten-free bread – for school lunches, I don't recommend consuming too many store-bought gluten-free products.
Brown rice tortillas- for a crispy pizza
Ground flaxseed
Coconut milk ice cream
Organic whole milk ice cream (the fewer ingredients, the better)
Grow and Behold Kosher Pastured Meats, and Kol Foods ship kosher-certified (OU or Star-K) pastured poultry and beef. They also have kosher nitrate-free sausages and hot dogs with only real ingredients. Look for a local buying club (or start your own). When I can't buy their products, I stick to lean cuts of organic meat like London broil.
[amazon bestseller="Coconut milk ice cream" items="3″ ]
Fresh produce
Always keep lemons, limes, onions, garlic, ginger, parsley, cilantro, celery, and carrots around. They form the flavor foundation of so many dishes. I fill in with local vegetables and fruits from the farmer's markets and my CSA box. Fresh is best, but frozen produce is also good. Avoid most store-bought canned fruits and vegetables.
With these produce staples and your well-stocked pantry, you'll be ready to make anything. You can find some of these items in my Amazon store (it's also helpful to see what they look like when searching in your local health food store).
How do you stock a pantry with healthy ingredients? What items do you wish were available for kosher consumers?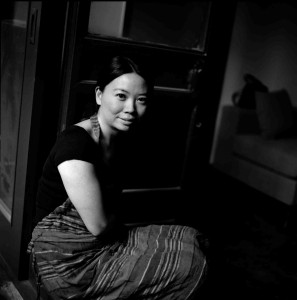 Jen Lin-Liu is the founder of Black Sesame Kitchen. A Chinese-American writer and a nationally certified Chinese chef in Beijing. Jen is the author of two memoirs, Serve the People: A Stir-Fried Journey Through China and On the Noodle Road: From Beijing to Rome with Love and Pasta.