This wine braised beef brisket is one of my most requested recipes. Braising with wine is common in many brisket recipes, but it's the orange juice used in the braising liquid that freshens up the flavor for this version.
Brisket is the ultimate holiday dish; you can make it ahead of time, the flavor improves the next day, and everyone always enjoys it. It also freezes well if you need to prepare in advance.
To Brown or Not to Brown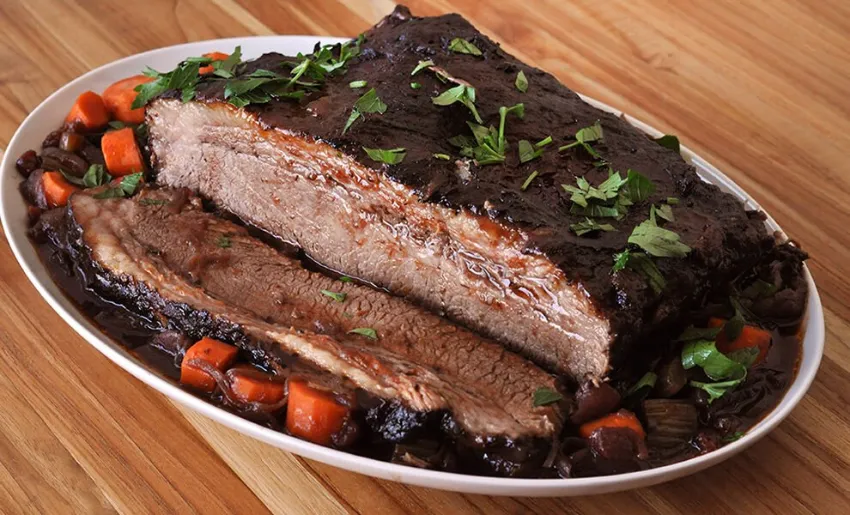 Most recipes instruct you to brown the beef first. I've tried it both ways and have not noticed a flavor difference. I prefer less steps – and less dishes.
I never make this recipe the same twice. If I want a more savory version I'll add mixed mushrooms and more garlic cloves. For a sweeter brisket, add dried apricots or plums and maybe some cinnamon sticks. What I never mess with is the generous amount of onions. If you don't have stock you can use water, but make sure to add carrots, celery, and more garlic to enhance the flavor of the braising liquid.
Wine Braised Brisket With Orange and Thyme Recipe
For easier slicing, prepare the brisket one day before serving. I've made brisket with or without browning the meat and have not noticed a difference in flavor. If you prefer to brown the meat, do so first, then put it aside while you cook the onions in the same pan and continue with the recipe.
Serves 10-12
3 tablespoons coconut oil or other healthy fat
Sale
Bestseller No. 1
Handcraft Fractionated Coconut Oil - 100% Pure & Natural Premium Grade Coconut Carrier Oil for Essential Oils, Massage Oil, Moisturizing Hair Oil & Body Oil - 16 fl. Oz
100% PURE & NATURAL FRACTIONATED COCONUT OIL - A versatile carrier oil used for aromatherapy, essential oils mixing, massage, for dogs and pets, and as a hair and skin moisturizer. It is Fragrance Free, Hexane Free, Preservative Free, Chemical Free, and 100% Vegan.
COCONUT OIL FOR SKIN – Pure coconut oil is light weight and provides a silky-smooth feeling for all skin types without clogging pores. It is a dry skin moisturizer with awesome nourishing properties.
COCONUT OIL FOR HAIR GROWTH – Coconut hair oil is rich in antioxidants with powerful properties. It helps improve scalp health and support hair growth, while adding volume and shine.
DILUTING ESSENTIAL OILS – Essential oils must be diluted with a carrier oil before being applied to skin. Fractionated Coconut Oil is the best carrier oil for essential oils mixing since it absorbs into the skin quickly.
MADE IN THE USA – Our pure and natural Fractionated Coconut Oil is paraben free, sulfate free, alcohol free and cruelty free.
Bestseller No. 2
Nutiva Organic Coconut Oil 15 fl oz, Cold-Pressed, Fresh Flavor for Cooking Oil, Natural Hair Oil, Skin Oil, Massage Oil and, Non-GMO, USDA Organic, Unrefined Extra Virgin Coconut Oil (Aceite de Coco)
Nutiva partners with organic farmers to source the world's finest fresh, organic virgin coconuts and stringently adheres to USDA certified organic and non-GMO guidelines
Ideal addition to Whole30, vegetarian, vegan, raw, whole food, paleo, ketogenic, and gluten-free diets and a great alternative to margarine or cooking oil
Ideal as a medium heat cooking oil with a high smoke point (350°F/177°C) and perfect for baking, frying and sautéing
Provides nutrient-rich hydration as a natural moisturizer for radiant skin and hair and great for massages
All-natural cold press extraction process yields a pure, light-tasting oil containing 63% medium-chain triglycerides and 50% lauric acid without the use of dangerous and harmful chemicals, hexane, or heat
Sale
Bestseller No. 3
Organic Coconut Oil, Cold-Pressed - Natural Hair Oil, Skin Oil and Cooking Oil with Fresh Flavor, Non-GMO Unrefined Extra Virgin Coconut Oil (Aceite de Coco), USDA Organic, 16 oz
✔️ Naturally Nourishing Coconut Oil for Hair - With its unique combination of natural fats, coconut oil helps hydrate hair and nourish the scalp. It's ideal for use as a conditioner, detangler, or coconut oil hair mask.
✔️ Hydrate Naturally With Coconut Oil for Skin - Coconut oil organic is a naturally moisturizing body oil that can help skin feel soft, smooth and hydrated. Use our coconut oil for face as a makeup remover—or even as a natural alternative to massage oils.
✔️ Perfect Coconut Oil for Cooking and Baking - An unrefined coconut oil with a naturally high smoke point (350°F), this is the perfect cooking oil for baking, frying and sautéing. Our pure coconut oil is cold-pressed from fresh, organic coconuts, delivering a rich flavor and aroma.
✔️ A Kitchen and Beauty Staple - Whether you're using our coconut oil for body moisturizer, as a coconut hair oil or as a cooking oil, it's an all-natural, easy-to-use addition to any lifestyle. It's perfect for keto, paleo, or gluten-free diets, or just as a tastier alternative to cooking with olive oil or butter.
✔️ USDA-Certified Organic & Non-GMO Project Verified - Using some of the world's highest-quality organic coconuts, our cold pressed coconut Oil (aceite de coco) is USDA-Certified Organic, Non-GMO Project Verified, Certified gluten free, Keto and Paleo, plus its grown and harvested organically without the use of harmful chemicals or additives.
6 medium onions, coarsely chopped
4 garlic cloves, minced
2 tablespoons dried thyme
1 tablespoon paprika
Sea salt
Sale
Bestseller No. 1
Celtic Sea Salt, Fine Ground Resealable Bag, 8 oz
AUTHENTIC, UNPROCESSED – Celtic Sea Salt is authentic, unprocessed whole salt from pristine coastal regions. With a subtle flavor and delicious taste, it's a great all-purpose salt to keep on hand!
VERSATILE – Our 8 oz. resealable bag of fine ground Celtic sea salt can be used in a variety of ways – from an all-purpose shaker salt for the table to a recipe ingredient, for baking, pickling and much more. It's a must-have for your pantry.
NUTRITIOUS – Our classic salt is more nutritious than table salt, because it retains the natural balance and spectrum of essential minerals, supplying the body with over 74 vital trace minerals & elements. A sprinkle of this sea salt is a healthy addition to any dish or recipe.
NO ADDITIVES – Our fine ground sea salt is completely all natural and has no additives. It's not processed in any way beyond low temperature drying and grinding. This salt is also Non-GMO Verified, certified Kosher, lower in sodium than table salt and paleo-friendly.
ORIGINAL, MOST TRUSTED BRAND – Celtic Sea Salt is the original and most trust brand of sea salt, and is referenced in more culinary and nutritional books and journals than any other salt in the world. Since 1976, we've grown into a brand that has been recommended by doctors, nutritionists and chefs alike.
Bestseller No. 2
Sale
Bestseller No. 3
Freshly ground black pepper
2 cups red wine
Justin Cabernet Sauvignon 2013, 750mL
Cabernet Sauvignon, Paso Robles, California
Appearance is dark purple-ruby core with lighter rim and moderately stained, pronounced tears forming on the glass.
Aromas of ripe black and red cherry, blackcurrant and berry fruit, baking spice and sweet tobacco with red and black licorice, oak, cocoa and subtle camphor notes.
Ripe black cherry, cassis and red fruit, baking spice and oak accents on entry with sustained ripe primary and mostly black fruit, dried autumn leaf, cocoa and a pleasant suggestion of camphor on the mid-palate into the finish.
This is a great go-to red for many pairings ranging from a picnic of artisanal cheese and charcuterie, a Philly cheese steak sandwich, to a classic Entrecôte (steak) Bordelaise with pommes frites.
Teetotaler Non Alcoholic Wine Variety Pack Beverage Alcohol Free Wine Alternative (6 Bottles - 750mL)
TEETOTALER WINES are a perfect alternative for any social occasion without the after effects. With 0.0% alcohol, one may drink to their heart's content!
GREAT TASTE - Made in Spain from 100% Tempranillo grapes, Teetotaler Red delivers a dry, full bodied wine with notes of oak, cherries and plum. The finish is smooth and has the perfect amount of tannins. Chill slightly to bring out the flavours to the fullest. A lovely accompaniment to pastas, paellas, grilled meats and smoky dishes.
TRY THEM ALL with our Teetotaler wines variety pack. Includes: 2 bottles of Red, 1 Rosè, 1 White, 1 Sparkling Rosè, and 1 Sparkling White. Enjoy all the flavorful varities of our non-alcoholic wine collection.
MINDFUL DRINKING - The removal of alcohol supports a healthier option as it removes most of the caloric content without stripping it of its polyphenol antioxidant benefits. Premium wine alternative without sacrificing the familiar taste of your favorite drink while allowing you to maintain your alcohol free lifestyle.
RAISE A GLASS - An elegant, full-bodied non-alcoholic wine that makes a convenient hostess gift or a fun pregnancy gift for an expecting mom.
SINZERO Sparkling Brut - Non-Alcoholic Dry Champagne Alternative - Low Calories, Balanced Acidity, 25.4 FlOz - 6 Pack
Optimal solution: Enjoy a moment of deep relaxation in the comfort of your own home with the non-alcoholic sparkling brut! Made with delicious ingredients, this sparkling brut is a must-have for creating timeless moments with our friends.
Unique blends: SINZERO sparkling brut is the first sparkling made with 100% Chardonnay grapes produced in Chile with less than 0.5% alcohol. The 750 ml bottles contain a gold and bright non alcoholic sparkling with balanced acidity.
Superb aroma: The vegan sparkling contains powerful ingredients such as banana, peaches, and lime. The sparkling wine has a balanced acidity that allows you to enjoy the crispy and light bubbles in the mouth.
Easy to combine: Best served at 8°C, the brut sparkling can accompany salads, seafood, and Japanese food with success. Experience the fresh and unique taste of our SINZERO sparkling even if you are a driver, pregnant woman, or athlete.
For a healthier life: Help your friends and family consume a healthier drink with just 1/3 of the calories typically found in each glass. This non alcoholic sparkling is the perfect option for vegans or people who keep a string alcohol free diet.
8-9 pound beef brisket
3 cups homemade beef or chicken stock or water
1 cup freshly squeezed orange juice (optional: reserve some orange zest for garnish)
8 large carrots, cut into 2 inch pieces
Fresh thyme for serving
Step by step:
Preheat the oven to 350 degrees.
Heat the oil in a dutch oven or roasting pan over medium-high heat. Add the onions and cook until soft. Add the garlic, thyme, paprika, and salt and pepper to taste to the onion mixture and cook for a few minutes.
Deglaze the pan with red wine and cook for 5 minutes over high heat.
Add the brisket, stock, orange juice, and carrots to the Dutch oven or roasting pan, cover, and bake in the oven for 4 hours.
Remove from the oven and let cool to room temperature. Wrap the brisket tightly in parchment paper and then with foil. Reserve onion mixture in a container and refrigerate both overnight.
To serve, slice the brisket against the grain and place in a baking dish to reheat. Either pour the onion mixture on top, or first make a smooth gravy in a blender or food processor. Cover loosely and reheat for 30 minutes in a 350 degrees oven. Garnish with fresh thyme. You can also make a sauce to serve on the side by straining the pan juices and boiling in a small saucepan until reduced and thickened.
How do you make your brisket? Share your favorite recipes below!