This wine braised beef brisket is one of my most requested recipes. Braising with wine is common in many brisket recipes, but it's the orange juice used in the braising liquid that freshens up the flavor for this version.
Brisket is the ultimate holiday dish; you can make it ahead of time, the flavor improves the next day, and everyone always enjoys it. It also freezes well if you need to prepare in advance.
To Brown or Not to Brown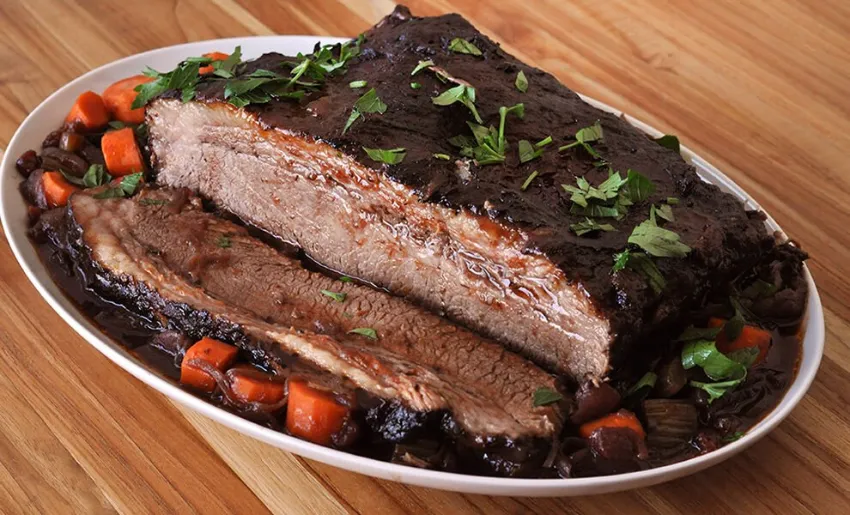 Most recipes instruct you to brown the beef first. I've tried it both ways and have not noticed a flavor difference. I prefer less steps – and less dishes.
I never make this recipe the same twice. If I want a more savory version I'll add mixed mushrooms and more garlic cloves. For a sweeter brisket, add dried apricots or plums and maybe some cinnamon sticks. What I never mess with is the generous amount of onions. If you don't have stock you can use water, but make sure to add carrots, celery, and more garlic to enhance the flavor of the braising liquid.
Wine Braised Brisket With Orange and Thyme Recipe
For easier slicing, prepare the brisket one day before serving. I've made brisket with or without browning the meat and have not noticed a difference in flavor. If you prefer to brown the meat, do so first, then put it aside while you cook the onions in the same pan and continue with the recipe.
Serves 10-12
3 tablespoons coconut oil or other healthy fat
[amazon bestseller="coconut oil" items="3″ ]
6 medium onions, coarsely chopped
4 garlic cloves, minced
2 tablespoons dried thyme
1 tablespoon paprika
Sea salt
[amazon bestseller="Sea salt" items="3″ ]
Freshly ground black pepper
2 cups red wine
[amazon box="B06WVGV73Z" ]
[amazon box="B09QLBVPXW" ]
[amazon box="B08XZJGJRZ" ]
8-9 pound beef brisket
3 cups homemade beef or chicken stock or water
1 cup freshly squeezed orange juice (optional: reserve some orange zest for garnish)
8 large carrots, cut into 2 inch pieces
Fresh thyme for serving
Step by step:
Preheat the oven to 350 degrees.
Heat the oil in a dutch oven or roasting pan over medium-high heat. Add the onions and cook until soft. Add the garlic, thyme, paprika, and salt and pepper to taste to the onion mixture and cook for a few minutes.
Deglaze the pan with red wine and cook for 5 minutes over high heat.
Add the brisket, stock, orange juice, and carrots to the Dutch oven or roasting pan, cover, and bake in the oven for 4 hours.
Remove from the oven and let cool to room temperature. Wrap the brisket tightly in parchment paper and then with foil. Reserve onion mixture in a container and refrigerate both overnight.
To serve, slice the brisket against the grain and place in a baking dish to reheat. Either pour the onion mixture on top, or first make a smooth gravy in a blender or food processor. Cover loosely and reheat for 30 minutes in a 350 degrees oven. Garnish with fresh thyme. You can also make a sauce to serve on the side by straining the pan juices and boiling in a small saucepan until reduced and thickened.
How do you make your brisket? Share your favorite recipes below!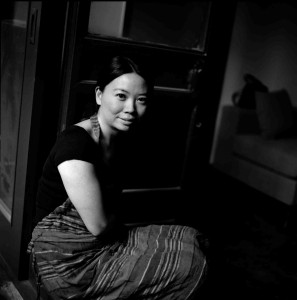 Jen Lin-Liu is the founder of Black Sesame Kitchen. A Chinese-American writer and a nationally certified Chinese chef in Beijing. Jen is the author of two memoirs, Serve the People: A Stir-Fried Journey Through China and On the Noodle Road: From Beijing to Rome with Love and Pasta.