Have you nixed meat products entirely due to diet or just because of less meat consumption awareness? If that's so, do you miss the chewy, smoky, textured flavour of the meat?
As a meat lover, it's quite difficult to ditch meat jerky, but there is a solution to every problem. While hunting for an alternative to the meat problem, I stumbled upon the best vegan jerky.
You get to enjoy plant-based jerkies that let you feel the same chewy, savoury, and leathery flavours without compromising high protein.
However, as vast companies are moving to vegan jerky, you might not meet the eye with every pack.
Considering the opinions of lots of vegans, I made a list of 10 vegan jerky that you can use as the best meat jerky alternative without compromising much.
Benefits of Using Vegan Jerky
Before I move on to the wholesome review section, you will surely want to know why you should have vegan jerky in your snack in the first place. In short, what benefits are you going to get from it?
Rich in Nutrients
Well, literally, you cannot resist counting the benefits. Vegan jerky is high in protein, fibre, vitamins, other nutrients, and obviously energy content. It is made from various veggies, which are very rich in antioxidants, fiber, and vitamins and very good for your digestive system.
High Protein & Low Carb
You will know the benefits even better if you look at the ingredients a vegan jerky is made with. Jerky is traditionally an animal protein-dominant product. But you will have all the things in a vegan jerky to fill up this much protein.
Vegan jerky is made from plant-based ingredients like wheat gluten, mushrooms, soy, fruits, and vegetables. This is why it is very high in protein and low in carbs and fats.
On-the-Go Snack
Besides, it is a very great "on-the-go" type snack because you can have it anytime, anywhere, if you buy it! It also makes such a great and easy sandwich filler. The bottom line is vegan jerky can easily be your favourite snack.
Our Top 10 Best Vegan Jerky Reviews
The list includes both small and larger packs from which you will find the right package that will suit your food habit and needs.
Primal Spirit Vegan Jerky
[amazon box="B00L9IS504″]
If you don't wish to compromise the flavour of meat and get the taste in different variations, you should stop your search at Primal vegan Jerky. Want to know why?
Not just one or two, this pack features six different flavours, including Mesquite Lime, Hot & Spicy, Thai Peanut, Hickory Smoked, Texas BBQ, and Hickory Smoked. Special thanks to the smoky seasoning; you will love to chew the real flavour of the meat in the vegans.
Ranked by both VegNews and PETA, you are about to enjoy the best vegan snack. Plus, there won't be any cruelty of gluten in any bites.
Beyond rankings, the Primal Vegan Jerky surely proves itself by providing a higher protein level and other minerals per serving, such as 10gm protein, 81 calories, 11g carbs, 383mg sodium, 1g fat, 1g fibre, etc.
Being made of seitan, aka wheat protein, the sampler pack will give you a protein boost whenever you dive your teeth into it and get you the true meaty texture.
Featuring non-GMO certification, you can be assured that you will eat the real piece, not just any engineered or bio-engineered foods. That also means your every bit will be a naturally processed food.
Well, I found a shortcoming that the Primal Jerky pack isn't appropriate for on-the-go eating purposes because the pieces are saucy and pretty wet. But eating at hiking, regular walking, climbing, or eating at driving stops won't be bothering.
Highlighted Features
Comes in six different variations to give you different tastes
Has non-GMO certification to ensure real food
10gm protein per great protein booster
Made of seitan to make sure protein at every bite
Louisville Vegan Jerky
[amazon box="B01N8SLC7N"]
If you feel the jerky mentioned above is all you need, you might miss out on something else. However, you might want more proteins in your vegan jerky with more brand value.
In that case, you would love to try the vegan jerky from Louisville – the brand to put your money and trust. The brand has been serving vegan jerky to chew as the best alternative to meat jerky since 2012.
Providing you full health benefits, you can get 15g to 21g of proteins per bag with only 4g of fat.
With a combination of savoury, sweetness, and salt, you get to taste five drool-worthy flavours, including smoked black pepper, maple bacon, buffalo dill, perfect pepperoni, and Carolina bbq.
Anyway, each batch of this vegan pack directly comes with non-GMO certification for being gluten, cholesterol, and fat-free. Your health is totally in safe hands; no worries.
Interestingly, with all those features, this pack from Louisville gives you a delicious springy texture with a chewy flavour right between your teeth.
Overall, if you love to chew jerky unendingly with low fats and high protein, Louisville is an undoubted choice. But, you got to watch out for your wallet for a moment because it comes with a higher price tag compared to others.
Highlighted Features
15 to 21g protein per bar
Comes in five different batches
Low fats and carbs but high protein
A perfect healthy snack for on-the-go
Zero gluten, cholesterol, and non-GMO certification
NOBLE Vegan Jerky
[amazon box="B07BFHQGMS"]
Do you love to prank your friends or siblings? Why don't you try the Noble vegan jerky to prank them? Because it tastes very close to the meat textures though each piece comes from pure vegetables.
Coming with Original, Sweet BBQ, Chipotle, Teriyaki, the packages contain 14g of protein in each packet. It means each bar will be full of flavours and can work as a powerhouse for your health and energy.
Plus, non-GMO ingredients ensure that you are biting on non-engineered or non-bioengineered foods. And this leaves you with health benefits.
Apart from that, you might feel concerned with fat, carbs, nitrates, and other health hazardous ingredients. Don't fret anymore; this package ensures zero tolerance for these ingredients that might go against your health.
Crafted with soy protein, spices, black beans, cane juice, vegan sugar, rice vinegar, canola oil, and so on, you wouldn't want to miss the cravings of each bite. You will feel like sorcery with this on-the-go snack, or you can try it out with other fruit snacks, lunch, dinner, and many more.
However, when you are about to dip into each bar, you'll find it wet and too saucy. But it's not a major one to argue because the outstanding flavour overlooks it.
Highlighted Features
Zero fats, carbs, and cholesterol
Based on soy-based vegan
Perfect on-the-go packs
Each unit comes with non-GMO certification
Louisville Vegan Jerky – Maple Bacon
[amazon box="B00QVUNE5Q"]
Who doesn't love to protect animals from being haunted? If you are so, how about you get the meaty flavour in some vegan jerky without hunting animals? It'll be like a dream come true when you put your hands on Maple Bacon from Louisville Vegan Jerky.
With the savoury-sweet, salty and smoky flavour, the Maple Bacon will leave your mouth with a fantastic and luscious taste. The texture will feel a bit chewy but not hard enough to hurt your jaws.
And just the moment you think about the protein, the vegan jerky will say, "I got you, boo!" because the bar brings 18g of protein with only 4g of fat. You're free from too many fat things also.
Besides, talking of calories, you are about to harvest 270 calories per bag of maple bacon, and that's an ample amount of calories to get, in my opinion.
Plus, if you are following a strict gluten-free diet, you wouldn't wish to put your teeth into a gluten-based jerky. Say goodbye to those worries; this bar includes no gluten at all.
Well, while thinking of vegan jerky, your curiosity would love to know if they are organic or not. Certified with non-GMO, the Louisville brand ensures you have fully organic and healthy jerky on your table.
Highlighted Features
Doesn't contain any gluten, cholesterol, and fat
Stuffed with fully healthy and organic food
Produces 270 calories per bar
A powerhouse of protein containing 18g per serving
Primal Spirit Vegan Jerky
[amazon box="B000LKXJEI"]
Would you love to add something exciting to your diet chart? A vegan jerky would be a solid choice, and the Mesquite Lime version from Primal is an undefeated champion in this segment.
This pack is made with healthy, high-quality Mesquite with organic and locally collected foods. Each piece comes with plant-based protein, containing 10g per serving.
In addition to organic foods, the brand ensures that you consume only pure and healthy jerky. And for that, each jerky comes from a non-GMO certified wheat-based seitan ingredient. That being said, you are about to taste a healthy bar.
Made for a rich, savoury, and smoky taste, this Mesquite Lime will leave you at awe-aspiring moments because it brings full of nutrients, fibre, flavour, and a tasty experience to your tongue.
Well, you don't need to be always at home to taste the jerky. Whether you are just skating, going to the gym or home, running, hiking, or just in a natural snacking mood, the jerky can fill your tummy at the moment. Also, it will keep your body nourished and healthy if you are up for some sports.
In most cases, we find chemical issues, aka preservation and artificial ingredients, in jerky. But you won't encounter any preservation or elements related to that in this bar.
Lastly, this package won't break your bank because it packs 24 bars just in a single package at an affordable price tag.
Highlighted Features
Contains 10g of protein in each serving
Zero gluten, fat, and cholesterol
With non-GMO certification, the bars are made from organic foods
No chemical preservations are included in this bar
Gardein Ultimate Plant-Based Jerky
[amazon box="B085RHBGZT"]
Have you ever thought of a tasty alternative to beef jerky? Gardein Plant-Based Jerky tastes pretty similar to beef jerky without sacrificing its taste and flavour of it.
This 2.25-ounce plant-based jerky can curb all types of meat cravings while providing you with complete health benefits. It offers you plant-based 12g protein with each serving, which means you get proteins from plants, not meat.
Comes with non-GMO certification, you can assure of what you are eating. I mean the pure vegetables you are looking for, not somewhat engineered or bioengineered foods.
For the appearance of a beefy or meaty texture, the plants go through a long hour of the process. Being marinated for 20 relentless hours, it becomes smoked with hardwood, which eventually leads to a beefy texture and flavour.
It doesn't matter if you are on hiking, road trip, camping, or jogging; dip into the piece and get your bite. You can eat it raw or even with other food essentials too.
Not to mention, this one isn't like another jerky on the list because it features wheat gluten. So, if you are on a diet that excludes gluten, this one might not be the choice.
In addition to taste, most of the people mentioned this piece is too salty to eat. So, keep that in mind before you finalize the purchase.
Highlighted Features
Pleasing meaty texture from plants
Great on-the-go package
Beefy taste
Contains 12g of protein per serving
Primal Spirit Meatless Vegan Jerky
[amazon box="B077PDWGRF"]
Do you wish to roar on animal abuse but don't want the law to bother you? Well, try out the best vegan jerky from Primal Spirit.
So, how does this vegan jerky help you? Ensuring high quality and naturally sourced plants, the brand produces cruelty-free jerky to be in your mouth. Without using any preservatives, this plant-based jerky is supplied to you directly from the store.
Giving you 10g protein per serving, you won't go proteinless while prohibiting meat, or in a sentence, your body will get full nourishment.
I know your every penny counts and trust me, your pennies won't go in vain. Offering you a pack of 12 pieces, you will surely find each piece with rich flavour.
Interestingly, if you are into a gluten-free diet, these packs are surely going to be your daily go-to snack. Featuring no gluten in the packs, you can take a bite without hesitation.
Plus, the non-GMO certification will make you amazed as well because each piece is crafted from organic vegetables and smoked like meat.
Above all, if you want to consider a vegan jerky to chew while running, hiking, or traveling, you can surely count on the Primal Spirit.
Highlighted Features
10g protein per serving
Has non-GMO certification
Gluten-free
Value for money pack
Pleather Black Pepper Vegan Jerky
[amazon box="B07DSN6W4K"]
If you are after a diet that requires a heavy load of sodium, or the doctor asked you to eat healthy foods that provide sodium, I'd highly recommend you the Pleather Vegan Jerky. The 2oz pack serves you 910mg of sodium, which is truly a massive one to remark.
This piece comes from a bold combination of black and white pepper, Spanish paprika, cayenne powder, organic sugar, and other spices in a smoky finish. The whole process goes through a handmade marination approach in small batches. Well, who doesn't love handmade foods?
Coming with a smoky and bold finish, you can never know that this is a vegan jerky from a bit of distance. It's undoubtedly a savoury snack to gnaw on while driving, going for a hike, and walking as a replacement for beef jerky.
This bad boy got a seitan base to introduce an impressive protein amount, which is a whopping score of 16g per serving. It just sits between the sweet spot of texture and flavour that you can never refrain from chewing or eating next time.
With a tough and chewy texture, this bar from Pleather doesn't escape the gluten. So, it's kind of a shortcoming you'll have to accept if your diet mentions a gluten-free chart.
However, if you want variations in eating vegan jerky from Pleather, you can also check your buck for Red Pepper Bourbon BBQ, which comes with true Kentucky Bourbon.
And the other one is Ginger Sesame Jerky if you want a snack to bite on the go, just like any fry. Try them out!
Highlighted Features
Dynamic, tough, and chewy flavour
Hand made
Excellent taste and rich texture
16g protein per serving
Losuiville Vegan Jerky
[amazon box="B00T83BLAS"]
I don't love to break the bank when I'm putting my hands on a new pack, do you? If you are like me, you can look at the 3 bags of vegan jerky from Louisville.
Each pack, including Perfect Pepperoni, Smoked Black Pepper, and Buffalo Dill, will give you the flavour of a bit of sweet, salt, and savoury, in case you aren't going to miss any taste at your first bite.
Directly crafted by hand, all packs come from original vegan products. In addition to that, each batch gets certified with non-GMO certification, which emphasizes the true veggie items.
Each vegan jerky gets marinated with fresh Kentucky ingredients to not miss out on the delicious flavour and texture. Plus, you will score a milestone of 18 to 21 grams of protein in each bag, which means you will receive around 6-7g of protein form per serving.
Moreover, people are allergic to gluten, soy, and so on. If you are allergic to those, you can bid adios to your worries. The brand packed each packet with zero gluten, cholesterol, and trans fat.
Sometimes you wouldn't love to eat and chew the jerky raw. In that case, you can eat the bars with pizzas, fruits, wraps, or even for breakfast. And for eating raw, you can consider eating these while walking, running, hiking, or even driving. They are just perfect snacks for eating anytime.
Highlighted Features
Full of flavour, texture, and delicious bites
18 to 21 grams of protein from each bag
On-the-go snacks
Free of trans fat, gluten, and cholesterol
Organically sourced foods
Portabella Mushroom Jerky
[amazon box="B07JZL9CL1″]
At long last, how about some mushroom jerky? Well, the mushroom is a famous kind of vegetable with health benefits, and this piece of jerky is no exception to that.
Starting with the process, the process goes from hand to hand approach, with not much machinery included. Picking the highest quality portabella mushrooms, they get dehydrated and processed in small batches for a long hour.
While going through the process, there are no traces of msg, hydrogenated oils, and preservatives. I'm sure the brand is genuinely aware of your health.
More so, the 2 oz bag comes with zero gluten and cholesterol. You will surely love this piece if you don't want those elements and if your diet excludes cholesterol and gluten.
Whenever you dip your teeth into the Sweet Balsamic and Golden Fig bar, you will surely love the rich, umami taste of each bite. The bar is fully textured and flavoured with chewy satisfaction.
However, you might want a vegan jerky packed full of nutrition, and this jerky serves you a whole house of nutrition, including dietary fibre, vitamin D, potassium, selenium, iron, and other antioxidants. Still, got any bet?
In addition to nutrition, you will chew 9 to 10 grams of protein in each bag you buy.
Furthermore, you would surely want a meatless snack when you want to toss out meat from your snack list. For your concern, the brand certified its product with non-GMO certification, which means each bar comes from pure veg.
Lastly, if you look for variations, you have a lot of options to choose from, such as ship Sesame, Ginger, and Korean Chill style, Roasted Garlic, Black Pepper style, Smokehouse Bacon style, and Hot & Spicy Cajun Style.
Highlighted Features
9 to 10 grams of protein from each bag
Excludes any hydrogenated oils, msg, and artificial preservations
Meatless snack to eat on-the-go
Rich in nutrients
Things to Consider Before Buying Vegan Jerky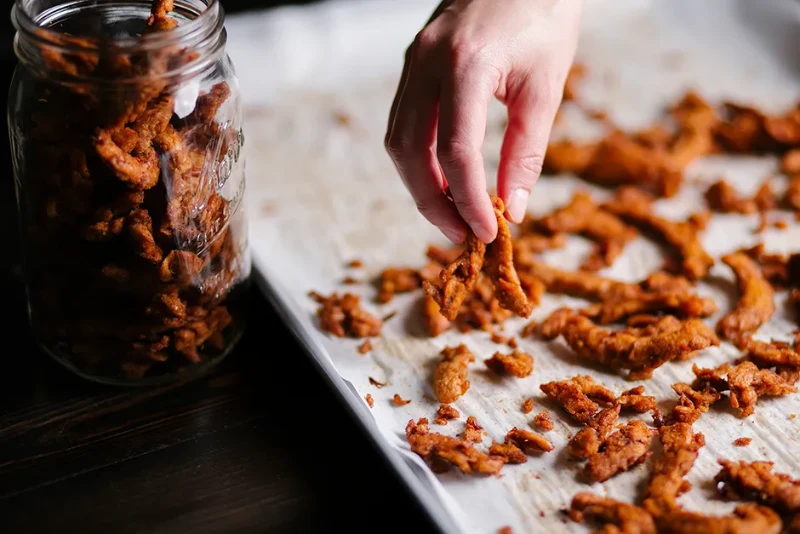 As long as you are getting vegan jerky, you must consider some inspections before buying it. Otherwise, your vegan jerky might not meet your diet chart or health. Let's check out some essential facts.
Ingredient Quality
Choose a vegan jerky that comes from organic, naturally grown, wild, antibiotic, and chemical-free vegetables. Many brands can fraud you in with low-quality or fake vegetables and use much sugar or salt to increase taste and palatability.
Look for a vegan jerky that is processed with high-quality vegetables and cooking elements for more nutrition.
Serving Size
You also have to consider how much sodium, protein, calories, iron, and other elements your body needs in this concern. If you aren't aware of the numbers, you can consult with a nutrition expert to know how many servings you have to take.
Non-GMO Certification
Be sure to check non-GMO certification when you are getting a vegan jerky because it will be proof of the organically sourced veggie.
Allergen Information
Everyone is allergic to something, and you might be too. When you buy a vegan jerky, you might want to check out if the piece is made with gluten, soy sauce, and other elements. I'd ask you to check every ingredient in the bag, especially the gluten because most of the diet chart eliminates gluten-based items from the chart.
Choosing Flavors
The flavour is the crux of the matter because that's what everybody relies on, even including me. I'd recommend looking for which type of flavour you like. Is it seasoning, smoky, half-baked, or grilled? It all depends on your taste. Each bag mentions the flavour, so check the pack carefully before you check your wallet.
Texture
Based on the process of making jerky, the final item will yield separate results from one jerky to another. Some jerky is intended for a dry and tough texture that tends to reveal a workout for your jaw, whereas others come in a soft texture.
If you prefer a good textured item, packing the wrong kind in your cart can lead you to the worst snacking experience. Either dry or softer jerky, look for these words on the labels. You will know if that one offers a soft or dry texture.
Sodium
You must check the quantity of sodium in the vegan jerky you are having. It must not exceed 300 milligrams per serving. In some jerky, the number may be almost 600 milligrams, which is around half of the safety margin of daily sodium intake. This is why you should have it into consideration.
Sugar
Just like Sodium, you also need to check for the amount of sugar in your jerky. Usually, sugar and salt are used as a combo to make crave-able and savoury snacks that will lure you towards it frequently.
Check the ingredients list for this information. Try to choose something that has a natural sweetener in it, such as Pineapple juice, Maple Syrup. You should not take anything with more than 5g of sugar in it.
Protein
Choose a jerky with high quality and a quantity of protein. Vegan jerky contains the same amount of protein you will have from meat-based jerky. Choose something that has at least 10g of protein in each serving.
Top 8 Vegan Jerky Brands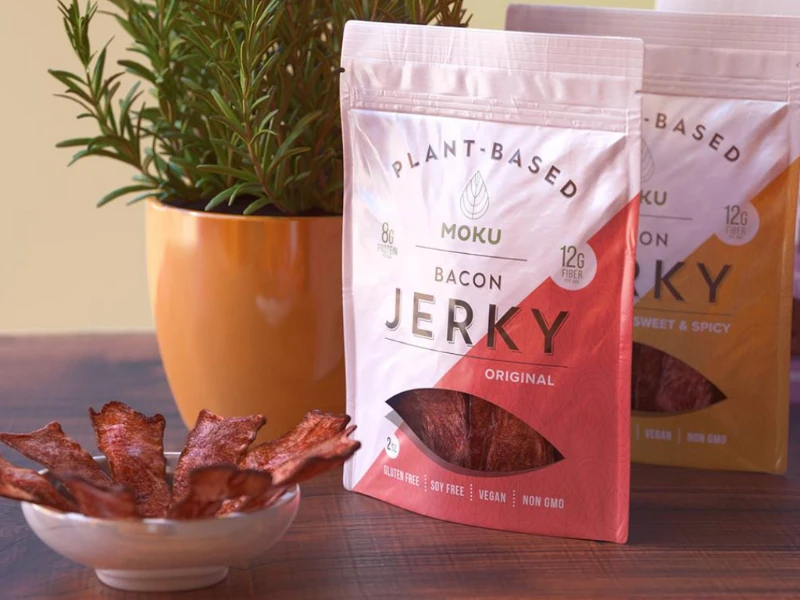 Well, who doesn't want to get the brand values? Everyone goes under the hood and collects one. Let's check out a few vegan jerky brands to be on your top list.
Primal Spirit Vegan Jerky
Vegan jerky of this particular brand has quite a variety in its flavour collection. Its 10g protein per serving and flavour make it one of the best.
Louisville Vegan Jerky Co.
In reality, Louisville vegan jerky paved the way for vegan jerky to be the best alternative to meat-based snacks. This is a great source of protein that is also non-GMO, gluten-free, and soy-based.
Noble Jerky
It is a Thai jerky that is of excellent texture and taste. Also, it has a number of varieties in texture that can easily catch you with the charm.
Sam's Harvest Jerky
This Butler Soy Curl made vegan jerky with a lovely flavour and a unique type of soft texture.
Pleather Vegan Jerky
It can be a perfect beef jerky replacement. This seitan-based jerky contains 16g of protein in a single serving.
Wild Joy Goods Banana Jerky
This sugar-free, awesome meaty texture vegan jerky should be the best for its natural type taste. It has only 1g of protein in it.
Su Mama Roasted Vegan Jerky Hot And Spicy
A sugary vegan jerky. With 4g sugar, it is pretty sweet. Its hot and spicy taste is entirely something to hook you up!
It's Jerky Y'all
This Texan vegan jerky will force you to get confused if vegan jerky is to be chosen before meat jerky, and its fantastic texture, taste, and flavour are the reason.
How to Make Vegan Jerky
Everybody loves to cook their own food, don't you? As you have already seen the reviews, benefits, and other aspects, I believe you are already impressed to try the jerky veggie recipe. Let's check what you need and how to cook.
Ingredients you will need;
1/4 cup Braggs Liquid Aminos
1/4 cup Vegan Worcestershire Sauce
4 dry cups of soy curls
1 tsp of Wright's Hickory Flavor Liquid Smoke
1 tsp of Crushed Red Pepper Flakes
1/4 cup regular Olive-oil
1 tsp of Cayenne
2 tsp of Chili Powder
2 tsp of Garlic Powder
1/4 tsp Salt (seasoned)
2 tsp Onion Powder
Procedure you will have to follow;
Start the making by soaking 4 dry cups of soy curls in a bowl of water for around 5 to 10 minutes.
In the meantime, when the soy curl is getting soaked, gather all the other ingredients and mix them together very nicely.
After 5/10 minutes are over, rinse off all the water. You can press them for a bit to remove the excess water.
Now it is time to let the smoky sauce come into action. Pour the sauce on the soy curls and mix them properly. Get a parchment-covered tray. Spread soy curls on that tray and then bake them for around one hour. Turn them over every 15 mins so that it remains perfect.
Now your vegan jerky is ready to be served. You can also store it in the fridge. For around two weeks, it will stay just fine.
Some Tips to Follow
To make it a bit chewier, add or subtract 10 minutes from the baking time.
If you want it spicy, this recipe is enough; or else, reduce the amount of cayenne and red pepper.
Frequently Asked Questions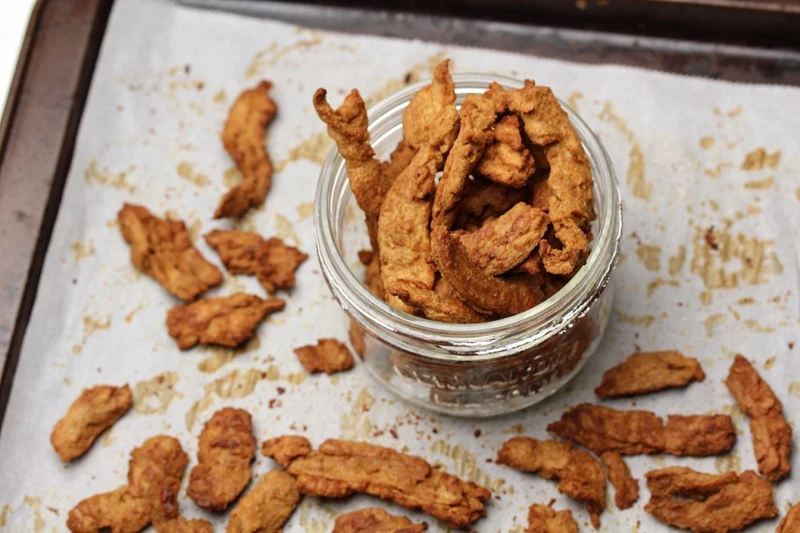 Is vegan jerky healthy?
Vegan jerky has lots of protein but has a low amount of calories. Most experts said it is useable as an excellent kind of on-the-go snack.
Is Slim Jim Vegan?
Slim jim vegan is without a doubt, fully vegan and gives you a meaty, spicy taste that herbivores would miss. It is made with ingredients such as organic wheat protein, organic tofu, and organic sunflower oil. You will get 130 calories from one vegan Slim Jim.3.
Why do some people say beef jerky is bad for you?
Beef jerky is very high in protein and has lots of sodium. One serving can give you 15-25% of your daily recommended amount of sodium. That amount for adults is 2,300 milligrams.
What is vegan jerky made of?
Making vegan jerky is simple. Butler soy curls, made of dehydrated soy, feel like vegetable protein as if it was textured. But they are chicken stripe-sized. They gain the meat texture when they are hydrated.
Is pans mushroom jerky vegan?
Pan's mushroom jerky is made from shiitake mushrooms which are plant-based. That is why pans mushroom is vegan and has plenty of fibre and vitamin D, soy-free, kosher, gluten-free, and suitable for paleo. It also applies organic elements.
Conclusion
The best vegan jerky should be chewy, flavour-rich, and good-textured but soft at the end.
In my opinion, the Louisville Vegan Jerky fits the value and money because most customers praised the organic food taste, local ingredients, and fresh flavour. Plus, the jerky comes with zero msg, nitrates, preservatives, and zero gluten eventually.
However, as you have already read the reviews and buying guide, you know which one suits your budget and taste. Make sure to check the ingredient list and gluten-free feature before you buy one. The original flavour is always hidden in the pack.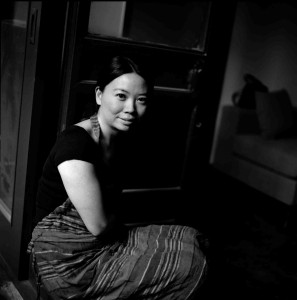 Jen Lin-Liu is the founder of Black Sesame Kitchen. A Chinese-American writer and a nationally certified Chinese chef in Beijing. Jen is the author of two memoirs, Serve the People: A Stir-Fried Journey Through China and On the Noodle Road: From Beijing to Rome with Love and Pasta.