Homemade popcorn is one of the best snack of all time. In fact, this is one of my favorites, too. However, I have encountered a few types of popcorn kernels that either didn't pop that well or tasted that good.
Whether I am cooking the snack at home or bringing them on a camping trip, I would want to make the perfect and most flavorful popcorn! For this reason, I always make sure that the popcorn kernel brands that I buy offer the best tasting and well popped homemade popcorn.
If you want to avoid making the rookie mistake of purchasing bad popcorn kernel brands, read on to find out which products are the best popcorn kernels in the market today.
Health Benefits of Popcorn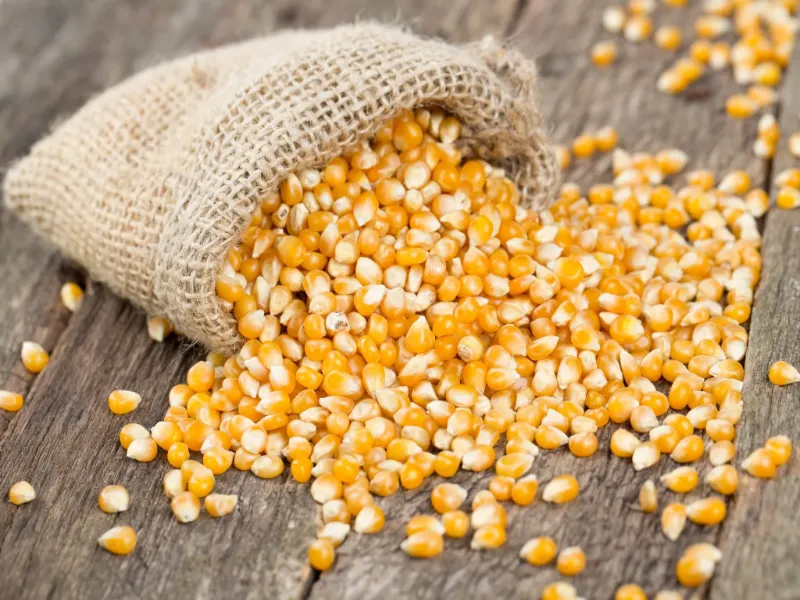 Yes, popcorns are not only tasty but also offers numerous health benefits. Here are some:
Popcorns are whole grains.
Popcorns contain polyphenols.
Popcorns contain numerous vitamins and minerals.
Popcorns are rich in fiber.
Popcorn has three different parts, which are the germ, bran, and endosperm. The germ portion of the popcorn contains healthy oils along with vitamins B and E, and essential minerals. On the other hand, the bran portion of popcorn contains protein, antioxidants, and fiber. Lastly, the endosperm part contains starch.
Factors to Consider When Purchasing Popcorn Kernels​
If you want to enjoy the flavor as well as the health benefits of popcorn, you should only use the highest quality popcorn kernels in the market.
But, how do you spot the best ones?
Here are some of the factors that you need to consider when purchasing popcorn kernels.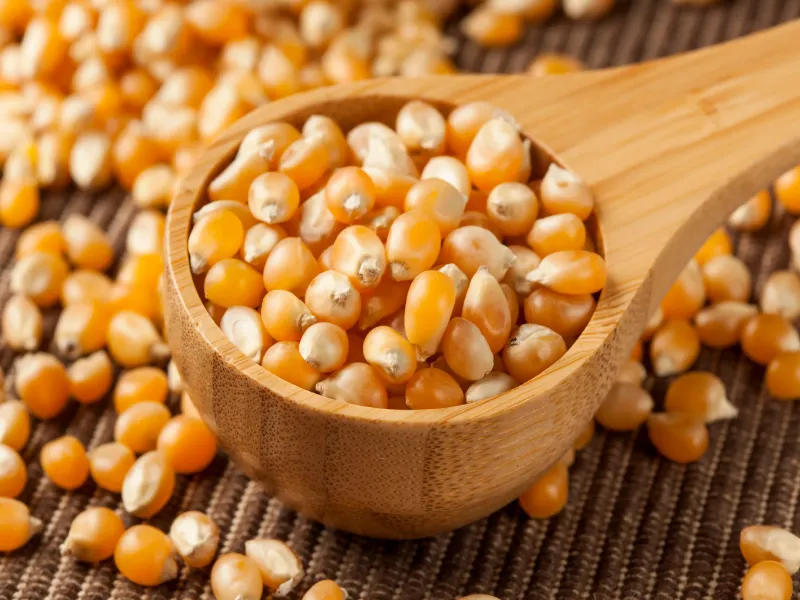 Types of Popcorns
There are two types of popcorn, which are white and yellow popcorn. The yellow ones tend to produce fluffier and more flavorful popcorn. On the other hand, the white ones tend to produce mushroom shaped popcorn which often contains little amount of flavoring to preserve the popcorn's original flavor and color.
Go for GMO-free Products
Always check the label of your popcorn kernels and make sure that it is made with GMO-free ingredients or non-genetically modified organisms.
Freshness
The freshness of the popcorn kernels will play an important role on how tasty your popcorn will be. Basically, the fresher the popcorn kernels, the tastier the popcorn will be. That being said, you should decide on where to buy the product and how much popcorn kernels to buy. Also, it is helpful to check the manufacture date of the product.
Storage and Packaging
How the popcorn kernels are packed and stored will greatly affect its freshness. If you are thinking of buying bulk orders of popcorn kernels, you should opt for those products that are stored in airtight containers. Also, you should consider purchasing those popcorn kernels that are packed in resealable bags or containers so you will be able to maintain its freshness if you are not cooking the entire batch.
Check for Preservatives
It is always best to go for the healthiest options, even with popcorn. That being said, you should always check the popcorn kernel products for the presence of any preservatives. The healthiest ones tend to have fewer preservatives or none at all.
Presence of Hulls
It is ideal to decide whether you want hulls in your kernels or not. Hulls can be a problem for those people who have braces or digestive problems like Crohn's disease or irritable bowel syndrome.
Method of Popping
Another important consideration to make is the method of popping the kernels. Popcorn kernels come with different instructions on how it can be popped. You should choose the method of popping that is most convenient for you and purchase the product that is designed to be popped in your preferred method.
Stove Popped Popcorns versus Hot Air Popped Popcorns versus Microwave Popped Popcorns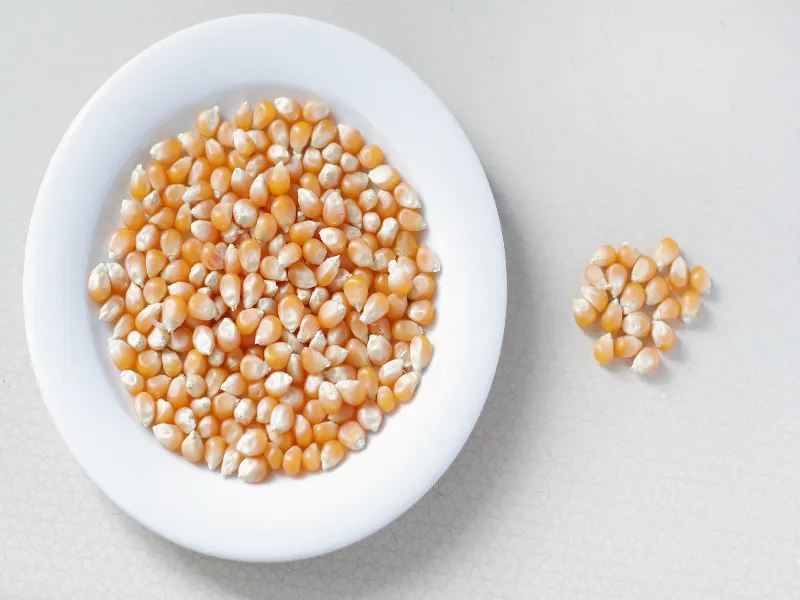 There are various methods in cooking popcorn. That being said, you simply have to choose the cooking method which is most convenient to you. Regardless of the preferred, here are some tips and tricks in cooking the perfect popcorn.
When making popcorn on the stove, you should look for a kernel that can withstand the heat for it to cook properly before it opens. You should opt for a round kernel instead of an elongated one, as round ones tend to cook evenly and will not absorb excessive oil when cooked.
There are also popcorn kernels that are designed to be cooked using hot air poppers. Hot air poppers blow hot air through perforations in a chamber where the kernels are placed. The kernels swirl around and get heated at the same time inside the chamber.
Once the internal temperature of the popcorn kernels reaches its highest point, it will pop open. As more kernels popped, the chamber will fill up, and popped kernels will be pushed out of the chamber. Such a method will not require the use of any oil, which would mean that you are making healthier popcorn.
Another way to cook popcorn would be through the use of a microwave. Homemade microwave popcorn are often packed in microwavable bags that you simply place inside the microwave. This type of popcorn kernel is often pricier than the other types.
If you opt for this type of popcorn kernels, you should follow the popping instructions as indicated on the package.
Creative Ways to Add Flavor to Your Homemade Popcorn​
Even though there are subtle texture differences on popcorn, most popcorn will taste the same. But, there are various toppings that you can make which can spice up your regular popcorn.
Here are six creative toppings that you can add on your homemade popcorn.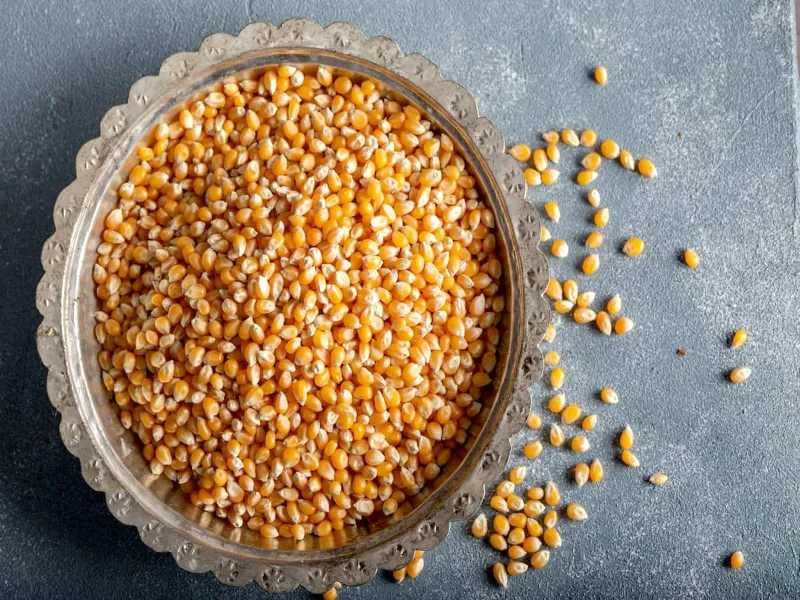 Hurricane Popcorn Recipe
This popcorn recipe is an exotic style of popcorn topping and a favorite in Hawaii. For this popcorn topping recipe, you need to mix butter, a little soy sauce, and nori furikake, which is a Japanese seasoning.
Sea Salt with Chili Powder
A great way to flavor your popcorn is through sprinkling sea salt and chili powder on it. Not only that sea salt contains more trace minerals and vitamins, it tastes great, too!
Cinnamon and Dark Chocolate
If you are in the mood for something sweet, you will definitely enjoy this popcorn recipe. To make this sweet indulgence, you can sprinkle your popcorn with cinnamon and chocolate shavings.
Parmesan Cheese
Parmesan cheese does not contain lots of calories, yet it does have a distinctive taste, especially when paired with popcorn. You can sprinkle parmesan cheese, olive oil, and pepper to spice things up a bit.
Pickle Juice and Hot Sauce
While the combination of hot sauce and pickle juice may seem a bit weird, it actually tastes great! In fact, the acid from the pickle juice will enhance the taste of the hot sauce.
Top 5 Best Popcorn Kernel Reviews 2023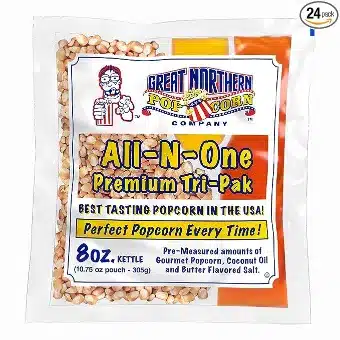 The Great Northern Popcorn Premium offers fresh and tasty popcorn in every pack. This popcorn kernel comes in pre-measured pouches that ensure the same delicious as well as mouth watering popcorn each and every time you cook them.
Not just that, the makers of this popcorn kernel product offer an authentic movie theater popcorn taste. Also, the popcorn kernels are also guaranteed fresh from local farms that meet the highest quality standards.
With its pre-measured pouches, you do not have to carry heavy bags of kernels out. You simply have to bring out enough pouches and keep the rest stored in your store room. Also, you do not need any measuring cups, as it simply requires you to open, pour and pop the snack that quick.
Lastly, the popcorns are non-GMO and gluten-free.
What We Like​
Comes with non-GMO ingredients
Comes in pre-measured pouches
Freshness guaranteed
Does not require measuring
Easy to cook and store
Great tasting popcorn
What We Didn't Like
Not ideal for large batches of popcorn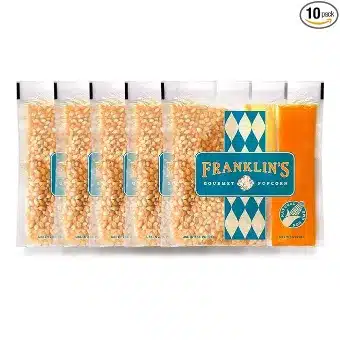 This gourmet popcorn is movie theater worthy. With its natural and non-GMO popcorn kernel, you are guaranteed fresh and tasty popcorn every time you pop it on the stove or air popper.
This popcorn kernel comes in pre-measured pack. Not just that, each pack contains coconut oil and seasoning salt, which would be everything you need to make delicious movie theater popcorn right in the comforts of your own home.
In every pack, you will get a side of 100% pure coconut oil, which is gluten-free, peanut-free, and soy-free, making this popcorn kernel the perfect choice for those who are sensitive to such ingredients.
What We Like​
Comes in pre-measured pouches
Each pack comes with coconut oil and seasoning salt
Non-GMO and organic ingredients
Gluten-free, peanut-free, and soy-free
Fresh and tasty popcorn
What We Didn't Like
Oil in each pack may appear thick and gel-like
Some packs may have too many hulls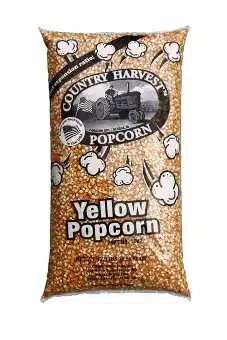 This popcorn kernel bulk bag is a great choice for those who are looking forward to making large batches of popcorn for the entire family.
The popcorn it produces is fluffy and great tasting! Not just that, you can eat it plain or with additional flavors no matter how you make it.
The kernels are premium quality yellow butterfly popcorn that is non-GMO and all natural. Also, you can pop the kernels on the stove or in the microwave.
What We Like​
Non-GMO and natural
Great tasting and fluffy
Best for large batches of popcorn
Kernels are best popped with oil
Maybe popped either on the stove or in the microwave
What We Didn't Like
Does not come in pre-measured packs
Not ideal for those looking forward to creating small batches of popcorn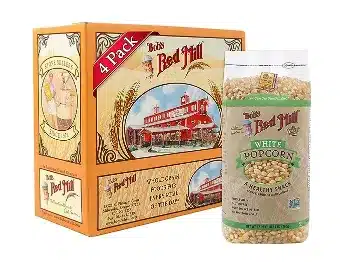 There are definitely several reasons why Bob's Red Mill popcorn is one of the best ones in the market. This popcorn kernel is non-GMO and 100% whole grain. In addition, this popcorn product is definitely an excellent source of fiber and protein.
Also, this product does not come with added oil, preservatives, and salt. You even have the option to cook this on the stove or in the microwave.
Cooking this popcorn is easy, you simply have to heat the kernels and enjoy great tasting fluffy popcorns right after.
What We Like​
Non-GMO and organic
Produces fluffy and tasty popcorn
Packaging material is tough and reduces the risks of spilling
Great for large batches of popcorn
Gluten-free and high fiber content
What We Didn't Like
Does not come with pre-packed oil or salt seasoning
Does not come in pre-measured pouches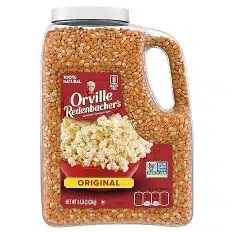 This is one of the most popular choices when it comes to gourmet popcorn. In fact, when popped, the kernels produce popcorn with crispy exteriors and tender interiors, which make up great tasting gourmet popcorn!
This popcorn kernel is 100% natural and non-GMO. Ideal for large batches of popcorn, you can definitely make popcorn treats for the entire family. Not just that, this popcorn is definitely gluten-free.
Also, this is a great source of protein, whole grains, and fiber!
What We Like​
Creates large batches of popcorn
Great tasting and fluffy
Organic and non-GMO
Comes in an easy to pour and store container
Gluten-free
What We Didn't Like
Does not come in pre-measured pouches
Does not come with oil or seasoning salt
Not ideal for a single serving of popcorn
The Bottom Line
Yes, even popcorn kernels need to be carefully chosen! If you want the best tasting popcorn and a movie theater worthy snack, you should definitely take your time in choosing the best popcorn kernels in the market.
It is important to note that not all popcorn kernel products are created equal. Thus, you have to try and pick the best ones!
Among the rest, the Great Northern Popcorn Premium has definitely made the cut. This comes in pre-measured packs that are perfect for single serves but also large ones, as you simply have to use several packs in one cooking.
The popcorns you create are fluffy and great tasting and definitely Movie Theater worthy. Since it comes in pre-measured packs, you are guaranteed that the rest are always fresh as you take them out of their packs! Also, the kernels are non-GMO and organic.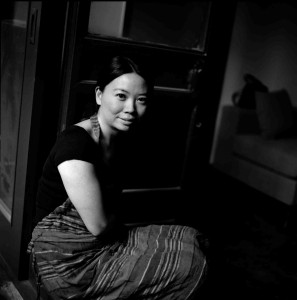 Jen Lin-Liu is the founder of Black Sesame Kitchen. A Chinese-American writer and a nationally certified Chinese chef in Beijing. Jen is the author of two memoirs, Serve the People: A Stir-Fried Journey Through China and On the Noodle Road: From Beijing to Rome with Love and Pasta.