Want to cook steak for your family or friends, but the weather isn't cooperating, and you won't be able to grill outdoors? Or perhaps owning a grill isn't allowed in your apartment or living space. No reason to fret; this is where pans come in.
Cooking that perfect steak not only requires cooking skill and technique, but you should also have the right tools, which means having the right and the best pan. Here are some of the questions you need to ask before making your choice.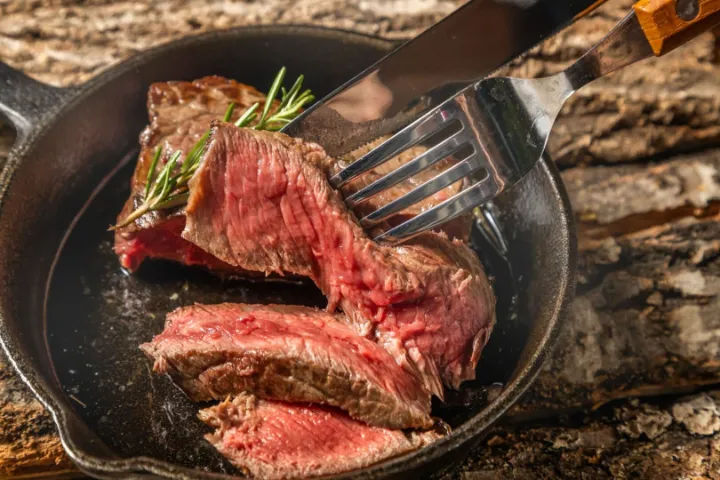 Types of Pans You Can Use
[amazon bestseller ="high heat pan" items="10″]
What should you be looking for when choosing the right pan to do the job? The pan should be able to lock in the seasoning flavors that you throw in your steak, and since cooking steaks require high heat, your pan should be able to handle that, which means you have to avoid pans that have artificial nonstick coatings. Your meat can get contaminated if you use artificial nonstick pans, as the high heat can break down the coating.
Another thing to consider is if the pan is oven safe. Depending on the cooking technique or recipe style of how you will cook your steak, you can actually move from skillet to oven or oven to skillet or stovetop. You may want to consider using two pans when cooking from stove to oven since the pan will retain the high heat from cooking on the stove.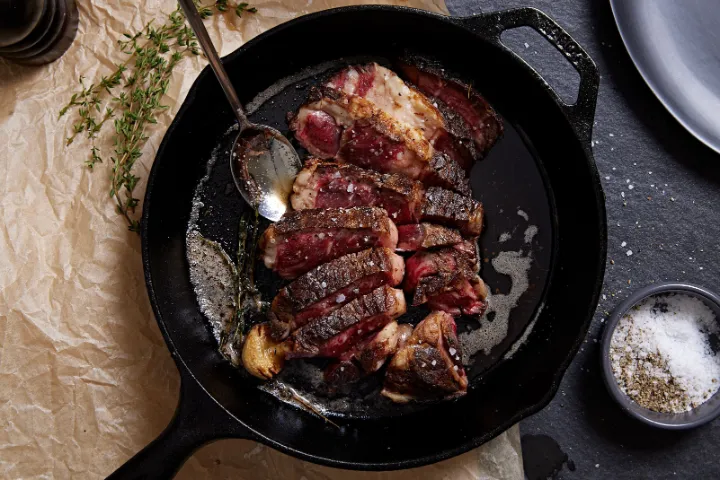 With all of that being said, here are the types of pans you can use for cooking steak.
Cast Iron Pan
[amazon bestseller ="cast iron pan" items="10″]
When it comes to high heat or high temperatures, cast iron pans have a big advantage because they are great at retaining heat. Their heat retention capability ensures a steak that's thoroughly and beautifully browned and caramelized.
Cast iron pans also have a seasoning process or are pre-seasoned, which is another great advantage of this type of pan. It's an intricate process where cooking oil is applied to the pan and heated up a few times repeatedly. If your pan is already pre-seasoned, you won't have to go through the entire process.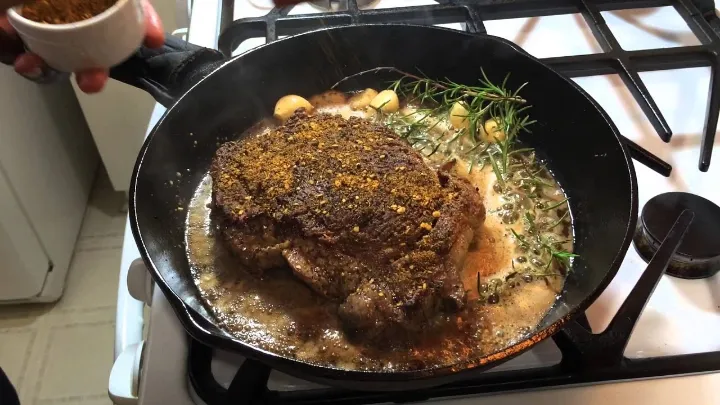 Whenever you cook fat in the pan, you naturally preserve the seasoning, which builds up great flavors and amazing aromas over time. This helps in adding flavor and in browning the steak for your next cooking. You have the option to take off the default seasoning in a new pan and do your own if you prefer or if the pan has been washed by soap accidentally. You'd have to be an experienced cook to do this, as re-seasoning can get confusing to beginners.
This type of pan also works well with any type of cooktop and stove that you would also consider when choosing what's best for your kitchen.
The downside of the cast iron pan is that it takes a while for them to heat up, and it's quite challenging to use them when cooking other recipes that require adjustment with the heat. Other than that, this is a great pan for cooking steak.
Stainless Steel Pans or Tri-Ply Pans
[amazon bestseller ="stainless steel pan" items="10″]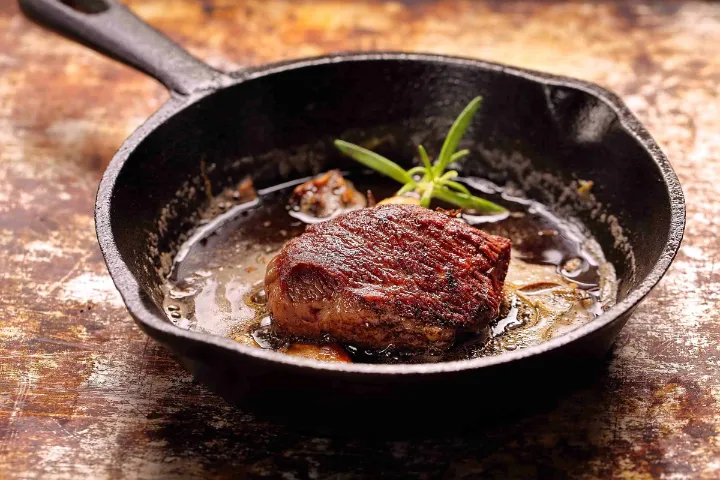 A stainless-steel pan is great for creating an evenly cooked steak since it's a great and even conductor of heat. As opposed to cast iron pans, the tri-ply pans heat up much faster and are easier to clean. A tri-ply pan is a cookware that has aluminum (or sometimes copper) sandwiched in between two layers of stainless steel.
This allows faster conduction of heat because the structure lets the heat freely flow through the whole pan. This is what makes the heating of the whole pan much faster and also allows the atmosphere or condition in the pan to be perfect for the searing of your steak.
The downside of this pan is that it's nonstick, and there's no seasoning process, so the cooking of your steak will need appropriate temperature control and a good deal of cooking fat. Aside from that, the try-plan is also a great choice for cooking steak.
Carbon Steel Pans
[amazon bestseller ="carbon steel pan" items="10″]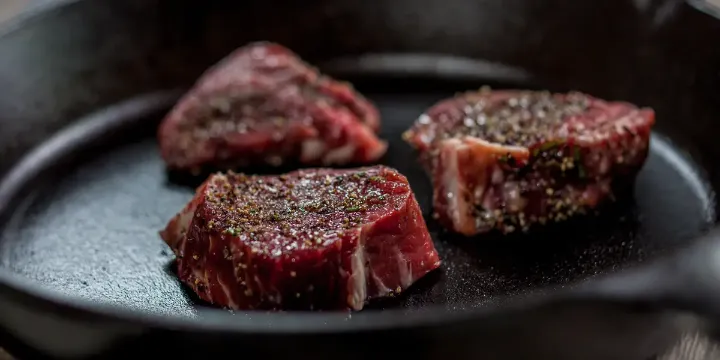 This type of pan is a lighter version of cast iron which means that a lot of the benefits of cast iron are also offered by this pan. It comes in various thickness levels, and if you're primarily using this to cook steak on, the thicker the pan, the better. This is because thicker pans can retain heat much longer than thinner ones. The carbon steel pans also work great for searing your steak.
The only difference between carbon steel pans is that they don't hold as much heat as cast iron, and they would need to be preheated longer.
Copper Pans
[amazon bestseller ="copper pan" items="10″]
The important thing to consider when choosing copper pans is that they are lined with stainless steel and not tin. Tin is not advisable since it heats up too fast and won't be great when you're cooking or searing your steak in high heat. That's the only thing you need to make sure of, but other than that, copper pans are also great for cooking steak.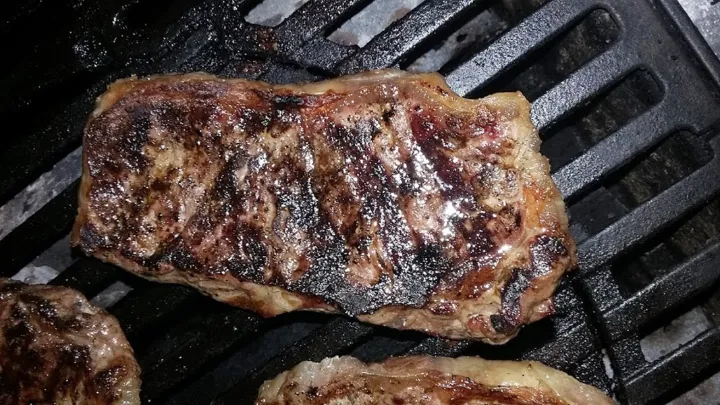 Best Pans to Cook Steak On The 2023 Market
Now that you've got some idea of what types of pans are great for cooking steak, here's a list of the best sellers in the market that can help you in making a choice.
Lodge L8SK3 Cast Iron Skillet
[amazon box="B00006JSUA" ]
Lodge Cast Iron Skillet is one of the best-selling cast iron pans in the market, which now features an assist handle. This is a pre-seasoned pan using 100% vegetable oil and has no chemicals or artificial coatings. The more you use, and the more cooking is done in the pan, the better the seasoning gets.
This pan is a great cooking tool to use for searing, frying, and even sautéing, broiling, and baking. It can also be used anywhere, at home on the stove or in the oven, for outdoor grilling, or over the campfire. This cast iron pan is great at retaining heat which makes it a great choice for cooking steak.
You just have to be careful in cleaning the pan to avoid using soap, as it can strip away the seasoning. Some users just use warm water and scrub to clean it. You also shouldn't leave it wet after cleaning as this would cause rust. For preparation, you have to preheat it properly and sufficiently since cast iron pans take a while to heat up to ensure even cooking. No other downsides aside from that, and in fact, a lot of people are raving about the great quality of this pan, which makes it a bestseller in the market.
Pros
The seasoning and flavoring get better with time as you use them more
You can cook more with this large pan
Works great both on the stove and in the oven.
Cons
This pan is on the heavy side, especially if you are cooking more
It can get rusty when left wet after cleaning
Takes a while to heat up because it's cast iron.
Calphalon Contemporary Square Grill Pan
[amazon box="B00DE1CY5Q" ]
The Calphalon Contemporary Hard-Anodized Aluminum Nonstick Cookware Square Grill Pan is made of heavy-gauge pure aluminum, and the exterior is hard-anodized, which makes it durable and sturdy. This grill pan is also dishwasher safe which makes cleaning easier. The interior of this grill pan has three layers of coating, which are nonstick. Two of the layers supply durability of the pan, and the third layer helps in achieving the results you want with your food, even the delicate and sticky ones.
The handles of this pan are brushed stainless steel that is made and designed to stay cool on the stovetop, so you won't have to worry about getting burned when you accidentally hold it without a kitchen glove or mitten. The pan and even the cover are oven safe, so this is ideal to use if you're cooking your steak oven to stove or stove to oven.
The pan has deep ridges that give a genuine grill flavor to the meat and lock in juices as the meat evenly browns. The size is also large enough for you to be able to cook more.
If you purchase this pan, you may want to take extra care in using the utensils you use with it and in cleaning it, as some users find the nonstick surface scratched after using it for some time.
Pros
The exterior is hard-anodized and made for durability
Dishwasher safe, which makes cleaning easy
Oven safe.
Cons
The nonstick surface can easily get scratched
Some users also reported it develops rust after a few uses.
Cuisinart CI30-23CR Chef's Classic Square Grill Pan
[amazon box="B0018AGJQA" ]
The Cuisinart CI30-23CR Chef's Classic Enameled Cast Iron 9-1/4-Inch Square Grill Pan is made of cast iron that retains the heat excellently and distributes heat evenly. Its interior is porcelain enameled which makes cooking perfect as its surfaces do not absorb odors and impact the flavors.
This pan also has a cast iron handle that is wide enough to provide a secure and comfortable grip making it easy to hold and handle during cooking. It's also dishwasher safe, which makes cleaning easy, and its maintenance is stress-free and convenient.
The pans come in different rich colors that easily complement any kitchen style and décor. The fancy enamel finish and the attractive colors not only make this pan great for cooking, but you can even bring it to a table because of its gorgeous aesthetics.
The downside to this pan is that some users find it heavy, and you need to take extra care in handling it so that the enamel won't chip easily.
Pros
Heat distributed evenly throughout the pan
The porcelain enameled surface doesn't absorb odor and doesn't impact the flavors
Dishwasher safe that, allows easier cleaning.
Cons
The pan is also a bit heavy, and lifting it can be challenging
Some users reported that the enamel coating chips easily.
Pre-Seasoned Victoria Cast Iron Square Grill Pan
[amazon box="B01726HE94″ ]
The Pre-Seasoned Victoria Cast Iron Square Grill Pan is made of cast iron that has a curved handle that's been created and designed for easier handling. You may find the handle bigger than the regular ones, and it's made that way so the pan can be lifted easily, even if you're wearing or using pot holders. Its premium quality iron casting is made and designed for durability and for excellent retention of heat.
This Victoria cast iron pan is pre-seasoned and ready to use. Using 100 percent Non-GMO Flaxseed Oil, this has been seasoned at high heat. The flaxseed oil used is an easy-release seasoning that's natural and gets better over time as you continue to use the pan. It has ridges or grills that would work great for grilling not only steaks but other meats, veggies, and sandwiches as well.
This is also a versatile pan that you can use in all kinds of kitchens, whether you use gas, induction, electric, or oven, and even in outdoor grilling and over campfires. Since this is oven safe, you can also cook your steak oven to stove or stove to oven if you prefer.
Make sure to follow the instructions on use and care for proper maintenance and for the seasoning to get better with time. You also should use pot holders when handling the pan, as the handles could get really hot.
Pros
Wide handle that allows easier grip and handling
Premium quality iron casting made for durability and excellent heat retention
Pre-seasoned with 100% Non-GMO Flaxseed oil, which the seasoning gets better with every use
Cons
Handles could get really hot; you'd need to use pot holders when handling the pan
Some users find the surface rough.
Cooks Standard Nonstick Square Grill Pan
[amazon box="B07491N7BV" ]
The Cooks Standard Hard Anodized Nonstick Square Grill Pan has a surface that's hard anodized, designed for durability, and is harder and sturdier than stainless steel. This grill pan has a core that is heavy gauge aluminum that prevents hot spots and evenly distributes the heat throughout the pan. It also has a nonstick coating for easy cooking and release of food and which also makes cleaning easy. Grilling is made easy indoors with its deep ridges and great even cooking. It's also easy to handle since its handles don't get hot while cooking.
This cookware can work on electric, gas, halogen, ceramic, and glass stove tops. It can also withstand high heat and is oven safe for up to 500°F.
This pan, however, is not compatible with induction cookers. It's dishwasher safe, but hand washing is recommended for cleaning this pan. Don't use a scrub so as not to ruin the top surface.
Pros
The surface is hard anodized, designed for durability, and harder than stainless steel
Heavy gauge aluminum core that allows heat to be evenly distributed
It can work with most types of kitchen stovetops.
Cons
Not compatible with induction cookers
Some users reported that the nonstick surface strips away after a few uses and food sticks on the pan.
Conclusion
So those are some of the best pans to cook steak on and are best-selling in the market. But among them that are on the list, Lodge L8SK3 10.25-inch Cast Iron Skillet is the one that most users are raving about, with over thirteen thousand positive reviews.
[amazon box="B00006JSUA" ]
With proper care and use of the pan, it stays true to its word that the seasoning gets better with time. A good layer of seasoning and flavor builds up as you cook more and more steaks on it. The pan is not only great to use in stove tops, but even the food cooked in the oven turns out great. Some cook their steaks on the stovetop on this pan, then finish it off in the oven and come out with a perfectly cooked steak. It might be a little on the heavy side, but its size allows room to cook for more people and would work to an advantage if you have a big family.
Great quality steak (or any food for that matter) does not depend on the skill of the cook alone but on the great quality tools he's using as well. This list could help you in your search for the best pan out there to cook your steak to perfection.
Got other plans in mind? Do share your suggestions and experiences with us in the comments section below!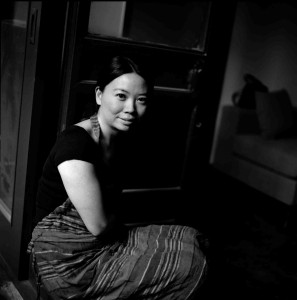 Jen Lin-Liu is the founder of Black Sesame Kitchen. A Chinese-American writer and a nationally certified Chinese chef in Beijing. Jen is the author of two memoirs, Serve the People: A Stir-Fried Journey Through China and On the Noodle Road: From Beijing to Rome with Love and Pasta.