The most nutritious food of all time
​That is the title that various people have given to quinoa. One cup of quinoa contains various nutrients, such as protein, fiber, phosphorus, folate, copper, zinc, and potassium. Also, it is gluten-free and non-GMO, which is very good for the human cardiovascular system and prevents numerous diseases.
​Processing it in a rice cooker is considered the most excellent method to maintain all of its nutrients. However, many home cooks still need clarification when it comes to this issue. Therefore, in my article today, I will show you the best recipe for cooking quinoa in a rice cooker.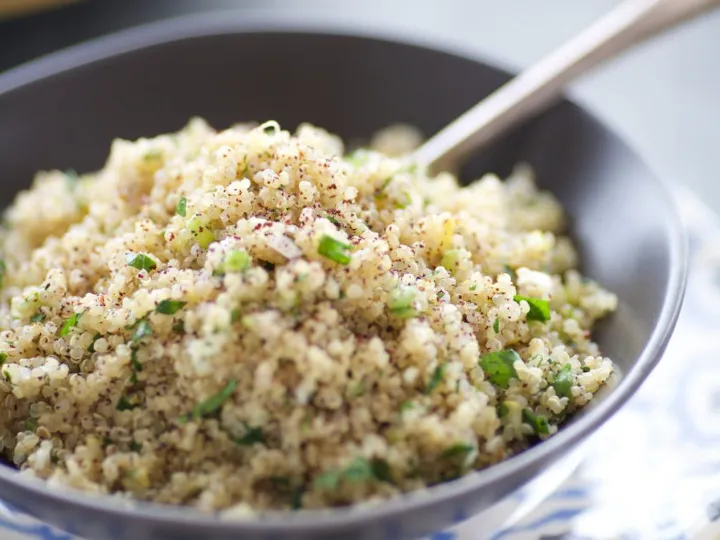 ​The tools you need to have the best quinoa cooked through
​One cup of quinoa
Two cups of liquid (chicken broth, vegetable broth, or water)
Half of a teaspoon of salt
Coconut oil (or olive oil)
A rice cooker
How to cook quinoa in a rice cooker
​Step 1: Rinse the quinoa
​Before cooking it, we should have the quinoa thoroughly cleaned. Put it in a mesh sieve and rinse it under cold water. Remove all the dregs that may exist and drain the quinoa in a dry place.
Step 2: Clean the rice cooker
The rice cooker also needs to be cleaned while cooking quinoa. Otherwise, it will stick on the side and also the bottom of the cooker, destroying it time after time. The best way to prevent that is to apply coconut oil or olive oil on the inside surface of the cooker.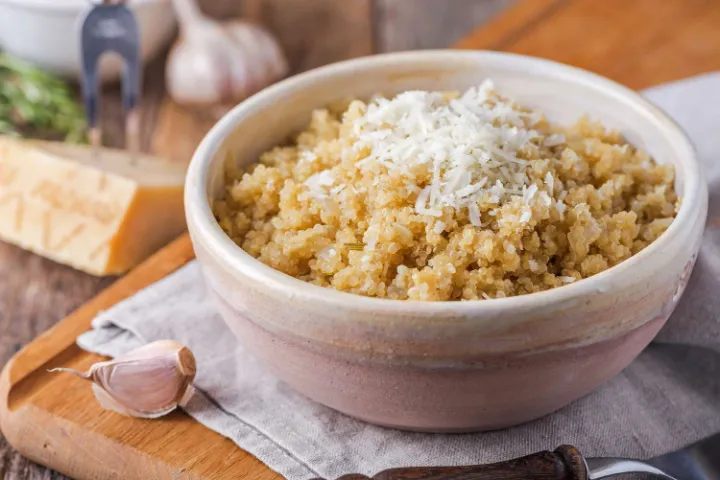 Just pour some of the oil on a paper towel and wipe it all over the inside surface. Your cooker will be protected.
​Step 3: Pour quinoa into the rice cooker
This move is easy. 2 or 3 minutes after the quinoa has been drained, put them into the cooker. Make sure the top surface is flat.
​Step 4: Pour broth into the quinoa
Whatever broth you like, pour it into the rice cooker after the quinoa. As long as it combines well with your quinoa, your dish will have a delicious and distinct flavor.
Step 5: Start cooking​
​In this step, all you have to do is to turn on the cooker. It often takes about 30 minutes for the quinoa to be cooked through.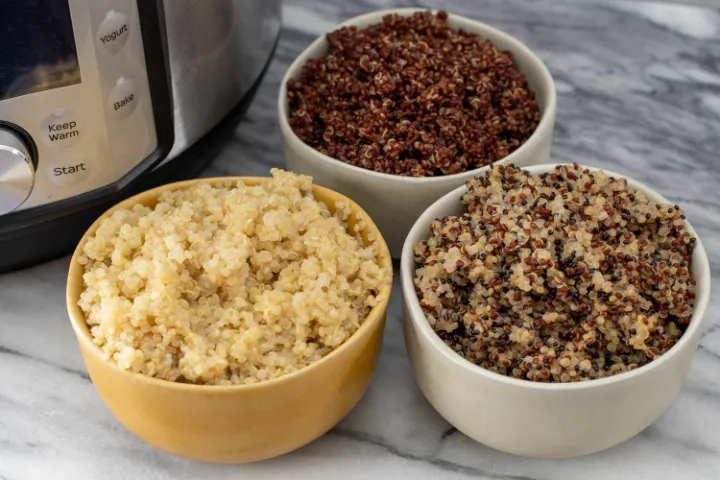 ​Step 6: Finish
After waiting for half an hour, turn off the cooker and allow the quinoa to rest for 3 to 4 minutes. Then, use a fork to fluff it and serve it with vegetables or anything you like.
The best way to store quinoa after cooking​
If you accidentally cook too much or want to spend some left for other people in your family, you need to know how to maintain the flavor of your dish. Cooked quinoa often lasts for about 6 to 7 days when stored in a fridge and 8 to 12 months in a freezer.
You can choose whichever you like depending on your purpose. Here are the things that you should do to store quinoa after cooking.
Leave the quinoa at room temperature until it is completely cooled down. However, don't leave it longer than 2 hours. It may go stale. You can spread out the quinoa on parchment paper or a baking sheet to make it cool quicker.
After that, divide the cooked quinoa into different small portions, which are about one or two cups. Then, put them into zip-log bags.
Suck up all the air in the bags and seal them​
Put them into your refrigerator, and your quinoa will be maintained for up to 7 days.
Now you have an excellent lunch or dinner lineup for the next few days. Whenever you want to eat it, you can just take the bags out and leave them at room temperature for one or two hours. If you want to make it quicker, you can use a microwave to defrost it. That is the most excellent idea.
​Some bonus recipes with cooked quinoa just for you
Quinoa salad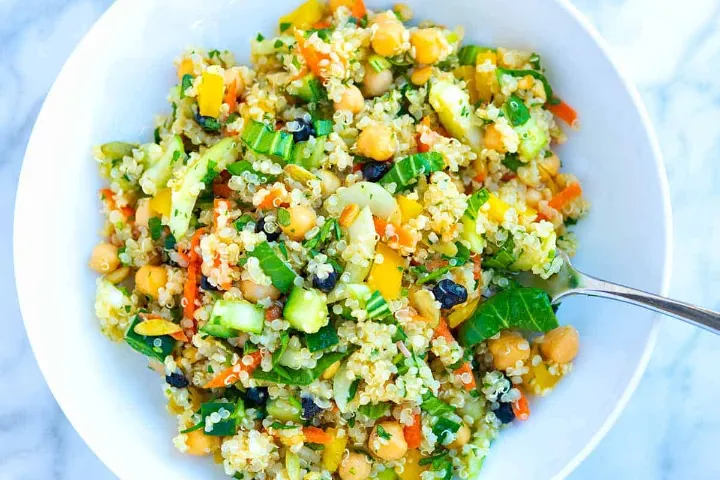 Ingredients
​One cup of cooked quinoa
Eight red radishes
One-third of a cucumber
One large shallot
Two-thirds cup of dill fronds
Half of a lemon, juiced
Three tbsp of olive oil
Half of a tbsp of balsamic vinegar
One-eighth teaspoon of liquid smoke
Half a cup of raw almonds, sliced
Half a cup of chopped pitted dates
Half a cup of Parmesan cheese
Salt and pepper
One ripe avocado
How to make it
​Step 1: Dice the radishes into small pieces, which are about one-fourth inch each.
Step 2: Repeat step 1 with cucumbers, shallot, and dill fronds.​
Step 3: Put the cooked quinoa in a bowl. If you freeze it, you should defrost it before cooking.​
Step 4: Add some lemon zest to the bowl of quinoa. Then, mix lemon juice with balsamic vinegar, liquid smoke, and olive oil. When all ingredients are harmonized, add quinoa to the mixture and stir everything well.​
Step 5: Put almonds, Parmesan cheese, and chopped dates into the quinoa. After that, season the dish with pepper and salt until it suits your taste. Finally, cut the avocado into pieces and serve with the dish.​
Quinoa for breakfast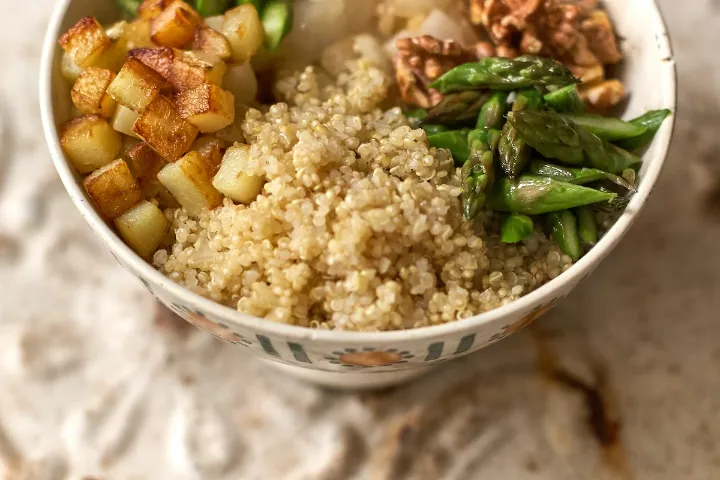 Ingredients
Half a cup of cooked quinoa​
Half a cup of milk
Half a cup of water
Broccoli
Some mushrooms
Cheddar cheese
Pepper and salt
One egg
How to make it
Step 1: Heat your pan at about 350 degrees Fahrenheit. Then, spray some olive oil on it.​
​Step 2: Stir-fry mushrooms and broccoli within approx. Five minutes until they are cooked through. Set them aside to prepare other ingredients.
Step 3: Boil water, milk, and quinoa in another pan. After a minute, bring all to a simmer. Then, slightly stir them until all ingredients are absorbed.​
Step 4: Combine broccoli, mushrooms, cheese, pepper, and salt with quinoa and stir them well. Cover the pan with a lid.​
Step 5: Fry the egg. Either sunny-side-up or scramble is accepted.​
​Step 6: Put the quinoa into a bowl and set the egg on top.
​In conclusion
How to cook quinoa in a rice cooker? Have you found the answer? It is not so difficult, isn't it?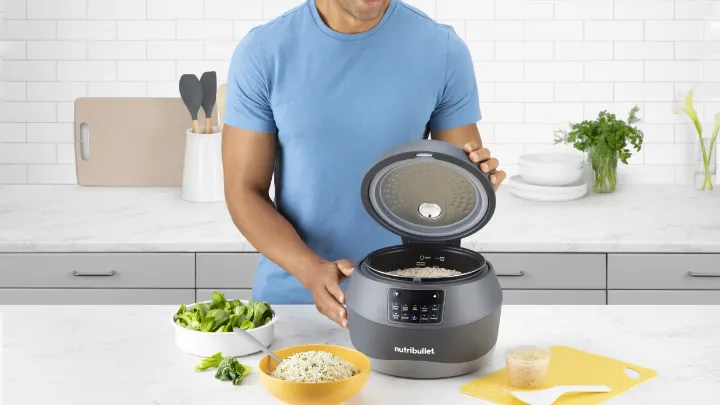 I hope that you and your family will have the best meals with quinoa cooked in that way. If you like my article, you can share it with others. I believe a lot of people out there are wondering the same questions as you used to.
Moreover, don't hesitate to leave a comment if you have any questions or opinions to share. I would love to discuss this with you. Lastly, thank you for reading until the end, and I will see you in my subsequent writings.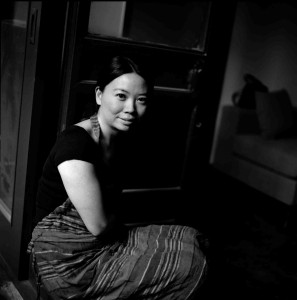 Jen Lin-Liu is the founder of Black Sesame Kitchen. A Chinese-American writer and a nationally certified Chinese chef in Beijing. Jen is the author of two memoirs, Serve the People: A Stir-Fried Journey Through China and On the Noodle Road: From Beijing to Rome with Love and Pasta.