I haven't had a matzah ball for years. These soup dumplings are traditionally made from matzah meal and eggs and served with chicken soup.
But for the first time in years, I decided to make soup with matzah balls for Passover. I previously tried an almond flour version, but it wasn't a hit in my family.
I was inspired by the new kind of gluten-free flour available now from Otto's Naturals – Cassava flour. It can be used as a 1:1 replacement for wheat flour in many recipes, so I thought it should work for grain-free matzah balls.
My first two tries came out very dense (no difference if I mixed the egg whites separately or not). For my third try, I added more liquid to the mix, which came out great! I served it with my ginger chicken soup that I make in my slow cooker for an easy and delicious starter.
Please share your feedback if you make tweaks to this recipe! I did not have time to attempt the seltzer water version – maybe next year 🙂 but let me know if you do!
[amazon bestseller="cassava flour"]
Gluten-free and Nut-free Matzah Balls Recipe
Gluten-free and Nut-free Matzah Balls
Ingredients:
For denser dumplings, omit the water/stock. The turmeric and parsley are optional but adds great flavor to the dumplings.
4 large eggs
1/3 cup chicken stock or water (try seltzer water for fluffier matzah balls)
1/4 cup melted fat – rendered chicken fat (schmaltz), beef tallow, or olive oil
1 cup Otto's Cassava Flour
1 teaspoon sea salt
1/2 teaspoon turmeric
1-2 tablespoons chopped parsley or other herbs (try dill or cilantro)
Directions:
1. In a medium-sized mixing bowl, whisk the eggs, chicken stock or water, and fat until well combined. Add the flour, spices, and herbs and whisk until no lumps remain.
2. Refrigerate for a few hours.
3. Fill a large pot with salted water or chicken stock and bring to a boil.
4. Form the mixture into small balls (I like using a 1/2 tablespoon size cookie scoop) and drop them into the boiling water. Reduce the heat to low and simmer covered for about 30 minutes.
5. Add matzah balls to your chicken soup or store them in a covered container in the refrigerator. If refrigerating, simmer matzo balls for 15 minutes in your chicken soup before serving.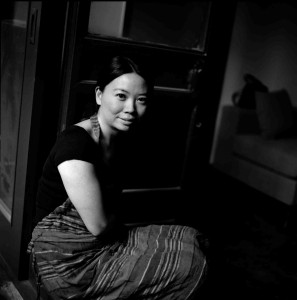 Jen Lin-Liu is the founder of Black Sesame Kitchen. A Chinese-American writer and a nationally certified Chinese chef in Beijing. Jen is the author of two memoirs, Serve the People: A Stir-Fried Journey Through China and On the Noodle Road: From Beijing to Rome with Love and Pasta.