Hand blenders are great in the kitchen but their power is fairly limited to a small electric motor that will not be able to hand something like ice. Countertop blenders on the other hand are much more powerful and break down less often. They are the primary choice for the ones that like need something powerful to handle pretty much anything without having to worry that the motor will break down.
One of the advantages of working with a countertop blender is the fact that the food is processed in a closed recipient. This means no spilling and a larger quantity of food can be processed at a time. Compared with hand blenders, things can get messy. Also the end result is different. Countertop blenders allow the use to control just how smooth the end result will be with a greater accuracy.
Today we will have a look at 10 different models coming from several manufacturers that managed to gain positive feedback. The main differences between them are in terms of power, functions and price. We were able to put together a fairly varied selection of models to make it easy for everyone to find a suitable countertop blender. With no further ado here are the top 10 best countertop blender reviews.
Hamilton Beach Wave Crusher Multi-Function Blender
[amazon box="B0081PTLGU" ]
Hamilton Beach Wave Crusher is a great option for the ones on a tight budget. This inexpensive blender comes with a powerful 700 watt motor and a large thermal resistant jar. It has a really sturdy construction with a brushed metal finish and black plastic elements.
The model features 14 different blending functions that offer great control over the finished product. Its wave-action system helps push down the food into the blades in order to ensure a smooth blending.
Oster 6811 6-Cup Glass Jar 12-Speed Blender
[amazon box="B001KBY9PU" ]
The Oster 6811 countertop blender is yet another inexpensive model. It has a rather interesting design with a silver finish for the body and a large glass recipient. The jar has a capacity of 6 cups and it is safe to be leaned in a dishwasher.
Inside the package users will find a filler cup, the base of the blender, the glass jar and a cap to keep everything from spilling. The model has a rated power of 700 watts and comes with 12 different speeds include a pulse function. Its performance makes it a decent pick as it can handle any type of fruit, vegetables and even ice.
Waring MBB518 Food & Beverage Blender
[amazon box="B00004S8F8″ ]
One of the few bad things that can be said about the Waring MBB518 tabletop blender is the fact that it is expensive. There are plenty of models that are more affordable yet the MBB518 still remains a popular pick.
As surprising as it might seem the blender uses a 390 watt electric motor that can handle even large cubes of ice. It includes a large 40 ounce glass jar that is dishwasher safe and a matching lid. The model features multiple speeds and can mix, make puree or chop food.
Ninja Mega Kitchen System (BL770)
[amazon box="B00939I7EK" ]
Ninja Mega Kitchen System BL770 is a professional grade blender that comes with several useful accessories and a premium construction. It uses a 2 horsepower electric engine with a rated power of 1500 watts.
The model has a solid construction with a large 72 ounce jar that can hold about 8 cups of food. It has multiple speeds and makes use of a special technology that crushes all the food evenly. Inside the package the manufacturers included two single serve cups and an additional jar with its own blade that can be used to make dough.
Vitamix 5200 Series Blender
[amazon box="B008H4SLV6″ ]
Vitamix 5200 Series is a great blender made for the ones that need a robust and durable model. It is a professional grade model and this can be seen just by looking at the price. It has a large 64 ounce glass jar and a full metal body covered in a matte black paint.
According to the manufacturers the model uses a patented design that makes it extremely powerful and very precise. Its variable speed allows full control over the finished product and at high speeds the blade spin fast enough to generate friction heat that gets the ingredients warm.
Oster Rapid Blend BCCG08 8-Speed Blender
[amazon box="B009NIN2UU" ]
Oster Rapid Blend BCCG08 tabletop blender is a great option for the ones with a small budget. It has a simple design with a large glass jar and a powerful 450 watt motor that is perfectly capable of crushing ice.
The model offers 8 different speeds. Its jar can hold about 6 cups of food and it is safe to be cleaned in a dishwasher. According to the manufacturer all the parts that get in contact with food are BPA free.
Magic Bullet NutriBullet 12-Piece High-Speed Blender
[amazon box="B007TIE0GQ" ]
The Magic Bullet NutriBullet blender is a great product and could have probably been the best in our list if it wasn't for the small jar it uses. It has a small capacity 2 cup jar that can be fitted on one of the two included blades.
Inside the kit the users will find the blender itself, two short cups, one tall cup, re-sealable lids and the blades. The blender uses a high torque 600 watt motor that can chop all types of fruits and vegetables or even ice.
Oster 4093-008 5-Cup Glass Jar 2-Speed Beehive Blender
[amazon box="B00005QFKG" ]
Oster 5-cup Beehive blender can be a decent pick for a family. This tabletop blender comes with a decent price tag and a large glass jar. Its capacity is about 5 cups worth of food and the jar can be cleaned in a washing machine making it a low maintenance blender.
The model uses a stainless steel body with stainless steel blades that can chop even hard foods such as ice. Using the Oster all metal drive system the blender is ensured to have a long life-span. It is durable, affordable and powerful thus making it a good pick for anyone in need of a blender.
Hamilton Beach 58148A Power Elite Multi-Function Blender
[amazon box="B00EI7DPI0″ ]
Hamilton Beach 58148A is a highly appreciated blender for its reliability and low price. The model was made to be affordable and sturdy with a powerful 700 watt electric motor and 12 different blending functions.
Its jar is made of high durability glass that is safe to be cleaned in a dishwashing machine. The body of the blender is mostly made of plastic with a brushed metal finish in the front area where the control buttons are placed.
Oster Reverse Crush Counterforms Blender
[amazon box="B002RBXHSC" ]
Oster Reverse Crush Counterforms blender is one of the best models in its price category. The model uses a dual blade technology that prevents any kind of jams and blends everything to perfection. The blade itself is made of stainless steel to ensure that it will last for many years.
The jar is made of high durability glass. It is large enough to fit about 6 cups of food. As for food preparation the blender offers multiple pre-defined programs that makes it easy to get multiple types of food blended to perfection.
Conclusion
When it comes to countertop blenders the prices can vary a lot. There are models that can cost hundreds of dollars which may seem just a bit too much but these blenders are usually built to survive commercial use. This does not make them unfitted for a regular consumer.
We were able to select models from all price categories in order to make it easier to find a model that fits the budget. There are many differences between them such as the power, blade types, jar capacity and even pre-defined programs. All these things should be taken into account when browsing for tabletop blenders.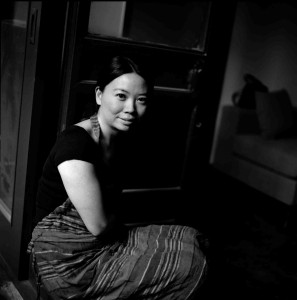 Jen Lin-Liu is the founder of Black Sesame Kitchen. A Chinese-American writer and a nationally certified Chinese chef in Beijing. Jen is the author of two memoirs, Serve the People: A Stir-Fried Journey Through China and On the Noodle Road: From Beijing to Rome with Love and Pasta.