You go to the market, take a lunch break, and have a serving of some amazing fish fries – crunchy on top and cooked to perfection. You come back and try to recreate it, but chances are, a normal pan or oven is not going to be able to recreate that.
This is where you look for deep fryers. Deep fryers let you get that amazing golden crisp on top and the beautiful texture, which is hard to replicate.
Not just that, when not in the mood for fish, simply switch it up with chicken or even French fries, and you'll get that restaurant-like taste in an instant.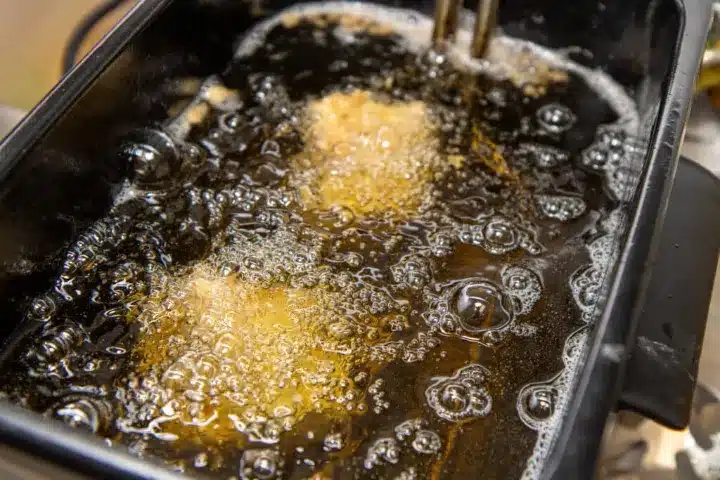 If you are looking to buy the best deep fryer for fish, then you can check out our little article here. From deciding on the type you want to the size and safety precautions to take, all the details are provided below.
Comparison Chart For Top 10 Deep Fryers For Fish
| | | | |
| --- | --- | --- | --- |
| PRODUCT | CAPACITY | WATTAGE | SPECIAL FEATURE |
| T-fal FF492D Stainless Steel | 1.2-Liter | 850 | Stainless steel removable frying basket |
| Elite Gourmet Triple Basket Electric Deep Fryer | 4.2-Liter | 1700 | Adjustable temperature settings |
| CUSIMAX Store Electric Fryer with Basket | 2.5-Liter | 1200 | Variable Temperature Control |
| Presto 05470 | 1-Liter | 1000 | Anodized aluminum interior |
| Nurxiovo Electric Commercial Deep Fryer | 16-Liter | 3600 | Surfaces protected with protective stickers |
| Cuisinart CDF-130 Deep Fryer | 2 Quart | 1500 | Temperature control dial |
| Proctor Silex Deep Fryer 35041PS | 1.5-Liter | 1200 | Easy To Assemble |
| Cuisinart CDF-100 Compact Deep Fryer | 1.1-Liter | 1000 | Nonstick die-cast bowl |
| Breville BDF500XL Smart Fryer | 4 Quart | 3000 | 7 cooking presets and timer |
| Presto 05420 FryDaddy Electric Deep Fryer | N/A | 1200 | Saves money on oil |
Best Deep Fryers For Fish Reviews
T-fal FF492D Stainless Steel Mini Deep Fryer
[amazon box="B01I559RPA"]
This is the T-fal FF492D Stainless Steel mini deep fryer. As the name suggests, it is quite small, so you should check this out if deep frying is occasional for you or if you, in general, live alone or like small batches of deep-fried snacks.
It comes with a one-touch open button that lets you smoothly use the machine. The temperature is adjustable, and this lets you deep fry different sorts of foods or change the way they are fried. Having the right temperature is crucial to getting the right texture and crispiness, so this is important.
Of course, since it has a smaller capacity, it is smaller in size, too, which makes it easy to store.
Other cool features that this deep fryer has included a viewing window that lets you see the progress and an odor filter that prevents stink. There is also a nonstick interior for easy cleaning, cool-touch side handles to prevent burns, and a magnetic breakaway power cord, which adds to the safety.
Highlighted Features
Frying temperatures are adjustable
Comes with ready and on indicator lights
The frying basket and lid are removable
Includes a viewing window and odor filter
Elite Gourmet Triple Basket Electric Deep Fryer- Best Electric Deep Fryer For Fish
[amazon box="B00N9TPNNI"]
When skimming the market, you will find numerous choices, but this one from Elite Gourmet will surely top your list if you are looking for something truly flexible and incredible to fry fish. This comes with a total of 3 baskets with different capacities, so you can change the food or the quantity as you want.
There are two 2-quart baskets and one 4-quart basket, so you can either deep fry large fish at one go or have French fries or calamari fry on the side together. There is also one 4-quart enamel removable inner pot included.
The temperature can also be adjusted when you need to do different foods, and there is a timer knob for your convenience.
As for the housing, it is made from stainless steel, which makes it durable and strong, so you can use it for many years to come.
Highlighted Features
Includes a total of 3 frying baskets
Temperature settings can be adjusted
Comes with a 4-quart enamel removable inner pot
The housing is made from brushed stainless steel
CUSIMAX Store Electric Fryer with Basket- Best Electric Fish Fryer
[amazon box="B08BY9ZWFW"]
CUSIMAX Store Electric Fryer is the perfect deep fryer for families with a capacity of 2.5 liters. It is neither too big nor too small, so you can enjoy a good meal without having to do too many turns.
The temperature can be adjusted as well, and this is great for when you want to switch up the fish with other foods like chicken or French fries and need a change of temperature. There are two-hour timers provided, which start from only 20 minutes, so you can change the amount of food you put in as well.
To adjust all these factors, you get an LED display, which makes using this so convenient. You also get to check the current temperature as the frier works in case you want to keep an eye on that.
The lid is removable and comes with a filter, too, which helps to reduce the oil splatters. And this is something you want since there are considerable splatters from these fryers without such protective mechanisms.
Highlighted Features
Comes with a convenient LED display
The lid comes with a filter and is removable
Variable temperature control for different foods
The capacity is 2.5 liters
Presto 05470 Stainless Steel Electric Deep Fryer
[amazon box="B003UVG622″]
This is the Presto 05470 Stainless Steel Electric Deep Fryer and is the perfect choice for people who like to occasionally deep fry their fish or other foods in small batches.
It has a capacity of 1 liter, which is just about the right size for small families or for people who want to make a few servings of snacks at a go. If you live alone, this also makes a good choice.
Because this is small and also because it is made from anodized aluminum, it heats up pretty fast, bringing down the frying time.
There is also an indicator light provided, which tells you when the deep fryer is plugged in, and this is pretty handy for anyone who is unsure of these things or just wants to be extra cautious.
You will also find a splatter screen built-in, which is such a lifesaver in these cases since oil does tend to splatter quite a bit when deep frying. This just increases safety measures.
Highlighted Features
The anodized aluminum interior heats up fast
Includes an adjustable thermostat to reach the desired temperature
Comes with an indicator light
Cover features are vented and cool to the touch
Nurxiovo Electric Commercial Deep Fryer- Best Fryer For Fish
[amazon box="B07LCGT9G4″]
If you are on the hunt for a commercial deep fryer and you want to fry a ton of fish at once, then look no further than this Nurxiovo Electric Commercial Deep Fryer.
It has a huge capacity of a whopping 16 liters, and this lets you deep fry large batches at one for your shop or restaurant. You can even use these in food trucks.
This large deep fryer is made from stainless steel and food-grade parts, which make it completely safe for commercial or personal usage.
Since this is electric, it is also less hazardous. If there is any sort of issue, if the temperature controller were to break down, the power will simply cut off to prevent any hazards.
The handles are made from plastic, which ensures that you do not accidentally burn yourself. Then there are the rotating fryer heads, too, and the detachable handles, all of which make cleaning a lot easier. And cleaning is something you will have to consider a lot when buying this for commercial purposes.
Highlighted Features
A deep fryer is made from stainless steel
Surfaces have protective stickers for protection from scratches
Plastic handles make handling safe
The basket handle can be detached for easy maintenance
Deep Fryer For Fish Buying Guide
Capacity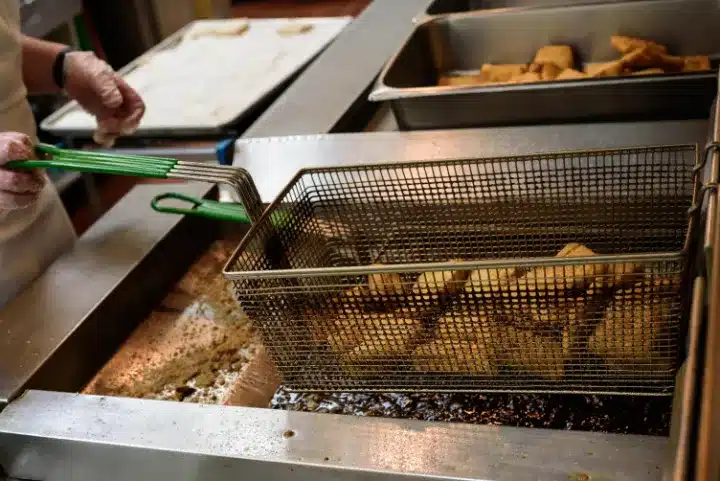 Without a doubt, when you buy one of these items, you have to look at the size and capacity of it primarily. Since not all of us have the same-sized kitchens or similar spaces and needs, the size requirement will surely be different for different people.
Oftentimes, some people like to deep fry a lot more than just snacks like fish or fries, but entire chickens or turkeys. If you are one of them, then you should look for one that has a large capacity so it can take on whole birds at one go.
Some also like to cook for big crowds at one go, which again means larger capacities. Otherwise, you will be stuck making food in many batches, which will surely take up a lot of time.
However, if you are someone who is living alone or has a few people to cook for, then you should go with a smaller capacity or size. Otherwise, you will end up wasting oil. This way, you can fry exactly the amounts you need.
The number of baskets you get is also something to consider. If you are someone who frequently fries a lot of extras with the main, such as French fries and calamari with the fish, you will want separate baskets for each. If not, you can simply stick with single-basket deep fryers.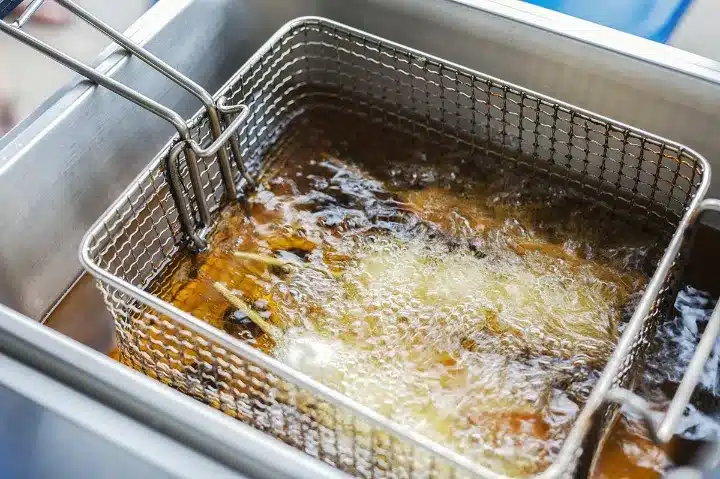 Safety
Safety is another feature that you have to look out for when buying the best deep fryer for fish. Since there is a lot of hot oil involved, these things have to be taken seriously. Otherwise, it can result in hazards such as a fire. While electric ones are comparatively safer, it is still good to check these out.
An auto-shutoff feature is one thing you should look out for. A lot of models have this feature where the deep fryer turns itself off when the oil reaches temperatures that are too high.
The other thing is a break-off cord, which detaches itself from the deep fryer if there is any disturbance in the cord. So, instead of turning the whole thing over, it will safely turn off by itself.
Heating Time
When it comes to deep fryers, there are two kinds- the propane ones and the electric ones, which is what we are talking about today. The electric ones take a little longer to heat up, but then again, it is more convenient and safer to use at home.
So, if you are worried about taking up too much time, you can consider going for smaller deep fryers so it takes less time for the oil to reach the boiling point.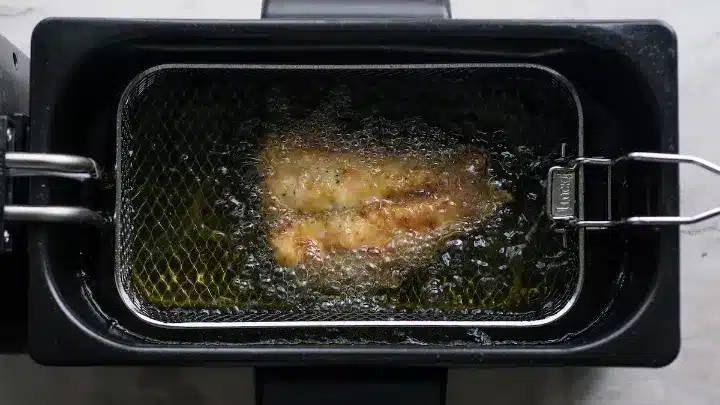 Easy to Clean
When you are dealing with fried food, cleaning comes as second nature and is such an important step. You will surely be cleaning this a lot, especially with all the oil involved, so it is better to get one that makes it easier to do so.
Some models you will find have detachable parts that you can put in the dishwasher, which makes it simpler to clean. Others have detachable compartments that let you drain the oil out cleanly without making a mess.
Frequently Asked Questions (FAQ)
How Long Do You Cook Fish In A Deep Fryer?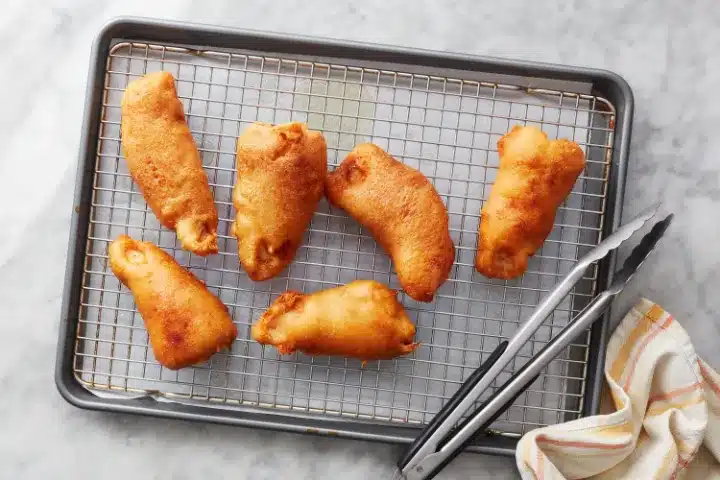 At around 375F, fish takes somewhere about 5-8 minutes to complete cooking perfectly. The time will, of course, vary according to the size of the portions, type of fish, boneless or bone-in, etc., and other factors.
Is It Worth Buying A Deep Fryer?
It is worth every single penny. This is because you not only get to save oil that can be used again, but the cooking process is faster and more even. Some special models with lids also lock in the aroma and flavor of the food while it's cooking for maximum deliciousness!
What Can I Cook In My Deep Fryer?
The sky is the limit! Starting from your regular chicken fries and French fries, you can fry almost anything, including batter and moist foods!
Conclusion
The best deep fryer for fish out there is a different one for different people. While some want a large one for their whole family, others look for smaller ones that can fry small batches at a time.
It really depends on what you need personally, which is why we recommend that you take a minute to check out our article.
Things like the safety features often get overlooked here, but they should not be since oil splatters can be pretty harmful. And this is why you need a guide! We'll leave you right here so that you can take your time and find the right fit for your kitchen.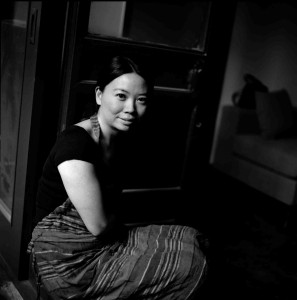 Jen Lin-Liu is the founder of Black Sesame Kitchen. A Chinese-American writer and a nationally certified Chinese chef in Beijing. Jen is the author of two memoirs, Serve the People: A Stir-Fried Journey Through China and On the Noodle Road: From Beijing to Rome with Love and Pasta.