Your espresso machine is your morning energizer. Why? Because it lets you brew your favorite cup of espresso to get you energized for the whole day.
One fine day, you craved for a latte instead and so wanted to make a delicious cup.
You poured the coffee grind into the machine for brewing, and also poured milk into the frothing pitcher.
The machine delivered you with a rich espresso, and since it's a single-boiler machine, you had to wait as it prepped itself for steaming.
Once the froth was ready, you combined it with the espresso.
However, you noticed a BIG problem- the espresso has already lost most of its temperature!
This is why you should opt for a double-boiler machine. As it uses separate boilers, you can brew and steam at once without waiting! Now, if you're wondering where to find the best double boiler espresso machine, check out our recommendations below!
Best Double Boiler Espresso Machine Reviews
Breville Dual Boiler Espresso Machine
[amazon box="B00I6JGGP0″]
The Breville Dual Boiler espresso machine allows you to brew and steam simultaneously for the delicious espresso shot.
Since the boiler for brewing features PID, it ensures the espresso stays at the right temperature. Plus, the steam wand releases steam at a rate that you will be comfortable with, so there is no mess on the counter. It delivers a foamy milk texture perfect for your espresso.
The machine itself comes with pre-programmed settings for single and double shots, and even if you want to customize the volume, you can do it manually. 
With the range of buttons in the front, you can adjust the boiler temperature, shot volume, and brew time. As you make adjustments, the LCD will display the settings for your convenience.
Other than that, there is a viewing glass that lets you check the water level instead of taking it out and checking it every time.
When you are brewing espresso back-to-back, you might not know when it's time to clean the drip tray. In that case, you have the floating indicator, which pops up when the tray is full.
What's more, it includes a detachable magnetic tamper that you can use comfortably rather than holding the portafilter and tamping while the tamper is attached to the machine.
Highlighted Features
Features backlit LCD display
It has digital temperature control
It has detachable drip tray with indicator
Features detachable magnetic tamper
Offers flexible shot control
De'Longhi 15 Bar Pump Espresso And Cappuccino Maker
[amazon box="B000F49XXG"]
If you're looking for a compact, yet powerful espresso machine, then this one is a suitable choice!
As its name suggests, the De'Longhi espresso and cappuccino maker features brewing and steaming. Like any other double boiler machine, this one allows you to perform both actions at the same time while maintaining the optimal temperature.
Other than ground coffee, you can brew coffee pods if you want since the machine comes with a double filter holder. While it gives you flexibility, it also ensures you get your desired drink at the right consistency.
If you want to try out latte art for your latte, you can easily achieve it since the swiveling steam wand lets you create the perfect, foamy milk texture.
It's quite a hassle to prep an espresso machine for use when you purchase it. Luckily, this one comes with a self-priming function that automatically primes itself without you having to do it yourself.
If you are worried about cleaning once you finish making your favorite cup of espresso, you don't need to as the water tank and the drip tray are detachable and dishwasher-safe.
Highlighted Features
Can be used for brewing coffee grounds or pods
It has a swiveling steam wand
Features self-priming function
The water tank and the drip tray are detachable
The water tank and the drip tray are dishwasher-safe
Mr. Coffee One-Touch CoffeeHouse Espresso Maker and Cappuccino Machine
[amazon box="B07CJ3CYF7″]
Making your favorite coffee drink has never been easier when you have this One-Touch CoffeeHouse espresso machine!
This guy is very convenient as it offers restaurant-quality espresso with a touch of the buttons. You can use either the pre-programmed settings for a single or double shot of espresso, or choose the amount manually. There are options for latte and cappuccino as well, so you don't have to do the guesswork.
It uses 19 bars of pressure, which means your espresso will be extracted to deliver the optimal flavor. What you will be getting is a professional-quality drink in your cup.
When you are making milk-based coffee drinks, you have the automatic frother. It instantly whips up milk, whether it's whole or almond milk, to a creamy, frothy texture that you will love in your latte or cappuccino.
Unlike most espresso machines, this one comes with an adjustable cup tray that lets you place mugs of different sizes.
In addition, the water and milk reservoirs are detachable, and you can view the levels from the outside rather than take them out for checking. Even if you have leftover milk in the reservoir, you can detach it and store it in the refrigerator without a problem.
Highlighted Features
Features automatic steam wand
It has detachable water and milk reservoirs
It uses thermocouple heating system
Features adjustable cup tray
It has a self-cleaning function
Gevi Espresso Machine
[amazon box="B08G89D7NX"]
No doubt this simple machine by Gevi makes espresso-making a breeze. Anyone having little or no professional skills can try out this machine as it's simple to operate.
It features only a couple of buttons for espresso and milk froth and a knob for adjusting settings. Since it uses a 15-bar pressure system, you will get a rich, creamy espresso with a pleasant aroma.
This machine comes with a manual steam wand that lets you create microfoam with its swiveling motion. So, other than espresso, you will have no trouble in making a latte, cappuccino, or mocha!
What's more, the machine has a cup-warmer on the top, where you can place your espresso cups and preheat to maintain the color and the temperature.
This machine has a large, transparent water tank located on the back, which you can remove when you need to clean it. Plus, the drip tray is also removable, so when it is full, you can take it out and empty the contents for next use.
One thing worth noting is that Gevi recommends that you use 7 grams of ground coffee for the optimal taste.
Highlighted Features
Features a swiveling steam wand
Comes with a cup-warmer
It uses NTC Intelligent Temperature System
It uses 15 bars of pressure
The water tank and drip tray are removable
De'Longhi La Specialista Espresso Machine with Sensor Grinder
[amazon box="B07QMWZ6PT"]
If you don't have a coffee bean grinder, but would like to taste a cup of freshly grounded espresso, then this La Specialista espresso machine is for you!
It comes with a built-in grinder at the top where you can put the coffee beans of your choice, adjust the grind size, and then start grinding. There's a bean sensor too, which will tell you when there's no bean left in the hopper.
Unlike most machines, which require a separate tamper, this one comes with a built-in tamping station where you can attach the portafilter, and the espresso machine will grind and tamp instantly!
With this machine, you can brew espresso on cups of any size. For example, if you want a single shot in a small cup, simply flip the little tray and place the cup on it. If you want a double shot in a larger cup, then you can place it without the tray.
Since this machine uses a dual heating system, you have the advantage of brewing and steaming at once. Plus, it maintains the temperature for both functions, so you will be getting the authentic drink you deserve.
What's more, is that you have the option of choosing the type of foam for your desired cup. You can either select microfoam for latte art or creamy foam for cappuccino.
Highlighted Features
It has a built-in grinder
Features sensor grinding technology
Can be used to select the type of froth
Comes with a smart tamping station
It uses a dual heating system
Double Boiler Espresso Machine Buying Guide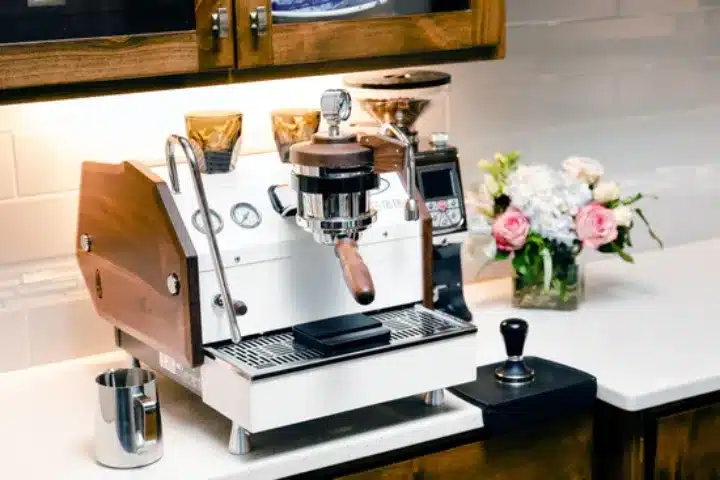 Types
Semi-Automatic
Semi-automatic espresso machines are widely used in coffee shops and homes.
Unlike the old times when baristas used to pull down a lever on manual lever machines, a semi-automatic machine works with the press of a button.
When you load your coffee grind and turn on the machine, it will automatically start the extraction process. But, since it's not fully automatic, you need to end the process when it has done brewing to your desired level.
With a semi-automatic machine, you have more control over the extraction time to achieve the perfect espresso.
When it comes to boilers, semi-automatic machines use them depending on their price and size. Smaller and cheaper ones typically use a single boiler, while those that are larger and are on the mid-to-high price range use either a double boiler or other variations.
Automatic
There's not much difference between semi-automatic and automatic machines as they both ensure consistent espresso shot volume.
Unlike semi-automatic machines, automatic machines have a microprocessor that lets you program a particular volume of espresso or other drinks.
When you are extracting with an automatic machine, you don't have to stand there because it will automatically halt the water flow once it reaches the pre-programmed settings.
This type of machine is ideal for newly-hired baristas as they don't need to put much effort into the espresso-making process.
Automatic machines come with either a single boiler, double boiler, or thermoblock.
Super-Automatic
Super-automatic espresso machines are designed for fast-paced environments, where speedy delivery is a necessity.
These machines do everything for you- from grinding coffee beans to frothing milk for your latte. You don't even need to tamp the grinds as it does the job perfectly. What you will be getting is a consistent shot every time.
While super-automatic machines are designed to perform all tasks, it doesn't mean that you can't have control over your espresso. Most of them do give you the option to select the grind size and coffee volume for your desired cup.
Super-automatic machines typically use double-boilers, thermoblock, or thermocoil heating systems.
Boiler Size
The best double boiler espresso machine needs to have the right boiler size.
Espresso machines that come with a single group head tend to have a smaller boiler size compared to the ones having multiple group heads.
A single group usually has a boiler capacity of up to 5 liters, while those with four groups can hold up to 22 liters.
Unless you are purchasing an espresso machine for your office or coffee shop, where it will be used frequently, the boiler size won't play a big factor.
Frequently Asked Questions (FAQ)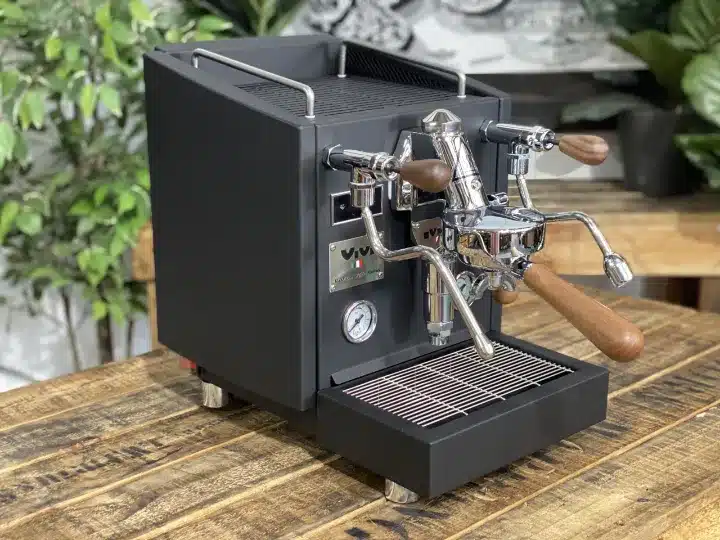 Do I Need A Double Boiler Espresso Machine?
– If you want to have more consistency in the temperature of your shots, you'll need a double boiler machine. When one draws a lot of hot water from the steam boiler, it also won't affect the brew temperature as much. This is important if you're a café owner.
However, they tend to be expensive. If you're looking for a home espresso machine, you may want to check out other affordable options.
What Is A Double Boiler Espresso Machine?
– Double boiler espresso machines come with two boilers: one for boiling and another for steaming. It's equipped with two boilers so that one boiler can focus on milk frothing and simultaneously another can brew espresso.
Those who want to brew several drinks back-to-back and cannot afford longer turnaround times should invest in a double-boiler espresso machine.
Which Is Better Double Boiler Or Heat Exchanger?
– If you compare the price range, a heat exchanger is better. Dual boilers machines are costly as they pack in much more material. Double boilers also take more time to heat up than heat exchangers. Besides, since the heat exchanger has only one boiler, you won't have to fret over its maintenance either.
However, if you need to prepare coffee commercially and cannot wait for longer turnaround times, a double boiler is the one for you.
Conclusion
When it comes to making coffee, whether it's an espresso or a latte, maintaining the temperature is crucial as it affects the flavor. Double boilers make it possible as they use separate boilers for heating brewing water and milk.
The above list holds those espresso machines that we believe are suitable for providing you with consistent shots. We have carefully tested each of the products so that you can enjoy every type of drink at its optimal quality.
Now that you have found the best double boiler espresso machine, we hope you don't fret over major temperature differences again!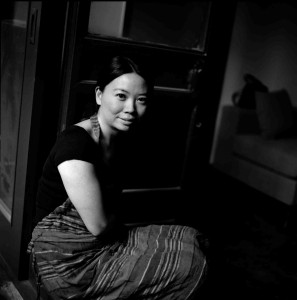 Jen Lin-Liu is the founder of Black Sesame Kitchen. A Chinese-American writer and a nationally certified Chinese chef in Beijing. Jen is the author of two memoirs, Serve the People: A Stir-Fried Journey Through China and On the Noodle Road: From Beijing to Rome with Love and Pasta.