Do you know what is one of the easiest, most affordable, and most nutrient-dense of foods you can make?
Bone Broths!
Homemade broths contain nutrients that support your digestive, bone, joint and mental health.
They are also the foundation of some of the most delicious cooking – all the top chefs use broths and stocks as the foundation to their dishes.
And store-bought is not the same. Most canned, boxed and powdered stocks contain unnecessary and harmful ingredients. And who needs yeast extract and MSG when all you need for a great broth is bones and water and maybe a few veggies.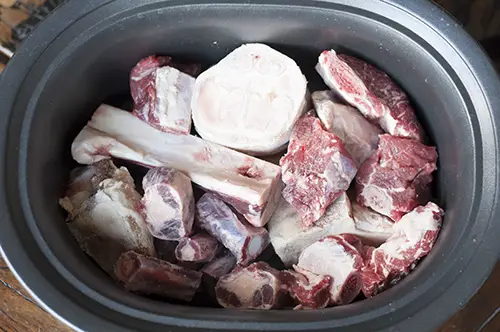 But it so simple to make there really is no reason not to make a large batch and freeze for convenience.
I've included a basic beef broth recipe below that I've adapted from Fearless Broths and Soups by Craig Fear, blogger at Fearless Eating. I prefer to make my broths in a slow cooker (like my slow cooker asian chicken broth here). But some slow cookers run really hot and end up boiling the broth for hours which you want to avoid. If yours does that, consider making it on the stovetop.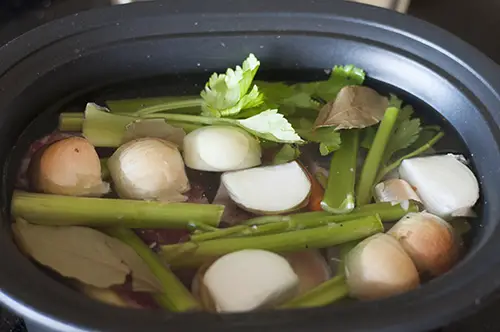 Once cooked, I store broth in individual serving size freezable containers, either small round pyrex or wide mouth mason jars (just leave enough space for expansion when putting it in the freezer).
Try to replace water for broth in your cooking to add both nutrition and flavor to your dishes; vegetable soups, risotto (I like fish broth for this), beans, sauces, gravies, or sip it on it's own (it's much cheaper than collagen pills!). For more soup ideas, check out Fearless Broths it has about 60 easy to make recipes.
Craig Fear also created an awesome step by step online video course to broth making. If you're a broth making newbie or want some extra guidance I highly recommend his course. He gives great tips on kitchen equipment, and walks you through a step by step process for making chicken, beef, and fish broth (there is a video on pork broth, but there is plenty of value in the rest of the course).
How to Make Bone Broth 101 will answer any question you could possibly have on this topic. I've been making broths for years but really liked seeing how someone else does it – I came away with some great tips. You can check out a video preview on his page.
[amazon bestseller="Beef Broth" items="5″ ]
How To Make Beef Broth
Beef Broth
Adapted from Fearless Broths. This recipe will fill an 8 quart stockpot, or 6-7 quart slow cooker. Use this as a guide, the ingredients don't have to be exact, use whatever combination of bones you can get.
Serving size – about 4 quarts
Ingredients
2-3 marrow bones
1-2 meaty bones like shanks, rib, or neck bones
1-2 knuckle bones (great for gelatin)
1 oxtail (optional)
1 calves foot (optional)
2-3 carrots, coarsely chopped
2-3 stalks celery, coarsely chopped
1 onion, coarsely chopped
1/4 cup apple cider vinegar
filtered water to cover
Optional herbs: 3-4 sprigs thyme, 1-2 bay leaves, 1-2 tsp peppercorns
Directions
Place bones in stockpot or slow cooker, cover with water and add vinegar. Let sit 30-60 minutes.
Get ready for an autumnal treat by roasting some bones and veggies together in the oven. Brush them with olive oil before baking at 350-400 degrees Fahrenheit for about 45 minutes to 60 minutes until browned but not charred, then add all desired ingredients into your pot on top of these delicious hints from our friends over at "The Roast."
For stovetop: Bring to a boil and skim scum that rises to the surface. Add veggies after skimming. Reduce heat to a very gentle simmer. Add herbs and peppercorns. Simmer, covered, 12-72 hours.
For slow cooker: Turn it on to low and leave it for about 24 hours. You don't want your broth to boil the whole time, so if your slow cooker runs hot, consider making it in a stockpot.
Let broth cool to room temperature. Remove larger bones with a slotted spoon. Strain broth and transfer to storage containers.
Store in the fridge for up to 7 days. Freeze any leftovers you won't use within a week, then put them back into your cupboard once they defrost.
Beef bones can be reused for additional batches of broth. Additional batches won't be as gelatinous but will still be great.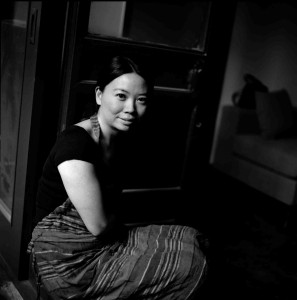 Jen Lin-Liu is the founder of Black Sesame Kitchen. A Chinese-American writer and a nationally certified Chinese chef in Beijing. Jen is the author of two memoirs, Serve the People: A Stir-Fried Journey Through China and On the Noodle Road: From Beijing to Rome with Love and Pasta.