Smoking has always been a way of cooking food ever since the ancient days of the cavemen. It's either used to preserve meat or to improve the taste of food or dish. Thankfully in this day and age, you don't need to have an open fire to smoke your meat since smokers and grills are already available for your smoking needs.
If you are looking to smoke your first turkey, or you've been trying to improve it but you're still on the quest to find that perfect taste, knowing the right and the best wood to use might help you out. Smoking a turkey can be challenging as it has the tendency to get overcooked, but when you finally get that perfect flavor, it's definitely worth it.
Why don't you begin your journey by finding the best wood? Here is some information to give you a head start.
Why Should You Choose the Right Wood?
This is one of the vital decisions you would have to make because this is where the subtle flavor comes from. Choose the wrong one, and you might end up having an inedible turkey. What a waste would that be.
A smoked turkey is always a sure winner because of the texture of the meat, and it's just so flavorful. The reason for its rich taste is because it's cooked for length of hours, continuously basting itself, that's why it doesn't get dry. Add up the smoke that carries amazing flavor, that even just by seasoning it with the usual pepper, salt, a bit of onion and garlic, is already enough to give your turkey that mouthwatering taste.
This is also the reason why it's a must to choose the right wood to match with the turkey. There are different types of wood that can be used for smoking meat, but you need to find the one that would impart the right flavor. You can't just use any wood because it can work against the turkey that you're going to cook.
Another reason would be not all woods are suited or compatible for the grill or the smoker. You might buy something that your smoker cannot handle, and that would be a waste of time and money.
What's the Right and Best Wood for Smoking Turkey?
When choosing the wood that matches the one for turkey, go for those that are okay to use with poultry. Fruit woods such as peach, cherry, pear, and apple would be the best because they have sweet, fruity, and light flavors. They might be more challenging to find, but their subtle and light flavor is worth the effort.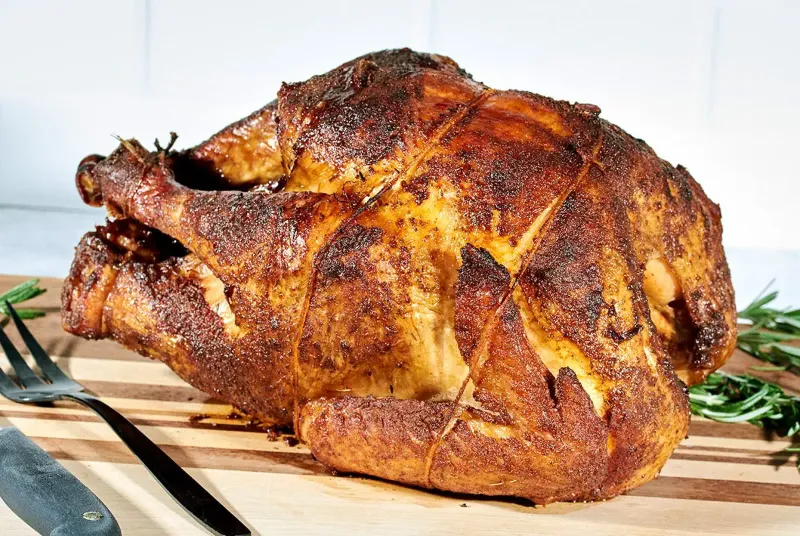 Is it okay to combine wood? Yes, it is, as it can also help give depth in the flavor of your meat. An example would be the combination of plum and maple wood that would carry out a subtly sweet and slightly smoky taste without having to worry about overpowering the flavor of the turkey. Other good choices for wood combinations for smoking poultry would be pecan, mulberry, peach, olive, and nectarine.
You also need to check what kind of smoker you have, so you'd know if you should get wood chips or wood chunks. There are gas and electric smokers that are only able to work with wood chips since they are smaller in pieces. If your smoker can handle wood chunks and you know you'd be smoking for a longer period of time, it's best to use them since they are larger. They would produce more smoke, and you won't have to add more every now and then.
Another thing is you need to use the kind of hardwood that are high in flavor and low in resin. Go for the premium quality as well. After all, quality wood means quality flavor, right? Choose the ones that are heavy for their size because this would indicate that the wood is fresh enough to use for smoking. Those woods that are old and dry would burn too quickly and would produce a lot of smoke.
Do you Leave or Remove the Bark on the Wood?
This one would be a matter of experimentation and personal taste since this is a very subjective issue. Some say the bark gives a richer flavor, while others say that it gives a harsh flavor or taste to the meat. There are also some that would say it gives a completely different taste or flavor, and then there are those who would insist that it doesn't make a lot of difference at all. There are even claims about the amount of smoke that it produces, that it produces more if you leave the bark on.
This is why this subject matter would be up to you and if you want to experiment with it. If you're only a beginner, it's best to follow the instructions on the wood package first just to be on the safe side.
Here are some of the best wood for smoking turkey that are the market's top sellers to give you an idea of what to get the next time you want to cook a smoked turkey for your friends and family.
Bestseller No. 1
Bestseller No. 2
Oklahoma Joe's Wood Smoker Chunks, 8 lb, Hickory
Oklahoma Joe's hickory wood chunks are the best way to get a long last burn in the cooker and to infuse great taste into meats
For use with smokers and charcoal grills to add flavor over a long period of time
Ideal for smoking meats, poultry, vegetables and fish
Made of all natural wood chunks
Bestseller No. 3
Sale
Bestseller No. 4
Old Potters Kiln Dried Cooking Firewood (18 - 20 Logs), Cooking Logs, Mini Smoking Logs (8-10 x 2-3 inches) for Grills, Smokers, Fireplace & Campfires 16 - 20 LBS (Hickory)
HARDWOOD - Experience the difference! Sustainably sourced from the natural raw Hickory, our kiln dried cooking firewood logs allows you to cook better and tasty food. It burns clean for a long time with little smoke. Being denser and stronger so that it burns hotter and longer. It makes low ash residue, allowing you to cook in an easier, and safer way. Try this Hickory wood and you will never feel disappointed! The best choice for preparing smoked food and the perfect BBQ treat!
8 to 10 INCH MINI LOGS - Perfect length! Cut to an approximate length of 8 inches, our Hickory firewood for cooking is perfect for a wide range of cooking applications and appliances.
OFFERS SUBTLE FLAVOR - Customize your taste! Provided with an ample amount of wood in the package, our kiln dried Hickory wood is ready to use at any time. Suitable to use in oven, grilling and fireplace camping cooking purposes, our wood would give an unique taste that you will definitely love!
CERTIFIED FIREWOOD - Free from the bugs and insects, our natural USDA certified kiln dried wood is safe and hygienic to use. These logs will ignite quickly and easily allowing you to enjoy your perfect food wherever you want to take it, no matter where you are!
BEST FOR - Perfect for indoor and outdoor, our Hickory wood logs allow you to sit back and relax in your backyard while enjoying fantastic moments. It can be used for grilling, pizza ovens and smoking. It results in an extraordinary cooking experience with maximum burn time and minimal energy waste!
Bestseller No. 5
Sale
Bestseller No. 6
Fire & Flavor Premium All-Natural Hickory Wood Smoking Chunks, Sweet but Hearty, Smoky Flavor for Use with Pork & Ribs, All Meats, Great for Charcoal Grills and Smokers, USA Made, 432-Cu. in.
GREAT FLAVOR: Hickory wood chunks create a natural slightly sweet intensely smoky flavor and add a deep dark color to your foods
VERSATILE: Hickory wood is popular for smoking ribs and brisket because it burns hot and slow but also works great with chicken, pork, beef, seafood, and many other foods when used in moderation
LARGE SIZED WOOD CHUNKS: Fire & Flavor's wood chunks are sized big to allow for a longer smoking time
FOR USE WITH CHARCOAL GRILLS AND SMOKERS: Smoking Wood Chunks can be used with smokers or charcoal grills in addition to lump charcoal
EASY TO USE: Place wood chunks on top of your charcoal, in a smoker box, in a covered foil pan with poke holes and placed away from flames or on the side of the grill, or on their own
Bestseller No. 7
Bestseller No. 8
Zorestar Oak Smoker Wood Chunks, BBQ Cooking Natural Wood Chunks for All Smokers, 15-20 lbs
Oak and apple wood chunks for smokers bag weight is about 15 pounds (+/- 10%).
The size of smoke wood chunks is 2-3 inches each. Due to their compactness our oak wood chunks are suitable for smoking meat in various types of smokers
Mix of Oak and Apple wood smoking chunks may be used for bbq in a charcoal grill or a smoker. Just use a few smoker wood chunks and they will provide the right amount of smoke to flavor the meat
Chunk wood for smokers is 100% natural and safe as it does not contain any harmful additives
Hardwood chunks are the best for smoking as they produce intense smoke and give a bold flavor to smoked food. Oak chunks are great with beef, pork and game meats
Bestseller No. 9
Zorestar Apple Cherry (Fruit Mix) - 13-15lb - Wood Chunks for Smoking and Grilling
🔥The Box with Apple/Cherry Wood Chunks for Smokers + Bonus Apple Chips bag weight is approximately 13-15lb (+/-5%), with their size varying between 2-3 inches each. Smoker wood chunks are a seasonal occurrence, meaning that at some point cherry chunks would be swapped out for peach and vice versa, while the bonus pack of smoking wood chips is apple at all times!
🔥100% NATURAL: being precision cut out of solid wood logs and completely eco-friendly and organic, Zorestar smoking wood chunks pose no risk of emitting any intoxicating chemicals or fumes, which results in a true smoke aroma and smoking experience!
🔥 BREATHTAKING AROMA: cherry and apple wood chunks for smokers are the perfect addition in cooking beef, pork, salmon, lamb, seafood, or game, as well as vegetables and baked goods. Giving off a mild, subtly sweet, fruity flavor, the taste you get from the apple and cherry chunk mix truly can't be compared to anything, while the addition of smoker wood chips makes it even better!
🔥 KILN-DRIED WOOD: the moisture content of bbq wood chunks and wood chips for smokers sits at 6-8%, being just the right figure to gradually smolder and emit rich, flavorful smoke at a constant rate, gifting your dish with a scrumptious smoke crust!
🔥 WORKS WITH ANYTHING: mix of fruit smoke wood chunks may be used for smoking and grilling with gas grills, charcoal grills, and all types of smokers. Just 3-5 chunks and a sprinkle of apple wood chips for smoking would be enough to smoke up any dish of your liking - enjoy!
Bestseller No. 10
Natual Wood Chips for Smoker, (8 Gift Pack - Apple, Cherry, Oak, Pecan, Pear, Peach, Walnut, Beech) 8 OZ Each| Smoker Woodchips for Smoking Gun and BBQ, Great for Beef Pork Chicken Fish and Whisky
ASSORTED 8 PREMIUM SMOKING FLAVORS – More chips, more flavor. Smoking chips set includes apple, cherry, oak, pecan, pear, peach,walnut, beech wood chips. A set of chips will help you taste different types of wood for smoking and you will be able to determine what kind of wood chips you like the most!
NATURAL AND ORGANIC WOOD CHIPS – Rest easy knowing these smoker wood chips are made from natural and organic trees and contain no chemicals, additives or preservatives. And our wood chips can ignite and produce smoke quickly to create a delicate smokey flavor!
ADD FLAVOR TO DRINKS & FOOD – Easily add authentic, rich smoky flavor to your favorite meats, braised brisket, pork shoulder, salmon, chicken, fish, seafood, cheese, cocktails, and other foods or drinks. Wood smoking chips variety pack works great with smoking gun, gas grills, charcoal grills, smoker boxes, and can use on fireplace and camping.
PERFECT GIFT SET – Your favorite Smoking Enthusiast, family member, loved one or friend will love this smoking wood chips variety pack . It is a perfect gift for Father's Day, birthdays, Christmas, anniversary or any other special holiday or event. A present that any bartender, BBQ enthusiast or cook will enjoy!
SHOP WITH CONFIDENCE – The woodchips' flavor and quality is something that we can guarantee! But, if for some reason you are not satisfied with your purchase within our return period, we will arrange a return for a replacement or set your money back.
Conclusion
Smoking a turkey can be intimidating and challenging at first, just like any other new endeavor. However, it's also a very rewarding process, especially if you get that perfect taste and flavor that you are aiming for. Don't be afraid to experiment but also don't stray away too much from the advice of the experts. Over time, with a little bit of practice and experience, you'll not just be able to smoke turkeys but other meats as well. You can start your journey with the information we provided above that will be helpful in getting that perfectly smoked turkey.
Among the list of the best wood for smoking turkey that we have provided, the product that most people recommend is the Western Premium BBQ Products Apple BBQ Cooking Chunks, so you may want to check that one out first.
We also talked about the proper way of reheating leftover smoked turkey. Do check it out!
That's it for now and if you have comments, questions or suggestions, feel free to leave it here.