Bone broth is an underrated treat. It is very simple to make – in fact, you can now even buy it premade in stores. It's a classic, too. And every so often, all of us need to go back to the basics, especially when it concerns flavorful cooking and taking care of our own health.
Bone broth can take us back to our childhood with one slurp. At the same time, it is very nourishing. Be sure to read below to take a peek at our favorite bone broths. We also talk about the hearty health benefits of this classic treat later on!
[amazon bestseller ="bone broth" items="20″]
Best Store-Bought Bone Broth on the 2023 Market
Kettle & Fire Bone Broth Variety Pack – For the Health-Conscious Consumer
[amazon box="B07B3KGF45″ ]
The Kettle & Fire Bone Broth Variety Pack gives you a nice pack with all of its best flavors, so you can try them all! Each one is made of bones from 100% grass-fed animals and organic veggies. You get all of the proteins, amino acids, and collagen from the bones in one broth.
Kettle & Fire takes pride in using the highest quality ingredients and only filtered water. The ingredients are simmered for over 20 hours! This takes all the prep work out of the picture and leaves you with nothing but convenient goodness.
Each bone broth is vacuum packaged, giving it an extra long shelf life of two years. Plus, all packaging is guaranteed sustainable, recyclable, and made from natural items.
With each broth pack, you'll nourish your body with natural collagen, proteins, amino acids, vitamins, and minerals to help you recover and heal. It'll give you the boost you need to be your best self. The health benefits that come from bone broth are the top reasons why customers love this product.
The company only uses bones from grass-fed, organically-raised animals, water that has undergone reverse osmosis purification, and purely organic ingredients. The brand is 100% non-GMO, hormone-free, gluten-free, additive-free, and antibiotic-free.
Pros
Use grass-fed and organic ingredients
Free of gluten, additives, hormones, and antibiotics
Comes in a variety of flavors to choose from.
Cons
Some customers said they did not love the beef flavor variety.
LonoLife Grass-Fed Beef Bone Broth Powder – Editor's Choice
[amazon box="B0773V6J87″ ]
If you are looking for a bone broth that is 100% compatible with your paleo or ketogenic diet, then the Lonolife Beef Bone Broth is the right choice for you. It's a great pre-or post-workout broth and can give you the fuel that you need for extensive physical activity or even just a day at work.
This broth is rich in nutrients, fiber, and proteins that can definitely provide you with the muscle repair and recovery aid that you need. It is also made of purely grass-fed bones. You will also enjoy the fact that it is 100% sugar-free and gluten-free!
This bone broth powder is proven to aid in collagen repair, promote joint health, provide nutrition for your hair, nails, and skin, and ensure healthy immune and digestive systems. To experience its full results, make it a habit of incorporating it into your daily diet plan.
Pros
Sugar-free and gluten-free
Ideal for keto and paleo diets
A perfect workout supplement.
Cons
Some users reported encountering small pieces of bone in the broth
Others said that the broth has a slightly burnt aftertaste.
Bare Bones Bone Broth Instant Beverage Mix – Perfect On-the-Go Option
[amazon box="B07T15BBGP" ]
Bare Bones Instant Beef Broth is the pioneer of the industry. It was the first company to come out with an instant bone broth drink. The idea came about when they realized the need for a simple and easy way to provide the body with its required protein and hydration without sugar.
This bone broth is also compatible with keto, paleo, low-carb, and intermittent fasting diet plans. It uses only top-quality, and natural ingredients, such as real beef bone broth, prebiotic fiber, tomatoes, apple cider vinegar, collagen from grass-fed beef, freshly ground spices and herbs, and shiitake mushrooms.
In case you are wondering, this brand is guaranteed non-GMO, soy-free, gluten-free, and dairy-free. It contains zero preservatives, MSG, flavorings, or any artificial ingredients.
Bare Bones Instant Beef Broth has zero sugar, 10 grams of protein, and 50 calories overall. Get it to grab your required protein, minerals, amino acids, collagen, and energy for the day. It's very quick to prepare: mix it with hot water, and you're good to go in a matter of seconds! Take it with you on the way to the gym or office!
Pros
Ideal for keto, paleo, low-carb, and intermittent fasting diets
Non-GMO, soy-free, gluten-free, and dairy-free
Quick and easy to prepare.
Cons
Consumers say that it is an acquired taste.
Osso Good Beef Bone Broth – Luxury Pick
[amazon box="B07D5J7NN5″ ]
Osso Good is one of the biggest companies on this list. In the past few years, it has grown and expanded its business, keeping its promise of high-quality products for its customers. This beef bone broth is quite a delight and something most consumers would rate as the best-tasting store-bought, pre-prepared bone broth. It comes as no surprise, though, that it costs more than the others.
All of the broths are made with purely grass-fed and organic bones of beef and chicken, as well as organic veggies. All of the ingredients are harvested from family-run farms. These components are simmered for 18 hours, leading to a rich and flavorful broth that is rich in minerals, amino acids, and nutrients.
Osso Good freezes their broths immediately after making them ensure all of the nutrition and flavors are locked in safely. However, they do not have a long shelf life and can perish quickly. So if you purchase their bone broth without the intention of eating it right away, make sure to store them frozen right away. Thaw them in the refrigerator overnight or in warm water when you are ready to prepare them.
This bone broth is 100% free from antibiotics, gluten, dairy, added salt, and artificial flavors. It is keto- and paleo-friendly. It is also Whole30-approved.
Grab your Osso Good bone broth now and enjoy the perks of naturally occurring gelatin, which is proven to be effective in boosting immunity, strengthening bones and joints, and promoting digestive health.
Pros
Whole30, keto, and paleo-friendly
Made with purely grass-fed and organic bones
One of the best-tasting bone broths today.
Cons
As the company has grown, the serving sizes have become smaller, and the prices have increased.
InstaBroth Bone Broth Powder – Value Pick
[amazon box="B013XT7ZO8″ ]
InstaBroth is very rich in nutrients, gelatin, collagen, and proteins. It takes collagen and gelatin from naturally pasture-raised gelatin and pep collagen peptides. These ingredients are essential in maintaining a healthy digestive system because they aid in natural detoxification.
The broth is low-carb, low-sugar, gluten-free, and contains 12.5 grams of protein and 65 calories in every cup.
You don't need to make a lot of fuss because preparation is a breeze. Just mix one tablespoon of broth powder into a cup of hot, boiling water. Enjoy it on its own, or add it to your favorite recipes that require stock or broth.
Pros
Affordable
Low-carb and low-sugar, with a good amount of protein
Easy to prepare and can be used in other recipes.
Cons
It may not be suitable for everyone because it contains dextrose, whey, and yeast extract.
The Health Benefits of Bone Broth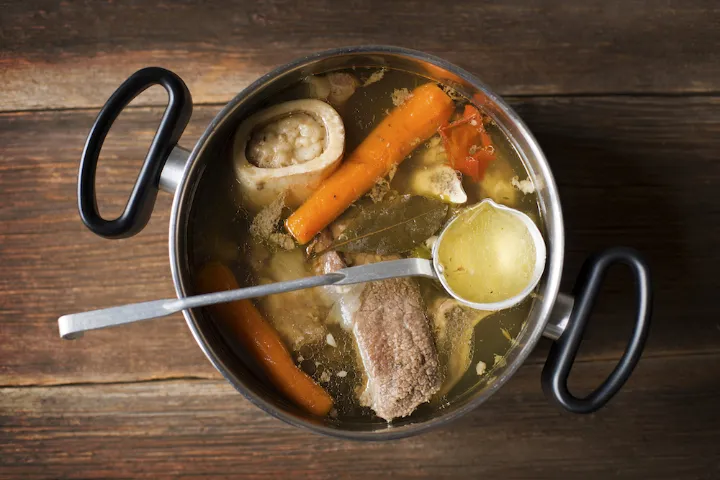 Bone broth isn't just an easy way to prepare soup in a short amount of time. It has multiple health advantages, and many health enthusiasts swear by it.
It supports healthy skin, strong bones and joints, and normal digestion. In fact, the superb nutritional value of bone broth has made celebrities, and pro athletes like Salma Hayek, Gwyneth Paltrow, Joakim Noah, and Kobe Bryant try it themselves.
If you are an athlete or someone who is just generally health-conscious, then you are in the right place. Educate yourself about it, and go try it yourself. Its ingredients are essential in helping the body recover from the damage it incurs from day to day. Nutritionists actually recommend bone broth to people who need a boost for their immune system. It is also beneficial in weight loss and in making sure the body receives all the nutrients it needs.
Stronger Musculoskeletal System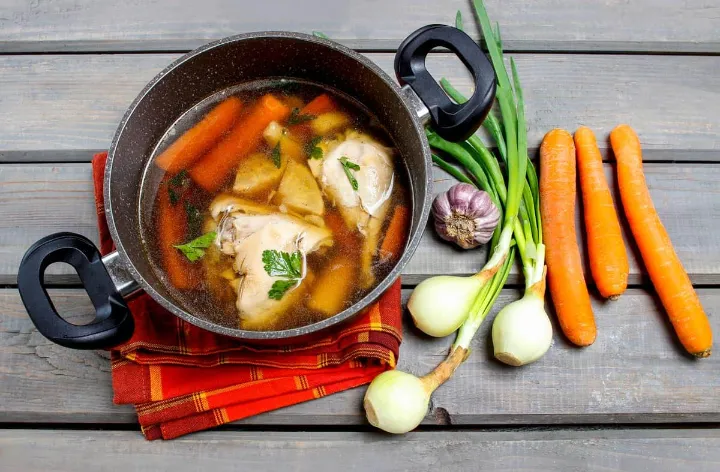 Bone broth has been found effective in strengthening bones, joints, and even teeth. Many studies have been performed on minerals and vitamins required in bone formation and repair processes. Science tells us that calcium, magnesium, vitamin D, phosphorus, protein, zinc, potassium, copper, iron, manganese, boron, and vitamins A, B, C, and K are all key players in the said processes.
And it comes as no surprise that bone broth – either meat, fish, or vegetable varieties -is a rich source of these vitamins and minerals.
Healthy Weight Loss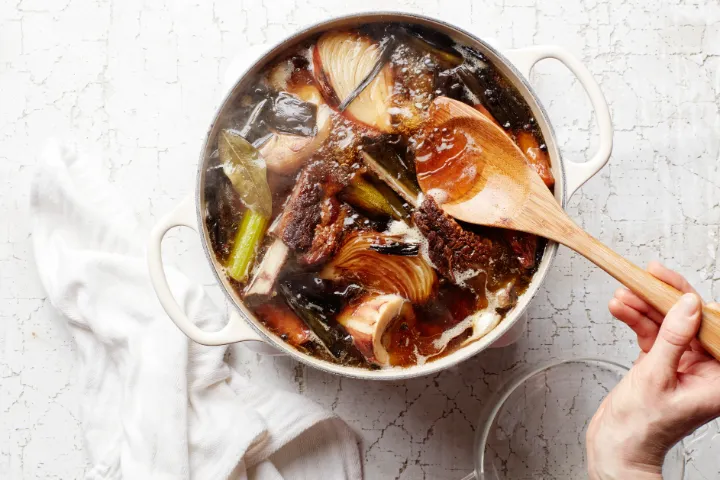 Even some bone broth fans don't even know that bone broth can help with weight loss, which is a nice perk. The fact is that bone broth comes loaded with L-glutamine, an amino acid that plays a crucial role in digestive health. Studies show that it lowers the presence of Firmicutes in the gastrointestinal tract, consequently leading to weight loss.
Even if nourishment for body repair and overall sustenance was just your goal for having bone broth, it's not a secret that this is some good news.
Streamlined Recovery and Repair
As mentioned earlier, one of the primary reasons for bone broth's popularity lies in the field of exercise. Athletes and fitness aficionados have bone broth to restore their own workout capacity after a long day or an intense exercise session.
There is also proof that liquids rich in electrolytes, such as bone broth, can be a better option compared with plain water when it comes to restoring lost nutrients and electrolytes during extensive physical activity. As such, bone broth can also be a perfect aid for electrolyte depletion and dehydration.
Improved Mood and Relaxation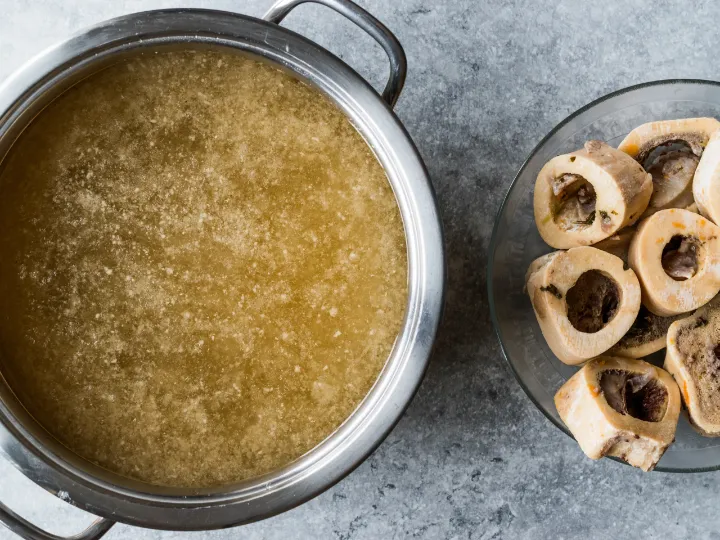 This last one is a nice bonus. Who knew bone broth could also affect your mental and emotional health?
It all lies in the simple principle that a happy mind is a happy body – and vice versa.
A person's diet affects one's GI bacteria. This bacteria affects the brain. Scientists believe that this "gut" bacteria "communicates" with the brain. This communication plays a role in your mental capacities: memory, stress coping mechanisms, ability to learn, and your moods. When your usual diet results in having healthy microbiomes, then it sends "happy" communication to the brain, causing better moods. On the other hand, an unhealthy diet can lead to stress and anxiety.
So you can see how bone broth can be a holistically beneficial practice to your overall health.
Conclusion
All of these store-bought bone broths are amazing, or they wouldn't have made our cut. It all comes down to personal preference, flavor preference, and even brand preference. For me, the winner of the lot is LonoLife Grass-Fed Beef Bone Broth Powder. I put into consideration many factors: overall nutritional value, compatibility with diet regimens, sustainability practices, and – of course – price.
A lot of the top picks in this article are ideal for ketogenic diets. For more sources of info on the keto diet, check out our related posts on the best butter for keto and the best bacon for keto! Now you are better equipped to embark on a healthier diet and lifestyle.
Did you enjoy this article? Please leave a comment below and let us know what you think. Don't forget to share it with your friends, too!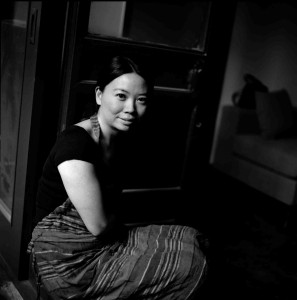 Jen Lin-Liu is the founder of Black Sesame Kitchen. A Chinese-American writer and a nationally certified Chinese chef in Beijing. Jen is the author of two memoirs, Serve the People: A Stir-Fried Journey Through China and On the Noodle Road: From Beijing to Rome with Love and Pasta.