Today, you can find different types of cookware claiming to be the most effective tool for cooking. However, not all cookware is created equal. Thus, it is important that we take some time to choose the cookware we use.
One of the best types of cookware is made of copper. In fact, copper is the most effective metal for cooking, as it is a good conductor of heat.
Before you can purchase the best copper cookware, you need to check out the different features of the copper cookware and learn to compare the best ones in the market. For instance, you can check out the comparison between red copper vs copper chef. This way, you will be able to determine the best copper cookware for your needs.
What is a Red Copper Pan?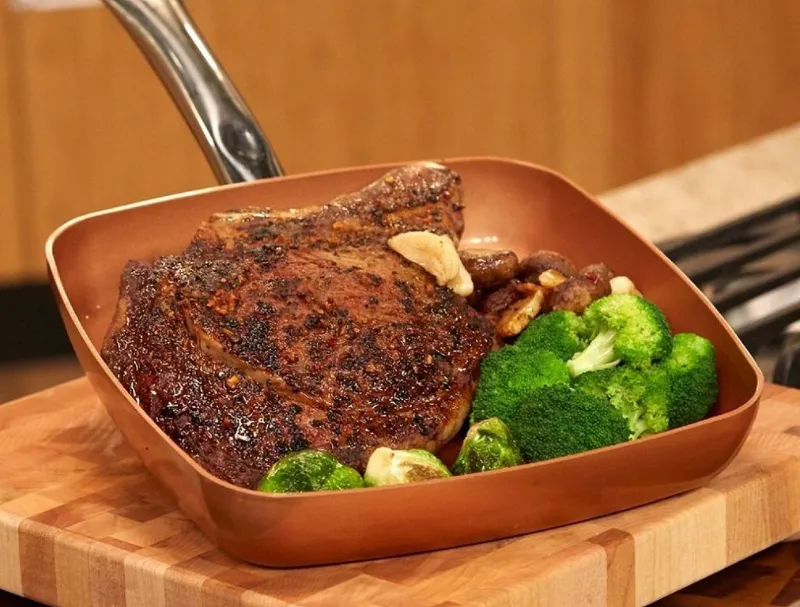 Red copper pan is a revolutionary new type of cooking pan that is made of non-stick ceramic copper. The makers of this pan claim to have combined the power of non-stick ceramic and copper to deliver the best results in the kitchen.
Since this type of pan is made of ultra tough copper, it will last for a very long time because of the copper infused durability. Also, red copper pans are PFOA and PTFE free, which means that the pans are not made using harmful toxins and chemicals. Thus, they are safe to use.
​Copper Chef Cookware – What Are They?
Copper chef cookware is made of copper, which actually provides extra durability. That being said, investing in this type of cookware can actually help you save money in the long run because you do not need to change the pan every now and then as these pans are made to last.
Copper is one of the best conductors of heat and it will heat quickly and evenly. Also, the other materials of the cookware are non-toxic and approved for usage.
The outer coating of the pan is infused with 100% real copper. With the pan's non-stick surface, food will not stick even when you are not using any fat or oil while cooking. This makes cleaning the pan simple and easy. Also, the Copper Chef pans are dishwasher safe.
Why Choose Copper Cookware?
As mentioned, copper is one of the most effective metals for cooking because it is a good conductor of heat.
With copper, the temperature will spread evenly on all sides of the cookware. That being said, even and quick heating will ensure that the food you are cooking will not have burnt spots.
Also, a copper cookware is considered a green pan. The pan's ideal heat conduction along with its optimal heat accumulation will allow you to save lots of energy and this should make a significant difference in your energy bills.
This type of cookware is also a good investment, as they are made to last longer than your regular cookware. This would mean that you do not have to change your pans often, which saves you money in the long run.
Copper pans are also associated with sumptuous meals. This would mean that your cooking skills will greatly be improved allowing you to create tasty meals for the entire family.
Lastly, copper stands for class, perfection and timeless style, which would definitely fit any kitchen interior. Yes, even copper offers an aesthetic value.
Characteristics of the Best Copper Cookware
Yes, even the top copper cookware has distinct characteristics that make them the best in the industry. Here are some of them.​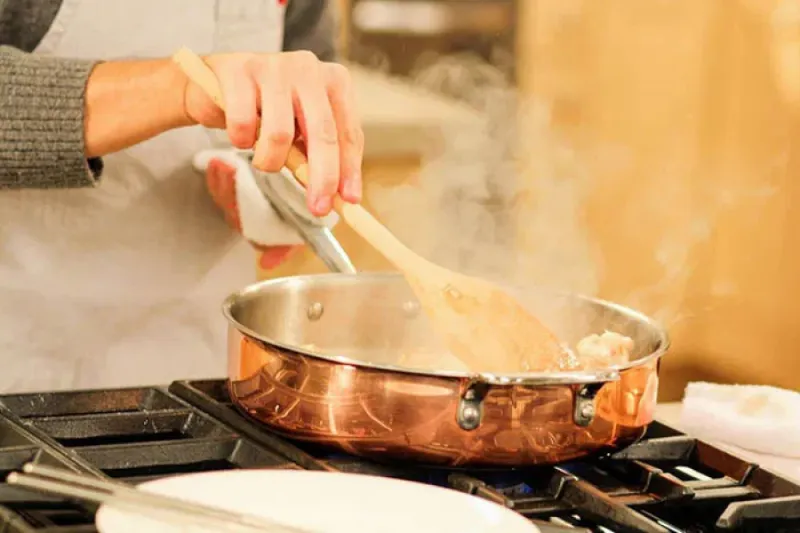 Thickness
For most types of cookware, the thicker the material the cookware is made from, the better choice it is. When looking for copper cookware, you should not assume that all copper pots and pans are created equal and that they have the same thickness. It would always be best to check the exact weight of the pan and ask about how thick the copper is.
Appearance – Smooth versus Hammered Surfaces
Copper cookware is available in both smooth and hammered finish. The smooth finish is a more common option throughout the most decent quality cookware brands.
On the other hand, the hammered finish is not indicative of the quality of the pan, as there are top copper pan manufacturers that offer this type of finish.
Bare, Tin, and Stainless Steel Lining
Copper cookware is available in three distinct material configurations including tinned, bare, and stainless steel lined. Each type has its advantages and disadvantages.
For instance, bare copper is the most inexpensive but the least desirable, as it is often uncoated. Tin lined, on the other hand, does not interfere with copper's capacity to conduct heat. In fact, it is naturally nonstick and great for cooking high acid foods.
Lastly, stainless steel lined copper cookware is considered the better alternative to home cooking. In fact, stainless steel does not tarnish, rust, and discolor. Also, it does not easily scratch or oxidizes.
Red Copper vs Copper Chef
The top manufacturers of copper cookware in the market are Red Copper and Copper Chef. Before you can choose the best copper pans for your needs, it is important to know how these copper cookware brands make their copper pots and pan.
Red Copper creates copper-infused pots and pans with the nonstick ceramic cooking surface, which actually lets you cook healthier meals for your family. In fact, you do not need to use oil, butter, or grease in cooking and worry about food sticking to your pots and pans. Also, Red Copper cookware can be used on all types of stove tops and even in ovens.
Copper Chef Cookware, on the other hand, offers pans designed with copper infused coating and Cerami-Tech technology, which can actually resist heat up to 800 degrees. The Cerami-Tech non-stick technology is PTFE and PFOA-free which means that food will not stick on the surface of the pan. Also, the coating allows oil-free cooking and easy cleaning.
Here is a table showing a distinct comparison between the two top copper pan brands in the market.
| | Red Copper | Copper Chef |
| --- | --- | --- |
| Materials | Ceramic and tough copper infusion | double layered ceramic coating, non-stick ceramic coating, aluminum core, stainless steel induction |
| Coating | PFOA and PTFE Free | PFOA and PTFE Free |
| Handle | Sturdy tough handle | Hollow but sturdy handle |
| Stovetop Cooking | Works on all types of stovetops | Works on all types of stovetops |
| Oven Safe | Yes | Yes |
| Heat Resistance | Up to 500 degrees Fahrenheit | Up to 800 degrees Fahrenheit |
| Dishwasher Safe | Yes | Yes |
| Cooking Styles | Great for broiling, pan frying, stir frying, baking | Great for roasting, baking, deep frying, and steaming |
| Price | $$$ | $$$ |
| Score | 95/100 | 92/100 |
| Full Review | Red Copper Pan Reviews | Copper Chef Pan Reviews |
Top 5 Best Red Copper Pans
Bestseller No. 1
15-Piece Baking Pan Set - PFOA, PFOS, PTFE Free Flexible Nonstick Golden Coating Carbon Steel Bakeware - Professional Home Kitchen Bake Cookie Sheet Stackable Tray w/ Red Silicone Handles
15-PIECE SET: The NutriChef 15-Piece Bakeware Set offers complete high-quality kitchenware for baking, cooking, and roasting. Includes 2 round pans, 2 cookie sheets, square pan, roaster pan w/ lid, 2 loaf pan, 2 12-cup muffin pan & nylon utensils
NON-STICK COATING: Made from durable carbon steel metal & it's shielded w/ non-stick coating that eliminates the need for butter, oil, or cooking spray. Also for quick & effortless food release plus it does not emit any weird odor or smell
OVEN SAFE UP TO 446 °F: Heat-safe even at high temperatures of up to 446°F which is ideal for baking a number of tasty baked goods or pastry. Make the most delicious chocolate fudge, cookies, cupcake, brownies, and can also be used as serving tray
HEATPROOF SILICONE HANDLES: The commercial grade restaurant quality kitchen bakeware features red silicone handles to prevent accidental burns. Also stain-resistant, easy to clean & dishwasher safe but hand washing is recommended to extend pan life
STACKABLE DESIGN: The reusable professional non stick baking set features a space-saving stackable wide tray pan design for convenient storage. It is fully compatible w/ standard & convection ovens. Suitable for oven, refrigerator & freezer
Sale
Bestseller No. 2
Bestseller No. 3
Red Copper 12 inch Pan by BulbHead Ceramic Copper Infused Non-Stick Fry Pan Skillet Scratch Resistant Without PFOA and PTFE Heat Resistant From Stove To Oven Up To 500 Degrees
Copper-infused fry pan includes a high-heat-resistant, PFOA and PTFE-free, scratch-resistant ceramic coating that will not peel, chip, or flake
Naturally Non-Stick Ceramic Surface Allows You Fry Up Your Favorite Breakfast Meats, Eggs, Veggies, And More Without Oils, Sprays, Or Butter
Aluminum cooking rings ensure even heat for no hot spots
Transitions from stovetop to ovens up to 500 degrees Fahrenheit for meal versatility. Dishwasher safe for easy cleanups
Brown chicken or chops, sear steak, and finish in the oven. Includes 10/12 inch pan with stay cool stovetop handle
Bestseller No. 4
Barnyard Designs Ceramic Farmhouse Kitchen Utensil Holder for Countertop, Decorative Kitchen Utensil Holder, Large Kitchen Utensil Holder for Kitchen Counter, Utensil Crock Spatula Holder, 6.75" Red
CERAMIC UTENSIL HOLDER - Decorate, organize, and beautifully display your cooking utensils in this farmhouse kitchen utensil holder. A decorative kitchen utensil holder for your countertop that will keep your kitchen neat and free of clutter.
VINTAGE KITCHEN DECOR- This large utensil holder for kitchen counter will make a chic French country accent in your home. The porcelain-like finish on the cooking utensil holder gives it a rustic feel. A charming rustic utensil holder.
FARMHOUSE KITCHEN UTENSIL HOLDER - Hold your everyday kitchen tools like spoons, whisks, and knives in this large utensil crock spatula holder. This farmhouse utensil holder for countertop will make a stunning decoration in your home.
DIMENSIONS - The countertop utensil holder measures 6" x 6.75". Diameter across the top is 5". The kitchen utensil holder for counter is made of ceramic stone. Color: Red (Pantone 3517). Food safe. Hand wash only.
BARNYARD HAPPINESS GUARANTEE - If you are ever unhappy with the product, just let us know and we will solve it for you immediately. We pride ourselves on high-quality products and happy customers.
Bestseller No. 5
Quality Modern Red Stainless Steel Canister Set for Kitchen Counter with Glass Window & Airtight Lid - Food Storage Containers with Lids Airtight - Pantry Storage and Organization Set
SCREW-ON AIRTIGHT SEAL KEEPS FOODS FRESH: The screw-on mechanism ensures an airtight seal which will prevent air to enter, protecting the hermetic seal of the jar. Airtight canisters not only protect the contents from insects and moisture, but also ensures they remain fresh for a long time.
HIGH QUALITY SAFETY MATERIAL: This airtight canister set is made of high quality red stainless steel and lead-free glass. Excellent stain-resistant metal seals airtight and clasps. It is safe for everyday use. Your new container set has no smelly odor and will store food with no BPA, toxic chemical or other chemicals that leach into food.
SWEET DESIGN WILL SAVE YOUR TIME: Clear see-through window allows easy viewing of canister contents. With transparent glass window, you will save more time. They are great for storing cookies, coffee, flour, sugar, nuts, coarse cereals and more. This practical canister set is perfect for various occasions including countertop, restaurants, bistros, pubs, cafe, pantry and so on.
EASY TO USE AND CLEAN: These red stainless steel kitchen canisters are dishwasher-safe, however we recommend hand-washing to protect the finish. A quick wipe with a damp cloth is sufficient for a light cleaning. And they are extremely user friendly.
FOUR CONVENIENT SIZES: These canisters all measure 3.9" Diameter, and are sized 1 - 12" (64oz), 1 - 8.75" (46oz), 1 - 7" (36oz), and 1 - 5" (24oz) capacity jar.
Top 5 Best Copper Chef Pans
Sale
Bestseller No. 1
PG Moscow Mule Mugs | Large Size 19 ounces | Set of 4 Hammered Cups | Stainless Steel Lining | Pure Copper Plating | Gold Brass Handles | 3.7 inches Diameter x 4 inches Tall
LARGE Size 4PC Set | LARGE Capacity 19.5 oz unlike others which are 16-18 oz | Original Hammered Shape - COMFORTABLE Brass Handle | 4 Mugs
FOOD SAFE MATERIALS | Manufactured from high-quality STAINLESS-STEEL then COPPER-PLATED to get a lustrous finish. 100% Food SAFE and Quality Tested.
Expert WORKSMANSHIP | STUNNING, SHATTERPROOF and DURABLE. GREAT for indoor, outdoor and everyday use!
19.5 oz LARGE Capacity | Ideal size for Moscow Mule Mug is 16 oz-20 oz | Perfect for adding extra garnish or not re-filling as much | Can also be used for many other COLD drinks like Beer, Iced-Tea, Iced Coffee, Cocktails etc.
DURABLE | With the proper care, you will be able to use this item for a very long time | To protect the delicate copper surface, please hand-wash only ! No abrasive detergents!
Bestseller No. 2
Anolon Nouvelle Stainless Steel Frying Pan/ Fry Pan/ Saute Pan/ Chefpan with Lid - 4 Quart, Silver
HIGH PERFORMANCE COOKWARE: Polished stainless steel casserole pan construction is crafted with copper for optimum heat control and cooking performance that's suitable for all stovetops, including induction
STURDY HANDLES: Casserole handles are dual riveted for strength and durability, with patented flat-rivet technology
CASSEROLE POT WITH LID: Mirror-finish, deep-seated stainless steel lid seals in heat and flavor
DISHWASHER SAFE, INDUCTION COMPATIBLE: Chef pan / casserole is broiler safe, dishwasher safe, and induction suitable, and makes a great beginning or addition to a complete Anolon collection
Bestseller No. 3
Pure Encapsulations Copper (Glycinate) | Iron Absorption Supplement for Red Blood Cell Formation* | 60 Capsules
Overall Health: Copper is a trace mineral that supports a number of crucial physiological processes of the body.*
Iron Absorption: Copper assists in the formation of hemoglobin and red blood cells by facilitating iron absorption.*
Energy Metabolism Support: Copper activates a number of enzymes important to energy metabolism.*
Pure Quality: Our supplements are made with only premium ingredients sourced from trusted suppliers and guided by our nutritional experts, then carefully manufactured and tested to verify their potency and purity.
Pure Difference: What makes us different isn't just our process or what goes into our supplements -- what we leave out matters, too. Pure Encapsulations products are FREE FROM wheat, eggs, tree nuts & peanuts, gluten, artificial colors, flavors & sweeteners, coatings and shellacs, GMOs, and unnecessary binders, fillers & preservatives.
Bestseller No. 4
Solgar Chelated Copper, 100 Tablets - Essential for Collagen Formation - Highly Bioavailable Form - Supports Connective Tissue - Non-GMO, Vegan, Gluten Free, Dairy Free, Kosher - 100 Servings
Collagen Formation; Copper is an essential trace mineral; It is essential for the formation of collagen that helps support connective tissues like skin, bone, cartilage, and tendons
Chelated Copper; Chelated minerals are minerals that have been combined with amino acids to form "complexes"; This formulation provides a patented, highly bioavailable form of chelated copper
Gluten, Wheat & Dairy Free; Solgar Chelated Copper is non-GMO, vegan, kosher, and free of: gluten, wheat, dairy, soy, yeast, sugar, sodium, artificial flavor, sweetener, preservatives, and color
The Gold Standard: For over 70 years, Solgar has been committed to quality, health, and well-being. Our mission is to create the finest nutritional supplements in small batches, through tireless research, using only the finest raw materials
Sale
Bestseller No. 5
Trace Minerals Liquid Ionic Copper Supplement, 2 Ounce
Contains over 72 naturally occurring ionic trace minerals.
A unique blend maximizing absorption, safety and flexibility
Trace Minerals Liquid Ionic Copper 2 oz is Non-GMO
During the summer months products may arrive warm but Amazon stores and ships products in accordance with manufacturers' recommendations, when provided.
The Bottom Line
Reading comparison charts and reviews definitely helps out in deciding on the best copper cookware for your needs. That being said, I certainly hope that this article has enlightened you with the basics of copper cookware and the distinct differences between the two top copper cookware brands in the market.
In choosing the best copper cookware, however, you need to determine your needs and preferences and make sure that the cookware you choose has the features that will meet these aspects. Also, you should not simply buy the cookware that you first see. Instead, learn to compare your options before deciding which option is the best for you.