Today, you can find different types of cookware claiming to be the most effective tool for cooking. However, not all cookware is created equal. Thus, it is important that we take some time to choose the cookware we use.
One of the best types of cookware is made of copper. In fact, copper is the most effective metal for cooking, as it is a good conductor of heat.
Before you can purchase the best copper cookware, you need to check out the different features of the copper cookware and learn to compare the best ones in the market. For instance, you can check out the comparison between red copper vs copper chef. This way, you will be able to determine the best copper cookware for your needs.
What is a Red Copper Pan?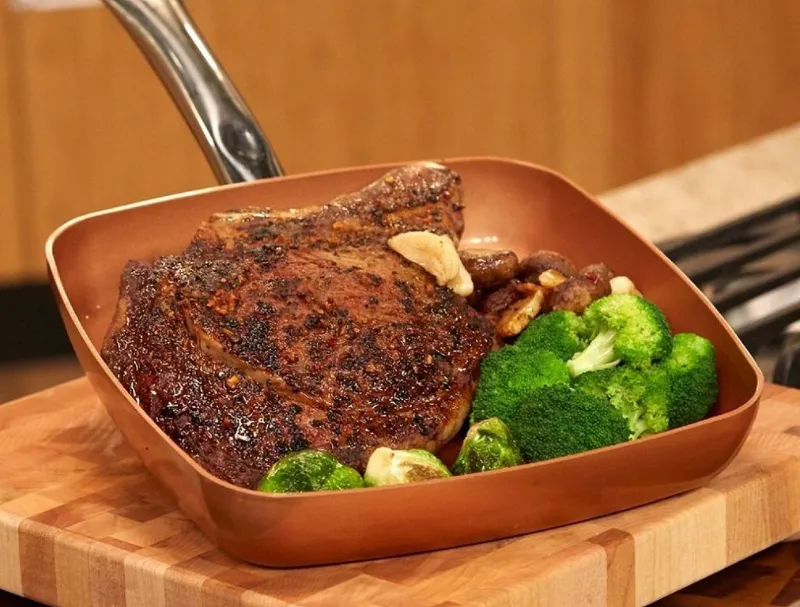 Red copper pan is a revolutionary new type of cooking pan that is made of non-stick ceramic copper. The makers of this pan claim to have combined the power of non-stick ceramic and copper to deliver the best results in the kitchen.
Since this type of pan is made of ultra tough copper, it will last for a very long time because of the copper infused durability. Also, red copper pans are PFOA and PTFE free, which means that the pans are not made using harmful toxins and chemicals. Thus, they are safe to use.
​Copper Chef Cookware – What Are They?
Copper chef cookware is made of copper, which actually provides extra durability. That being said, investing in this type of cookware can actually help you save money in the long run because you do not need to change the pan every now and then as these pans are made to last.
Copper is one of the best conductors of heat and it will heat quickly and evenly. Also, the other materials of the cookware are non-toxic and approved for usage.
The outer coating of the pan is infused with 100% real copper. With the pan's non-stick surface, food will not stick even when you are not using any fat or oil while cooking. This makes cleaning the pan simple and easy. Also, the Copper Chef pans are dishwasher safe.
Why Choose Copper Cookware?
As mentioned, copper is one of the most effective metals for cooking because it is a good conductor of heat.
With copper, the temperature will spread evenly on all sides of the cookware. That being said, even and quick heating will ensure that the food you are cooking will not have burnt spots.
Also, a copper cookware is considered a green pan. The pan's ideal heat conduction along with its optimal heat accumulation will allow you to save lots of energy and this should make a significant difference in your energy bills.
This type of cookware is also a good investment, as they are made to last longer than your regular cookware. This would mean that you do not have to change your pans often, which saves you money in the long run.
Copper pans are also associated with sumptuous meals. This would mean that your cooking skills will greatly be improved allowing you to create tasty meals for the entire family.
Lastly, copper stands for class, perfection and timeless style, which would definitely fit any kitchen interior. Yes, even copper offers an aesthetic value.
Characteristics of the Best Copper Cookware
Yes, even the top copper cookware has distinct characteristics that make them the best in the industry. Here are some of them.​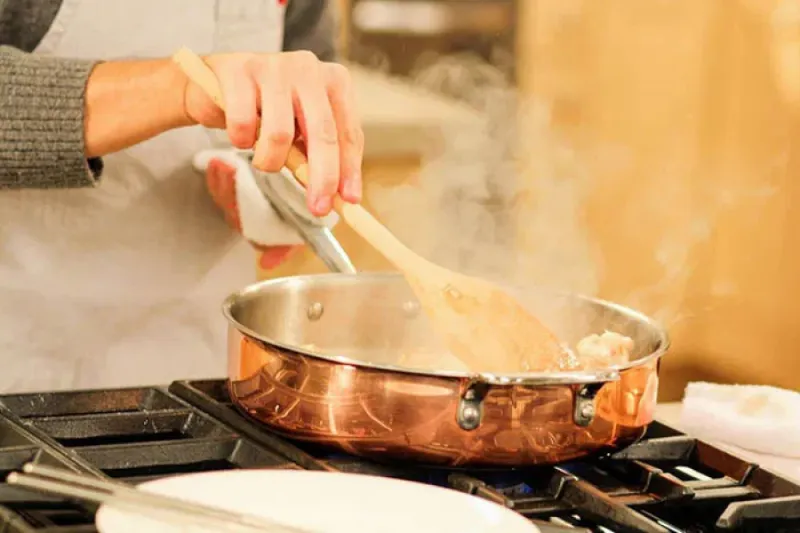 Thickness
For most types of cookware, the thicker the material the cookware is made from, the better choice it is. When looking for copper cookware, you should not assume that all copper pots and pans are created equal and that they have the same thickness. It would always be best to check the exact weight of the pan and ask about how thick the copper is.
Appearance – Smooth versus Hammered Surfaces
Copper cookware is available in both smooth and hammered finish. The smooth finish is a more common option throughout the most decent quality cookware brands.
On the other hand, the hammered finish is not indicative of the quality of the pan, as there are top copper pan manufacturers that offer this type of finish.
Bare, Tin, and Stainless Steel Lining
Copper cookware is available in three distinct material configurations including tinned, bare, and stainless steel lined. Each type has its advantages and disadvantages.
For instance, bare copper is the most inexpensive but the least desirable, as it is often uncoated. Tin lined, on the other hand, does not interfere with copper's capacity to conduct heat. In fact, it is naturally nonstick and great for cooking high acid foods.
Lastly, stainless steel lined copper cookware is considered the better alternative to home cooking. In fact, stainless steel does not tarnish, rust, and discolor. Also, it does not easily scratch or oxidizes.
Red Copper vs Copper Chef
The top manufacturers of copper cookware in the market are Red Copper and Copper Chef. Before you can choose the best copper pans for your needs, it is important to know how these copper cookware brands make their copper pots and pan.
Red Copper creates copper-infused pots and pans with the nonstick ceramic cooking surface, which actually lets you cook healthier meals for your family. In fact, you do not need to use oil, butter, or grease in cooking and worry about food sticking to your pots and pans. Also, Red Copper cookware can be used on all types of stove tops and even in ovens.
Copper Chef Cookware, on the other hand, offers pans designed with copper infused coating and Cerami-Tech technology, which can actually resist heat up to 800 degrees. The Cerami-Tech non-stick technology is PTFE and PFOA-free which means that food will not stick on the surface of the pan. Also, the coating allows oil-free cooking and easy cleaning.
Here is a table showing a distinct comparison between the two top copper pan brands in the market.
| | Red Copper | Copper Chef |
| --- | --- | --- |
| Materials | Ceramic and tough copper infusion | double layered ceramic coating, non-stick ceramic coating, aluminum core, stainless steel induction |
| Coating | PFOA and PTFE Free | PFOA and PTFE Free |
| Handle | Sturdy tough handle | Hollow but sturdy handle |
| Stovetop Cooking | Works on all types of stovetops | Works on all types of stovetops |
| Oven Safe | Yes | Yes |
| Heat Resistance | Up to 500 degrees Fahrenheit | Up to 800 degrees Fahrenheit |
| Dishwasher Safe | Yes | Yes |
| Cooking Styles | Great for broiling, pan frying, stir frying, baking | Great for roasting, baking, deep frying, and steaming |
| Price | $$$ | $$$ |
| Score | 95/100 | 92/100 |
| Full Review | Red Copper Pan Reviews | Copper Chef Pan Reviews |
Top 5 Best Red Copper Pans
Bestseller No. 1
Bestseller No. 2
Pots and Pans Set, imarku 16-Piece Cookware Sets Nonstick Granite Coating, Induction Kitchen Cookware Easy to Clean, Cooking Pot Pan Set with Stay-Cool Handle, Red
【Nonstick Coating Without Warping & Flaking】 Scratch-proof non-stick granite coating keeps food sliding smoothly along the surface, preventing food to stick, and making cooking easier. Sturdy interiors can avoid chipping and coming off. imarku pots and pans set are made of high-temperature die-casting, making the cooking pots with a thicker body, and reinforced with a wobble-free base for extra strength and heating.
【Health Cooking】 imarku kitchen cookware sets adopt EU standard aluminum alloy(EN601), which can be in direct contact with food, including trace elements such as titanium, zinc, strontium, magnesium which are beneficial to the human body. Toxin-free Whitford xylan surface layer ensures this pots and pans are free of PFOA, PFOS, lead & cadmium. (Have FDA certification for SGS testing)
【Ultra-Durable & Heat-Resistant Handles】The handle of the pan set is covered with soft rubber to keep staying cool and allow total control with a comfortable grip. Vented tempered glass lids trap in heat and moisture. Food-grade silicone edging of the cookware for better sealing. Suitable for ceramic, electric, gas, grill, and induction cooking stoves, quick and even heating. Safe cooking temperature up to 480°F.
【Easy to Clean】Coated nonstick coating three times to deliver food release easily, rivetless interior to prevent snags and food buildup, this pot and pan set is easy to help you solve sticky or difficult-to-clean problems. Hand-wash with the cotton sponge or dishcloth after the cookware cools down to prevent the surface from being scratched. (Do not use sharp shovels or brushes)
【16-Pic Red Cooking Sets】imarku pots and pans set nonstick include 2-quart milk pot, 5.5-quart stockpot with glass lid, 9.5" &11" frying pan, 11" * 3.15" H frying pan with glass lid, 11" square frying pan, 3 different silicone spatulas, soft heat insulation pads and gloves (to make your complicated kitchen work safer). A perfect gift for Mother's Day, Weddings, Valentines, Housewarming, Father's Day, Thanksgiving and Christmas.
Sale
Bestseller No. 3
Gotham Steel Cookware + Bakeware Set with Nonstick Durable Ceramic Copper Coating – Includes Skillets, Stock Pots, Deep Square Fry Basket, Cookie Sheet and Baking Pans, 20 Piece, Red
Complete Kitchen In A Box: Includes a complete suite of fry pans, stock pots, sauce pans, bakeware pans, steamers and more
Award Winning Ti-Cerama Coating: Ensures the ultimate release -- everything just slides right off the pan, No need for oil or butter
Ultra-durable: scratch-proof & metal utensil safe
Please Note: this product may arrive either the retail packaging or a recyclable eco-friendly box
Lightweight Design: makes for a comfortable cooking experience
Sale
Bestseller No. 4
NutriChef w/Heat Red Silicone Handles, Oven Safe, 21 Piece Set, Black
21PC SET: Includes 1.5 & 2.5qt sauce pots w/ lids, 4.5qt dutch oven pot w/ lid, small/medium fry pans w/ handle, ladle, spoon, small & regular spatula, silicone brusher, muffin pan, loaf pan, 2 round pan, square pan, roast pan, pizza pan & baking tin
NON-STICK COATING: The NutriChef multi-sized non stick pot set cooking ware features a long lasting nonstick coating for easy food release or tossing, cleaning & healthy cooking w/ heat resistant lacquer exterior making it resistant to high heat
COMFORTABLE HANDLE GRIPS: Features cool-touch form-fitting handle grips that are ergonomic & heat-resistant ensuring comfortable & safe cooking. Offers sleek design w/ stain-resistant edges adding an elegant touch to the pots & pans
SEE-THROUGH LIDS: The non stick cookware is equipped with see-through tempered glass lids w/ vent holes that allow steam to escape. The kitchen cookware set effectively distributes & retains heat for even cooking w/ 392° F max temperature
UNIVERSAL COOKING: These pots and skillet fry pans and utensils set are safe for use in gas, electric & ceramic counter cooktops. Made of pressed aluminum metal with a coating thickness of 20-25um, 2.2mm multi-layered cookware
Bestseller No. 5
Rachael Ray Create Delicious Nonstick Cookware Pots and Pans Set, 13 Piece, Red Shimmer
PREMIUM NONSTICK TECHNOLOGY: Cookware set features PlatinumShield Technology enhanced nonstick reinforced to be 9X harder than titanium
BUILT TO LAST COOKWARE: Durable aluminum construction with induction compatible stainless steel base for versatility and strength
EASY TO CLEAN POTS AND PANS: Cooking set is dishwasher safe for fast, easy cleanup(handwash recommended for cookie sheet)
NONSTICK COOKWARE SET INCLUDES: 1.5-Quart Saucepan with Lid, 3-Quart Everything Pan with Lid, 6-Quart Stockpot with Lid, 8.5-Inch Deep Frying Pan, 10.25-Inch Deep Frying Pan, 3-Quart Sauté Pan with Lid, 9.625-Inch Turner, 9-Inch x 13-Inch Cookie Pan
ADDED COOKING CONVENIENCE AND COMFORT: Dual-riveted stainless steel and silicone handles; Shatter resistant glass lids; flared rims for easy pouring
Top 5 Best Copper Chef Pans
Bestseller No. 1
Hestan - CopperBond Collection - 100% Pure Copper 10-Piece Ultimate Cookware Set, Induction Cooktop Compatible
Includes - One 8.5″ and 11″ Skillet, one 1.5qt and 3qt Saucepan with lids, one 3.5qt Sauté pan with lid, and a 6qt stockpot with lid. Handcrafted in Italy with a lifetime warranty; hand-wash and dry with a soft cloth.
5-layer bonded construction with a thick 100% pure copper core for quick heating, exceptional temperature control and even heat distribution
Beautiful and modern copper-stainless exterior with a nonreactive 18/10 stainless steel interior; revolutionary wrap-around stainless steel base for enhanced durability and optimized for induction efficiency
Rims are reinforced with stainless steel for durability and flared for drip-free pouring; innovative flush rivets for easy cleaning and stacking/nesting ability
Compatible with all cooktops including induction, oven and broiler safe up to 600°F; metal utensil safe
Sale
Bestseller No. 2
Cookware Set Nonstick 100% PFOA Free Induction Pots and Pans Set with Cooking Utensil 13 Piece – White
🥘 NON-STICK MARBLE COATING : Interior & exterior is coated by high performance non-stick marble coating makes the pans and pots easy to cook and clean. Cooking with little oil for healthy diet. Safe temperature up to 220℃-280℃.
🥘 SMOKELESS, GREEN & HEALTHY: Cooking with little oil for healthy diet, very durable surface, great non-stick effect, Environmental friendly and high temperature resistant.100% PFOA free Durable and non-burnt cookware.
🥘 STURDY REINFORCED DIE-CAST ALUMINUM BODY : ensures fast, even heat distribution,4mm-4.5mm thicken bottom provides a stable heat distribution during cooking, rapidly heating up, saves time and energy, 2mm thickens aluminum body appropriate weight and heat conductive can ensure uniform heat dissipation and prevent hot spots.
🥘 ERGONOMIC BAKELITE KNOB AND HANDLE : COOKLOVER's cookware sets builds with heat resistant soft touch silicone Bakelite knob and handle with beautiful wood grain design (NOT REAL WOOD).
🥘 UNIQUE TEMPERED GLASS LID : with steam vent makes viewing food easily, heat-resistant and anti-slip Ergonomic knob is nice to grip, easy to maneuver, safe and anti-scald.
Sale
Bestseller No. 3
Matfer Bourgeat 8 Piece Copper Cookware Set, Professional Grade with Stainless Steel Lining
THE ULTIMATE 8-PIECE SET: Combines all of your favorite copper cookware pieces into one 8-piece set, including the Copper Casserole Pot, Copper Sauce Pan, Copper Flared Sauce Pan, Copper Heavy Saute Pan, along with all of their matching lids
VARIETY OF USES: This set has a piece for every recipe and technique. Simmer your favorite sauces, saute foods like vegetables, seafood, and grains, and braise lean meats like brisket and short ribs, and much more!
HIGH QUALITY MATERIAL: Combines the optimum heat conductivity of copper with the easy cleaning properties of a stainless steel interior, and the addition of even cooking thanks to its 2.5mm thickness
CONVENIENT TO USE: Designed for daily use by professional chefs, transferring sauce from pan is easy as cast iron handle and grip ensures reliable cool touch support and balance when lifting and pouring, while its tapered rim makes for a drip-free pour
MADE IN FRANCE: Ensures high standards for durability, performance, and hygiene for both commercial and residential use
Bestseller No. 4
Viking Culinary 3-Ply Stainless Steel Hammered Copper Clad Cookware Set, 10 Piece
Includes 8-Inch & 10-Inch Fry Pans, 2.25-Quart & 3-Quart Sauce Pans with Lids, 5.25-Quart Sauté with Lid and 8-Quart Stock Pot with Lid. This kitchen cookware set of pots and pans features a stainless steel finish.
The pots and pans in this kitchen set are not induction capable, but this handwash recommended pot and pan set comes with a limited lifetime warranty.
This copper-clad cookware set provides exceptional heat transfer & the copper exterior heats evenly for precise temperature control. Vented glass lids let you see the progress of your meal, reducing the chance of boil-overs.
Because copper is highly conductive, cooking can be more precise due to less amounts of heat needed to make that masterpiece dish. This cookware set is the kitchen set you're missing.
From high-quality cookware to cast iron pieces, or nonstick pans, Viking has something for you. Explore options in stainless steel, aluminum nonstick, copper, titanium, cast iron, carbon steel and much more
Bestseller No. 5
Gotham Steel Hammered Copper Collection – 20 Piece Premium Cookware & Bakeware Set with Nonstick Copper Coating, Includes Skillets, Stock Pots, Deep Square Fry Basket, Cookie Sheet and Baking Pans
Elegant Yet Practical: The Gotham Steel hammered collection is beautiful and makes a statement in every kitchen, yet nonstick, lightweight, scratch resistant and dishwasher safe!
Ultra Nonstick: Our award winning ceramic and titanium coating ensures the ultimate easy release -- everything just slides right off the pan, no need for oil or butter – ever
Complete Kitchen In A Box: Includes everything you need to completely outfit your kitchen and take cooking and baking to the next level, includes a full cookware set with frying pans, skillets, saucepans, stock pots with tempered glass lids, a deep frying and casserole pan with a steamer tray, fry basket and lid plus a complete PRO baking set with cookie sheet/jelly roll pan, loaf pan, muffin tin, square pan and more!
Healthy & Non-Toxic: The Granite Stone coating is derived from minerals and reinforced with diamonds, making this frying pan free of PFOA, PFOS, lead & cadmium for an , healthy experience
Even Heat Distribution: Solid aluminum core construction ensures even heat distribution all around
The Bottom Line
Reading comparison charts and reviews definitely helps out in deciding on the best copper cookware for your needs. That being said, I certainly hope that this article has enlightened you with the basics of copper cookware and the distinct differences between the two top copper cookware brands in the market.
In choosing the best copper cookware, however, you need to determine your needs and preferences and make sure that the cookware you choose has the features that will meet these aspects. Also, you should not simply buy the cookware that you first see. Instead, learn to compare your options before deciding which option is the best for you.