Knowing what you want, what you're looking for, and what best suits your home will help a lot in narrowing down your choices and lessen the stress of deciding on which to buy. Along with this are safety, budget, and wise investment that you also need to think about and weigh in before you make a purchase. Having said that, what are the factors that you need to consider when buying the best professional gas range?
There are a lot of great professional gas ranges for homes available in the market. You can start with this list as you consider your options:
Factors to Consider When Buying the Best Professional Gas Ranges for the Home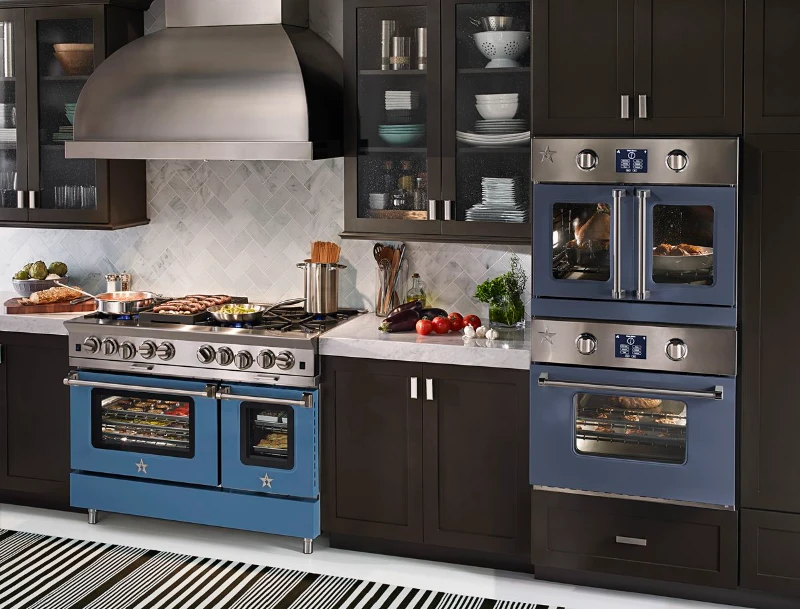 Heat and Ventilation
You need to familiarize yourself with the ventilation in your home as well as your supply line. Since professional gas ranges produce more power, thus producing more humidity, carbon monoxide, odor, and smoke, it helps that your home is well-ventilated, and a kitchen exhaust fan or vent hood is necessary.
You can also buy pots and pans that are heavy-bottomed so they can absorb some of the heat. You need to know your supply line since the recommendations of manufacturers differ, so it's important that you check the specifications of the range that you're going to buy as well.
Range Size
You also need to consider the size, one that would fit through your door when it gets delivered and would fit nicely and comfortably in your kitchen.
The width determines the size of the range. It comes in 24″, 30″, 36″, 48″, and 60″. The most common and popular among these are the 30" and the 36".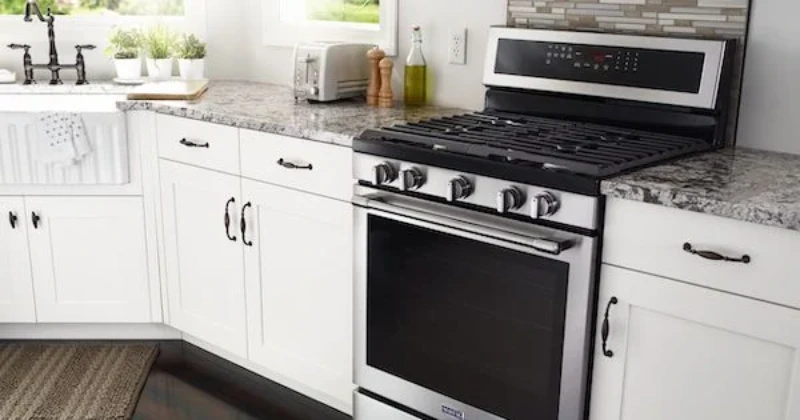 Open Versus Sealed
Next, you need to know the difference between open and sealed burners. Basically, open burners are hotter and can heat the pots and pans more quickly and evenly. The only downside to this is that it's harder to clean since the spills would go to the drip pan underneath the burner.
Sealed burners are easier to clean; however, heating and cooking would take a little longer.
Overall Appearance
Another thing to consider is the look and color that would suit the style and feel of your kitchen. Do you want something that's eye-catching? Do you prefer something that's casual or dainty? Would you go for a minimalist style or a mega model? Are you a fan of something classic or more of a modern style?
Type and Model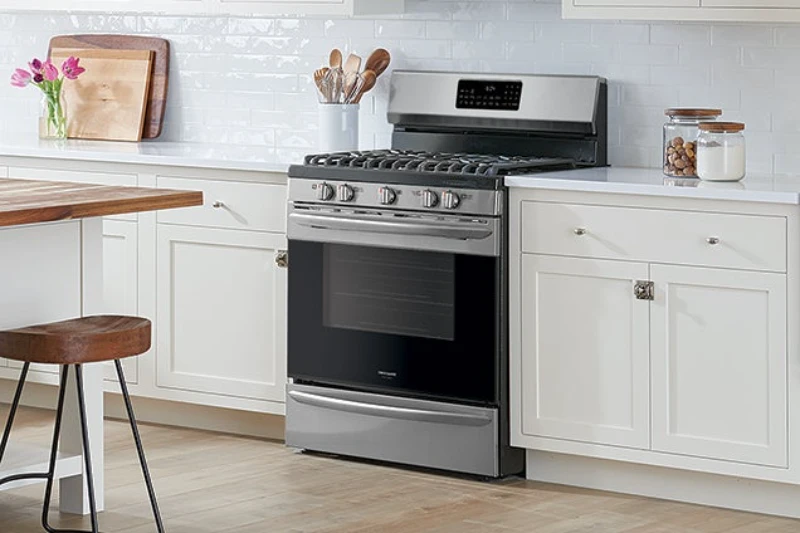 You should also familiarize yourself with your gas range and know your options. There's the burner output, continuous grates, simmer burner, boiler burner, grill and griddle options, the top French option, infrared broiler, the steam option, knobs, convection, and glide racks.
The continuous grates are iron cast (standard among these ranges) and allow you to transfer or slide your pans quickly and easily between the burners. Since they are iron-cast, they absorb more heat and need more time to cool down, so you have to be careful when cleaning them.
The simmer burner is for cooking tasks that require low heat, such as melting chocolate or butter.
The grill option requires you to have a well-ventilated space or a sturdy ventilation hood for the smoke. This can occupy two burner spaces and an open flame for grilling. The griddle option, on the other hand, is a flat stainless surface where you can cook scrambled eggs, bacon, and pancakes and can also occupy two burners. The French top is like griddles but only has one burner in the middle. They can be used to cook several items at different temperatures.
The boiler burner is used for boiling, sautéing, and searing and has a high heat element.
These are just among the features that you need to check and consider to be able to find the one that would suit your preference.
You can also check if the showroom or retailer has floor models and if they are allowing the gas range models to be tested by cooking something like eggs or veggies. This will give you a feel of the product and see how some of the features work.
Best Professional Gas Ranges For The Home On The 2023Market
Thor Kitchen 30″ Professional Style 5 Burner
Thor Kitchen is a great option for a professional gas range and can fulfill your kitchen needs. The cooktop boasts 45,000 BTU, which is among its main features. An oval burner also comes with its cooktop, which can accommodate a large griddle pan, allowing even cooking.
Its continuous iron grates let you move even large cookware easily among the burners. Cleaning will not be a problem since it has a drip pan that catches the spills, and the five cooktop burners are sealed, which also prevents spills from getting underneath the burners.
Thor Kitchen also features commercial convection oven fans that also allow even cooking, so you won't have to worry about overcooking or undercooking. This gas range has a high-efficiency feature that would help you cook much easier and more quickly.
Thor Kitchen 30" is the common standard size that fits most kitchens. This would easily fit in any regular-sized doorway and kitchen.
Pros
A standard size that would fit most kitchen
Continuous iron cast grates that allow easy sliding of cookware among burners
Sealed burners that allow easy cleaning
High-Efficiency feature that allows faster cooking
Oval burners that can accommodate large griddle pans.
Cons
Thor Free Standing 30″ Freestanding Gas Range with 4.55 cu. ft, 5 Burners
Another cool option for a professional gas range is this Thor Kitchen HRG-3080U. With its size of 30", it can also easily fit standard-size doorways and kitchens. It has heavy-duty cast-iron cooking grates that allow you to use large and heavy cookware and even easily move and glide them among the burners.
The convection oven cooks really well, and you won't have to worry about regulating the temperature as it allows even cooking. It also has a self-cleaning feature that lessens your stress in cleaning up after cooking. It also has an electronic ignition with automatic re-ignition features, and its 4.2 cu. ft. oven capacity allows you to cook multiple dishes, lessening your cooking time, especially if you're preparing for a big occasion.
The design of this gas range is of good quality, and because it's easy to clean, you won't have to worry about keeping it looking new always.
Pros
A standard size that would fit most kitchen
Heavy-duty grates that would accommodate heavy cookware
Convection oven that allows even cooking
The self-cleaning feature that makes cleaning up after cooking less stressful
High-quality design that helps you keep it in tip-top shape.
Cons
You need extra care when cleaning, removing, and replacing the iron grates.
Ilve UPDW100FDMPM Pro Series 40 inch
Another great option is the Ilve gas range which is made in Italy and has a unique dual-fuel range oven. This is a durable, sturdy oven that has high corrosion resistance. A beautiful modern style that meets the cooking needs and desires of the home chef at a fair price.
Cooking is made easy because continuous cast iron grates allow you to glide the pots easily from one burner to another and on and off heat. It also has a digital clock and timer, making it easy to view the time. The clock and timer are also programmable, so cooking time is easier to set.
Cooking and warming your dishes will be more flexible as the cooktop burners are made of brass, which means that the burners are even more durable. You won't even have to worry about residual stains in your oven because it is not difficult to clean the oven cavity.
Pros
Durable brass burners that make it long-lasting
An easy clean oven that helps in easier cleaning and prevents residual stains
Digital clock and timer that's easy to view and also programmable
Gorgeous modern design that also has corrosion resistance.
Cons
Larger than the standard-sized ovens
Pricey than the others.
Ilve UPDW90FDMPI Stainless Steel
ILVE UPDW90FDMPI Professional Plus Series 36 Inch Freestanding Dual Fuel Range with Natural Gas, 5 Sealed Brass Burners, Double Ovens, 3.98 cu. ft. Total Oven Capacity Stainless Steel with Chrome Trim
Professional Plus Series 36 Inch Freestanding Dual Fuel Range with Natural Gas, 5 Sealed Brass Burners, Double Ovens, 3.55 cu. ft. Total Oven Capacity, Griddle, Convection Oven, Continuous Grates, Viewing Window, Storage Drawer, True European Convection, Rotisserie, Dual Function Triple Ring Burner, Oven: Defrost Function, 220 Volts, Gas Conversion Kit Included, Interchangeable Griddle with Burner Grate
Self Clean Mode for Oven (Self Clean Panel - Sold Saperatly)
15,500 BTU Dual-Ring Burner
This Ilve gas range is also among the great choices in the market. Made in Italy and made of 304 Stainless Steel, this also has high corrosion resistance and is durable. Its easy-clean oven also makes cleaning less stressful, and the convection oven allows even cooking. It also comes with a griddle and rotisserie, allowing more cooking options.
The control knobs are also made of stainless steel, and the burners are made of brass which also makes them more durable, which means they are long-lasting. The griddle is removable so that you can clean it properly. This gas range also has a unique dual fuel range oven feature.
The clock and timer are also digital and programmable which makes it easier to view the cooking time and allows efficient cooking since it's easy to set the timer for cooking.
Pros
Beautiful design that is easy on the eyes, aesthetically pleasant
An easy clean oven that helps in easier cleaning and prevents residual stains
Stainless steel design that has high corrosion resistance
Durable brass burners that allow flexibility in cooking and warming food
An easy-clean oven that makes cleaning less stressful.
Cons
Heavy griddle that requires more effort to remove and clean.
Thor Kitchen 36 Inch Gas Range 6 Burners Cooktop 5.2 cu
This is another cool gas range that you can consider among your options. It features a black porcelain drip pan that makes cleaning less painful as it allows easy surface cleaning. It also has heavy-duty continuous cast iron cooking grates that would let you use large and heavy cookware.
One of its safety features is the automatic re-ignition. Another cool feature of this gas range is the black zinc alloy knobs that have blue LED illuminating lights.
One of its best features is that preheating takes no time at all, making cooking more efficient and faster. It has a total of 6 burners that you can use simultaneously for multiple cooking. The convection oven also allows even cooking so that you won't have to worry about your food being overcooked or undercooked.
Pros
Black porcelain drip pan that allows easy cleaning
Heavy-duty cooking grates allow the use of large and heavy cookware
Cool black alloy knobs that have blue LED illuminating lights
Short preheating time.
Cons
Conclusion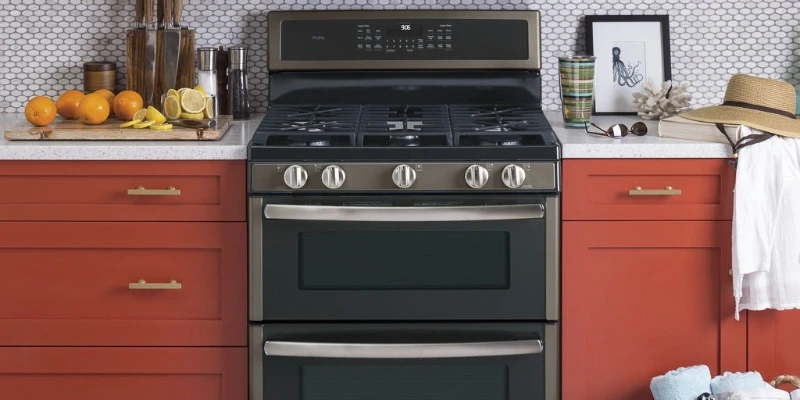 There are so many advantages and benefits to getting the best professional gas range for the home. It makes cooking easier and faster. It even allows you to be more creative since you have more time to cook and prepare. You can cook more and do more because of the amazing features. It also has features that make them long-lasting and durable. Even cleaning is made easy, so you have less to worry about.
However, it's best to weigh all the factors that would come into play in getting the best one that suits your home and your needs. The ones that I have included in the list are among the best and the superior ones in the market because of their design, durability, and functionality. Cooking is made more fun, easier, and less stressful if you use one of the best.
Which gas range do you think is right for you? What factors make up the best professional gas ranges for the home, in your opinion? Don't forget to leave your thoughts in the comments section!