Multi cookers are an awesome invention. They don't just cook food exceptionally, and they also save you valuable space in the kitchen, as well as money. Instead of getting separate appliances for different kinds of cooking, all you need is one machine. Keep on reading to find out my top 5 best multi cooker suggestions and more!
[amazon bestseller ="multi cooker" items="20″]
Best Multi Cooker on the 2023 Market
Ninja Foodi 7-in-1 Multi Cooker – Editor's Pick
[amazon box="B07S652D97″ ]
The Ninja Multi Cooker is one of the most popular brands out there. It's rated very highly, and its loyal users swear by it. It's not that hard to see why!
This 7-in-1 cooker is compact, but that's not even its best feature. You can use it as a pressure cooker, tender crisper, air fryer, and slow cooker.
The tender-crisp tech lets you achieve the optimal level of cooking – not too soggy and not too dry. This is possible through the crisping lid, which creates a golden and crispy finish.
Say goodbye to traditional pressure cookers. This multi-cooker tenderizes and cooks your dishes up to 70% faster. It's ideal for slow cooking, braising, and simmering for long periods of time.
Looking for a healthier way to enjoy your favorite fried recipes? The air fry option lets you enjoy the same flavor and texture for up to 75% less fat compared to deep frying.
Plus, the machine is completely nonstick and safe for dishwasher use. This means you don't have to worry about anything after cooking – it's a total convenience package.
Other functions include steaming, baking and roasting, searing and sauteing, and yogurt.
It comes with a 5-quart pot and a 3-quart basket, both ceramic-coated for easy cleanup. You can cook as much as 4 lbs of chicken in the cooking basket.
You don't need to worry about safety or quality with this brand since it has passed rigorous testing and reviewing.
Pros
7 cooking functions
14 safety features
PTFE/PFOA-free.
Cons
The size and weight of the cooker might not be for everyone. It can be difficult to store if you do not have a dedicated space for a multi cooker.
Fissler Souspreme Multi Pot – Perfect for Families
[amazon box="B07NZ2BB25″ ]
Another go-getter in the multi-cooker game, the Fissler Multi Pot is a true contender worth checking out. It has 18 – that's right – different cooking modes that you can try. It's hard to think of a cooking function that this machine cannot perform. It truly eliminates the need for any other appliance in the kitchen.
It's good for making yogurt, cakes, dough, and more! But you can also use it for cooking meat, poultry, fish, and eggs. It's a perfect tool for whipping up stews, chili, and different soups.
The interior material is made of 18/8 stainless steel. This type of steel holds a high level of resistance against corrosion, which lets you enjoy it for a long time without fear of chipping or flaking. The base of the pot has three layers, all designed to last for years and to produce efficient and even heating.
Most people get multi-cookers for their pressure cooker functions. The Fissler's pressure seal system includes a safety lock that's guaranteed to keep the flavor, nutrition, and nutrition IN while cooking at high temperatures.
Don't worry about wrist strain – because it has grip handles and lid holders that are not only safe but also easy and comfortable to use. The pot has a generous 6-quart capacity, which is enough for the entire family!
When you are done with cooking, the pressure release feature lets you safely let the heat out. The child safety feature is handy for families with kids, too. And when it's time for cleanup, just pop it into the dishwasher, and you're good to go.
Pros
18 cooking functions
Durable and safe material
Child safety features.
Cons
The instruction manual can be improved to include illustrations
If you are shipping this item to countries outside the US, check if the voltage is compatible with your electrical circuitry.
Instant Pot® Duo™ Nova™ Multi-Use Pressure Cooker – Runner Up
[amazon box="B07RCNHTLS" ]
Instant Pot has to be the most famous brand of multi-cookers today. We can't help but agree it is one of the best kitchen appliances anyone can own today.
Although this product has been making waves for a while now, they released a 2019 edition that comes with significant upgrades.
Enjoy 7 cooking functions: pressure cooker, rice cooker, slow cooker, saute pan, steamer, warmer, and yogurt maker. Cook meals up to 70% faster using this machine!
What sets it apart from the competition is the easy-to-use controls and user-friendly instructions. Even novice home cooks can figure out how to operate it quickly. It comes with 14 programs that are operated with a single touch. You can now whip up beans, soups, yogurt, ribs, and desserts whenever you feel like it.
It comes with a six-quart pot that's enough to feed a 6-person party. If you are expecting a company, this can get the job done right. It's made with durable stainless steel and a 3-layer base, ensuring safe and healthy cooking and easy cleanup. It's dishwasher-safe, too! You can also cook your favorite dumplings and veggies with the steam rack add-on.
What about the pressure cooking function? Of course, it has a high-quality pressure cooker. It comes with the smart steam release, which is a great cooking AND safety feature. The lid automatically locks in the pot to let the flavors and nutrition cook with the food. Together with an overheat protection feature, you can make sure you enjoy a totally safe cooking experience. Plus, there's no need for guesswork because the progress indicator tells you exactly where your dish is at.
Pros
14 one-touch smart programs
7 cooking functions
Smart Steam Release and Overheat Protection feature for pressure cooking.
Cons
Some users reported that the pot broke after a while of use.
Mealthy MultiPot 9-in-1 Pressure Cooker – Best for Step-by-Step Cooking
[amazon box="B076QJNK8G" ]
The Mealthy MultiPot is another good investment for your kitchen. It lets you enjoy the functionalities of nine different appliances. You can pressure cook, steam, saute, slow cook, bake cakes, make yogurt, pasteurize, cook rice, and warm dishes whenever you need to.
Plus, there are recipes included – for those days when you just can't think of what to cook! Simply download and install the Mealthy mobile app, available for both iOS and Android devices, and get access to endless recipes and tutorial cooking videos!
No need for technical jargon, it comes with easy cooking controls – 14 different programs depending on your cooking needs – from cooking meat and poultry to stewing to steaming to pressure cooking.
It comes with a stainless-steel steamer basket that lets you save time and energy. Now, you can cook two meals at once. The pot is also made of stainless steel. Other accessories included are silicone mitts, an additional silicone gasket, a ladle, a measuring cup, a rice paddle, a raised steam trivet/rack, and a one-year manufacturer's warranty!
Pros
Very user-friendly
App gives access to cooking tutorials and free recipes
9 cooking functions and 14 smart programs.
Cons
Some users reported issues with reaching pressure quickly.
De'Longhi Livenza Multi Cooker – Best for Beginners
[amazon box="B07GQ3BC5J" ]
The last entry in our list is not the least – it's a competitive brand that can make most kitchens efficient. It's a versatile multi-cooker that allows various functions such as sauteing, browning, steaming, baking, cooking rice, slow cook, and more.
The design is straight to the point. It's made to remove all guesswork and estimating and allows pros and beginners alike to follow different cooking programs (cooking time and temperatures) with a touch of a button.
This cooker features ExacTemp tech, which makes sure you cook your dishes at the right level of heat and length of time each time.
Another intelligent feature lets you prevent overcooking. This is a common problem for home cooks, especially for those who like to multitask while cooking. The machine automatically moves from cooking to "keep warm" mode once it detects that the meal is ready.
This is dishwasher-safe and easy to maintain and store! Running out of ideas for what to cook? Download the accompanying app for 50 free recipes specifically designed for this multi-cooker.
Pros
Smart features to avoid overcooking
Various cooking programs and functions
User-friendly and great for beginner cooks.
Cons
The app doesn't give a lot of recipes and can be improved.
Before You Buy: Components and Features to Consider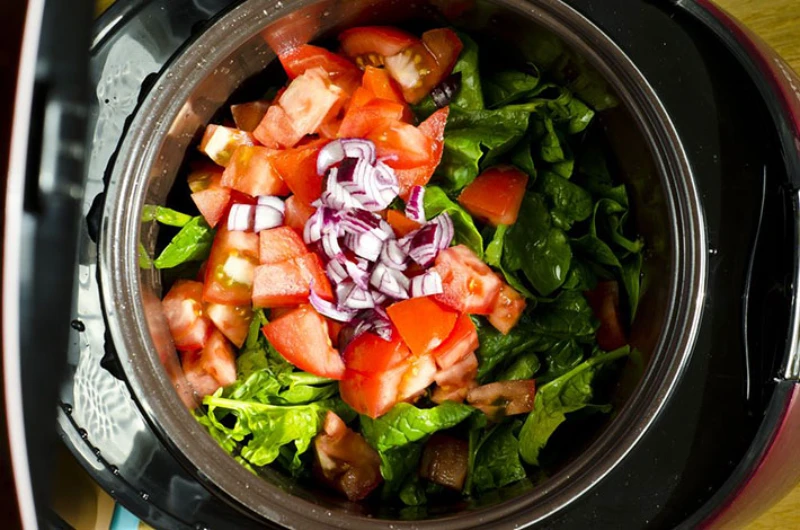 We've listed five winners above. But which one do you think is the right one for YOU? Check out these factors you need to consider before buying that multi-cooker.
Material, Size, and Capacity
Check the material of the pot. Go for those with a nonstick coating (either Teflon or ceramic material) so that you won't be stressed later on during cleanup. This is also the time to think about the size of the pot you need. Will you always be feeding a whole family or a party of people? The size of pots will also determine the kinds of meat cuts that you can cook.
Lids are equally important. They are locked when pressure cooking. If they aren't transparent, then you can't look over and monitor how the food is cooked.
Additional Parts and Functions
Every year, these same brands will release new features as they come up with new technologies. Right now, we're sitting pretty nicely on a good stack of state-of-the-art functionalities. Here are some of the advanced features found in some multi-cookers that you might want to check out.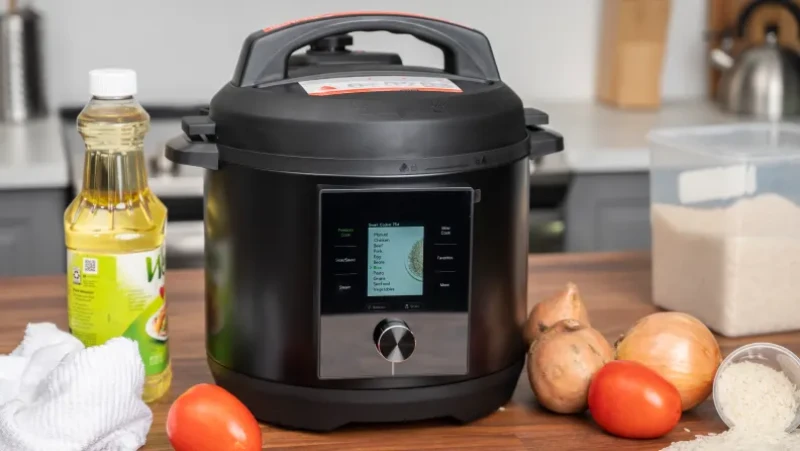 Air Frying and Air Crisping
Multi-cookers aside, air fryers have gained a lot of popularity in the past decade. This is in line with people wanting healthier alternatives for their otherwise unhealthy favorites, such as deep-fried dishes.
One of the brands that took notice is Ninja (featured above). Their multi-cookers have an air frying function. The cooker featured both a crisping lid and a pressure lid connected to the pot. The lid works with a "fan" that lets warm air circulate inside the cooker – essentially frying food by air – and is ideal for french fries. It's also useful for baking or browning.
This isn't just for frying recipes. If you start roasting the entire cooking but want to have a crisp sear towards the end, then you can switch to the air crisping function to create a nice crisp and brown on the chicken's skin. Based on user reports and testing, this feature actually does what it says it does.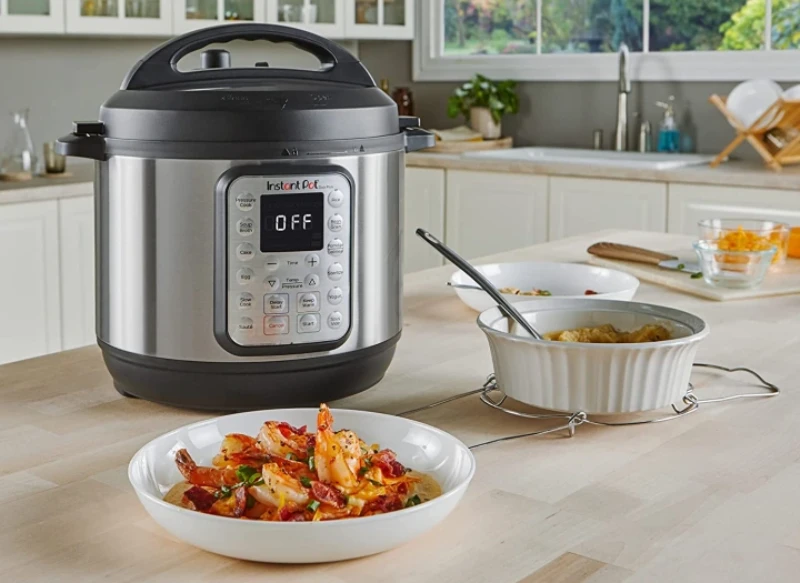 Dehydrating
Okay. So this must sound a little odd to be listed as an additional feature for a multi cooker. But it's actually very sensible if you think about it.
Dehydrating food – whether it's meat, fruits, nuts, or vegetables – is essentially done by removing the moisture from them. So if you can use a multi-cooker for cooking food in various ways, then you can do this, too!
The process would, like actual dehydrating, take a long time – up to 7 hours for meats and up to 8 hours for most vegetables and fruits. And don't take it from me – users have actually reported that the dehydrated fruits using multi-cookers with the feature actually tasted delicious.
The only downside to this would be the size of the multi-cooker. The usual size of the pot goes around 6-quart interiors, which isn't a lot of space if you're into dehydrating a LOT of food at once.
Conclusion
This was a fun article, and I enjoyed talking about all five entries. The clear winner of the best multi cooker is the Ninja Foodi 7-in-1, for its durability, many features and functions, and brand credibility.
What about you? Which one did you like the best? Please feel free to share your thoughts on multi-cookers in the comments section!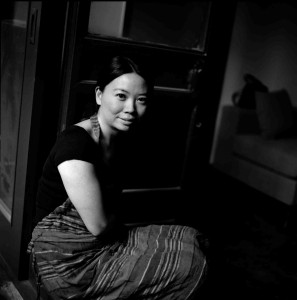 Jen Lin-Liu is the founder of Black Sesame Kitchen. A Chinese-American writer and a nationally certified Chinese chef in Beijing. Jen is the author of two memoirs, Serve the People: A Stir-Fried Journey Through China and On the Noodle Road: From Beijing to Rome with Love and Pasta.