If you are looking forward to introducing more fruits and vegetables into your diet or creating nutritious drinks to supplement your daily workout routine, a blender is a good investment. Both the magic bullet and Nutribullet do a fantastic job when it comes to creating nutritious and healthy drinks.
This article, however, goes into a little more depth about these specific blenders, which should help you decide which ones suit you best.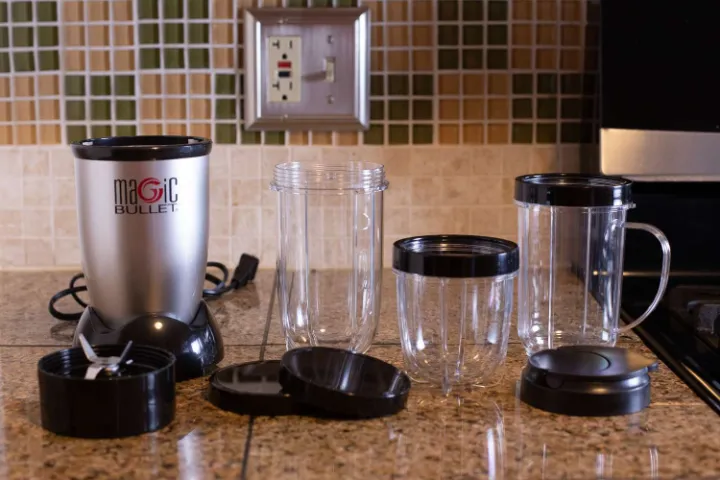 The Similarities and The Basics of Operation
[amazon bestseller="blender" items="20″]
It is best that we take a look at the basic operation of each type of blender and point out their similarities.
The design of both bullet-style blenders is quite identical. In fact, both devices feature a wide-mouthed blender cup along with a cross blade or an extractor blade.
Both devices have the same steps in how they are operated. First, you have to put the ingredients like carrots, spinach, and other fruits, along with water or juice. Once the cup is filled up until the designated line, you have to firmly screw the blade to the top portion of the container.
To place the cup on the base of the device, you have to turn the cup upside down and make sure it is aligned with the plastic tab at the bottom of the blender before locking it in place with a gentle twist.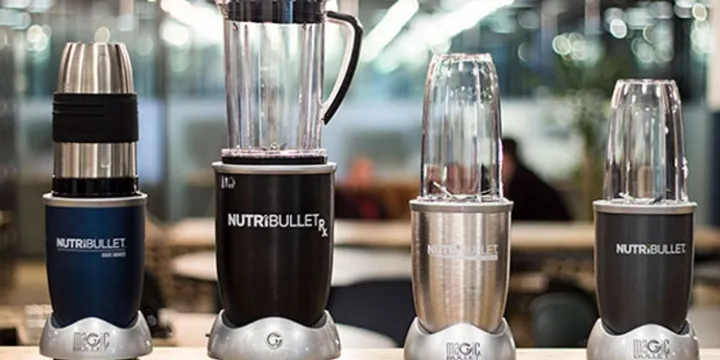 When blending the ingredients, you have to press down on the top part of the cup gently. The blending time will vary, as this is dependent on the ingredients you are blending. If you combine softer ingredients like spinach and banana, it will take less time to complete the task, averaging from 30 seconds to a minute. However, blending harder ingredients like carrots will take more time to complete the process.
Once the blending process is finished, you just need to release the cup from the base of the blender and remove the cross blades before pouring the contents into a portable sealed container or a glass to serve.
Another similarity that these blenders have is easy cleaning and maintenance. In fact, this is the feature that makes bullet blenders stand out compared to your regular mixers. Their parts are even dishwasher-safe.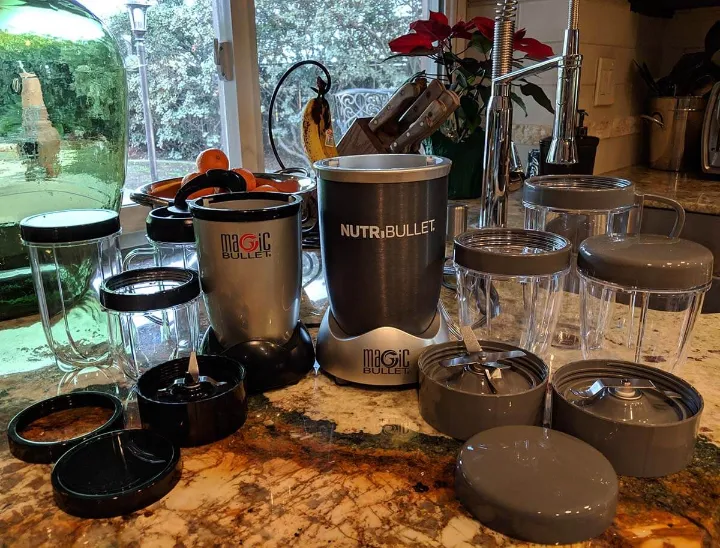 Both blenders are durable. Since both blenders are built in the same style, this means that they also share similar design flaws. For instance, if you fill the cup with too many ingredients, the pressure applied during the blending process can crack the plastic cups. Also, it is important to note that both blenders should not be used in blending hot liquids.
On another note, both devices may look the same and operate the same way, but their specifications are entirely different.
Their Differences – Which Blender Stands Out?
Now that we know the similarities and basic operation of the Magic Bullet and Nutribullet, it is now time to identify the features that distinguish one from the other.
Size and Weight
In terms of appearance, the Nutribullet is slightly larger and weighs heavier than the Magic Bullet. The weight and size indicate a higher degree of durability and sturdiness for the Nutribullet.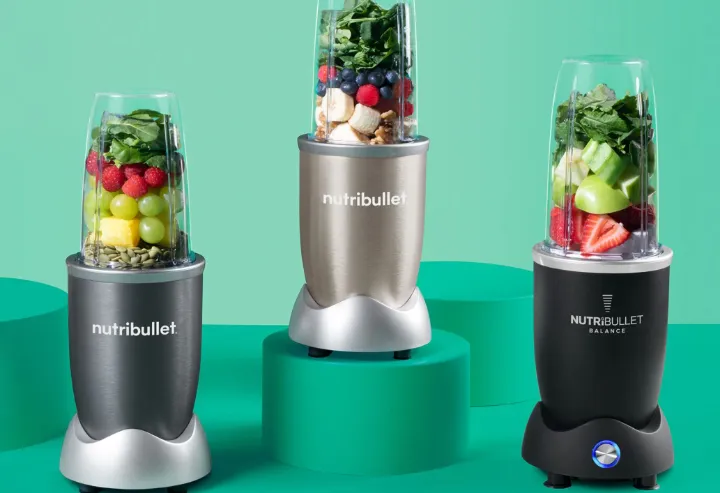 Accessories
[amazon bestseller="blender blade" items="20″]
Both blenders come with numerous accessories along with their motorized base. With the Nutribullet, you will get an extractor blade, a milling blade, one piece of a tall cup, two pieces of small cups, a handled lip ring, a regular lip ring, and two pieces of stay-fresh resealable lids. On the other hand, the Magic Bullet comes with a cross blade, two pieces of solid lids, a flip-top lid, two pieces of comfort lip rings, a party mug, a short cup, and a tall cup.
Power
When it comes to blending hard ingredients as well as frozen ones, you need to consider the motor power of the blender. The Nutribullet is equipped with a 600-watt motor that can efficiently slice through hard and frozen ingredients. On the other hand, the Magic Bullet only has a 250-watt motor. It can still chop through most frozen fruits, but it is less powerful than the Nutribullet.
Comparison Table – Magic Bullet Vs. Nutribullet
In summary, I have collated the features to compare and contrast Nutribullet and Magic Bullet easily. Here is the comparison table between the two blenders.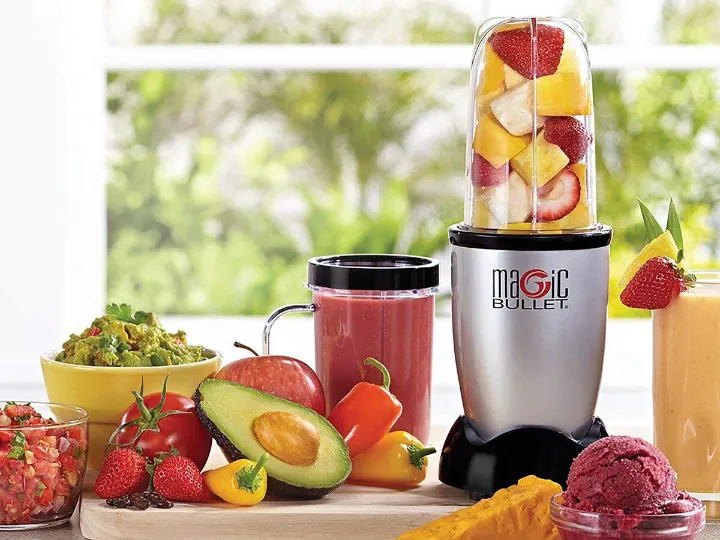 Magic Bullet
[amazon box="B001WAKFDY" ]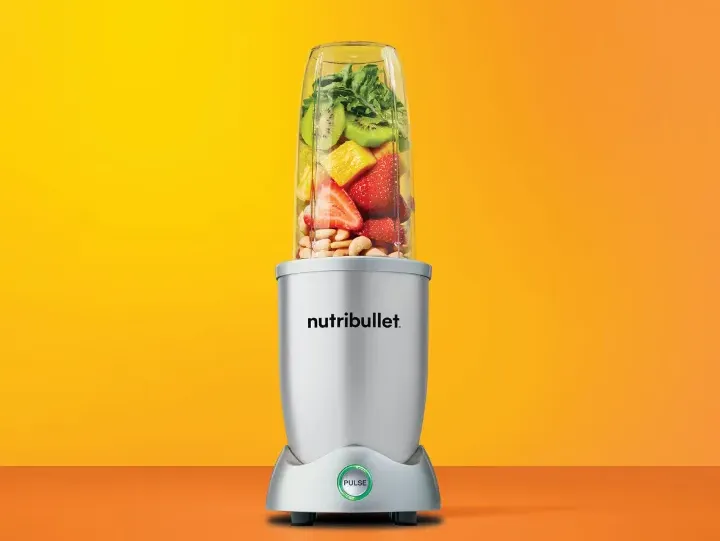 Nutribullet
[amazon box="B007TIE0GQ" ]
Features
Magic Bullet
Nutribullet
Performance and Results
It may produce chunkier results, especially when combining frozen or hard ingredients
Produces smoother textured smoothies and drinks even when blending frozen or hard ingredients.
Blade
Cross Blade
Extractor Blade and Milling Blade
Material
BPA free
BPA free
Motor
Runs with a 250-watt Motor
Runs with a 600-watt Motor
Height
Shorter (6.5 Inches)
Taller (8 Inches)
Weight
Lightweight (2.3 pounds)
Heavier (3.6 pounds)
Accessories
One piece cross blade
Two pieces solid lids
One piece flip top lid
Two pieces Comfort Lip Rings
One piece party mug
One piece short cup
One piece tall cup
One piece Nutribullet Milling Blade
One piece Nutribullet Extractor Blade
Two pieces Short Cups
One piece Tall Cup
One piece Regular Lip Ring
One piece Handled Lip Ring
Two pieces Stay-fresh Resealable Lids
Cleaning
Dishwasher Safe
Dishwasher Safe
Price
$$ (More Affordable)
$$ (Expensive)
Score
90/100
95/100
The Bottom Line
Bullet blenders like Magic Bullet and Nutribullet are great investments if you are looking for a device that can help you introduce healthier and more nutritious items into your diet. Both blenders work well in producing nutritious and healthy drinks and smoothies.
However, considering the features and specifications, the Nutribullet has taken the lead. It is larger in size and heavier, which indicates a higher degree of durability and sturdiness. It also has more accessories, including an extra milling blade.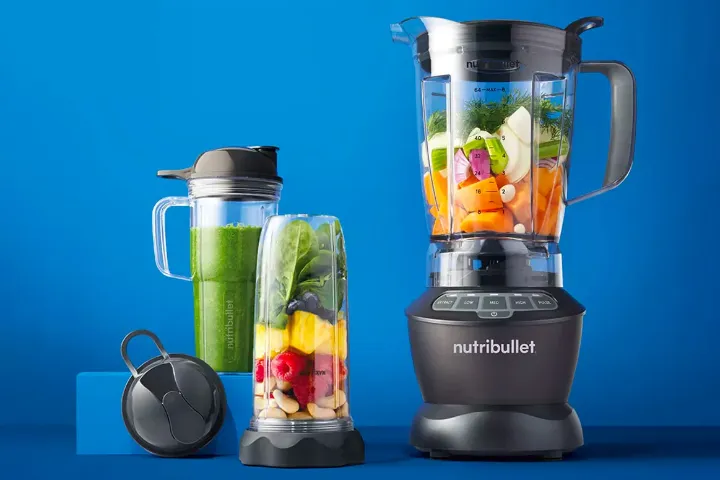 When it comes to motor power, Nutribullet is more powerful with its 600-watt motor, allowing it to slice through hard ingredients like nuts and ice. Nutribullet's superior features, however, are offered at a more expensive rate compared to Magic Bullet.
Magic Bullet may not be considered the most powerful blender on the market, but it is more affordable, making it the ideal bullet blender for those who are novices and beginners. However, if you have a few extra dollars to spare, the Nutribullet is a great investment, as it offers a far smoother texture to your healthy smoothies and drinks.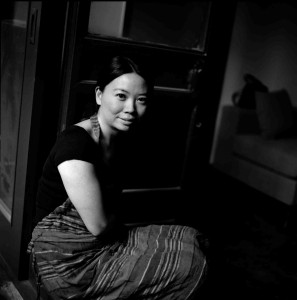 Jen Lin-Liu is the founder of Black Sesame Kitchen. A Chinese-American writer and a nationally certified Chinese chef in Beijing. Jen is the author of two memoirs, Serve the People: A Stir-Fried Journey Through China and On the Noodle Road: From Beijing to Rome with Love and Pasta.