How to cook canned beans? Most bean lovers prefer dried beans to canned beans. However, times are rapidly changing. With everyone trying to keep up with their busy schedule, it's getting harder and harder to find the time to prepare dried beans from scratch. This is where canned beans come in.
The challenge comes in knowing how to cook canned beans. We all know they tend to be flavorless. So how are you going to make them just as tasty or even more than homemade beans? Not to worry, you have come to the right place.
I too wondered what to do with canned beans before I did my research and discovered that there are very many ways to make these beans utterly delicious. Allow me to enlighten you. There are several ways to cook canned beans, so you get to choose the method you like best.
You can fry them, make a sauce from them or even make a stew. Canned beans also make fantastic salads and burgers. The possibilities are endless.
How to fry canned beans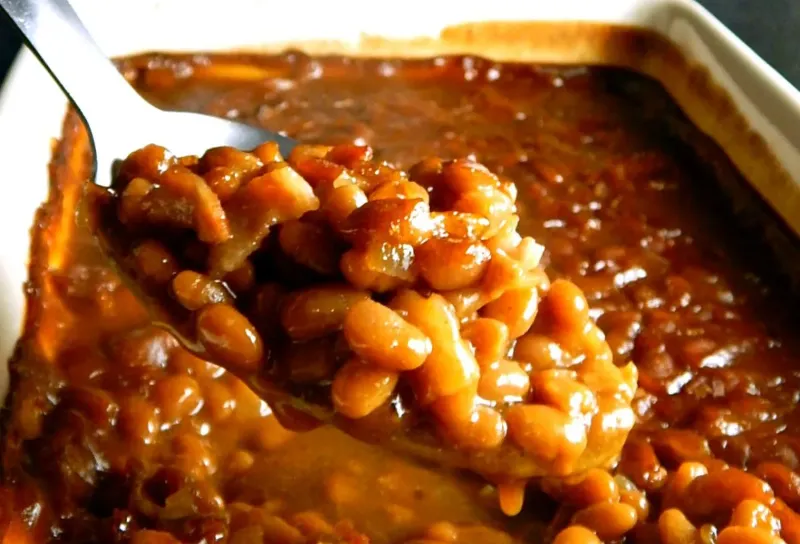 ​What you will need
Canned beans​
Can opener
Stovetop
Mesh strainer
Skillet
Olive oil
Onion
Garlic
Cilantro
Jalapeno pepper
Cumin
Coriander
Kosher salt
Black pepper
Step by step guide
Step 1: Prepare the beans
Check the expiry date of the beans. This is usually printed at the top or bottom of the can. This helps you avoid eating expired beans. Sometimes the print can be subtle, so if you have eyesight problems, I recommend you wear your glasses so as not to miss it.
Step 2: Open the can and drain the beans​
Place a can opener on the side of the can and twist it clockwise to open the can of beans. If you do not own a can opener, you can use a fork or a Swiss knife although this is not recommended.
Drain out the liquid that comes with the beans using a mesh strainer. Rinse the beans under running water to get rid of all traces of the liquid
​Step 3: Fry the beans
Mince a half of an onion, four garlic gloves, and one seeded jalapeno pepper. Chop some cilantro as well. Turn on the stovetop to medium high temperature and place the skillet on it. Add the minced onion, minced garlic, and minced jalapeno pepper to the skillet.
Toss them together with a little olive oil for a few minutes. Add 3 cups of beans to the skillet and toss them with the other ingredients. Season with one teaspoon of kosher salt, one teaspoon of ground cumin, one teaspoon of ground coriander and half a teaspoon of black pepper.
Add 1 tablespoon of cilantro to garnish. Serve while hot. Mash the beans with a fork or potato masher if you're making refried beans.
How to stew canned beans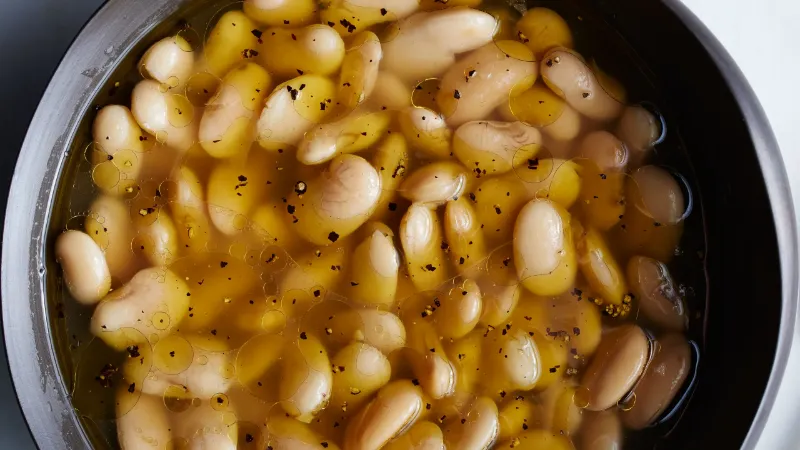 What you will need
Canned beans​
Stovetop
Can opener
Mesh strainer
Pan
Onions
Olive oil
Ground cardamom
​Turmeric
Ground cumin
Ground coriander
Ground cinnamon
Garlic
Cilantro
Chile pepper
Cayenne pepper
Garam masala
Kosher salt
Lid
Lime
​Step by step guide
Step 1: Prepare the ingredients
​Check the expiry date of the beans and drain them of the brine. Mince 4 garlic gloves, grate one ginger and chop one seeded chile pepper. Also, dice several tomatoes.
​Step 2: Stew the beans
Put on the stovetop to medium high temperature. Place the pan on it. Chop a large onion and put it in the pan. Add some olive oil and fry the onions for 4 minutes until browned.
Mix the onions with one teaspoon of ground cumin, one teaspoon of turmeric, one teaspoon of ground coriander, ½ teaspoon of ground cardamom, ¼ teaspoon of ground cinnamon and 1/8 teaspoon of ground cloves. Stir until the onions are thoroughly coated with the spices.
Add the minced garlic cloves, a 1-inch piece of grated ginger, the chopped Chile pepper, one teaspoon of garam masala, one teaspoon of kosher salt and ¼ teaspoon of cayenne pepper. Stir the ingredients and let them cook for about 1 minute or until fragrant.
Add 1 ½ cups diced tomato and stir. Add 3 cups of the beans and 1 tsp. agave nectar. Stir the mixture and cover the pan. Cook for 6-7 minutes, stirring once in a while until you have a saucy mixture.
When it bubbles, remove the lid and lower the heat. Let it simmer for 10-12 minutes until the sauce thickens. Turn off the heat. Add the zest and juice of one lime. Cover the pan and let it sit for 5 minutes while the flavors get absorbed.
Garnish with cilantro and serve over rice.​
Pro Tips
Here are a few tips to always remember when cooking canned beans;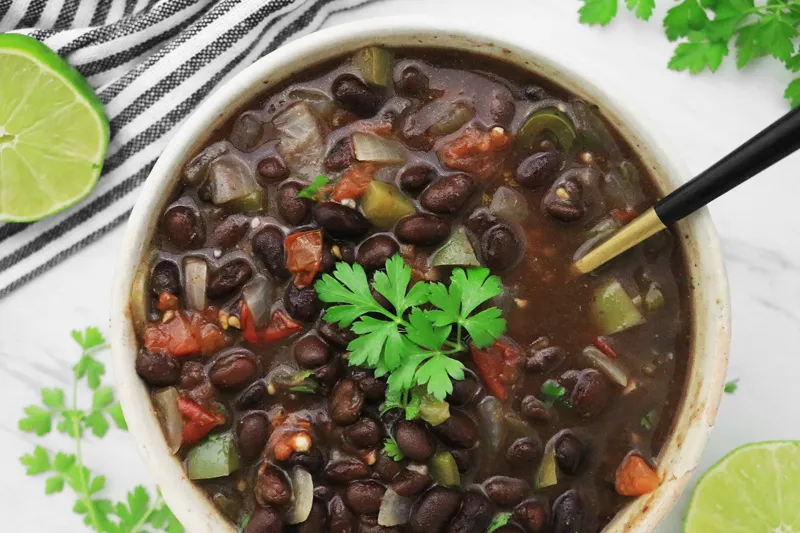 Never forget to rinse the beans

Canned beans always come with a liquid that is usually starchy and has high sodium content. Unless you are advised to use the brine in a recipe, always discard it. It really does nothing for you taste wise and health wise.
Avoid over seasoning

Canned beans have high sodium content due to the brine they are stored in, so it's better to lay off on the salt.
Make sure to dry the beans before roasting

If you want to roast the canned beans, always make sure you dry them after draining and rinsing them. If you don't dry them, they will never attain the crispy texture you are trying to achieve.

This obviously defeats the purpose of roasting them in the first place. You can use paper towels to dry the beans after rinsing them.
Ensure you substitute the right amount of canned beans for dried beans

As a rule of thumb, substitute two (15-ounce) cans of beans for every cup of dried beans required in your recipe.
Never store leftover beans back in the can they came in

This is very tempting but don't do it because you will regret it. The beans will pick up the taste of metal and will be difficult to eat, to say the least. It's better just to store them in your plastic container.
The bottom line
How to cook canned beans? In conclusion, just because canned beans seem tasteless does not mean you cannot find creative ways to make them amazing. It may look like a challenge, but you will find that canned beans will save you so much time used in soaking and preparations of dried beans.
Ultimately, I hope you enjoyed reading this article as much as I enjoyed writing it. Being an avid food lover, this is a topic close to my heart. Feel free to share your thoughts on the article. If you enjoyed reading it, you are welcome to share it,
Remember, sharing is caring.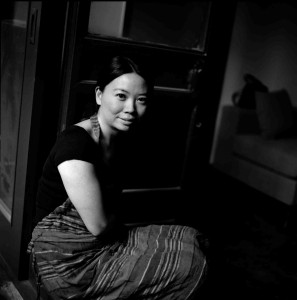 Jen Lin-Liu is the founder of Black Sesame Kitchen. A Chinese-American writer and a nationally certified Chinese chef in Beijing. Jen is the author of two memoirs, Serve the People: A Stir-Fried Journey Through China and On the Noodle Road: From Beijing to Rome with Love and Pasta.