An eco-friendly play kitchen set is a top notch gift for a child – boy or girl. Not only will your child get hours of playtime out of this one awesome gift, but play kitchens help encourage a love of cooking, organizing, imaginative play and can increase skills such as math, problem solving, decision making and social skills (play kitchen sets are a perfect multi-child toy).
I try to update my green play kitchen guide annually. This year I'll be breaking the guide down by materials, because some parents aren't down with plywood of any sort, first I'll post a slew of plywood-free, plastic-free play kitchens. After that, I'll post some play kitchens made with greener plywood choices in case you're interested in those.
Plywood-free play kitchen sets
Your little one can prepare tasty little dishes for all her friends with this play kitchen set. Sweet in pink, this kitchen is made from wood and has a set of pegs for hanging 2 metal spoons, 1 metal saucepan and 2 cardboard food boxes (peas and sugar). The play kitchen features two dials with sound effects to turn on the two induction cookers, an oven and a cupboard with magnetic doors, a stainless steel sink and a clock.
This awesome little kitchen has all the features of a big play kitchen set, but packed into a more manageable, portable size. This is one of the few portable kitchens that features an oven, plus there's also four burners, made from solid red oak, a stainless steel, removable sink bowl and a handle for easy portability. The play kitchen is made with solid pine construction (NO plywood or particle board) and has a natural oil/beeswax finish. A great little kitchen for an excellent price.
The Hape Gourmet Kitchen Kid's Wooden Play is an incredible pretend play kitchen set that offers a wealth of features and benefits for any young chef. With a full range of kitchen appliances, including a sink, stove, oven with window, cabinet, spice shelf and turnable clicking knobs, it creates an interactive and immersive experience that stimulates a child's creativity and encourages kinesthetic development. The quality of the set is second to none, with durable wooden construction and child-safe materials that have been painted using non-toxic, water based paints.
PlanToys is an entirely eco-friendly and ethical company and they make some amazingly cute and green play kitchen sets. All of PlanToys kitchen play sets are made without heavy metals or lead, with natural rubberwood from rubber trees which no longer produce latex. None of the wood is chemically treated. Zero fertilizer is added to the rubberwood soil and PlanToys uses a special chemical-free kiln drying process.
For colored products, a water-based, non-toxic finish is used and toys are assembled with certified E-Zero,  non-formaldehyde glue in place of traditional toxic wood glue. Best of all, PlanToys is affordable considering the design quality.
The Tiny Land New Modern Play Kitchen for Kids is an excellent choice for parents looking for a toy kitchen set that will engage their children's imaginations. This modern-style play kitchen has a larger operating area than many other models, allowing up to three children to play at the same time. With an ice maker, coffee maker, microwave, stove, faucet and sink, plus a clock, weather table and cupboards, this play kitchen provides plenty of features for children to explore.
Play-Kitchen-for-Kids with 18 Pcs Toy Food is made from eco-friendly, non-toxic wood, and is free of BPA. It's compact and space friendly at only 31 inches wide and 12 inches deep after being assembled. Our set came with all the accessories needed for endless hours of imaginative play: cutting food, toy kitchen sets, a chef hat, and apron. The stove and range hood have sound and light features with button control that turn off automatically. I also love that you can adjust the height to suit kids age 3-7. This is important because it's an ideal learning toy that can grow with them. Play-Kitchen-for-Kids with 18 Pcs Toy Food is made to high quality standards and meets both U.S ASTMF-963 and EU EN-71 safety tests. It's a great way for kids to learn about food, common skills, and even cooking!
Eco-plywood play kitchen sets
Hape and Educo are two brands from the same company and their joint My First Kitchen is an adorable role-playing kitchen for one or more chefs.There's a see-through door, cupboard or "refrigerator", cook top, sink and utensil rack. You also get a 30-piece kitchen set that comes with slice-ready vegetables, bread, pots, pans, utensils, and salt and pepper. Made with Baltic Birch plywood and durable non-toxic child safe finishes.
The construction of this playset is incredibly sturdy and well-made. It is made from solid wood with a non-toxic, eco-friendly paint which ensures safety for kids during playtime. The kitchen set includes realistic items such as a sink, faucet, stoves and cupboard. We also appreciate that the pots have clicking buttons to make it even more realistic. Plus, it comes with wooden play food which is great for imaginative role-play games. Assembly was surprisingly easy – only taking around an hour – and the finished product looks really great! The height from the floor to the counter is 19.7 inches which is a perfect size for toddlers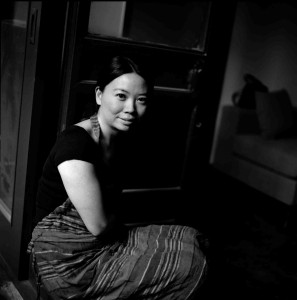 Jen Lin-Liu is the founder of Black Sesame Kitchen. A Chinese-American writer and a nationally certified Chinese chef in Beijing. Jen is the author of two memoirs, Serve the People: A Stir-Fried Journey Through China and On the Noodle Road: From Beijing to Rome with Love and Pasta.