Make every mealtime even more special by using lovely plates and what-nots as you check out our top 10 best dinnerware sets reviews. We feature a list with 10 different brands and models of dinnerware that will meet your needs and standards. From plain white design to colorful patterns, you'll find the perfect option that you've been looking for in the best dinnerware set.
Are you more interested in buying just white dinnerware just like what they use at hotels? Or are you more into something colorful or unique in terms of the patterns and color combinations? No matter what you prefer, you should find the right one you need considering there are endless options available in stores. These dinnerware sets also come in various types such as porcelain and stoneware, to name a few. It's all up to what you believe will look great on your dinner table, not to mention the most durable material that's worth your money.
Best Dinnerware Sets in 2023
Here, we've gathered the top 10 best dinnerware sets reviews to give you a quick guide on selecting the item you need.
Red Vanilla 24-Pc White Dinnerware Set
[amazon box="B004QZBT14″]
Elegant and simple, but with a touch of class, this 24-piece dinnerware set includes 6 pieces of plates, cereal bowls, salad plates, and mugs. Made of fine porcelain, these creamy white dinnerware pieces feel smooth to the touch. You'll love the Zen appeal of these plates, which is great when you are aiming for simplicity with a hint of sophistication. These fine pieces are safe for use in the microwave oven, or even the dishwasher. What's more, it comes in a stain-resistant and chip-resistant features that will keep the pieces in excellent condition for a long time.
The dinnerware set is highly durable, but it's not recommended to be used in the oven unless for warming purposes only. We also think that the plates are somehow big, but the base is a little smaller than what we expect. This can result in the potential tipping of the plate when you cut your food too near the edge.
Melange Good for 8 Porcelain Dinnerware with Nantucket Weave Design
[amazon box="B00G21M36A"]
There are 8 of each dinnerware pieces in the box, which include the soup bowl, saucer, cup, soup, dinner plate, and salad plate. As this is made from durable porcelain, it is much sturdier than your typical earthenware or stoneware. This gives the dinnerware a harder quality that can sustain chipping. Moreover, we like the rounded edges in these dinnerware pieces, which offer extra resistance to chipping and breakage. Stacking one plate or bowl after another is also a breeze, thus making it quick to organize all the pieces.
We're impressed with the durability of these plates, which you can use in the oven as long as it's not over 400 degrees F. Cleaning is also hassle-free, as these are dishwasher safe dinnerware pieces. But one thing we've noticed is how the plates were not as large as how they were presented in the photos.
Gordon Ramsay Slate 16-Piece Dinnerware Set
[amazon box="B00EA1OJ70″]
Everyone in the culinary world knows Gordon Ramsay as a renowned chef and food connoisseur. Now, he brings to us his collection of elegant dinnerware set called the Bread Street Kitchen. These pieces feature a modern and minimalist design that makes them perfect for casual and everyday dining situations. The sizing of each piece is made in a way that the serving size is put into consideration. To make each tableware even more interesting, there are contrasting edges that give a certain definition and a smarter look.
For those who are fascinated with dark-colored tableware, this collection is quite exquisite. The pieces are indeed elegant in their own way. However, if you prefer more colors, then this is not the right choice for you.
Corelle Livingware Serves 4, 16-Piece South Beach Dinnerware Set
[amazon box="B00KKH61FG"]
Corelle is known for years when it comes to superior quality dinnerware set. Thus, this product is not an exception with its elegant simplicity and superior durability. There are 4 pieces of dinner plates, bread plates, soup bowls, and stoneware mugs in every package. The glass material in every item is also enhanced with a scratch- and break-resistant feature. Plus, every piece is thin and lightweight, yet without compromising durability. Safe to use in the microwave, oven, or dishwasher, this is the kind of dinnerware set that will certainly give you the best bang for your buck. The patterns don't even scratch off or wash off even after several years of cleaning and scrubbing.
We like how sturdy the plates are, yet they are not even heavy or bulky. It's quite impressive to think about how it's possible to make them as sturdy without the extra heft. Some pieces have been dropped a few times, but they never even chipped or broke.
Sango Nova 40-Pc Stoneware Brown Dinnerware Set
[amazon box="B007V2SMHS"]
We're delighted by the astounding quality of the dinnerware set we've just received from this brand. At first, we're a little reluctant to go for stoneware because our original preference was porcelain. However, we're glad we made a decision and went about it because it's truly a great catch! The dishes do look amazing in photos, but they have an even more stellar quality and appearance in real life. Aside from the aesthetics, we feel that the shape, depth, and colors of every piece are truly impeccable. This is indeed one of our best purchases, so far, for our kitchen.
Since it's stoneware, you can expect these pieces to break easily without proper care. There are also some imperfections with the design or pattern, but it's a common thing with stoneware.
Pfaltzgraff 32-Pc Porcelain Dinnerware Set
[amazon box="B01ATQJ3N4″]
Are you in search of a new dinnerware set for your home, or perhaps a good one to give to your friends? Then, this 32-piece dinnerware set by Pfaltzgraff is one that's worth looking into. There are 8 pieces of each dinnerware item such as the salad plate, dinner plate, cereal bowl, and mugs that can hold 14 ounces of liquid. Since these are crafted from the finest porcelain, the feel and quality of these items are smooth and luxurious. These are also dishwasher and microwave-safe dinnerware pieces.
We're very happy to have purchased these items because of the exceptional lace detailing found on the rim that adds a hint of grace to every piece. You can use these pieces for casual or formal dinners because of their versatility and classy appeal.
Corelle Livingware Winter Frost White 18-Piece Dinnerware Set
[amazon box="B00F39GFUW"]
You can serve a total of 6 individuals with this 18-piece Corelle dinnerware set. There are essential pieces included in every package such as the bread and butter plates, dinner plates, and the cereal bowls. As with any Corelle dinnerware piece, this product is crafted with the Vitrelle glass technology that makes it highly resistant to scratches and breakage. The profile of each item is also thin, and there's no excess heft at the same time. You'll find it a breeze to organize every piece.
Just one thing we hope this product has is the mug. Unfortunately, it's just the plates, but we can't expect much considering the low price. Other than this, it's a stellar product worth buying.
Corelle Impressions Watercolors Design, 16-Piece Dinnerware Set
[amazon box="B00M2UI2GA"]
Finally, Corelle has released a set of dinnerware with vibrant colors that will captivate every eye. The Corelle Impressions features gorgeous watercolor designs that will make every kitchen or dinner table brighter. There is a combination of a wide range of colors including apricot, blue, gold, green, and beige, which can bring an amazing dash of radiance during mealtime. As with all dinnerware pieces by this brand, this comes with a replacement warranty valid for 3 years against chipping and breaking.
For some, the design may appear a little like sticker-quality because it's light-colored. But it's still a good set, nonetheless, that's worth the price you pay.
Gibson 16-Pc Elite Pueblo Springs Multicolor Dinnerware Sets
[amazon box="B00IGIT5M2″]
These dinnerware pieces will offer a pop of color and style to your kitchen because of the vibrant shade you'll adore. There are multiple colors and exquisite prints in every piece, which is unlike any other you probably have at home. The depth of the bowls is also great, as well as the size of the plates. There are mugs added, and the size is just right for a cup of coffee. We think it's one of our best purchases, so far, and we're glad to have taken the chance to get this item.
The only thing you may not appreciate about this dinnerware set is if you're not crazy about loud colors. Other than that, the quality works, and the pieces will add a hint of style to your dinner table without a doubt.
American Atelier Markham Square 16-Piece Dinnerware Sets
[amazon box="B00MGLQVMC"]
These stoneware dinnerware pieces include salad plates, bowls, dinner plates, and mugs. Since this is stoneware, you may notice each piece is a little hefty and heavy. You can also pop these inside your dishwasher for easy cleaning or in the microwave for heating yesterday's meals.
Overall, we are impressed with the elegance of these dishes. In fact, eating off each piece feels luxurious, and these pieces make each meal very special all the time. The plates also look much brighter and more attractive in real life than in photos.
Conclusion
Thank you for reading our top 10 best dinnerware sets reviews. We're hoping that you've found just what you want after checking this list of the finest items in this category.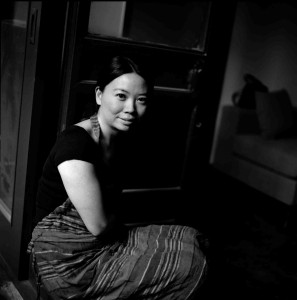 Jen Lin-Liu is the founder of Black Sesame Kitchen. A Chinese-American writer and a nationally certified Chinese chef in Beijing. Jen is the author of two memoirs, Serve the People: A Stir-Fried Journey Through China and On the Noodle Road: From Beijing to Rome with Love and Pasta.