A great soup is an absolute kitchen staple, and no family home is without a favorite soup recipe. During cold days or when someone is sick, soup can be a lifesaver.
But some form of preservation is needed to keep our tasty soups flavorful in the event that we don't gobble it all up. This is where freezer containers play an important role in keeping our soups fresh, clean, and safe.
However, a lot of thought should go into picking the right storage container before setting out to buy a product. Microwaves, freezers, and even stoves can make your new plastic soup container unsafe and even dangerous to use. It is essential to know the best containers for freezing soup available and to know what they're made of.
So we've compiled a list for you to consider when buying a freezer container.
Containers For Freezing Soup Comparison 2023
See More:
Best Containers for Freezing Soup on the 2023 Market
Plastic Deli Food Containers by Comfy Package – Editor's Pick
This handy 48-Piece Food Storage Container Set gives you more value for money by giving you a generous supply of containers without breaking the bank! Coming in at a much cheaper price tag compared to others, Comfy Package provides Deli Containers without compromising quality. Comfy Package's Deli Containers are microwave, freezer, and dishwasher safe, with each piece made from heavy-duty polypropylene plastic.
They also feature airtight, leakproof lids to keep your mind at ease should you bring them with you on your travels. Your delicious soup could not be in better hands with Comfy Package, as their Deli Containers are safe and durable.
What's more?
They're even resistant to stain and odor, making your cleaning days happy with these in your kitchen. And at 8 oz. and 16 oz. variants per container, you're sure to keep your portions in check, especially if you are sticking to a diet goal.
Also made with your routine in mind, Comfy Package's Deli Containers can double as your travel container, food container, and to-go container to suit a mother's busy lifestyle. You can also stack them for secure storage in the pantry, freezer, or even during trips.
With all these features, there's no doubt that Comfy Package's Deli Containers are the best freezer storage containers out on the market now.
Pros
Significant value for money at 48pcs instead of the usual 24pc sets
Made from heavy-duty polypropylene plastic
100% microwave, freezer, and dishwasher safe
Stain and odor resistant, also very durable
Smaller serving portions for health-conscious mothers
Stackable for easier storage solutions.
Cons
Extreme Freeze Deli Food Containers by Reditainer – Runner Up
Reditainer Extreme Freeze Deli Food Containers with Lids, 16-Ounce, 36-Pack, 36-Pack, 16 Oz
Package of 36 - ( 16 ounce ) Freezable Deli Food Containers with tight sealing lids
Heavy Gauge Engineered Polypropylene Plastic - Pint Size
Designed especially for Freezing, capable of withstanding temperature to (-40 degrees ) for extended periods of time
Each is 3" Tall X 4.6" Diameter Top X 3.3" Diameter Base
Commercial Restaurant Quality - Microwaveable - Reusable - Dishwasher Safe
Look!
One of the more unique freezer food storage containers out in the market, Reditainer had initially developed the Extreme Freeze Food Container to use in flash freezing for food services.
These exclusive deli containers are built for withstanding sub-zero temperatures, particularly up to minus 40 degrees. Extreme Freeze Containers can be left in these temperatures without becoming brittle, even for extended periods, thanks to a precise blend of polypropylene.
What's the best part?
The thickness of the containers allows for a stable, non-spill storage system that securely holds your soups, sauces, creams, and other food items. It also comes with leak-proof lids, which means you never have to worry about cleaning up the floor if you accidentally drop it. And at a very attractive price, these Extreme Freeze Deli Food Containers by Reditainer are hard to beat.
Reditainer's Extreme Freeze Deli Food Containers are also microwave and dishwasher safe, so you never have to worry about high-maintenance products or any unwanted kitchen disasters using the microwave. These Extreme Freeze Deli Food Containers come in a complete package of 24 pieces, so there's room for everything you need to store and keep safe until use next time.
Pros
Fully protects frozen food
Comes in three sizes: 8oz, 16oz, and 32oz
Competitive pricing compared to other brands
Can withstand heavy-duty use and travel.
Cons
May stain when used in the microwave.
StarPack Products Premium Ice Cream Freezer Storage Containers – Premium Choice
Sale
StarPack 2x Ice Cream Containers for Homemade Ice Cream (1 Liter Each) & Mini Ice Cream Containers (Set of 6) - Silicone Ice Cream Containers with Lids to Store Ice Cream, Soups, Baby Food and more
STYLISH ICE CREAM CONTAINERS: Our homemade ice cream container holds 1 Liter (1 Quart) and measures 5.3" tall X 4.7" wide (2 units). The ice cream containers with lids (180ml) are wonderful for storing ice cream portions & baby food measuring 3" tall X 2.6" Wide. 6 per set (2 of each color)
MADE WITH DURABLE, QUALITY MATERIALS: Our homemade ice cream storage containers are made from polypropylene. The ice cream freezer containers are microwave & freezer safe, & work to prevent freezer burn. Each storage container for ice cream is Freezer & Microwave safe!
STACKABLE & EASY TO CLEAN: These ice cream freezer containers stack together to save space when not in use. And the ice cream containers with lids close tightly, preventing baby food storage freezer leaks. To clean the ice cream container, use hot water or place them open in the dishwasher.
HOT OR COLD - SOUP OR CREAM: The homemade ice cream storage containers aren't just for your sweet & creamy treats! They're fantastic for soups and other meals in need of freezer-safe & fridge-safe storage! Just remember to let them cool before storing as overly hot foods can damage refrigerators.
THE STARPACK ЕXPERIENCE: Each homemade ice cream container, whether ice cream pint containers, or gallon ice cream containers will have you jumping with joy, thanks to ease of use, leak-free design & simple enjoyment!
StarPack has produced amazing Premium Ice Cream Freezer Storage Containers at a much smaller asking price than expected. Being the premium item on this list, one would expect to spend a large amount of money.
But these stylish, elegant, and sturdy containers are not only affordable, but they are also freezer-safe containers too! Each holding 1 Liter per container, this set will be able to store a lot of soup.
But apart from soup, it can also double as your partner in making your kids' favorite treat — ice cream! StarPack Products Premium Ice Cream Freezer Storage Containers are a high-quality storage solution that will let you enjoy your daily kitchen prep. It also features silicone lids that will never snap and are super easy to lift, even straight out of the freezer.
These containers are very durable and will last for years with proper care. You can reuse them as often as you need without becoming brittle or leaking. Busy kitchens always need to reheat, wash, and freeze over and over again, all of which these Premium Ice Cream Freezer Storage Containers can handle.
So there's no need to be worried about the usual wear and tear because this great container can manage all your needs.
Pros
Stores more in weight compared to other brands
Comes with a bonus Cooking Tips PDF valued at $5.95
Comes with a Full StarPack Warranty
A more stylish and elegant design compared to others.
Cons
Only comes in a two pack
Bulkier than others.
DuraHome Deli Food Storage Containers – Budget-Friendly Pick
DuraHome Deli Containers with Lids for Food Storage Leakproof - 46 Sets BPA-Free Plastic Microwaveable Clear Food Storage Container Premium Quality, Freezer & Dishwasher Safe (Mixed - 16oz & 32oz.)
46 Plastic deli food storage containers and 46 lids in 2 convenient sizes. Clear - so you can easily see what's inside. Tight sealing lids for airtight leakproof storage.
Pack includes: 26 sets of 16 oz. + 20 sets of 32 oz. lids included. Microwave, freezer and dishwasher safe (top rack). Lids are interchangeable between sizes!
Excellent for storing soups, condiments, sauces, dressing, salads, fruit, baby food, healthy snacks and leftovers. Great for a variety of items, including; homemade slime, jewelry, arts & crafts, nails, screws and little toys!
Sturdy heavy-duty containers are made of high quality 100% food-grade BPA -free polypropylene. No Toxins. Durable for everyday use. Designed to withstand freezing temperatures for extended periods of time. Reusable
Perfect for lunch boxes, carrying meal components separately, for meal prep, portion control, catering, restaurants and travel. Great lightweight alternative to glass containers. Manufacture warranted - If you aren't 100% satisfied, or with any issues just contact us!
DuraHome has produced a top contender in this list of the Best Containers in the market with these heavy-duty, budget-friendly Deli Food Storage Containers.
Giving moms 24 clear plastic containers to store, prepare, and carry food in, they are made out of clear plastic, so we can see what's inside them. Ideal for packing in picnic baskets, lunch boxes, and even gym bags, these 32oz. containers are great for storing leftover soups for use when we need.
Apart from soups, they can also carry yogurts, salads, sauces, trail mix, and other snacks. DuraHome Deli Food Storage Containers are also great freezer containers for food since they've been designed to withstand freezing temperatures for long periods.
If you need to store more food, these are your new BFFs since they can be stacked together to save space and have interchangeable lids to fit the 8oz. and 32oz. containers.
DuraHome Deli Containers are also dishwasher safe for use on the top rack and microwave safe, just by removing the lid. Outside the kitchen, these containers are also useful for storing other home items, including toys, arts and crafts, nails, screws, and other small trinkets you have lying around.
Pros
Restaurant quality take-out containers
Containers are clear for viewing what's inside
Cheaper than most
Can be used for storage outside the kitchen.
Cons
Can be cracked under pressure, e.g., delivery.
Elacra Glass Food Storage Containers – Best Glass Container
elabo 24-Piece Glass Food Storage Containers Set with Lids - Airtight Leak Proof Glass Meal Prep Containers, BPA Free Bento Lunch Boxes, Freezer/Oven/Dishwasher Safe(12 Lids & 12 Containers)
[24 PIECE GLASS CONTAINERS SET]: 12 Containers with 12 lids with multiple sizes and shapes to meet your storage requirement. Package includes: 2 (10.5 oz), 1 (16.9 oz), 1 (27.1oz ), 2 (13.5 oz), 1 (21.3 oz), 1 (33.8 oz), 2 (12.5 oz), 1 (21.5 oz), 1 (31.5 oz) glass storage containers with Locking lids.
[PREMIUM GLASS]: Crafted of borosilicate glass, containers tolerate rapid temperature changes from -40℉ to 752℉ without warping or cracking. Glass is free of chemicals,won't absorb stains or smells, making it the perfect choice for acidic foods. Lids are crafted of BPA free plastic, safe and environment-friendly.
[100% LEAK PROOF]: A locking lid with silicone sealing strip create an airtight seal for food. Newly innovated hinged lids technology enables the lid to flip open and shut quickly and lasts longer than old style.
[Versatility at it's Best]: Perfect for several events:gym, leftovers, picnic, portion control, work lunches, travel etc. These glass containers will be a good helper for meeting your daily food storage needs,not only for dry foods but also for holding liquids such as juice, soup and more.
[Attention]: Glass containers are OVEN/MICROWAVE/FREEZER/DISHWASHER SAFE(please note The lids are not oven or microwave safe.) If you are not satisfied with your products or receive cracked products, please contact us. We will provide the best solution to refund or resend within 24 hours.
Elacra Glass Food Storage Containers are the answer to our prayers. Unlike the poor-quality glass food containers we're accustomed to, Elacra Glass Food Storage Containers won't break easily or shed glass on your food.
They offer a safer and more convenient way to store your food in the freezer without worries. They have also aimed for a top-quality, BPA-free approach to their containers, ensuring that health and safety are the top priority.
Another powerful feature is their airtight, leakproof containers that will make all our food-prepping dreams come true. Pack your meals for school or work, store leftovers, or grab a snack while on the go, these containers will keep your food inside even when you're on the move.
Health and freshness go hand in hand with its high-quality lid to keep food from spoiling. And with such great freezer containers for soup, you'll be able to enjoy your soup dishes fresher for longer.
Pros
Very sturdy glass build
More eco-friendly compared to plastic containers
Dishwasher and Oven safe (without lid)
Glass is high-quality and thick.
Cons
The lid can be vulnerable to cracks.
Best Freezer Safe Plastic Container Buying Guide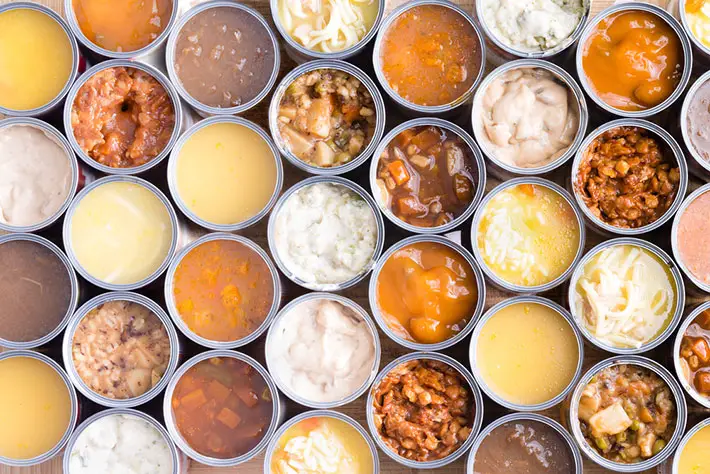 Aside from being kitchen staples, containers are swiftly making their use spread outside of the usual soup and food storage. From plastics to glass, more and more choices are becoming available in the market, each with its own unique and innovative designs.
And from what we've seen, there are plenty of options for buying your next freezer container for soup, but there's no need to be overwhelmed. Rather than going off to the next sale or the dollar shops at the corner, consider these critical factors to determine your needs in the kitchen.
This way, you can make an informed decision on what you are spending your money on without feeling the guilt of buying something that didn't serve its purpose.
Let's check out!
Quality
Everybody says theirs is the best, but how can we know that? Finding the big BPA approval sign on every plastic product is a big plus, but it's not enough. Quality also pertains to its value for money, if all pieces are as good as each other and if it fits our needs.
Quality items will have a certain amount of time before having to replace it; this is true of any material, whether it is made of plastic or glass. If it's labeled to be reusable, those particular freezer meal containers should last more than a couple of uses before needing replacement.
Products of high quality will not crack, break, or melt quickly unless put through high pressure. So, if your plastic looks flimsy, brittle, or soft, its quality may already be compromised and may not be suitable for heavy-duty or general use. Before buying an item that claims to have excellent quality materials, ask the seller to see where they ship the product from, what materials were used in making it, and if it comes with a warranty. Sellers would always provide a warranty for all their quality products unless it's fake.
Features
Every product will have an array of features to help it stand out from the crowd. Ensure that the product you buy has the right features you need. Purchasing a product that can cater to everything you need may seem impossible, but some work better for you than others.
A plastic container may not be as practical or versatile as a glass container. Your next purchase could be a huge win or an epic fail, depending on your usage. Especially for busy moms, it might be a good idea first to list down the reasons why you need a specific product. Ask yourself questions such as:
Will I use the container for ovens?
Do I need a reusable container or just a disposable container?
Will I use it for events, picnics, kitchen storage, snack pack at work, gym, etc.?
Does it have to stack neatly on top of one another?
Does my budget matter for this purchase?
Are there eco-friendly options available to me?
How long do I intend to use it?
Once you can answer those questions, you can then narrow down your options to the products that best suit your needs.
Safety
Safety is one of the essential aspects of looking for a product. Consider how safe is the product that you intend to buy. Is it safe for kids, adults, and general use? Are there parts that may be hazardous, or are there safety features included?
Thankfully, most of the products listed above are freezer-safe plastic containers, except for one which is made of glass. However, keep in mind what you will use the containers for. If you intend to leave them in the freezer for extended periods or if you'll be using them in the oven.
Always remember that your safety and the safety of those who intend to use the product are of the utmost importance. Most (if not all) freezer storage products will come with a manual. Keep it handy just in case you need to read specific details about use and safety to make sure you are always on top of everything.
A Final Word
And that wraps it up, five great products for many soup recipes to come in the future. And with so many quality products to choose from, busy people don't have the time to hunt down that perfect container.
Our overall top pick is the Comfy Package's Deli Containers for its general value for money, material safety, and convenience for anyone who needs to store and reheat the frozen soup.
And speaking of soup, check out our post about the best potatoes for soup!
As usual, feel free to write your questions or suggestions in the comments section below. Bye for now!