Clams can offer you with more health benefits than you could possibly imagine. They're a popular ingredient in most soup varieties, specifically in clam chowders.
Whether you're a novice or a pundit when it comes to clam chowders, make sure to keep reading because we're going to provide you with essential information that will help you make an informed decision when it comes to buying the best canned clam chowder to warm up your cold days!
Best Canned Clam Chowder on the 2023 Market
Here's our list of the best canned clam chowders available for you to buy:
Progresso Traditional Manhattan Clam Chowder Soup – Budget Pick
Progresso Traditional, Manhattan Clam Chowder Soup, 19 Oz, Pack of 6
MANHATTAN CLAM CHOWDER: This traditional Manhattan clam chowder is packed with classic flavors and quality ingredients for the whole family to enjoy
WHOLESOME FOOD: Made with no artificial flavors or added MSG
REAL INGREDIENTS: Our recipe includes no artificial flavors and no colors from artificial sources
INSTANT SOUP: Ready-to-serve in under 5 minutes; About 2 servings per container
BOX CONTAINS: 1 can, 19 oz
Progresso is one of the most renowned brands when it comes to canned clam chowders. The Progresso Traditional Manhattan Clam Chowder Soup is a Manhattan clam chowder made with clams, potatoes, carrots, and celery.
It's a gluten-free, ready-to-serve soup that can feed two persons. Progresso states that they're passionate about sustainability, which is the reason why they return the empty shells after harvesting the clams, to keep the clam population growing.
We must say that Progresso didn't disappoint with this one, as it is one of the best canned clam chowders we've ever tasted. The can is packed full of clams and vegetables, and we're sure that you'll be happy with how much you will be getting for such a reasonable price.
This clam chowder has a particularly savory taste with strong hints of tomatoes. Progresso states that this clam chowder is low in calories, while it has an "average" sodium content.
The Progresso Traditional Manhattan Clam Chowder soup is a must-try canned clam chowder for people who like savory, thin-textured soups.
Pros
Savory taste with strong hints of tomatoes
Gluten-free and low-calorie
Loaded with ingredients.
Cons
Some find this to have a slimy broth which makes it unpalatable.
Campbell's Condensed Manhattan Clam Chowder – Author's Pick
The Campbell's Condensed Manhattan Clam Chowder is another Manhattan Style clam chowder in this list made with tender clams, farm-raised carrots, celery, and a tasty blend of tomato puree.
Campbell's is one of the most established brands when it comes to canned goods. It claims that this clam chowder is particularly low in fat and cholesterol, and has no artificial flavors.
Most repeat customers buy this product because of it being "condensed," which provides it with a longer shelf life compared to ready-to-eat clam chowders.
Campbell's made true to its promise of providing only the best ingredients to their products, as this can is packed full of clams, carrots, and celeries. It tastes like a homemade traditional Manhattan clam chowder with a recipe that's been handed down to the family from several generations.
It has quite a strong flavor, though, so we recommend adding half a can of water for those who like a lighter taste.
The Campbell's Condensed Manhattan Clam Chowder is a low-calorie, condensed clam chowder soup that can warm you up during cold weather.
Pros
Filled with ingredients
Has a particularly longer shelf life
Strong, delicious taste
Low-calorie clam chowder.
Cons
Bar Harbor Manhattan Style Clam Chowder
The Bar Harbor Manhattan Style Clam Chowder is a ready-to-serve clam chowder with clams fresh off the docks of Maine.
It has this distinct seafood taste reflective of Maine's culinary traditions. It's filled with ingredients, and we must say that the superb quality of the ingredients used is the first thing you'll notice upon opening the can.
Bar Harbor is a well-known brand in Maine, and have established its reputation as a legitimate canned specialty seafood supplier throughout the United States. This clam chowder does not have any artificial flavors, and Bar Harbor claims that all the ingredients in this canned clam chowder are sustainably sourced.
The Bar Harbor Manhattan Style Clam Chowder is a clam chowder soup to relish with your loved ones.
Pros
Sustainably sourced, natural ingredients
No artificial flavors
Distinct seafood taste.
Cons
Some consumers find this a bit bland for their taste.
Fishpeople Razor Clam Chowder Garnished with Uncured Bacon
Fishpeople Razor Clam Chowder Garnished with Uncured Bacon, 10 ounce (4 pack), Microwaveable, Gluten-Free, 12g protein, BPA-free. Ready to Eat Wild-Caught Sustainable Seafood Soup
WILDLY DELICIOUS SOUP: You get 4 pouches of our hearty Razor Clam Chowder Garnished with Uncured Bacon. Experience succulent West Coast razor clams, hand harvested by the Quinault Indian Nation on the beaches of Washington state, paired with scrumptious bacon nibbles, fresh cream and fragrant thyme.
PURE INGREDIENTS - Truly wild protein + natural Omega-3s from a wild diet; Gluten-free, and free from any artificial colors, flavors, preservatives, or antibiotics.
EASY WEEKDAY LUNCH- Delicious packaged chowder, fully cooked, microwaveable, ready-to-eat lunch for work. This packaged soup feeds one hungry person and tastes great alongside toast or a salad!
OCEAN TO TRAIL- Camping food you can heat & eat from the pouch, Each 10 oz. pouch feeds one hungry person in just 75 seconds. Heats up right in the BPA-free pouch--use a pot of boiling water. This packaged soup is shelf-stable, requires no refrigeration.
SUSTAINABLE, NOTHING TO HIDE - At Fishpeople, we're relentlessly transparent. All of our seafood soups are sustainably-sourced, and you you can dive deeper into the story behind your fish using the tracking code on every pouch.
The Fishpeople Razor Clam Chowder Garnished with Uncured Bacon is a ready-to-eat, microwaveable clam chowder that features wild caught, sustainably harvested clams.
It's a creamy clam chowder loaded with bits of bacon that enhance its already refined taste. Fishpeople claims that this product is rich in protein and omega-3, and does not contain gluten and any artificial flavors.
If you're one of those who like a creamy clam chowder soup, then this might be the best clam chowder for you. The meaty and creamy taste of this soup is accentuated by the bacon nibbles, and of course, the clams provide strong hints of seafood.
Pros
Microwaveable, ready-to-eat clam chowder
Rich in omega-3 and protein
No artificial flavors
Gluten-free
Meaty, creamy taste with strong hints of seafood.
Cons
Some customers find that it has a somewhat funny smell.
Tony's Cedar Key Clam Chowder – Runner Up
Tony's Clam Chowder, 3X World Champion, 15oz ounce (Pack of 6)
3X World Champion Clam Chowder (Great Chowder cook-off Newport, R.I.)
Caution: Loaded with Clams & packed with Flavor and always Free Shipping!
Rich, thick, creamy, lots of tender clams with a great burst of spice.
Made in the USA. Boldest-best chowder on the planet!
(6) 15oz condensed cans-each can makes nearly a quart of chowder.
The Tony's Cedar Key Clam Chowder is a restaurant-style clam chowder that's based on the Tony's Restaurant recipe. You'd be delighted with this clam chowder as it is fully loaded with clams. It's a New England clam chowder variety that's unusually thick and creamy.
This canned clam chowder is a three-time champion of Newport Rhode Island's Great Chowder Cook-off, which is the longest running international clam chowder championship of its kind. It is somewhat a testament to the taste and the quality of this New England clam chowder. It has a milky, seafood flavor and the clams were very tender.
This canned clam chowder has a relatively long shelf-life, thanks to it being condensed.
Pros
Fully loaded with clams
Milky, seafood taste
Has a long shelf life.
Cons
Understanding Clam Chowder: What Makes It So Special?
Just to be clear on what a clam chowder really is, it's either a soup or a stew filled with broth and seafood (mainly clams, but people sometimes use fish).
Clam chowder recipes vary per region, and depending on the recipe, clam chowders often feature ingredients such as tomatoes, onions, milk, lean meat, and a whole lot of other vegetables.
If you're thinking, "What's the deal about clam chowder? It's just soup."
Let me stop you right there.
Simply put, it's a nutritious soup that doesn't only warm you up during the winter, but also provides you with a multitude of health benefits which you may not even be aware of.
Anyway, here's the "deal" about clam chowder: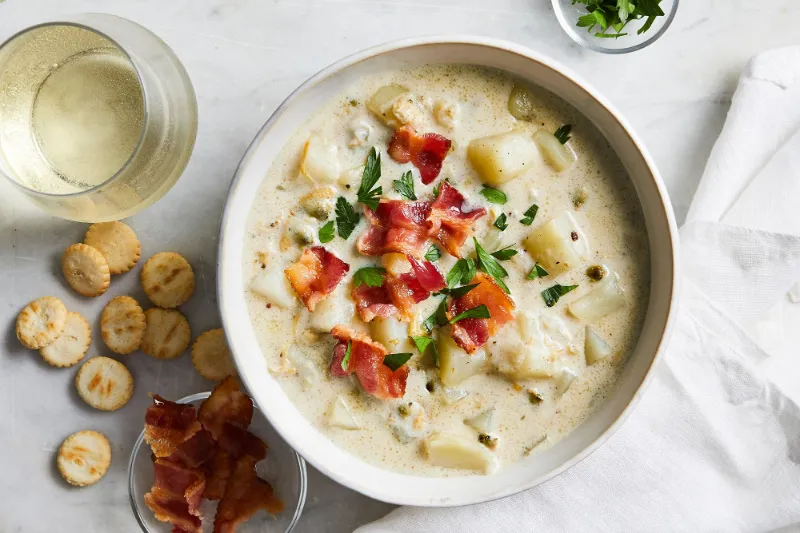 Clam chowder is a superstar soup
Clam chowders originated from the eastern United States, mainly in the New England region. It's also where one of the most popular chowder varieties got its name.
It's one of the most consumed types of soup in the United States, and it doesn't take a genius to know why. Clam chowder soup is always a blockbuster in most homes in the United States, but it's not only popular here, but clam chowders are also well regarded in other parts of the world.
So, what's the real story?
Well, clam chowders aren't a favorite for no reason.
It's one of the most nutritious soups in existence
I can't emphasize this enough, but clam chowders are so nutritious they're even served in many hospitals for recovering patients.
It's not really that hard to imagine why.
Clams themselves are nutritious enough, but the addition of several other ingredients make clam chowders so nutritious that a single serving can provide you with almost half of your daily nutritional needs.
We recently talked about the best Potatoes for Soup, and one of the best soups potatoes can be used with is clam chowder. It's often served not only with chunks of potatoes, but with other healthy vegetables like celery and carrots.
And the best part?
Your family, especially your children, will absolutely love it, even with all the added vegetables because clam chowders, in general, are great tasting, but if your family is looking for a specific clam chowder style, then read on.
Clam chowder has several varieties
There are literally tons of clam chowder varieties, but we'll take a look at only the three most popular clam chowder varieties: New England, Rhode Island, and Manhattan.
New England clam chowder is made using either milk or cream, onions, potatoes, and salted pork. This type of clam chowder is supposed to be really thick, and the soup base should be heavy cream or whole milk.
Its thick texture and white color is what sets the New England Clam Chowder apart from other clam chowder varieties. Traditional New England clam chowders use no vegetables other than potatoes.
The Rhode Island clam chowder is the least popular among the three major clam chowder types. It's often mistaken for Manhattan clam chowder, mostly because of the similar red color, but unlike traditional Manhattan clam chowder, Rhode Island uses tomato puree instead of red tomatoes.
It can also be distinguished from Manhattan clam chowder by checking on the clams used. Rhode Island clam chowders generally use Quahogs, which are a relatively bigger clam species.
The Manhattan Clam chowder has a distinctive red color thanks to red tomatoes, and sometimes, tomato puree. As opposed to New England clam chowder, the Manhattan variety is relatively thinner and utilizes fewer potatoes to boost its texture.
Among the three most popular clam chowder varieties, it's the only variety that uses other vegetables such as carrots, garlic, celery, and onions.
If you're wondering, "why does this matter?"
Apparently, this valuable information is absolutely relevant in helping you pick the best clam chowder to serve to your family.
Choosing the Best Canned Clam Chowder
That being said, here are some factors you should consider when buying the best clam chowder: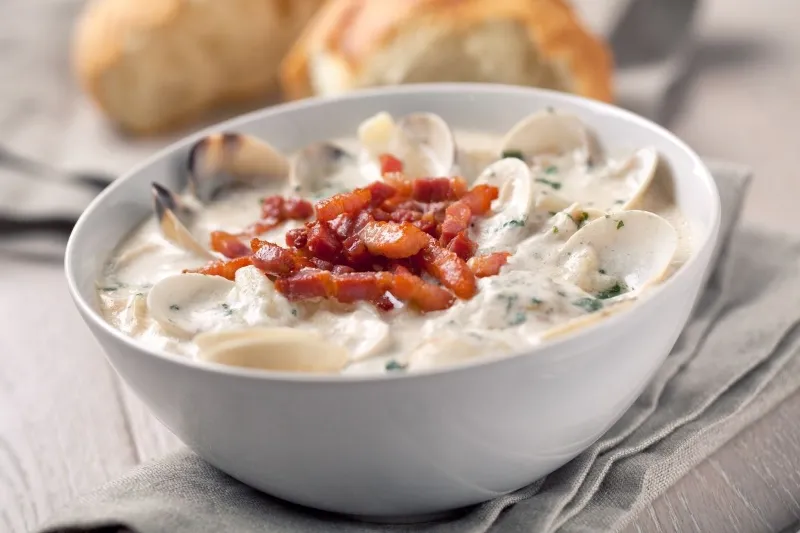 Clam Chowder Variety
We've already discussed the three major clam chowder variety, and it must've already given you a fair bit of an idea on what to clam chowder variety to pick, however, we'd like to reiterate that there are lots of other clam chowder varieties.
Here's the catch:
Knowing about other clam chowder varieties broadens your options when it comes to choosing the best clam chowder to serve at your dinner table.
We're not asking you to master clam chowders, but it doesn't hurt to more about the other varieties, as it can help you in more ways than one.
You can experiment with several clam chowder varieties to determine which one your family likes best, and from there, you can either look for better options in that particular variety or formulate your own clam chowder recipe based on the version you pick.
Make sure to consider this factor when buying the best clam chowder.
Sodium Content
We'd like to think that this one's pretty self-explanatory, but we care to elaborate still. Pre-packed foods, regardless of whether canned or packed, are frequently loaded with sodium. This is primarily due to preservation methods for the products to have a longer shelf life.
We all know how unhealthy sodium can be and what it can do to the body. Sodium is most commonly linked to diabetes and several heart diseases, including hypertension.
Checking the nutrition label of products you're about to buy is always good practice, and a clam chowder product's sodium content is a critical factor for everyone to consider.
Ingredients
We have also already discussed what most clam chowder soups contain, but still make a habit of checking the ingredients to make sure you are getting exactly what you want.
We've all seen products that state it's packed with this or that, only to find out that they contain very little of what was initially promised. This is an essential factor to consider, so make sure you don't overlook this one.
Brand
Like with most food products, the brand is always a good indicator of a product's quality. Make sure that you are buying the best clam chowder only from the best clam chowder manufacturers.
Buy only from well-known, established brands that have an extensive history in producing and selling clam chowder products.
Conclusion
Clam chowder is a staple soup that should often be served in your dinner tables. It's a highly nutritious, great-tasting soup that your family will definitely love! The Campbell is the winner of this list for its particularly strong savory taste and long shelf life.
We hope that this article helped you in choosing the best clam chowder for you! If you have feedback or suggestions, please let us know what you think in the comments sections.