We all want our favorite Best Butter Dish to be at the right consistency so that we can enjoy it, not only during breakfast but also when we're cooking our favorite home recipes.
There's an old debate about whether butter should be refrigerated to keep it from perishing quickly, or just be kept at room temperature so that it doesn't get too cold and hard, which most of us find troublesome.
In this article, I'm going to show you the best butter dishes for storing your butter that you can buy right now, as well as give you information on how to keep your butter fresh.
Best Butter Dish On The 2023 Market
OXO Good Grips Butter Dish – Budget Pick
OXO Good Grips Butter Dish
Stoppers on either side of dish keep butter in place while cutting
Convenient tablespoon measurement markings
Clear lid rests on Dish without sliding off during transport and is easy to remove
Dish designed to keep butter from slipping off tray and dirtying lid
Accommodates all short and long butter sticks
Aside from being the budget pick for this list, the OXO Good Grips Butter Dish is also the best-reviewed butter dish on this list, and it's relatively easy to figure out why.
This butter dish accommodates every type of long and short butter sticks and has a clear lid that lies on the dish itself, that's easy to remove and keeps the butter from sliding off the dish during transport.
Personally, I like the overall construction of this butter dish.
It's designed to make the butter not slip off of it and soil the lid. I also like how it has convenient tablespoon measurement markings that serve as a guide for cutting the butter.
That's entirely convenient and efficient, especially for people who like to cut their butter into equal servings for the whole family.
OXO also backs it with a 100% satisfaction guarantee that will let you return the product for replacement or refund if, for some unbelievable reason, you don't find this butter dish suitable for you.
To sum things up, the OXO Good Grips Butter Dish is one the best, feature-packed butter dishes you can get for a meager price.
Pros
Accommodates every type of short and long butter sticks
Easy to remove clear lid which also keeps butter from sliding off the dish
Convenient tablespoon measurement markings
Stoppers on either sides to keep butter in place
Comes with a 100% satisfaction-guarantee.
Cons
Some consumers comment on how the lid doesn't stay on.
KooK Ceramic Butter Dish – Runner Up
Kook Ceramic Butter Dish with Lid, Kitchen Countertop Butter Keeper, Serving Tray with Cover, Storage Container, Holds 1 Stick, Microwave and Dishwasher Safe, White
✔️ Soft & Spreadable: This ain't your Grandma's Butter Dish. But it could be. Keep butter ready to spread on toast, biscuits, waffles, pancakes and more!
✔️ Store in Style: Protects from residues and keeps butter fresh for longer. Designed with an inner ridge to secure the lid and keep butter from slipping and sliding.
✔️ Countertop Convenience: The top handle makes it easy to lift the lid, and the squared design allows you to rest the lid on it's side while you smother those biscuits in melty, golden goodness.
✔️ Durable Ceramic: Classic, sturdy, and holds one standard stick. Pop into the microwave to soften butter and right into the dishwasher for easy cleanup.
✔️ The Kook Promise: We carefully packaged this Butter Dish with polyfoam to ensure it arrives in perfect condition.
Most people nowadays would cringe when you tell them that something's made from China, and that's largely due to the baseless stigma that surrounds China-made products in general.
But in truth, some of the best products in the world are manufactured and distributed by China, and I'd like to assure you that I'm not being paid to tell you this.
I just want things to be clear since this superb, China-made butter keeper is the runner-up on this list of the best butter dishes.
The Kook Ceramic Butter Dish fits most standard size butter sticks and has a handle cover design with the word "Butter" on it.
People might think that's pretty lame, but I beg to differ.
I think it's actually brilliant, not only because it lets people know what's precisely on the dish, but also because it adds to the overall aesthetics of the butter dish.
Things made of ceramic are always good to have. It reminds me of vintage kitchenware and utensils from the middle ages, and those are the kind of things that I'd love to add to my kitchen collection.
Going back, this butter dish is rather practical. Besides being pleasing to the eye, it, being made of ceramic, helps a lot when it comes to keeping the temperature inside the butter dish. That means you don't have to worry about the butter losing its consistency when you leave it on the counter.
Also, this butter dish is a great holder for cheeses and chocolates, and that's the kind of versatility we all need from our kitchenware. To put it simply, the Kook Ceramic Butter Dish is one of the best butter dishes you can buy right now for storing your butter, and at a reasonable price.
Pros
Handle cover for easy lifting
Nice design
Easy to clean
Dishwasher-safe
Can also store cheese and chocolates.
Cons
Some consumers find the butter dish rough to the touch.
Sweese 3150 Butter Dish – Editor's Pick
Sweese 302.101 Butter Dish - Porcelain Keeper with Easy Clean Beech Wooden Lid, White
UPDATED VERSION: BEECH WOODEN LID - Beech is a very hard and tough material. It is also strong, with a close straight grain. Unlike synthetic materials, beech wood will often age gracefully. And with the right maintenance, beech wood can look lovely for many years. It also provides a natural style for your kitchen. Very elegant!
NO MORE MESS THANKS TO THE DEEP DESIGN - The tall and deep design helps stop the butter sticking to the top of the lid and staying there when you pick up the lid. Without mess, this Sweese modern butter dish adds a touch of elegance to your kitchen.
EASY TO CLEAN, DRY OUT - Beech is a relatively non-porous wood with a very strong surface. The Sweese butter dish is large enough to fit a wide range of shaped sticks of butter. If the butter accidentally get on the lid, it is possible to clean and the fat doesn't sunk in. Easy care! Hand wash with warm water and mild detergent.
AS A CUTTING BOARD - The beech wooden lid of butter boat double as a small cutting board for slicing. You could use lid as a butter cutting board. Sweese beech wooden board is the best when it comes to keeping a razor sharp edge on your favorite knife when preparing butter. So convenient and useful!
PORCELAIN CONTAINER - It is more beautiful and safer than the ugly plastic kind of butter dish. The container is made of durable porcelain, chip-resistant and more sturdy than stoneware.
Now we've come to my pick for this list!
I must say that this one's on an entirely different level than the rest, which is precisely the reason why I picked it as the winner of this list.
If you think I'm exaggerating, I'm telling you right now that I'm going to prove you otherwise.
The Sweese 3150 Butter Dish is actually an updated version of a previous butter dish from Sweese. It has a rather deep interior that helps stop the butter from sticking to the lid, preventing it from going with the cover when you open the dish.
Also, the deep interior allows you to store two butter sticks in it, so you can use one butter stick while the other is still softening up.
The porcelain container is rather sleek, and it's much more durable than plastic. Though plastic can get the job done, porcelain actually does a better job when it comes to holding the butter, and keeping it in the right temperature.
And the best part about this butter dish? Its lid.
The lid is made of beech, a robust kind of hardwood with a close straight grain which makes it incredibly sturdy.
Beechwood often ages gracefully unlike synthetic materials, which means it'll retain its appearance even after many years.
Also, it doubles as a compact cutting board for slicing. You can use it as a butter cutting board, or a cutting board for small fruits and vegetables.
The butter dish itself is actually quite versatile, as you can use it as a tool caddy or toiletry holder once you buy a new butter dish.
I can't really think of another butter dish that can give so much value to one's money!
Overall, the Sweese 3150 Butter Dish is the best butter dish available for you to buy right now, and trust me when I say that it's a must-add tool to your kitchen!
Pros
Deep interior allows storage of up to two butter sticks
Made of food-grade porcelain
Can serve as a tool caddy or toiletry holder
Lid made of robust beech wood
Lid doubles as a cutting board for slicing.
Cons
Some consumers find the lid doesn't fit properly with the butter dish.
ROSCHER Ceramic Butter Dish – Luxury Pick
If you're looking for a butter dish that can also serve as a decoration for your kitchen counter, you might want to consider this butter dish. This one's my luxury pick for this list, and every penny in its price tag is justified. You can take my word for it.
The ROSCHER Ceramic Butter Dish is another butter dish on this list that's made of ceramic, with a small, rectangular cover that matches the dish itself.
It has appealing midnight colors that can capture anyone's attention. It combines both modern and retro designs that add a clean look to most contemporary kitchens.
But beyond its design, I love how this ceramic butter dish can keep butter to a consistency where it can be spread liberally to my toast while still being able to hold its shape firmly.
The two-piece butter dish serving plate and lid are made of food-grade ceramic that's durable, non-stick, and dishwasher safe, and it can store a single, long stick of butter.
With a reasonable price, l have a butter dish that performs efficiently while serving as a decorative piece that's versatile enough to be a cheese holder.
The ROSCHER Ceramic Butter Dish is an ideal butter dish for those who want to add a piece of kitchenware that doubles as a decorative piece to make their kitchen more elegant-looking.
Pros
Made of professional-grade ceramic
Excellent in keeping butter fresh and keep its consistency
Can serve as a decorative piece
Appealing midnight colors that's pleasing to the eye.
Cons
Some consumers find this butter dish a bit short.
LA JOLIE MUSE Butter Dish – Best-Designed Butter Dish
LA JOLIE MUSE Butter Dish with Lid Handle Cover, 6.9 Inch Ceramic Keeper, Cream White
VINTAGE DESIGN- The vintage style of lettering and design exudes refinement and high quality, giving your home a more classy vibe and contemporary style.
UPGRADED SIZE- We've upgraded vintage butter dish to a larger new version. The new size is 6.9"L x 4.5"H x 3.7"W, which could hold around 250g of butter.
HEXAGONAL HANDLE & BRONZE SEAL- No accidental slips of the hand with this convenient and uniquely shaped handle. The bronze detail with its engraved lettering elevates the butter dish in appearance.
VARIOUS USAGE- This butter dish is great for adding a vintage pop whilst eating breakfast, lunch or dinner! The white porcelain not only looks beautiful but keeps butter cool, fresh, and tasty.
APPROVED - Non-toxic material (Lead & Cadmium FREE), and freezer/refrigerator safe.
The previous butter dish may have a great design, but when it comes to overall aesthetics, this butter dish is undisputedly the best.
I seriously think that this butter dish is the best-designed butter dish that you can buy right now, especially if you're someone who appreciates elegant designs.
I didn't include this butter dish solely because of its design though.
The LA JOLIE MUSE Butter Dish is a decorative, ceramic butter dish that's excellent when it comes to storing your favorite butter.
I've personally purchased this one, and I must say that it's one of the best purchases I've made when it comes to my kitchenware collection. It has a vintage design that fits most contemporary-style kitchens and is sure to capture your visitors' attention, thanks to its intricate details.
I've always imagined eating breakfast with my most favorite, vintage kitchenware collection, and this butter dish made that possible.
It does an excellent job when it comes to keeping butter in the right consistency for spreading over toast, or for topping over pancakes. I love how it helps butter retain its shape and texture for long periods.
While the butter dish is outstanding enough, the lid is rather exceptional in its own way. Thanks to the hexagonal handle and the bronze seal engraved with the word "butter" enclosed in an intricate, flowery pattern, the whole butter dish set permeates an air sophistication of the highest level.
Not only does it look beautiful and does an excellent job of storing butter, but it's versatile enough to serve as a vegetable plate or a biscuit plate.
The LA JOLIE MUSE Butter Dish is a must-buy butter dish for those who like a butter dish that's efficient, convenient, and elegantly-designed all at the same time.
Pros
Efficient in keeping butter fresh
Vintage design
Can serve as a decorative piece
Lid with hexagonal handle and bronze seal with elegant engravings
Can store standard size butter sticks.
Cons
Some consumers comment on how the pictures look better than the actual product.
Reasons Why You Should Use A Butter Dish
The purpose of butter dishes are pretty straightforward, but in case you're unsure whether getting a butter dish would be a good kitchen upgrade for you, allow us to give you reasons on why you should start using a butter dish as early as now: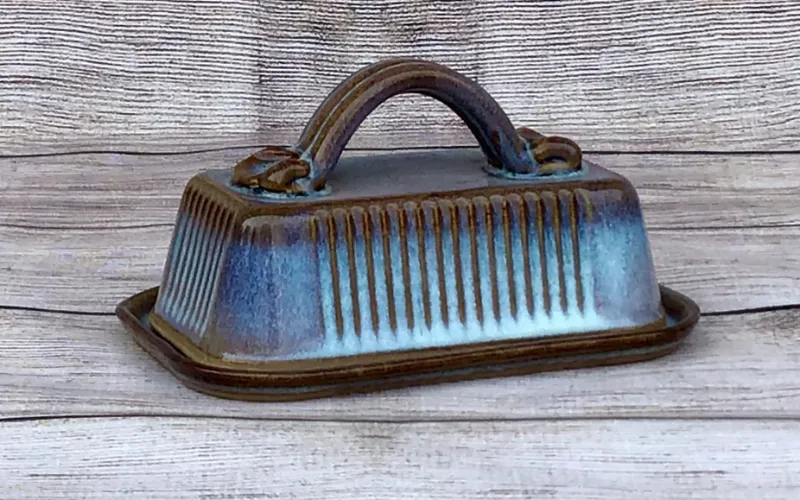 Keeps Your Butter Fresh Without Refrigeration
You read that right.
Butter dishes keep your butter fresh even without refrigeration. Butter dishes is a great storage option if your refrigerator doesn't have space for your favorite butter.
Thanks to their construction, butter dishes usually do an excellent job when it comes to keeping the butter cool and fresh after you take it out of the refrigerator.
Also, it keeps away disgusting lurkers such as vermin from snatching your precious butter.
Allows Butter To Soften Without Losing Consistency
Butter dishes are a two-piece set for an excellent reason.
They make a practically airtight enclosure that maintains the temperature around your butter, allowing it to gradually soften while keeping its consistency, although that's partly thanks to butter having a relatively low water content.
I don't know about you, but I definitely love my butter soft and at the right consistency so that my toast won't break apart when I spread it over, like when it does with butter right out of the fridge.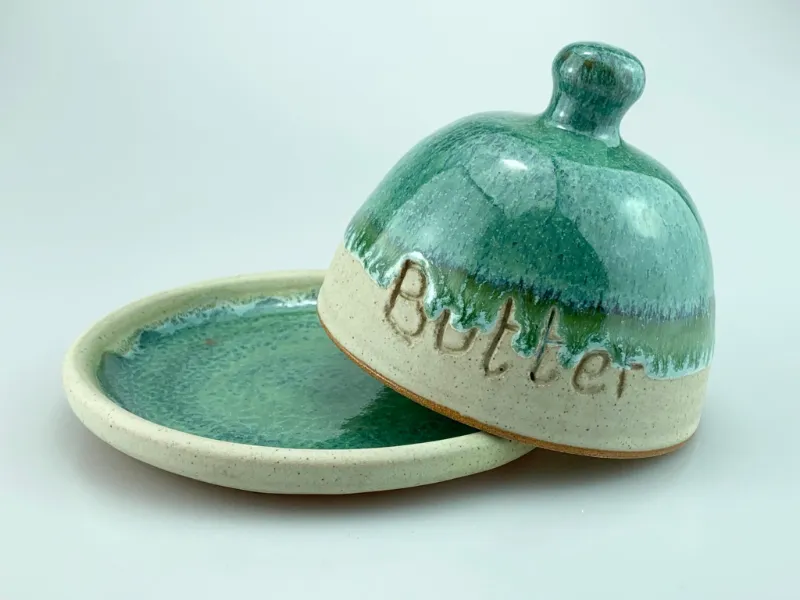 Serves As A Decorative Piece For Your Counter
You might think this sounds trivial, but there are a lot of us that actually appreciate kitchenware for their decorative value.
It's also precisely the reason why some people, such as myself, like to collect kitchenware.
In case you failed to notice (which I highly doubt), a couple of the best butter dishes on my list doubles as decorative pieces. Although to be fair, each of the other butter dishes has a good design.
But I think you get the point.
Some people take butter dishes seriously, while some don't. Kidding aside, if you're fond of collecting kitchenware with decorative value, it's high time you take a good look at the best butter dishes on this list.
Can Also Be Used For Other Things
Butter dishes aren't only efficient when it comes to storing butter.
They can also be used for other things, which is the kind of versatility other kitchenware, and other things, in general, should possess.
Aside from storing butter, butter dishes can also store other goods like cheese and chocolates, but it doesn't stop there. You can even store spare onions, garlic, and other small vegetables for that matter, while you're at it.
My top pick for this list of the best butter dish, for example, is so versatile that it can give you great value for your money.
The butter dish itself can serve as a tool caddy and toiletry holder after it's served its original purpose, while its lid, made of beech wood, doubles as a cutting board for slicing.
Well, you get the picture.
Conclusion
Butter dishes are a useful tool for keeping butter fresh without refrigeration.
The Sweese 3150 Butter Dish is my top pick for this list of the best butter dishes because of its overall efficiency in keeping butter fresh and its convenient features, especially its lid, which doubles as a cutting board for slicing.
And speaking of butter… Check out my top picks for the best butter for keto diets!
I hope that this article helped you in choosing the right butter dish for you, and as always, you know I love to hear from you, so if you have questions, feedback, or suggestions, simply leave a comment down below, and I'd be happy to address it as soon as I can!