Bushcraft knives are widely known for cutting wood and other basic survival tactics in the wilderness like skinning game. The best bushcraft knives have short edges, which differentiate them from survival knives and make them easy to handle.
Great bushcraft knives are a plus when going out to the wilderness for a natural adventure while reducing the weight of your gear. Below we are going to review seven of the best bushcraft knives on the market to help you make an amazing pick.
What Is the Best Bushcraft Knife?
Sharpness, size, strength, and handle, all merge for the best bushcraft knife. One that brings together the greatest blade knife for pure wilderness survival. It must have a comfortable handle, blade no longer than four fingers, sharp edge, continuous curvature, and nothing unique or uncanny about any form.
As the top pick and the best bushcraft knife for the money in this review, Spyderco Bushcraft G-10 shines the brightest. Known for its well-made, affordable folders, used by the military and law enforcement. They also make great fixed-blade knives, and the Bushcraft knife is one of them. It is full tang strong, and the high-carbon steel keeps a razor-sharp edge well. The Spyderco thumb hole provides extra balance while doing tasks.
Spyderco Bushcraft G-10
[amazon box="B004GVT2Z8″ ]
The Spyderco G-10 is our top choice as one of the best bushcraft knives in this review. This lightweight knife has a high performing blade, made from high- quality carbon steel material that is thick enough and easy to sharpen. It can be used for light and heavy-duty cutting. The edge of the blade holds well and does not chip off easily. Its G10 grip is very stable and reduces fatigue.
Features
Blade length: 4 inches;
Weight: 7.75 ounces;
Blade material: carbon steel;
Handle material: G10;
Blade type: drop point, Scandi grind.
Pros
Has a sharp steel and an edge that can hold the blade well;
Great ergonomics;
It is highly durable.
Cons
The blade is very sensitive to rust thus should be maintained well;
It becomes slippery when wet.
Morakniv Bushcraft Carbon Tactical Knife
[amazon box="B009O01H0Y" ]
The Morakniv brand is widely known for a range of knives on the market and their great pricing. The Morakniv Bushcraft Carbon tactical knife has a thickness of 3.2mm that makes it easy to do any heavy-duty cutting. It features a carbon steel blade that can be used for a wide range of cutting uses and is coated with a non-corrosive black coat for more durability. The handle has an easy grip making it easy to use for a long time. The sheath is made of strong plastic and allows you to choose between open and closed buckle handling.
Features
Blade length 4.3 inches;
Blade type: clip point plain edge, flat grind;
Weight 5.75 ounces;
Handle material: plastic;
Blade material: High carbon steel 59-60 HRC.
Pros
Has an ergonomic handle that is very strong;
Ideal for both minimal and heavy duty cutting.
Cons
The sheath and the handle are not too attractive due their plastic make.
Schrade SCHF36 Frontier
[amazon box="B00PGZ0130″ ]
These bushcraft knives are quite large compared to other bush blades on the market. Apart from cutting, the Schrade SCHF36 Frontier can be used to clear brushes. The blade is made of 1095 carbon steel that is paired with a Kraton handle to give a fantastic edge and high durability. Its handle is made of TPE (Thermoplastic Elastomer) which makes it very strong to last long and a ring texture for easy gripping.
Features
Blade length: 5.05 inches;
Blade thickness: 0.22 inches;
Blade material: 1095 carbon steel;
Weight: 8.6 oz.
Pros
Handles both delicate and heavy duty cutting perfectly;
Comes with an extra sharpening rod;
It comes with a sharpening stone.
Cons
The sheath is made of low-quality nylon.
Benchmade 162 Bushcrafter
[amazon box="B00B0E1MB6″ ]
The Benchmade Bushcrafter was designed originally as a pure survival knife. The 162 blade knife is modern bushcraft and is ideally designed for a trail.
This amazing selection comes with a thick stainless steel blade with 14.5% carbon, making the Benchmade 162 Bushcrafter ideal for all types of cutting. The red highlight makes it pleasant on the eyes. Its spine is 90 degrees which is perfect for striking Ferro rods. The leather sheath has a great retention system that allows different carrying modes. The treated steel on this knife makes it very sharp and makes it easy for precise cutting.
Features
Blade length: 4.43 inches;
Blade material: S30V stainless steel;
Handle: G10;
Blade type: plain edge, flat grind, drop point;
Weight: 7.72 ounces.
Pros
Made from high-quality material;
It has great ergonomics.
Cons
The sheath is not very strong.
Condor Bushlore
[amazon box="B002CC6BPM" ]
This budget-friendly bush knife comes with several great features such as a 1075 high-quality steel carbon blade that has a satin finish. Condor Bushlore combines beauty and performance. It comes with a wooden handle and a full-tang Scandi grind blade. Since it is quite heavy, it can be used for rugged cutting, chopping, and wood processing.
The Micarta handle of Condor Bushlore is significantly helpful. Fits perfectly in hand and gives just sufficient grip to feel good and firm. You can easily tell the difference between the wooden handle. The Micarta is a bit heavier than wooden scales, which gives more control over the knife blade and can certainly help out with some of the heavier tasks.
Features
Blade length: 4.31 inches;
Blade type: flat grind, plain edge, drop point;
Blade material: 1075 carbon steel;
Weight: 12.8 ounces;
Handle: Micarta.
Pros
High-quality sheath and a comfortable handle;
Very affordable.
Cons
Not great at slicing;
It needs to be sharpened when purchased.
Ontario 8630 RAT 3
[amazon box="B001DZV3C0″ ]
The Ontario 8630 RAT 3 is full tang and has a 1095 steel carbon blade with a powder coat to make it more durable. The handle is scaled for a good grip and smooth finish. Its sheath is thermoplastic offering more protection and has a drainage hole for longer life.
Features
Blade material: 1095 carbon steel;
Blade length: 3.5 inches;
Blade thickness: 0.125 inches;
Weight: 5 oz.
Pros
It is very lightweight;
Has a great handle feel;
The blade can be used for any cutting.
Cons
It does not have a good edge retention;
The blade is quite small hence might not be efficient for some uses.
Top Brothers of Bushcraft
[amazon box="B00M8GKP18″ ]
The Top Brothers of Bushcraft knife is heavier than other bushcraft knives giving it a premium feel. It has a drill pivot to help you start a fire easily. The Top Brothers knife has a great grip, and its hilt conforms to the thumb making it easy to do several bush tasks like skinning caught game and setting snares.
Features
Blade length: 4.75 inches;
Blade thickness: 0.19 inches;
Weight: 9.73 oz;
Blade material: 1.95 carbon steel.
Pros
Great ergonomics;
Strong sheath.
Cons
The spine jimping can be too aggressive for some.
Final Review of Best Bushcraft Knives
Apart from cutting, the best bushcraft knives can also be lifesavers in various adventure situations. Picking a knife is not an easy task, and in order to pick out the best one, you need to know what kind of cutting you will be using it for. That will determine the material from which it is made, the design, and the sharpness of the blade.
Have a checklist of your various cutting needs to help you choose the best bushcraft knives. When buying, practice with several knives to get the one that suits you.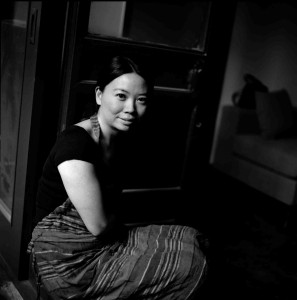 Jen Lin-Liu is the founder of Black Sesame Kitchen. A Chinese-American writer and a nationally certified Chinese chef in Beijing. Jen is the author of two memoirs, Serve the People: A Stir-Fried Journey Through China and On the Noodle Road: From Beijing to Rome with Love and Pasta.