By definition, a French door refrigerator has two side-by-side doors and a bottom freezer.
For modern homes, they are the most popular style because of their convenience — shelving is at eye level, split doors make it easy to organize, and the pullout freezer is easily accessible.
With so many options available, I list my top-rated French door refrigerators online. My rankings are based on price, size, design and buyer reviews.
10 Best French Door Refrigerators
Daewoo French Door Refrigerator
[amazon box="B0B94Y4SP6″]
The Daewoo RFS-26DTJE refrigerator is a valuable asset to any kitchen. While you will have plenty of space in the freezer, things could get lost thanks to the lack of organizational bins.
Large-capacity French door refrigerator offered by Daewoo.
Both the fresh food and freezer compartments are spacious, but the fresh food section definitely has a better organization system than the freezer. It comes in a stainless steel finish and has a total storage capacity of 26 cubic ft.
LED lighting illuminates both the freezer and refrigeration compartments, making stored items easy to organize and retrieve.
Includes 4 glass shelves, two crispers, a bonus drawer, and an ice maker, but no water dispenser.
Frigidaire French Door Refrigerator
[amazon box="B07JBMZ9KB"]
This Whirlpool French Door Refrigerator is a good option for people who want an additional drawer for refrigerated platters or lesser-used items.
It includes a separate fourth drawer which is popular in households with children. Easy access to snacks for the kids or your most popular items.
At 25 cubic ft., this is a standard mid-sized French door refrigerator, but it has everything you could ever think of. People are extremely positive about filtered water, which is important if using the water dispenser often, or the ice machine during a party.
Very good buyer reviews online!
GE GWE19JSLSS Refrigerator
[amazon box="B07DNNJSJT"]
The GE French Door is one of the more affordable models on my list.
It comes w/ double doors — if you have a 4+ person household, it's very helpful in organizing based on food groups.
Weight: 252 pounds
Capacity: 18.6 cubic ft.
Personally, I like the fact that the fridge doors can hold large items — Even your 1-gallon jugs will fit in the door.
If you've owned a traditional fridge, you know big items block smaller ones; Sometimes, they block out the entire fridge (i.e. large bottles of juice)
This makes it difficult to get or even see the item you want – Not a prob w/ the GE French Door… big items fit right in the door.
The pullout freezer is very large with w/a built-in ice maker and tray.
However, this GE refrigerator has some terrific extras.
Buyers like the price + free delivery.
Samsung French Door Refrigerator
[amazon box="B078XS83RF"]
The Samsung French Door Refrigerator is one of the larger models on this list.
The refrigerator comes in stainless steel, so it will match other appliances and most kitchen designs. It has a drawer in the lower part that serves as the freezer.
Total Storage: 28.15 cubic ft.
Fridge: 15.98 cubic ft.
Freezer: 8.35 cubic ft.
The fridge is the upper part of the unit and is accessible by 2 French doors, so it's easy to reach everything in the body of your refrigerator.
Buyers love the middle drawer between the freezer and the main fridge. It is super convenient for holding smaller items you do not want to be buried in the freezer.
Popsicles, frozen treats, frozen pizza, etc.
Users also use the Samsung refrigerator's water and ice dispenser.
The Samsung French door refrigerator is fairly expensive, but compared to similar size stainless steel models, it's a good price.
LG French Door Refrigerator
[amazon box="B00L7QVSXE"]
The LG Stainless Steel French Door refrigerator is for households that need lots of freezer room.
As you can see — the bottom pullout freezer is huge!
LG Fridge is an Energy Star-certified model that uses LED light bulbs. You'll spend extra for this counter-depth model, but you will save some money on electricity.
Total Storage: 20.7 cubic ft.
The fridge is located above the freeze drawer and has 2 French doors making it easier to stay organized. Some households like to use the doors to separate food types.
Inside, you'll find 4 neatly spaced glass shelves. Each is split-spill, so if something tips over, you won't need to clean the full interior.
There are additional shelving pieces available, allowing you to stack up to 8.
LG refrigerator does have an ice maker built into the freezer.
It doesn't come with free delivery, though, so it's important to check on the cost of delivery when you order.
Kenmore French Door Refrigerator
[amazon box="B08QYTQ4T9″]
The Kenmore Elite is massive, offering owners 29.6 cubic feet of storage space.
It is designed to accommodate larger homes of 5+ people.
Total Storage: 26.8 cubic ft.
Fridge: 18.1 cubic ft.
Freezer: 8.7 cubic ft.
It has 2 doors in the upper part that let make organizing easier.
The freezer drawer on the bottom has 3 shelves inside, so you can easily find what you're looking for.
This model comes in black stainless steel. I like the fact that delivery and hookup are included, especially since this is a more expensive model.
Users did report a high level of satisfaction with this fridge, though, and you do get a lot of extra space for the price. If you're in the market for a larger fridge, you will want to consider the Kenmore.
Fisher Paykel French Door Refrigerator
[amazon box="B00MVVIF2G"]
With only 17 cubic ft. of storage, the Fisher Paykel ActiveSmart French Door refrigerator is the smallest model on this list.
Fisher Paykel ActiveSmart does cost a bit more than some other models here. People who own this model do find there are a lot of great features — The interior lighting is bright, and the fridge is quiet.
Owners also noted that it's easy to clean. This is because it's designed with spill-safe shelves, so anything that spills won't run over and drop onto the shelves below. It also has a special coating so that it's easy to wipe fingerprints away.
This Fisher Paykel fridge comes in stainless steel and has a straight-line design with long handles for both the upper fridge doors and the lower freezer drawer.
Shipping is included in the price, but it will cost you extra to have this model installed.
Kenmore Side-by-Side Refrigerator
[amazon box="B00P7QI4IM"]
Kenmore Side-by-Side refrigerator is a beautiful, stainless steel double door separating the freezer and fridge.
If you're looking for this type of model, then you'll find the Kenmore to be a nicely affordable option worth considering.
I love the fact that the fridge door has extra-wide storage — Like the Kenmore above, this model can also fit 1-gallon containers in the door panels.
Buyers love the adjustable shelves.
Delivery and hookup are included in the price, adding to the affordability of this Kenmore fridge.
One of the conveniences this fridge offers is the built-in ice and water dispenser.
Kenmore Top Freezer Refrigerator
[amazon box="B0BDMPT1NJ"]
The Kenmore Top Freezer refrigerator comes in stainless steel. If you're feeling a bit nostalgic for the way refrigerators used to look, you'll love the fact that this model has a freezer above the fridge and that each unit is accessible from one single door.
I like the price of this model. It's the most affordable refrigerator on this list, and if you can make do with a fridge this size, then you'll want to consider it. The low price is even more appealing when you consider the fact that it includes delivery and installation.
I love the fact that this model doesn't use a lot of electricity, so you'll save even more money on your electric bill.
It has 2 crisper drawers, and the fridge door is designed to hold gallon-sized containers, which means you can store your milk and other beverages on the door and use your shelves for food.
Kenmore Side-by-Side Refrigerator
[amazon box="B07HHV724S"]
If you're looking for a new fridge that comes in black or stainless steel.
The Kenmore 50049 Side-by-Side refrigerator is a sleek model that's affordably priced. In fact, it's one of the most affordable models on my list (and the price includes delivery and hookup!).
Split fridge doors help you organize — so that means that one door opens to your fridge and the other opens to your freezer. It is also energy efficient and won't cost you a lot of money in electricity to run it.
There's an ice and water dispenser built in, and the water is filtered.
I love the fact that this model also has room for 1-gallon-sized jugs on the fridge door.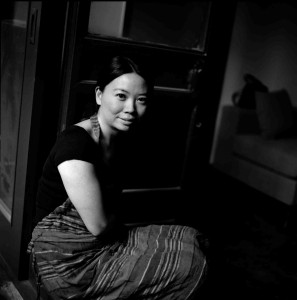 Jen Lin-Liu is the founder of Black Sesame Kitchen. A Chinese-American writer and a nationally certified Chinese chef in Beijing. Jen is the author of two memoirs, Serve the People: A Stir-Fried Journey Through China and On the Noodle Road: From Beijing to Rome with Love and Pasta.