Best KitchenAid products are known for their quality and timeless appeal. With classic styling and sturdy construction, they're the perfect compliment to just about any kitchen. Maybe that's why they're on so many people's wish lists.
Best KitchenAid Products Reviews
Top Pick: KitchenAid 600 6-Qt. Bowl-Lift Stand Mixer
[amazon box="B0002Y5X9W"]
Are you looking for something that will whip a soufflé into shape, without tiring? We thought so.
The KitchenAid mixer is probably one of the best kitchen products out there. With the 6-quart stainless-steel mixing bowl, a powerful 575-watt motor, sleek style, and all original accessories, those temperamental desserts don't stand a chance. All praises aside, here's the run-down.
Highlights
High-quality materials – Full metal and stainless steel components make this mixer durable and a top performer.
Convenience – At 25 lbs, it's on the light side for this type of mixer. This makes it easier to move if you prefer to store yours in a cabinet.
Bowl Lift Feature – Since the bowl is lifted towards the mixer, there's less risk of fingers getting jammed. If you've operated a stand mixer, where the attachment arm swings into the bowl, you know what we're talking about.
Beautiful design – This can be said for all KitchenAid products but it just looks fabulous. 
Potential Flaws
Cleaning – Many attachments do better with being hand washed. Also, the stainless steel bowl does not fit easily into every dishwasher. 
KitchenAid 7-Quart Pro Line Stand Mixer
[amazon box="B008XF78IQ"]
KitchenAid's (KSM7586PCA) mixer is made to provide that extra baking assistance.
With features like 16-cup flour power capacity, 7-quart stainless steel bowl, and a professional bowl-lift design, there's not much to dislike.
Highlights
Excellent performance – Whether you want to make cake batter or cookie dough, there's few things this mixer can't handle.
Beautiful Design – With the candy apple red color and a professionally designed bowl, this mixer really is both beautiful and easy to use.
Durability –Since this mixer has components made from stainless steel, the durability is very high.
Potential Flaws
Noise level – With such a powerful motor, this mixer operates on the noisy side.
It's a little heavy – It's the bane of stand mixers to be heavy. Be prepared to make this a showpiece in your kitchen. 
KitchenAid 1.7-Liter Electric Kettle with LED Display
[amazon box="B09JVJ2WN6″]
Is it tea time, yet? Whether you're a tea fanatic or just have a craving for ramen, you need the right kettle for the job. 
This beautiful electric kettle will compliment any kitchen décor. Also, with the capacity of 1.7L, adjustable temperature, comfortable handle, and the ability to hold the temperature for 30 minutes, this kettle really excels in performance. Time to take a closer look.
Highlights
Easy to use – This kettle is equipped with an easy to read LED display, which shows you the temperature. Take that, guesswork!
Variable Settings – Temperature can be adjusted within the perfect range. There's even a keep warm function that holds the temperature for up to 30 minutes, while on the base.
Get a Grip – The handle has a soft, comfortable grip. 
Slick Storage – The cord wraps discreetly around the base when not in use.
Potential Flaws
Difficult to empty completely – There will be a little bit of water left in the kettle after emptying it.
Lasting Warmth – Some brands offer kettles which keep warm for longer than 30 minutes. 
KitchenAid Multi-Cooker – Onyx Black
[amazon box="B00UL3K6IW"]
KitchenAid KMC4241OB Multi-Cooker is a welcome addition to make those tasty stews and fiery chilis. While the meals may sound ordinary, this is not your average cooker. KitchenAid loaded it with plenty of special features; like a soft-grip handle, even heat technology, 10 cooking settings, a steamer basket and even a roasting rack! 
Highlights
Excellent Performance –The 10-cooking methods and 4 step-by-step modes, this cooker performs greatly.
Comfortable Handle – Lift the lid and let those delicious smells permeate kitchen because this cooker comes with a soft, comfortable grip. The tempered glass lid also allows you to check on your food without releasing heat.
Functionality – The guided digital display makes set-up and programming a snap. 
Potential Flaws
Capacity– This cooker is on the small side. While this makes it a great space saver, it might not rise to every challenge.
KitchenAid 2.0-Quart Kettle with C Handle
[amazon box="B00J48MMQ4″]
KitchenAid 2.0 quart kettle is a straightforward kettle with style. It's classic design will add some panache to your kitchen. It doesn't have any fancy displays but that doesn't mean it can't get the job done. With the thumb-press spout, removable lid, comfortable handle, and an attractive trim band, it's hard to go wrong.
Highlights
Solid Design – The handle provides a comfortable grip and the color really boost the overall look and appearance.
Great Performance – Fewer settings can make things simpler. With its sturdy contraction, heat is distributed evenly in no time.
Potential Flaws
Hot Handle – While the grip has a comfortable coating, things can get hot when removing the lid. Make sure some heat has had a chance to escape before cleaning.
KitchenAid 2 Slice Slot Toaster
[amazon box="B007P204UM"]
It's time for a toast (or waffles)! Not that kind of toast. We are talking about the breakfast variety.
KitchenAid, 2 Slice Slot Toaster is one of the best toasters out there. Simply, with the 7-shade settings, easy-to-use features, extra wide slots, and under-base cord storage, the performance is on another level.
Highlights
Performance – This toaster does it all. With its multiple settings and features, half-burned, crumpled toast is a thing of the past.
Easy to Clean and Maintain – Since you can remove some components, the cleaning part is easy. The maintenance is also simple and easy to do.
Potential Flaws
Size – Time to be a little picky. Extra wide bread slots means it takes up extra space. 
KitchenAid Bowl for 5-Quart Professional Stand Mixer
[amazon box="B00004SGFU"]
KitchenAid stand mixers are already furbished with a bowl. We know! That being said, you might have a long day of baking ahead of you. If this is you, then consider buying an additional mixing bowl for your machine. 
The KitchenAid K5ASBP Bowl is compatible with with the following machines: K4, K5, KP50, KSM5, KSM50, KSM500PS, and KSM450c models.
The bowl is solidly constructed, as you would expect from KitchenAid. With its stainless steel material, it has high durability and is easy to clean. A flat base keeps the bowl steady and reduces the chances of things going sideways. 
Highlights
Convenience – While dishwasher safe, you can also hand wash it. Since other bowls can nest within it, storage is also a breeze.
One-year Warranty – Who doesn't like a warranty? The manufacturer guarantees for this product for up to one year.
Durability – As mentioned above, this bowl is solidly constructed.
Potential Flaws
Heavy – With great durability comes great weight. It's not a flimsy plastic bowl. Nor is it made from easily chipped porcelain or glass. So, this mixing bowl can be on the heavy side. That being said, this is designed for mixers that lift the bowl for you. 
KitchenAid 15 Piece Classic Forged Cutlery Set
[amazon box="B091145NGY"]
KitchenAid KKFTR16SL 15 Piece Classic Forged Series Triple Rivet Cutlery Set – Wow, that's a mouthful. That said, this set is for the novice and master chef alike. Simply put, these knives are made out of high-carbon stainless steel which makes them convenient for slicing, dicing and filleting. Dishwasher safe and ergonomically designed, it's easy to see why they are so popular.
Highlights
High-Quality Materials – Since these knifes are made from the high-quality materials, they really are great at performing in every field.
Comfort Grip – Of course, focus is given to the ergonomic design. This makes the knives comfortable to hold and easy to handle.
Includes 600 Diamond Girt Sharpener – Don't worry about your blades going dull. By including this heavy-duty sharpener, KitchenAid has got you covered.
Potential Flaws
Careful With Sharp Edges – The very thing that makes these knives great can also mean taking extra care. Be sure to handle with caution when you're chopping those vegetables. 
Conclusion
Time to decide! We all know that KitchenAid is a time-tested brand. They put their focus on expertly combining both form and function. Because of these tireless efforts, these culinary tools will take pride of place in any kitchen. It's why so many people continue to give them brand loyalty. 
We hope you liked our list as much as we enjoyed making it. If you are interested in any of these products, then click the accompanying links. Take a look at our other guides to the home. We add new lists regularly, so check back often.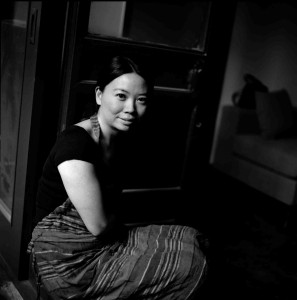 Jen Lin-Liu is the founder of Black Sesame Kitchen. A Chinese-American writer and a nationally certified Chinese chef in Beijing. Jen is the author of two memoirs, Serve the People: A Stir-Fried Journey Through China and On the Noodle Road: From Beijing to Rome with Love and Pasta.