Making sure we have the right cooking gear is just as important as ensuring we have the right ingredients. Buying the right tools will make a big difference in the taste of your coffee, the crunchiness of your toasted bread, and tenderness of your grilled meat.
To avoid dinner guests giving a bad review, you need to invest in the right equipment. On our Cuisinart review, we have done thorough research and reviewed 8 best Cuisinart products – hope you find some you like!
Best Cuisinart Kitchen Products Reviews
Top Pick: Cuisinart Cordless Electric Kettle
[amazon box="B003KYSLNQ"]
Whether it's for tea, home ramen or that French press, this kettle is up to the task.
With 1,500 watts of power, it'll get your water boiling in minutes. Ideal for both home kitchen and office use, it's easy to see why so popular.
Includes a variety of features and temperature settings, which is always welcomed. It's 1.7 liter capacity is also a plus considering you don't have to keep refilling it.
 It has 6 temperature preset modes that are ideal for use as below.
(160°F) ideal for delicate teas
(175°F) ideal for green tea
(185°F) ideal for white tea
(190°F) ideal for oolong tea
(200°F) ideal for herbal tea
(212°F) ideal for black tea and instant beverages
(200°F) ideal for French coffee
Don't worry. Like all the best electric kettles, there's a keep warm mode. It's a handy little function that maintains water temperature for up to 30 minutes. It also has a boil-dry protection feature, which you don't see every day. This prevents the heating element from damage, by shutting down the kettle whenever it's started without enough water in the reservoir.
The memory feature allows you to disengage the kettle from the base for 2 minutes without going to standby mode, as well.
Highlights
Long warranty life – 3 years
Quality Construction – Crafted of stainless steel and tempered glass, it's not likely to break during brewing mishaps.
Operational Ease – The easy to read LED screen makes programming a snap. 
Well Suited – Given the multitude of temperature settings, this kettle is up to just about any task.
Potential Flaws
Some Confusion – The keep warm and start the buttons are close to each other. This may cause unintended trigger of either button.
Cuisinart SM-50BC Stand Mixer
[amazon box="B01K2FQ4DE"]
Speaking of baking, maybe you're in the market for a new stand mixer. Let's take a look at this Cuisinart offering – it's a powerful mixer that is capable of doing all most tasks that you set before it. Whether, you need soufflés whipped or bread kneaded, this mixer can rise to the occasion. 
Solidly constructed, this mixer should not only be up to the task, but last for years to come. It's stainless steel bowl is durable and dishwasher safe. We all appreciate anything that saves on clean-up. 
Highlights
Price – Compared to other stand mixers in its class, it's reasonably priced. Let's face it. You're going to have to invest to upgrade from a handheld mixer. This is a great place to start upgrading.
Enough capacity for most mixing jobs.
Potential Flaws
It's a pretty straightforward machine and so, does not have many bells and whistles. 
Cuisinart 7-Quart 12-Speed Stand Mixer
[amazon box="B000ON65XO"]
Now, this is an upgrade! This is a 1000 watt powered mixer that will make all your mixing jobs look like a walk in the park! It comes with a chef's whisk, dough hook, mixing paddle, and a splashguard.
Along with the 12 different mixing speeds, this stainless steel bowl has durable side handles which give you extra support. This Cuisinart mixer is made of die-cast metal and as you can see, beautifully designed. 
Highlights
Easy to read LED display.
Variety of settings and accessories. This one comes with all the bells and whistles. 
Sturdy construction and quality design.
Potential Flaws
It's on the pricier side. You get what you pay for but be prepared.
Cuisinart Normandy 19-Piece Cutlery Set
[amazon box="B016Z735CQ"]
Be honest. This is a gorgeous cutlery set. Besides, your kitchen isn't complete without a set of knives providing various blade surfaces and strengths.
The Cuisinart C77SS knives are made of a unique mold – carbon stainless steel and cast metal handles for an extra glimmer. These knives come in different styles and different sizes to suit all types of cutting needs.
Also included is an 8-inch Cuisinart sharpener to help you keep your knives sharp and ready for use.
Highlights
Sharpener provided so knives can be maintained. 
Just about every type of blade is included, even scissors.
Lightweight handles for easier use.
Potential Flaws
Can be on the pricey side. 
Cuisinart Classic Stainless Nonstick Pans
[amazon box="B003IKMR96″]
Time to talk about basics. We all need a set of reliable, no-stick pans.
Known for their beautiful kitchen products, Cuisinart offers non-stick cookware and waffle makers that your family will love! The quality and innovation that comes with Cuisinart's cookware will impress almost any home chef!
The exterior is made of stainless steel which is polished for a beautiful matte finish. The base is made of aluminum which helps for even heat distribution and therefore consistent cooking performance. 
Highlights
The price on these pans is such a great value, it almost makes you want to buy and extra set.
Sturdy construct with non-stick surface, for those temperamental crepes and omelettes. 
Dishwasher safe for easy clean-up.
Potential Flaws
Does not appear to be oven-safe. So this might not be for the person set on frittatas.
Cuisinart 12-Piece Printed Color Knife Set
[amazon box="B00MV0G196″]
Maybe you're not ready to plunk down a hefty sum on some cutlery. That doesn't mean you need to cut corners.
This is 12-piece set of color-coordinated knives are constructed with stainless steel blades and are a welcome addition to any kitchen. The 7-inch and 8-inch knives are multipurpose and are meant for mincing, dicing and slicing vegetables.
Highlights
A variety of blades to suit almost any task.
At a great price point, these blades are very affordable. 
The ergonomic handle designs makes them easier to use.
Potential Flaws
They can dull over time and a sharpener is not included. It might not even be possible given the colored coating. Be sure to read the care and use guidelines before deciding.
Cuisinart All-Foods 12,000-BTU Tabletop Gas Grill
[amazon box="B001TOWLTO"]
Are you looking for a way to more conveniently grill at home? We thought as much. With its versatile functionality, it's easy to see that we didn't include this grill by mistake.
Some of the features that come with it include: 12,000 BTU stainless steel burner, panel for even heat distribution, enamel porcelain cooking grate with a coating of cast iron, temperature gauge and a start ignition system.
Even without grilling experience, you'll be able to fire this up without any problem!
The grill also has a modular grill surface, which is interchangeable and able to compete with most large grills in terms of food quality. It is ideal for use on small decks, patios, and fire-safe balconies. So, you can finally host that game day cookout you've been dreaming of.
Highlights
Easy to set up.
It's compact size makes it a great space saver.
Excellent heat distribution, which makes for consistent grilling.
Potential Flaws
As with many grills, it can be difficult to clean. 
Editor's verdict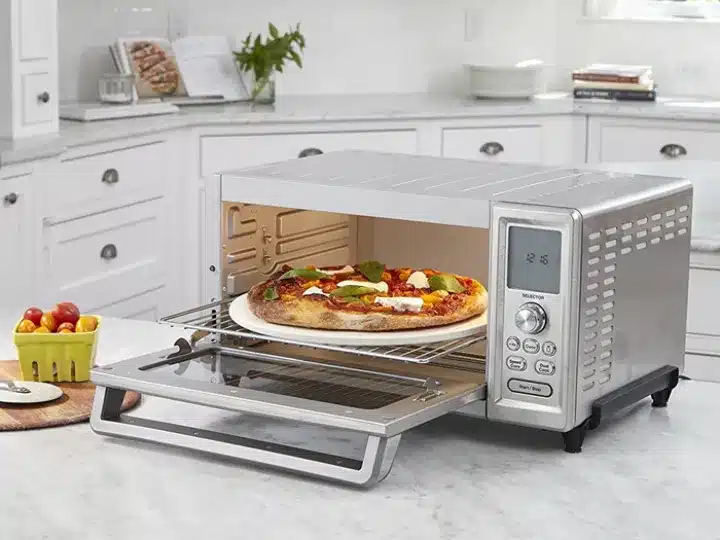 Which do you think is the best Cuisinart Product? When we're in the kitchen, we're all chefs. So, finding the right gear to craft our culinary masterpieces is important. Even if those masterpieces do consist of macaroni and cheese. Buying kitchen tools and appliances with the right information on hand comes with lots of benefits – products that last, are beautifully designed, won't cost a fortune, and sometimes offer warranties.
Since the best Cuisinart brand is known for being so durable, it can be hard to find fault in their products. What is so great about their gear is the wide array of options. They are committed to creating quality products, for any chef, no matter the budget. Don't just take our word for it. There are plenty of glowing reviews on Amazon.com as well.
Of course, safety in the kitchen is a top priority for any chef. This is why we have put so much emphasis on durability. Because this not only effects the life of the product but its performance and handling. All of this contributes to safe use. Always remember to read care, safety and handling instructions on any item you purchase. 
With Cuisinart's line of kitchen products, we're sure your cooking experience will be taken to new heights! If you enjoyed our reviews, then maybe you would like to see some of our other helpful guides. New items are added regularly. So, please, check back often.