Cooking can be done in various ways, and everyone finds what they are comfortable with after a little searching. Roasting is one of the more efficient ways of cooking, where the food cooks through evenly and quickly and leaves a lasting taste too.
This is where the fine appliance, a roaster oven comes in. And we love this because you can do so much with it! If you get creative enough, you can even make desserts. But that is not what we are talking about today.
Today, we are talking about the best turkey roaster ovens. Because these have been made with turkey specifically in mind, most designs are larger in size and can accommodate a lot of other foods too!
So whether you like turkey or not, these ovens will surely be a fine addition to your kitchen counters. Make sure to watch out for the key features like the size, capacity, temperature control, and so on. Of course, they have been mentioned in detail in our article as well.
Best Turkey Roaster Ovens Reviews
Oster Roaster Oven- Best Electric Turkey Roaster
[amazon box="B00CQLJESK"]
This roaster oven is from Oster is one of the finest out there and is a great choice for all users who want a big oven to chuck in a ton of turkey at once.
We suggest you get this ahead of Thanksgiving, so you can slow cook other meals too. It can accommodate a whopping 26 pounds of turkey at one go and has a spacious capacity of 22 quarts.
Having a large capacity also means you can cook other meals in this by the lots, be it potatoes or veggies to go with the turkey, or some other kind of dessert.
The lid is a self-basting lid. This means it helps to recirculate the moisture, so there is no water clogged lid which later falls to make the turkey soggy. Instead, it keeps moving around to provide equal warmth to the entire food.
The roasting pan and rack are both removable. This is because these things require a deep clean after making these heavy meals. Especially if there are lots of oils and grease involved. Being removable means, you get to clean them thoroughly and more frequently.
Temperature control given is between 150- and 450-degrees Fahrenheit. So simply adjust this as you go and as you change the dishes, or the meat itself.
Highlighted Features
Can accommodate turkey weighing up to 26 pounds
Moisture recirculated with Self-basting lid
Removable roasting pan and rack
Oven capacity is 22 quarts
Weston Roaster Oven
[amazon box="B01MSW88W6″]
The Weston Roaster oven is one that can cook an entire 24 pounds of turkey at one go. It has a capacity of 22 quarts, making it highly spacious.
If you live in a medium to large sized family and have to cook for a good number of people, then this is the perfect size and capacity to go for. You will not have to go double turns but can get a full meal at one go.
Temperature wise, it can go up t0 450 degrees. This gives you plenty of flexibility with the types of dishes you can make. Adjust the temperature according to the food, and you will get more use out of this than just roasting turkey.
Usage on this is versatile where you can make a big batch of stew or chili for the whole family. Or bake a cake for dessert, steam some dumplings or even use it to keep the food warm. The options are practically endless, which makes this quite an investment.
The lid of the oven has a steep dome shape. This increases the space inside and allows for more space for the heat to circulate. Not to mention, it lets you cook bigger portions too!
Highlighted Features
Can accommodate turkey weighing up to 24 pounds
The oven heats up to 450 degrees and is adjustable
Dome lid adds more height and space
Enamel on steel pan for easy grease removal
Oven capacity is 22 quarts
Oster Roaster Oven CKSTRS18-BSB-W
[amazon box="B00CQLJESU"]
This roaster oven is from Oster, and is suitable for small to mid-sized families. This has a capacity of 18 quarts and can hold a turkey of a maximum of 22 pounds. Now, this is not the smallest and can surely take on a lot of food jobs at once. But if you want to cook for a lot of people, you will have to do it in two or more turns.
That being said, the size makes it suitable for users who do not always have to cook for larger crowds, and prefers one that is just the right size for frequent usage. Because cooking in two turns every once in a while, is not that big of a deal.
Coming to the temperature, it can be adjusted between 150- and 450-degrees Fahrenheit. The adjustability gives us more control over what we can cook. For example, if you want to roast chicken instead, you can easily lower the temperature settings for the right meal.
The roaster oven also used less energy than traditional ovens, making it greener and environment friendly. Of course, this also means lower electricity bills, and we all love the sound of that.
There is a removable enamel-on-steel pan. This makes sure that the heat reaches every corner of the food evenly. And being removable means, it is a lot easier to cook!
Highlighted Features
Can accommodate turkey weighing up to 22 pounds
Temperature can be controlled between 150- and 450-degrees Fahrenheit
Moisture recirculated with Self-basting lid
Enamel on steel pan distributes heat equally
Oven capacity is 18 quarts
Nesco 4818-14 Classic Roaster Oven
[amazon box="B003AB9CSC"]
This Nesco classic roaster oven is one you should go for if you a frequent user and love to slow cook meals a lot. If you have a mid-sized family or cook for a handful of people, this design and model is perfect for you.
The capacity of this oven is 18 quarts, and this holds a maximum of 24 pounds of turkey. That really is a lot of food, and you can easily use this for Thanksgiving, or any other holiday when you have people over and more mouths to feed.
The oven lid has an extra high dome. This increases the space inside the oven, letting you accommodate more food, and letting the heat circulate better for thorough cooking. It also ensures that the moisture retains and is circulated well.
For the right temperature, the thermostat can be adjusted up to 450 degrees. So for all the times when you are not cooking turkey, you can change this to reach the perfect temperature for other proteins and veggies.
Highlighted Features
Can accommodate turkey weighing up to 24 pounds
Porcelain cookwell is removable
Extra high dome added to increase space and capacity
The thermostat is adjustable up to 450 degrees
Oven capacity is 18 quarts
Nesco 4816-14 Porcelain Roaster Oven
[amazon box="B0002WRRSO"]
This is the perfect choice for small families or people living alone. The oven has a capacity of 6 quarts, and it can roast turkey up to 3 pounds at once.
This small and compact size makes this the right choice for people who are very short on space, and in general want a smaller device that serves food for a few people at the most. You can serve up to 6 people with this capacity.
There is a temperature control as well that lets you change the heat from 200 up to 450 degrees Fahrenheit. So if you are not cooking for 6, but for 3 instead, you can change the temperature for a smaller amount of food accordingly.
With this size, it comes with a 750-watt heating base. This is pretty impressive for the size and helps the food to cook through fast.
There is a cooking rack with lift-out handles. After you are done, use this to lift out the insides so you can clean them. With all the oil and grease, frequent cleanings are necessary, and this helps to make that job easier.
Highlighted Features
Can accommodate turkey weighing up to 3 pounds
The 750-watt base provides a slow and moist cooked meal
Temperature can be controlled from 200 up to 450 degrees Fahrenheit
Lift out handles and cook rack included
Oven capacity is 6 quarts
Turkey Roaster Ovens Buying Guide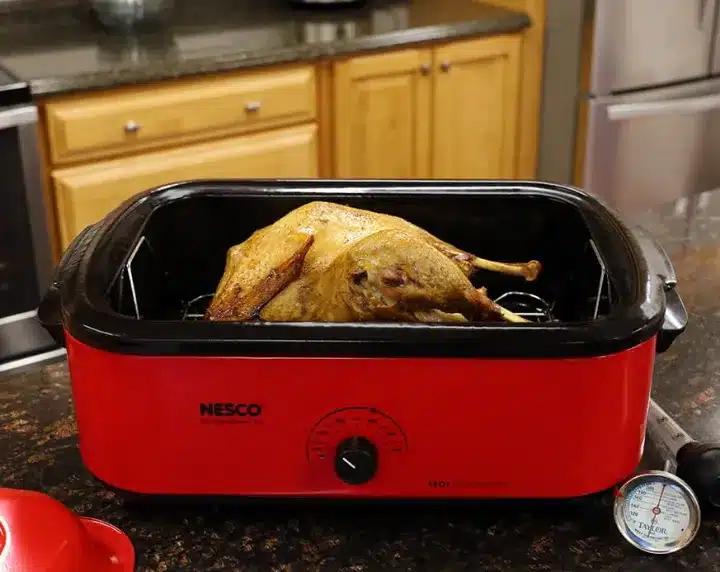 Multipurpose Roaster Oven
We all want more for our money. The same applies when buying ovens too. In this case of a roaster oven, you should look for extra features that let you do more with the device too. This includes baking, cooking, serving, and a host of other uses in the kitchen.
If you cook frequently or like to host gatherings, a multipurpose roast oven is what you need to look for.
Oven Capacity
Almost every time you look at an oven, the capacity will come to mind first. And in this case, even more so. For a lot of people, the capacity of an oven itself becomes the sole factor depending on which they decide to make the purchase.
The capacity of a roaster oven is provided in quarts. Higher quarts mean you can cook more food at a time. With turkey, you should decide on how much you want to roast at a time, and then cross-check to see the oven models which can accommodate your needs.
While some ovens can roast 26 pounds of turkey at one go, others can only roast 3 pounds. When buying the best roaster oven for turkey, we suggest you do not go for such small capacity ovens like the latter.
If you are on a budget or do not have space, opt for something like 17-18 quarts which will let you cook or roast a good 20 pounds of turkey at the least. And if space or budget are not factors, then you should go all out and get the largest size.
This way, you can use the roaster oven for other meals too and can cook for large crowds at one go.
Power
These roaster ovens all run on electricity, so you need to check the power output as you go. This will depend somewhat on the size of the oven you get, as well as the kind of cooking you want to do.
For example, if you want slow-cooked meals, then you can opt for something around 1000 watts. However, if you like your food to be cooked super-fast, or are always in a hurry, then a higher wattage is better for you. Look for ones that have a 1400 wattage or above.
If you prefer both at different times, then look for ovens that come with an adjustable thermostat.
Temperature Adjustments
Once again, just because this is a roaster oven, it does not mean all you will ever do with this device is roast turkey. You could be roasting other forms of poultry, or not even roasting at all and baking instead. So for all these different uses, you are going to need different temperatures.
This is where the adjustable temperature feature comes in. In the ovens where you can adjust this, you will find that there is a range given. Check the maximum and minimum, and decide upon that if the oven will work for you.
The average temperature range that most of these roaster ovens carry is between 150- and 450-degrees Fahrenheit.
Frequently Asked Questions (FAQ)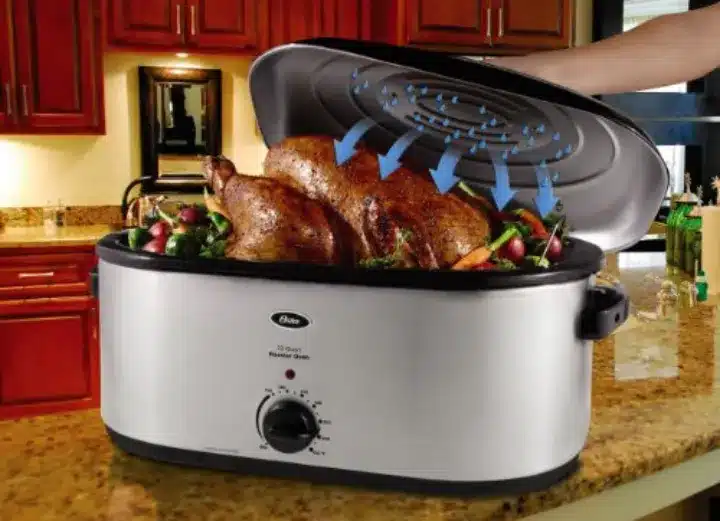 Is Turkey Better In Oven Or Roaster?
Turkey is better in the oven, while the side dishes that go along with it are better in the roaster. In the oven, the turkey gets that beautiful crispy skin that adds texture to the poultry, and that is something you cannot achieve in the roaster.
What Is The Best Electric Roaster To Buy?
The NESCO 4818-12 is a fantastic choice for an electric roaster oven. It has a good power of 1425 Watts, it is 18 quarts in space, which is also great. Moreover, it can perform all the traditional oven functions, except for broiling only.
Conclusion
With the plethora of collections, buying the best turkey roaster oven might seem like a tough call. But trust us, it's not. All you need is the right guide, and we are here to provide you with that.
Things you need to keep in mind when buying one of these is the size of turkey you want to be roasted. Think of the maximum size, and buy one that can accommodate that. Maybe cross-check with Thanksgiving dinner requirements, and that should help you find the size.
And once you have that down, other features are pretty simple. Check for accessories and features you want, and ditch the ones that don't have them.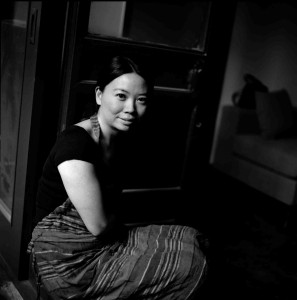 Jen Lin-Liu is the founder of Black Sesame Kitchen. A Chinese-American writer and a nationally certified Chinese chef in Beijing. Jen is the author of two memoirs, Serve the People: A Stir-Fried Journey Through China and On the Noodle Road: From Beijing to Rome with Love and Pasta.