Have you ever used a dull steak knife? Instead of effortlessly slicing through meat, it feels a bit like sawing wood If you're looking for the best steak knives that cut through the toughest meat, you're looking for a comfortable, sturdy, balanced and sharp cutting tool.
A steak knife differs from a general kitchen knife because it must also feel elegant in the hand. The steak knife's design should make you want to use it. Keep in mind that because you use the steak knife on a plate, the blade edge is also an important consideration. Using the knife on a plate may dull its sharpness.
What Is a Steak Knife?
Imagine that you're treating friends and family to a delicious steak. You want the table to look as inviting as possible but you don't want to sacrifice function. Think about who will use the steak knife? If you're serving children who favor their left hand, you may want to consider left-handed cutlery as well.
Today's health conscious consumers sometimes prefer leaner cuts. Depending upon how you cook these cuts, you need a handsome and functional set of steak knives to enjoy the experience.
Buy the best quality you can afford. Quality costs more. Renowned steak knife manufacturers offer high quality to last a lifetime. Check user reviews about steak knives, too. According to the "Journal of Failure Analysis & Prevention," chromium carbide fabrication might cause the knife to suffer "premature erosion" or stains.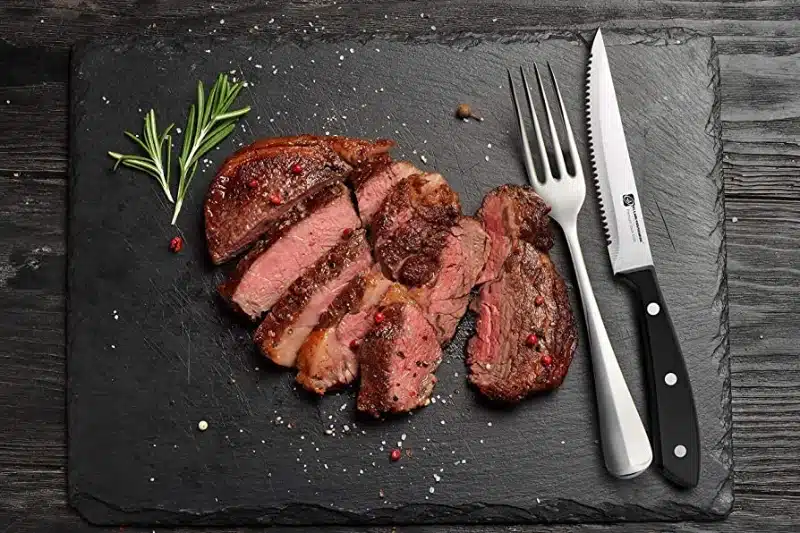 Choose stainless steel knives for that reason. Salt content in the meat and added salt adds to the corrosive potential of carbon steak knives. Avoid ceramic knives as well. These knives are hard to sharpen and, over time, may become brittle.
You must also consider grind and edge before buying a steak knife. The best quality Eurostyle steak knives use hollow-grind or Scandinavian grind to create a near-surgical edge. Knives are available in three types: plain, serrated, and micro-serrated. Avoid micro-serrated knives because it's difficult to use a sharpening instrument. The points are extremely tiny.
If you can't sharpen the spaces between them, the knives will become dull and worthless. In contrast, serrated and plain blades are relatively easy to sharpen. Plain blade steak knives are easy to use when kept sharp. However, you're likely to hear the classic squeaky sound when using these knives on a plate. Let's begin the search for the best steak knife with three of the most-loved choices.
Top 3 Best Steak Knives on the Market
STEWART & BRADLEY Steak Knives
[amazon box="B094MY51JY"]
STEWART & BRADLEY makes premium hand-finished steak and chef knives in the U.S. The STEWART & BRADLEY Steak Knife is made in Kent, Washington. Each knife is tested and adjusted to achieve exacting quality standards.
If you're looking for chef or table cutlery, survival knives, or camping and hiking knives, STEWART & BRADLEY puts quality first. With years of manufacturing experience, Bradford USA serves the needs of discriminating consumers in search of the best knife for trail or table. Characteristics of the Gatsby steak knife include:
Overall length: 9.5 in.
Blade length: 4.5 in.
Blade thickness: .110 in.
Blade material options: black linen micarta c. red liners.
Hardness: 61 Rc.
Blade style: steak.
Grind Options: full height, flat grand.
Finish: bright polish.
STEWART & BRADLEY knives are guaranteed for life, including blades that are damaged in normal use. If there's a problem with the steak knife or it needs sharpening, pay shipping and STEWART & BRADLEY does the rest. The company says it will repair or replace the knife if necessary. To take advantage of the Bradford Knives guarantee, the company must stay in business. Know that STEWART & BRADLEY steak knives are expensive but, if you want the best, your table will always impress loved ones.
Wüsthof Classic Ikon Steak Knife
[amazon box="B000WW45GG"]
Wüsthof is known for quality German craftsmanship. The Ikon series combines durability and design. Reviewers specifically mention the ergonomics of the steak knife handle. The knife doesn't have a bolster, the thick part on the blade's side that leads to the handle, so it's possible to cut with the full laser-sharpened blade length. Needless to say, the Ikon steak knife is razor-sharp.
That feature alone makes it ideal if you enjoy eating lean and sometimes tough cuts of meat. Other characteristics of the Ikon series steak knife include:
Overall length: about 9 in.
Blade length: about five in.
Blade height: about 0.75 in.
Blade thickness: (maximum) 1.3 mm.
Weight: 80 grams.
Steel type: German (X50CrMoV15).
Hardness: 58 HRC.
Finish blade: light, matted.
Blade: smooth.
Type of edge: plain edge.
Sharpening: Western sharpening angle.
Sharpening angle: 14º.
Type of handle: Western grip.
Handle length: 4.53 in.
Material handle: polyacetal (POM).
Color: black.
Right or left-handed: symmetrical.
Dishwasher safe: yes, but recommend hand wash.
Warranty on materials and manufacturing defects: lifetime.
Hardness: 56 HRC.
Engravable: yes.
It's possible to buy the Ikon series steak knife set. Wüsthof knives are considered among the best in the world by Consumer Reports. Although Wüsthof isn't a U.S. company, it has been family owned for almost 100 years. Over the past few years, the company has discontinued its Emeril chef and Le Cordon Bleu series. Wüsthof steak knives are pricey.
Dalstrong Gladiator Series Steak Knife
[amazon box="B015NG2R10″]
Not everyone has an unlimited budget for steak knives. Dalstrong's Gladiator Series steak knives are rated five stars by 92 percent of buyers on Amazon. Gladiator steak knives are made in North America from German steel. Dalstrong is a family-owned business. The company's goals include combining design with craftsmanship. It offers a VIP rewards program for Dalstrong buyers.
Chefs such as Petros Jaferis (Houston Yacht Club's Head Chef), Brent Schriver (Professional Chef Network), Adrian Cruz (James Beard Top-Five Winner), and Adam Scott (eVolve Restaurant) are spokespersons for Dalstrong knives. Product specifications include:
Overall length: 9.8 in.
Blade length: 5 in.
Blade thickness: .112 in.
Blade material: Thyssenkrupp full-tang German steel (X50CrMoV14).
Handle material: pakkawood.
Hardness: 55 Rc.
Blade style: steak.
Dishwasher safe: yes.
Sharpening angle: Western sharpening angle.
Sharpening angle: 18º angle.
Finish: satin finish.
Rivets: triple rivets for durability and security.
Dalstrong's steak knives are quality at a modest price. Owners recommend Dalstrong steak knives to others because they're resilient and robust. Dalstrong uses Amazon to fulfill orders. If you don't live in North America, Amazon won't ship Dalstrong knives to you. Ebay sellers also offer Dalstrong knives, but at higher prices than Amazon.
Conclusion
Buy steak knives made with high quality steel that feel good in your hand and look great on your table. Eating a perfectly cooked steak with an quality steak knife is a fantastic experience. Without a gorgeous steak knife in hand, your steak might not taste as delicious.
The ultimate choice of the best steak knife is the one you prefer. We've shared some information about the characteristics of steak knives almost everyone loves. Now it's up to you to choose. Leave a comment if you love steak!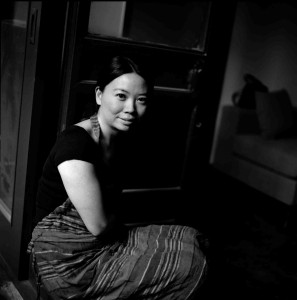 Jen Lin-Liu is the founder of Black Sesame Kitchen. A Chinese-American writer and a nationally certified Chinese chef in Beijing. Jen is the author of two memoirs, Serve the People: A Stir-Fried Journey Through China and On the Noodle Road: From Beijing to Rome with Love and Pasta.