If you're searching for the best pasta maker reviews on the net, you've found your destination.
We are pasta freaks. And we know there is no better pasta than the pasta you've made yourself.
Whether you're a pasta fanatic like another mom or us looking to feed her family preservative-free pasta, you can use all of the testings we do to your advantage.
You see, we get our hands on every pasta maker and pasta-making accessory we can find to see how they stack up to the rest. All in order to fulfill our site's three-pronged mission:
To help educate people about pasta makers,
So they can make an informed purchase,
And make even better pasta.
Thus, you'll find the world's best pasta makers reviewed here in-depth by us – genuine pasta lovers!
What Newbies Need to Know About Pasta Machines
For anyone new to the world of pasta makers, there are a few things you should know. First things first.
Store-bought pasta cannot hold a candle to quality homemade pasta. Until you've had fresh pasta, you simply won't know what you are missing.
Superior taste is one thing.
But with homemade pasta, you get to pick the ingredients. So you get to leave out all the preservatives and other chemicals the store-bought brands use. Then you can even select alternative grains or add vegetables to really supplement the nutrition of your meals.
Though fresh pasta isn't "crunchy," this is huge for moms looking to find healthy foods their kids will actually eat.
Moreover, making pasta yourself is a completely different culinary experience. This is especially true if you select a manual pasta maker over an electric one.
This distinction between manual and electric is an important one.
Top Best Manual Pasta Makers Reviews
A high-quality, manual pasta machine is usually the only thing that can satisfy a true pasta enthusiast.
That is us all the way. We love this experience and are generally a bit skeptical of electric pasta machines. Despite the fact that a few automatic versions have proven us wrong over the last few years, we still prefer to put our hands to dough in most cases.
In our opinion, this is the only way to truly experience the pasta-making culture firsthand.
Marcato Design 8320 Atlas 150 Pasta Machine
[amazon box="B0009U5OSO"]
The Marcato Atlas Wellness 150 is widely regarded as the best in-home pasta maker on the planet. With tons of raving fans across the net (and some great reviews on Amazon), it is well known for churning out pasta of the highest quality.
An Italian-made beauty, the 150 is a traditional hand crank pasta machine.
Even so, it offers a remarkable amount of versatility. The machine comes with 9 thickness settings that are adjusted through a simple dial mechanism. Then it comes standard with two different cutters. This allows for spaghetti, fettuccine, and flat pasta of all thicknesses. Attachments are available for other pasta shapes.
An obvious factor in Atlas pasta makers' reputation for lasting decades is their quality in production. The body is made of chrome-plated steel, while the rollers and cutters are made of anodized aluminum, making the whole thing corrosion-resistant.
You simply feed your dough through the roller while cranking the smooth-turning handle. The clamp ensures that the unit holds steady as you make your noodles.
Among pasta machines, the Marcato Atlas Wellness 150 holds a tremendous reputation. Yet, it still had to earn our top spot.
If you'd like to see for yourself what over 7000 Amazon reviewers had to say about the Wellness 150, you can find it here. Or if you'd like to get more of the details on why it's one of the most relied-upon tools in our kitchen, read our Marcato Atlas Wellness 150 Review.
CucinaPro Imperia Pasta Maker Machine Attachment
[amazon box="B000XT1BZ6″]
Cucina Pro's Imperia pasta maker has almost as many raving fans as Marcato's pasta maker – and for a good reason.
In reality, there aren't really too many bells and whistles one needs on a manual pasta maker. Imperia's design is thus the standard manual pasta machine build.
Where higher quality models like this one stand above lesser versions often come down to materials used. In the case of CucinaPro, they went with heavy-duty, chrome-plated steel. Considering all the positive things people have to say about Imperia, it looks like that was the right decision.
Durability is an important factor when it comes to manual pasta machines, and this model is right up there, helping to set that standard.
Imperia has a simple thickness selector, smooth turning handle, and simple clamp. It also comes standard with 2 noodle cutters: one for spaghetti and one for fettuccine.
If you want to take a closer look at Imperia, you can find the best price on Amazon here. Or, if you want a bit more in-depth breakdown, take a look at our Cucina Pro Imperia Pasta Machine Review.
Ovente Pasta Maker Machine Stainless Steel
[amazon box="B00SCIE990″]
Another well-loved Italian pasta machine, the Ovente PA515, is a conventional clamp-and-crank model.
It features a carbon and stainless steel build that will resist corrosion.
Just like the two most popular brands, this one features rollers and cutters. This model has seven thickness settings, ranging from .5mm to 3mm. The standard cutters allow for spaghetti and fettuccine, but an attachment is available for angel hair and lasagne, as well as one for linguini and ravioli.
In many ways, it seems like Ovente loses out to the top two based on lack of exposure. As they continue to make solid deposits into the bank of public opinion, they may turn the world of manual Italian pasta machines into more of a 3-horse race.
At the end of the day, even seasoned Atlas users like ourselves don't see much difference between this model and our favorite. As more people give them a chance, we are sure their stock will continue to rise in the minds of pasta aficionados.
If you think you might be ready to give Ovente a chance, you can take a look at the "matte black" version here or the "polished chrome" version here. You can also find out the last few details you're wondering about in our Ovente PA515 Pasta Maker Review.
Top Best Electric Pasta Makers Reviews
If you are interested in better pasta with less work, you probably want to go electric.
All electric pasta machines can help save your arm from a little of "the burn" that comes with cranking a dough roller on end. Some even take things a step further by mixing, kneading, and extruding all by themselves.
Unlike manual machines, there are only a few on the market. Still, there are surprisingly good choices among them. We'll talk about it in a moment.
Philips Kitchen Appliances Noodle HR2357/05 Retail Box Packaging
[amazon box="B00REJMIJ6″]
One of the best pasta makers is made by Philips, and it has a lot going for it. This may come as a shock to some who swear only Italian-made pasta machines are worth their salt.
Boasting 1600 lb of extrusion force, the quality of the pasta is very good. And with all of that pressure, it can turn out into a pound of pasta in just 15 minutes. For this reason, Philips's Pasta Maker is a huge help when you need to serve a group, and we think it's the best pasta maker available when it comes to electric models.
It comes equipped to make spaghetti, Penne, Fettuccini, and Lasagna. Philips then offers an additional kit for angel hair and pappardelle and another for thick spaghetti and tagliatelle.
This model really takes a lot of the labor out of your hands. Because it mixes, kneads, and extrudes for you, all that is really left to do is left a program and push 'Start.' This leaves you more time to conjure up new dough concoctions.
Philips really focused on design usability and function. They certainly hit the nail on the head.
This one definitely gets our stamp of approval. You can usually find the best price on Amazon. Or, if you need some extra info before making a purchase, our Philips Pasta Maker Review is sure to have it.
Marcato Atlas Pasta Machine Electric Motor Attachment
[amazon box="B000679FZ8″]
Also called the Atlas Electric Pasta Machine, the Marcato Atlas Wellness 150 is also sold with a motor attachment.
As such, we consider it worthy second to Philips's pasta machine. Adding a high-quality motor to the market's best manual machine seems like a stroke of genius. The result is pasta that is just as good as the manual version, with a bit less elbow grease required.
This version of the Wellness 150 still comes with a crank. In fact, the motor simply replaces it at the end of the rolling shaft. You can switch back and forth depending on your needs.
You still have 9 thickness settings and two different noodle cutters for your convenience. Even with a motor, the 150 makes spaghetti, fettuccine, and flat pasta effectively and easily.
We were suspicious that the addition might limit the Wellness 150's ability to make quality pasta, but being proved wrong was a pleasant surprise. We get more use out of our motor than we ever expected.
Needless to say, it's the best pasta roller when it comes to design. We love it, and it looks so…Italian! It's just gorgeous.
Interested in the "Atlas Electric Pasta Machine"? You can find the best price online via Amazon here. Or, if you simply need a motor attachment for your current Wellness 150, you can find them here. Finally, if you're still on the fence, you can check out our full Marcato Atlas Wellness 150 with Motor Review.
Lello 2720 Pastamaster 2200
[amazon box="B0001ZYYXI"]
The Pastamaster 2200 is an electric pasta maker in the mold of the Philips Pasta Maker. Is this the best pasta machine? We think it's pretty close.
This thing does everything from start to finish. It mixes, kneads, and extrudes. The only thing it doesn't do is self-clean. It even has a leg up over our #1 electric machine in a few areas.
The Lello 2720 can make 2.2 pounds of pasta in about 20 minutes, and the quality is great. It comes standard with 6 different pasta options: angel hair, spaghetti, linguine, fettuccine, macaroni, and even one for cookies.
It has various safety options and takes basically all the labor out of pasta making. This style of pasta machine is all about convenience and user-friendliness. In that regard, this model truly is a "postmaster."
For those who may be looking for a replacement for their Simac pasta machine (discontinued for several years), Lello is the inheritor of their design. Like anything that makes our Top 3, the Pastamaker 2200 is a reliable pasta machine that has a solid reputation online.
Like most pasta makers, you can usually find the best price on Amazon.com. Here's the current listing for this model. Or, if you'd like to know more about what makes it unique, please read our Lello 2720 Pasta maker 2200 Review.
Our Pasta Maker Review Process
Because our goal is to provide highly informative reviews of the best pasta machines on the market today, the criteria we use to evaluate different pasta makers are very important.
This criterion is why you can trust Amazon as a go-to resource for honest opinions of the world's best pasta makers.
Any and every model we take a look at gets put through a strict process to ensure that our reviews help people make truly informed buying decisions.
Our criteria are as follows:
Pasta Quality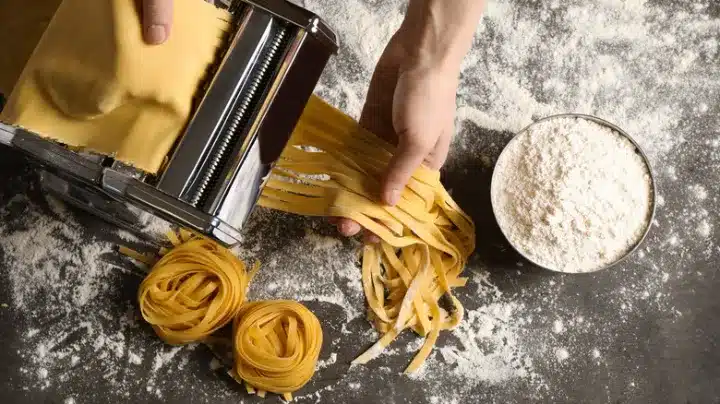 We make our own pasta because we love the taste and texture of fresh pasta. If a pasta machine can't make decent pasta, it won't make our site anything more than a potential punchline.
Usability
We acknowledge that making pasta shouldn't be rocket science—even if finding the right dough and consistency can seem like earning a doctorate in chemistry. In the 2000-teens, hard-to-use appliances don't have many prospects.
Durability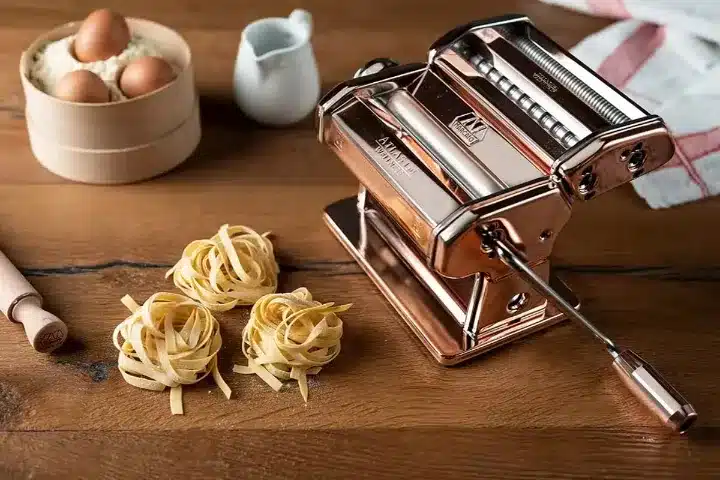 Any kitchen appliance is an investment. And one of the keys to an effective investment is that it has staying power. We only put our stamp of approval on pasta machines that can stand up to the test of time as well as a bit of our own clumsiness.
After we have sufficiently tested any particular pasta maker (AKA. stuffed ourselves silly), we have one last all-so-important step to our review process.
Other Reviews
We then take things to the court of public opinion to see what other people are saying online about that model. Because we know there are all sorts of ways to manipulate reviews online, we make sure that our findings match up with the general consensus. This also allows us to include common problems in our reviews, even if we didn't encounter the issues ourselves.
Through this process, our goal is to help other consumers make the right decision about which pasta maker they should invest in.
Whether you're a pasta connoisseur or just looking for a little culinary adventure, trust  Amazon. to help you find the best pasta maker for your needs.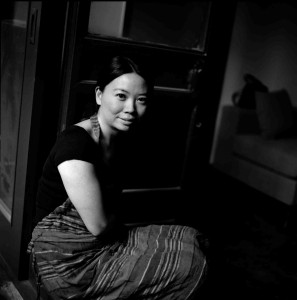 Jen Lin-Liu is the founder of Black Sesame Kitchen. A Chinese-American writer and a nationally certified Chinese chef in Beijing. Jen is the author of two memoirs, Serve the People: A Stir-Fried Journey Through China and On the Noodle Road: From Beijing to Rome with Love and Pasta.