Pour over coffee is quite an ancient method of brewing, and is appreciated by coffee fanatics for reasons that elevate their entire experience.
One of the reasons is that unlike other methods, a lot of love goes into extracting the maximum coffee flavor and aroma as the process takes its sweet time. While faster is always better to get an instantaneous shot of buzz to wake up your senses, coffee connoisseurs might disagree.
Pour over coffee makers have thus been getting increasingly popular, and can be either manual or electric. But why not save time and still enjoy the perfectly poured-over cup?  
The best electric pour over coffee maker is thus the perfect solution to do so, as all you have to do is refill your coffee grounds and water, and leave it alone to do its magic! So let's take a look at all there is to know to make the perfect buy.
Best Electric Pour Over Coffee Maker Reviews
Technivorm Moccamaster 59616 KBG
[amazon box="B0055P70MQ"]
With the capacity to brew up to 10 cups of coffee within a matter of just 4-6 minutes, the Moccamaster 59616 KBG is a stellar pour over coffee maker to grab!
It is composed of Aluminum and stainless steel for utmost durability, and a glass carafe and transparent water reservoir add to convenience and aesthetics. Thanks to its unique pump-free boiling element of copper, coffee is brewed at the perfect temperature of 196-205⁰F every time!
The hot plate is effectively designed to ensure that your coffee keeps just hot enough without burning its flavor. An auto power-off feature turns off the device after 100 minutes to save power and for safety. Hence, even if you're the most forgetful person in the world, it is a model to rely on absolutely worry-free!
The water outlet arm features nine holes that pulse the perfectly hot water evenly over your coffee grounds, thus ensuring proper flavor extraction. Equipped with just two buttons-one for the hot plate and the other for power, it is a device simple to use for every user.
The brew basket is automated to further enhance the device performance as it enables you to pull off the carafe mid-brew without causing any dripping mess. Hence, your waiting time for the perfect pour over cup of coffee is further reduced as you no longer have to wait until the whole 10 cups have finished brewing.
Highlighted Features
Pump free boiling element of copper facilitates brewing at 196-205⁰F
Brews up to 10 cups of coffee at once within 4-6 minutes
water outlet arm with nine holes for even and perfect flavor extraction
Automated brew basket facilitating carafe removal mid-brew
Bonavita Connoisseur, BV1901TS
[amazon box="B076PFMRGX"]
With the capacity to brew up to an impressive 8 cups at once, this model features a stainless-steel carafe that retains heat longer like a boss.
It features a pre-infusion mode that offers and enhances the pour over coffee experience by allowing the coffee to bloom via paused water flows. Effortless to operate with a single button, this model alerts you with an audio indicator to notify you when the brewing cycle is over.
You thus get to enjoy perfectly brewed coffee in bulk of up to 8 cups within a mere 6 minutes! The improved stainless-steel carafe facilitates faster brewing and enhanced heat retention, thus providing a premium experience every time! The showerhead is wide in shape for providing an even coffee extraction.
Forgot to turn your device off after usage? There is nothing to fear as its automatic shutdown feature saves the day, both saving power and ensuring safety. So if you're looking for the perfect pour over device to meet your coffee cravings, it sure is a noteworthy device that ensures a Golden Cup experience far more easily.
Highlighted Features
Stainless-steel carafe with enhanced and faster heating and ideal temperature retention
Brews 8 cups within just 6 minutes
Optional coffee blooming facility for an artisan pour over coffee experience
Wide showerhead for even extraction of coffee flavor
Breville BDC450BSS Precision Brewer
[amazon box="B078RQVQF1″]
Composed of stainless steel, this model features a superb 12-cup capacity carafe of stainless steel to produce coffee in bulk at the speed of light!
In order to provide you the utmost flexibility and convenience, it comes with simple controls that allow you total control over the creation of the perfect cup. Starting from the blooming time, you even have access to regulate the brewing time, flow rate, temperature, and more!
Hence, it paves an easier path for you to enjoy the most flawless cup of pour over coffee just the way you desire! It includes two types of filter baskets, a flat-bottomed and a cone, enabling you to brew any coffee as per your preference.
Your need for coffee is made an effortless task thanks to the device's six automatic presets. It also provides the flexibility to customize your favorite settings so that you never miss out on having the coffee of your dreams, and that too, more efficiently!
Equipped with a Small Cup detection, it maintains the consistency of the coffee quality by automatically adjusting the coffee contact duration and water amount. This coffee maker is a piece of cake to operate, and it's all credits to its straightforward and intuitive operation along with a convenient digital screen.
Highlighted Features
Large-capacity 12-cup carafe for bulk brewing
Automatic presets along with customization facility for efficiency
More control over the brewing time, temperature, flow rate, etc.
Small cup detection feature for maintaining the consistency of the coffee quality
Cuisinart CPO-850
[amazon box="B0142UUV4S"]
This is yet another model worth checking out if you're looking to indulge in a truly gourmet experience of pour over coffee right in the comfort of your home every day.
It is equipped with a showerhead water outlet for facilitating even and effective extraction of the coffee grounds' flavor. The device pre-soaks the grounds so that they significantly bloom in order to produce a premium cup you'll never get enough of!
When in a rush, feel free to program your brewing cycle in advance up to 24 hours ahead. Hence, morning rush will never mean missing out on your must-have dose of wake-up tonic! Its automatic shutdown feature is adjustable as well, ensuring safety and power-saving simultaneously.
You get the flexibility to choose not only the flavor boldness of your pour over coffee but its temperature too. Due to the brew-pause facility, you don't ever have to wait for the whole carafe to fill up before you can sip into the rich, velvety goodness.
There is no fear of ending up with a tainted coffee flavor when you have a hard water source either. This is because the device comes with a charcoal water filter to trap the excessive minerals away from ever reaching the coffee grounds!
Highlighted Features
Programmable in advance to avoid rush
Automatic shutoff feature is adjustable as preferred
Allows control over temperature and flavor boldness
Water filter included to prevent excessive minerals from altering the flavor
Redline MK1 Coffee Brewer (195-205)
[amazon box="B074MJ65P7″]
Composed of Aluminum and glass, this is a super-durable model to go for that doesn't fall short in terms of aesthetics and performance either!
The device possesses a glass carafe with an 8-cup capacity that brews the entire pot within a matter of a few minutes. Since it has an auto-pause function, your coffee craving is never put on hold as you get to pull out the carafe mid-brew to enjoy a cup.
An easy to refill clear water reservoir completes the set and adds to your convenience to monitor the water level. The entire blooming and brewing process is completed with the touch of a single button. You get an ideal cup of coffee at just the right temperature of 195-205 degrees Fahrenheit.
The filter basket slides off easily, making it convenient to fill and clean up. Since the water reservoir has a wide mouth that makes refilling a mess-free and simple task.
Enjoying the perfect pour over coffee has never been simpler thanks to this affordable and great performing device. So if you're on the search for a truly unique experience at a budget that barely scratches your funds, the Redline MK1 is indeed a great option to go for.
Highlighted Features
Aluminum composition with glass reservoir and glass carafe
Wide-mouthed water reservoir for mess-free and convenient refilling
Brews 8 cups in under 6 minutes
Filter basket removes easily and is easy to clean up
Electric Pour Over Coffee Maker Buying Guide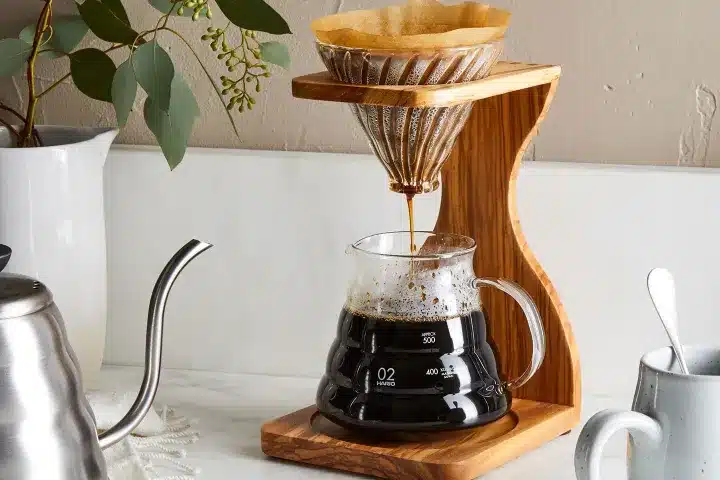 Water Outlet
The type of water spout is a factor to keep in mind if you intend to enjoy a premium pour over cup of coffee.
Showerheads are the most loved option as they create a wide and even spray of water to uniformly soak the coffee ground to evenly extract all the flavors.
Brewing Time
Faster is no doubt better when it comes to the brewing time of coffee you can't wait for any longer!
But in order to make the best of your coffee grounds in terms of flavor, the SCA (Specialty Coffee Association), it is recommended that when brewing two cups of pour over, a total of 3-3.5 minutes is the minimum standard.
All the flavors of the grounds are fully seeped out effectively before the coffee gets burnt and gives off a weird bitter taste.
So when opting for high-capacity models, choose one with at least 3-6 minutes of brewing time for the most superior flavor. Models that allow you to adjust the brewing time are also a winner!
Capacity
Consider the capacity when making your buy. For everyday purposes, 8-10 cups are standard. Higher capacity may be unnecessarily expensive and will also lead to you having stale coffee more often.
But for those with large families or stronger coffee cravings can always opt for models with larger capacities of up to 12-14 cups.
Composition
Metal models are no doubt more durable, while plastic ones are more on the less expensive side. Choose a model according to your preferences and budget.
When it comes to the carafes, glass carafes are nice to look at and also provide you a clear view of how much coffee is left on the pot. But they are more brittle than metal carafes and the constant heat exposure further affects their durability.
Metal carafes on the other hand are not only more durable but also heat up and retain heat a lot better than glass ones.
Auto Shutdown
This is a feature worth looking into as keeping your device on longer than necessary may not only take a toll on the device's life but is also cost-inefficient.
The best electric pour over coffee maker should thus have an aut
https://www.youtube.com/watch?v=RN-vzamHLGso-shutdown feature in order to provide safety in case you forgot to turn it off. They also aid in saving power consumption, thus benefiting both the planet and your bills.
Conclusion
Love comes in all forms. So does coffee, and all the ways you could go for to make the perfect cup.
Pour over coffee is an indulgence adored by many. If you happen to be one of them, today might just be your lucky day!
Hopefully, after going through our comprehensive guide and reviews, choosing the best electric pour over coffee maker will no longer seem like a challenge.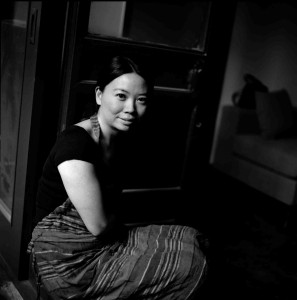 Jen Lin-Liu is the founder of Black Sesame Kitchen. A Chinese-American writer and a nationally certified Chinese chef in Beijing. Jen is the author of two memoirs, Serve the People: A Stir-Fried Journey Through China and On the Noodle Road: From Beijing to Rome with Love and Pasta.